10 Dog-Friendly Patios
Where to grab a bite or a brew when you just can't leave your furry family member behind.
Look at that face. How can you possibly leave those sad little eyes at home while you go enjoy a beer with friends? Thanks to these 10 dog-friendly spots, you don't have to.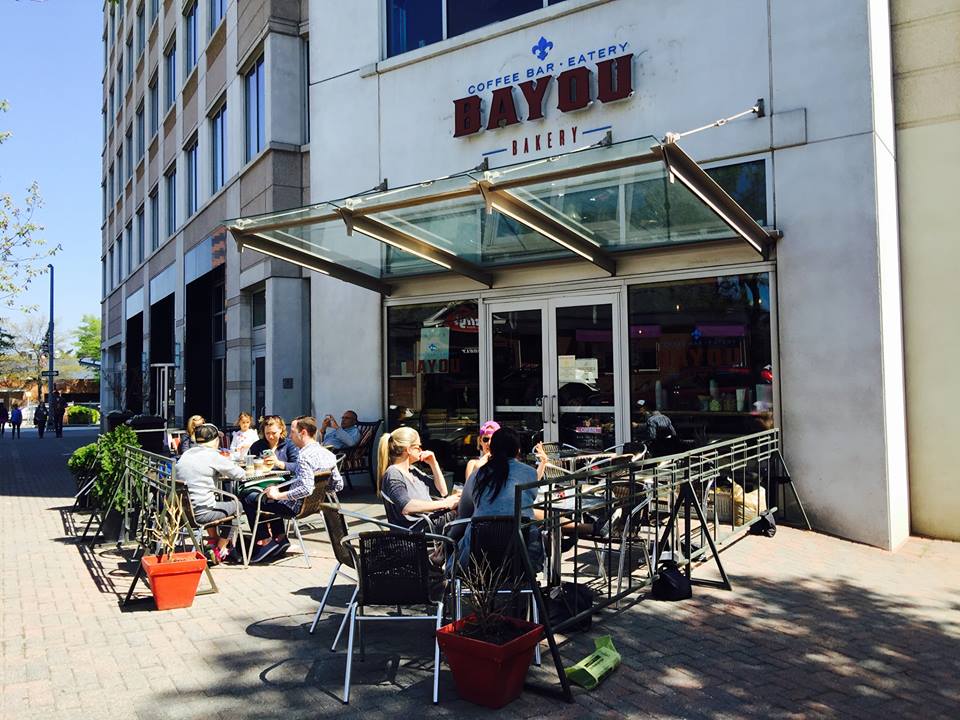 Photo courtesy of Bayou Bakery, Coffee Bar & Eatery.
1515 N. Courthouse Road, Arlington
Pups are welcome on this café patio morning, noon and night, to hang out while you sip a café au lait, grab a sandwich for lunch or have a full New Orleans supper out—complete with jambalaya, gumbo and, of course, beignets. Chef-owner David Guas might even be out there with his dog, Roux, and you'll find bowls of water plus a stash of special dog snacks inside, behind the counter.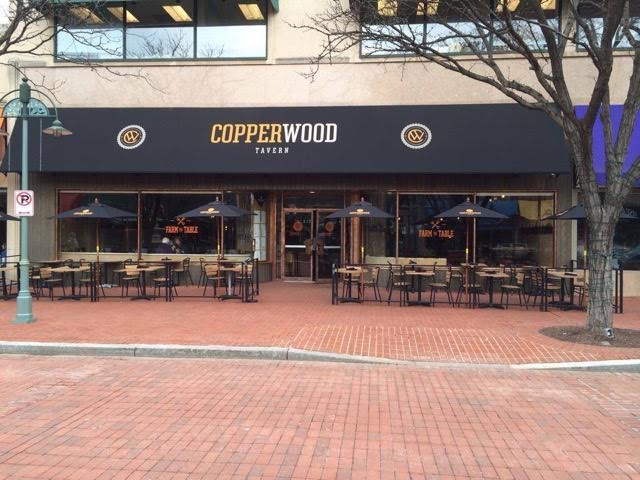 Photo courtesy of Copperwood Tavern.
4021 Campbell Ave., Arlington
According to the restaurant, it's the only spot in Shirlington Village that's received county approval to allow dogs inside the patio fence. Copperwood pulls out all the stops by offering dishes of cold water and freebie housemade peanut butter-bacon dog treats. There's also a dog-of-the-month contest with some sweet prizes—a gift basket from Dogma Bakery, a free exam and nail trim from Shirlington Animal Hospital and a $50 gift card from Copperwood—and the patio is year-round, thanks to a fire pit.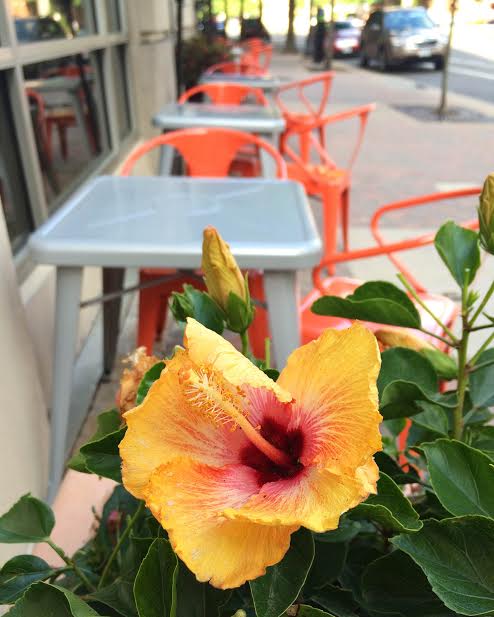 Photo courtesy of Water & Wall Restaurant.
3811 N. Fairfax Drive, Arlington
You know a place is dog-friendly when it has its own hashtag (#wwlovespuppies) and canine mascot. (Archer was just over a year old when he was adopted by a W&W employee, and he's been a favorite at the restaurant ever since.) Leashed dogs are welcomed with bowls of water and a dog biscuit, and their humans benefit from happy hour specials all night on the seasonal patio—while those without dogs only receive happy hour pricing ($5 glasses of wine, $2 off drafts and $6 cocktails) from 5–7 p.m. weekdays.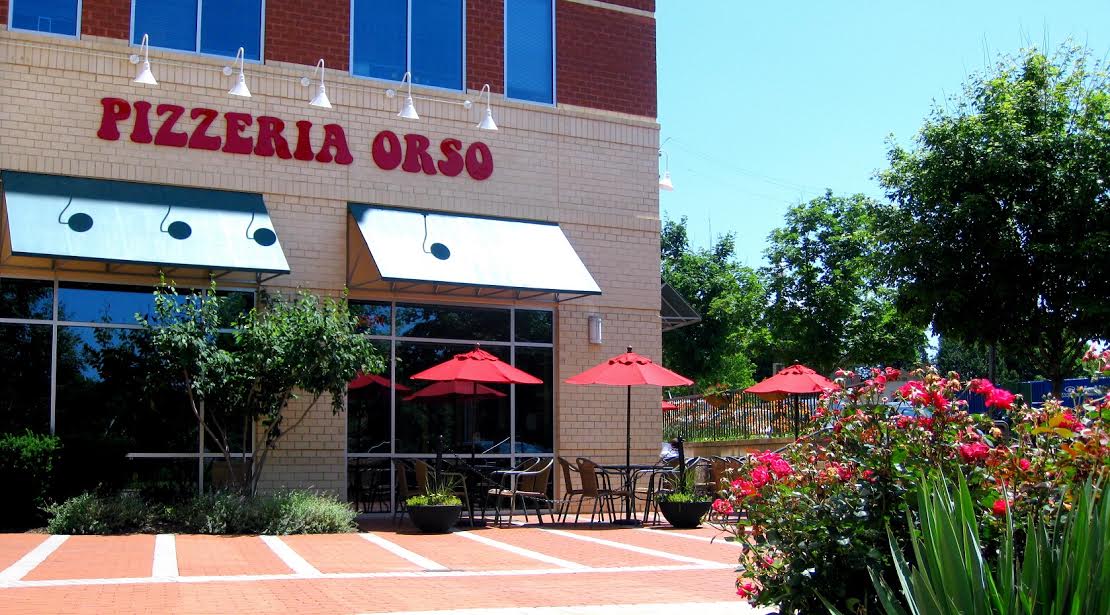 Photo courtesy of Pizzeria Orso.
400 S. Maple Ave., Falls Church
Dogs on leashes are permitted throughout the patio, which is open year-round, weather permitting, and pooches will find fresh bowls of water and plenty of space to chill. Yappy hour deals can be found Tuesday through Friday from 4–7 p.m., when some apps and beers are $2 off, and a house red and white go for $5 a glass.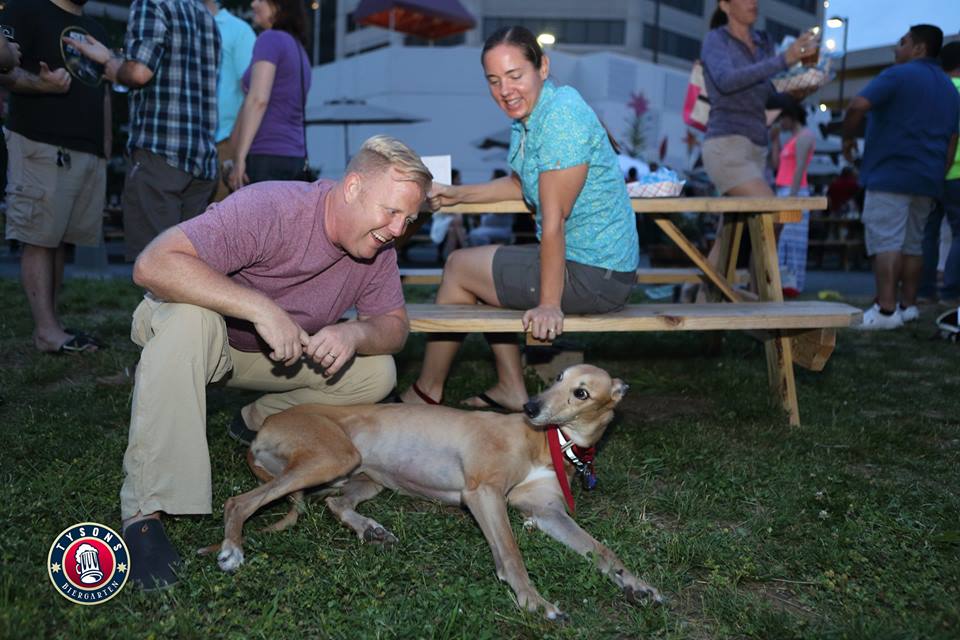 Photo courtesy of Tysons Biergarten.
8346 Leesburg Pike, Tysons Corner
This new German-style beer garden features nearly 10,000 square feet of patio space and serves as a regular after-work spot for reconnecting with Fido after a long day at the office. Yappy hour takes place Mondays from 3–9 p.m., when pet rescue organizations set up booths for fundraising and sometimes bring dogs for adoption. There are also plenty of water bowls and complimentary dog treats like jerky and biscuits.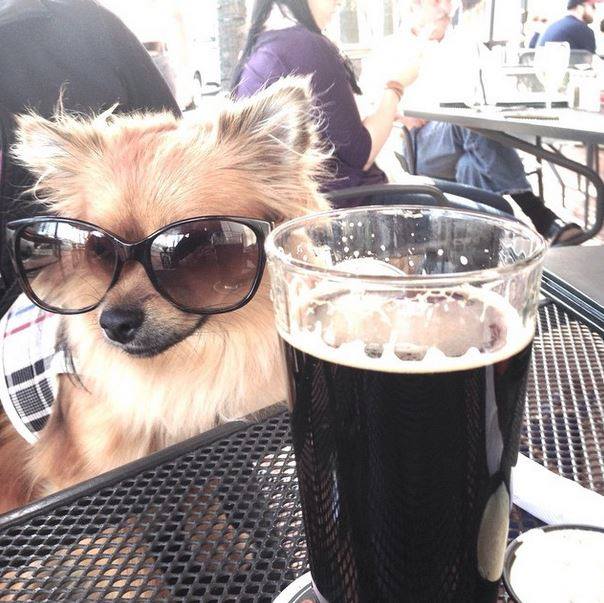 Photo courtesy of Capitol City Brewing Co.
4001 Campbell Ave., Arlington
Dogs must stay on the outside of the fence here, but there are plenty of perimeter tables and the brewery goes out of its way to make dogs and owners feel welcome. Management says daytime server Donna always has a smile and a dog treat for furry friends, plus plenty of water bowls to keep them hydrated. The brewery even has a few regulars—like Hemingway, the massive Newfoundland who hangs out here occasionally with his bud, Noodles.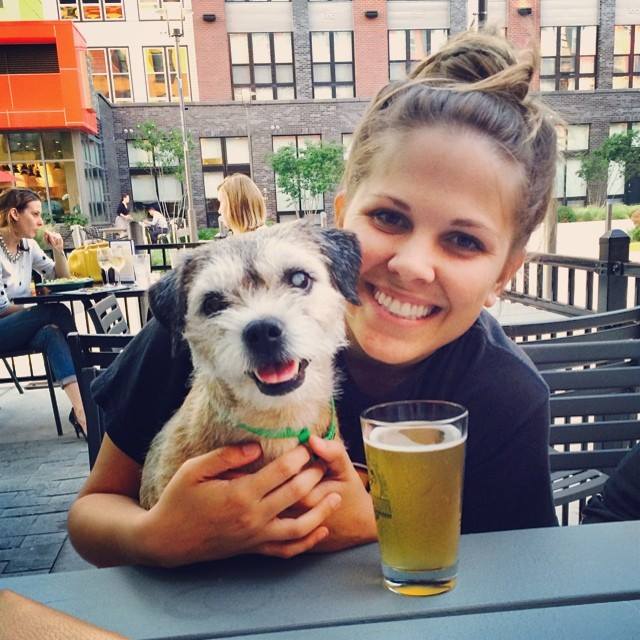 Photo courtesy of Lost Dog Café.
2729 Merrilee Drive, Merrifield; 1690 Anderson Road, McLean
Dog-lovers can feel good about supporting a business that claims to have rescued thousands of animals since it opened. (Lost Dog owners Pam McAlwee and Ross Underwood are also the co-founders of an animal rescue organization called Lost Dog & Cat Rescue Foundation.) You'll find dog-friendly patios with water bowls at both the McLean and Merrifield Lost Dog locations. The latter, tucked into the Halstead Square development across from the Dunn Loring Metro station, also offers dog biscuits.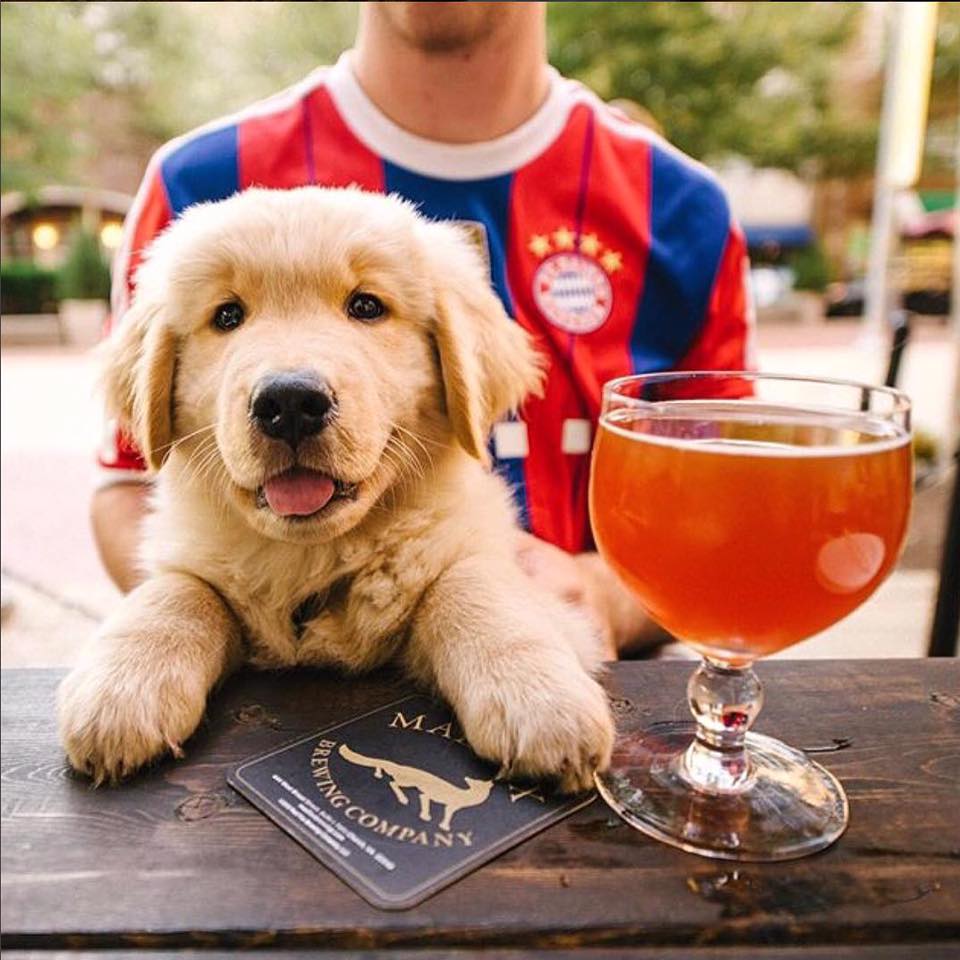 Photo by Samantha Brooke Photography
444 W. Broad St., Falls Church City
If you haven't gathered so yet, there's something about dogs and beer that seem to go hand in hand. This brewpub embraces the combination. Dogs are allowed anywhere on the patio with plenty of water provided, plus there's a weekly "yappy hour" each Tuesday from about 4–7 p.m., when local businesses like Barkley Square hand out treats. Humans receive $2 off drafts and can order select $5 wines and $6 rail drinks.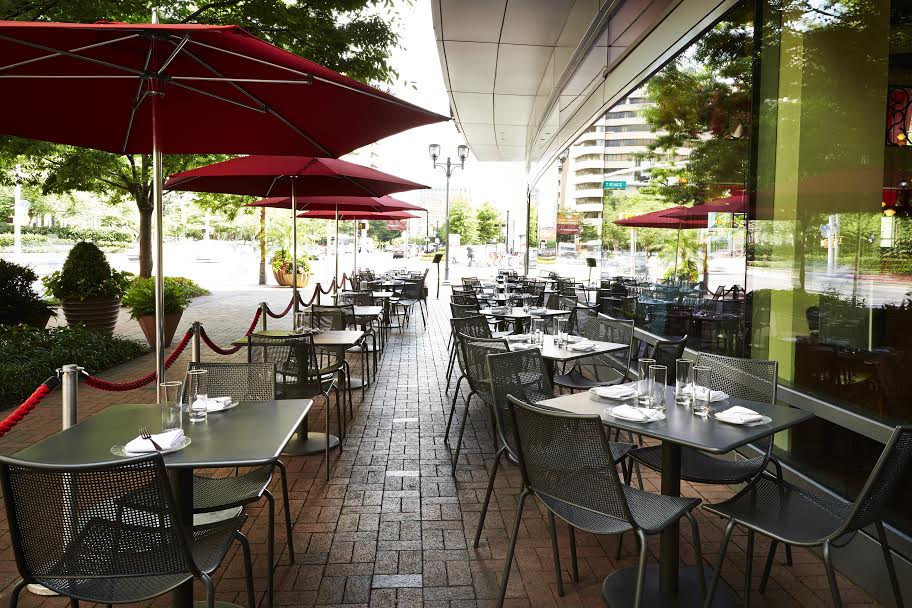 Photo courtesy of Jaleo Crystal City.
2250-A Crystal Dr., Arlington
Then again, it's not written in stone that dog people have to be beer people. Jaleo is the perfect haven for canine lovers who might prefer sangria hour, which is held daily from 4:30–7 p.m. at Jose Andres' tapas bar. Sangria is half off, and there are discounts on glasses of vermouth, wine and tapas—from $3 salmon tartare to $6 steamed mussels or upscale sliders.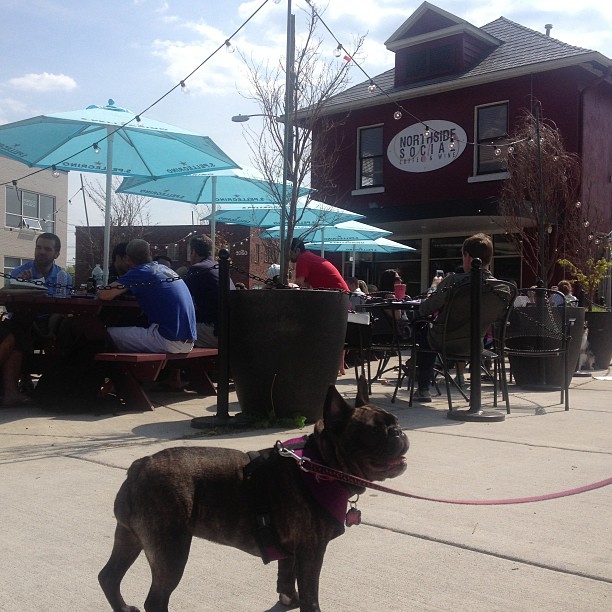 Photo courtesy of Northside Social.
3211 Wilson Blvd., Arlington
There's no denying that this bakery, wine bar and café has one of the most visible and popular patios in Arlington—and the fact that it opens at 6 a.m. means your furry bestie can drag you there at the crack of dawn. (Hey, if you have to walk the dog that early, coffee and cookies are a logical reward.) Water bowls are available, and pets are allowed anywhere on the patio.