12 Local Restaurants That Have Stood the Test of Time
Old school restaurants in Arlington, Falls Church and McLean that keep customers coming back.
The dining scene can be fickle and trendy. These beloved restaurants have stood the test of time for a reason.
Lebanese Taverna
5900 Washington Blvd. (Westover), 703-241-8681; 1101 South Joyce St. (Pentagon Row), 703-415-8681; 4400 Old Dominion Drive (Lee Heights market), 703-276-8681; 1840 International Drive (Tysons Galleria), 703-847-5244,  www.lebanesetaverna.com
The Abi-Najm family opened Lebanese Taverna in Westover in 1979, but they didn't serve Lebanese food at first. Having emigrated from their native country just three years earlier, the owners were looking to assimilate, so they started out offering pizza and subs.
You won't find pepperoni pizza on the menu today, but ask for it at the Westover location and a pie will appear alongside plates of chicken shawarma, hummus and anise-scented shrimp arak.
Today, the Lebanese Taverna brand extends to 11 locations across the D.C. region, including cafés, markets and catering, and the family plans to open its 12th at Reagan National Airport in the spring. Grace Abi-Najm Shea and her siblings, who collectively run the business, oversee several menu changes per year to ensure that customers—70 percent of whom are repeat diners—get to try new dishes.
Management promotes from within (most of the chefs started off as dishwashers). One staffer, known as "Uncle Joe," has been working at the original eatery since it opened.
"My parents came to this country with $50 and five kids," Shea says. "They lived the American dream. We have a lot of people cheering for us."
---
Pistone's Italian Inn
6320 Arlington Blvd., Falls Church, 571-388-3910, www.pistoneitalianinn.com
With its huge booths and live piano lounge, the nostalgia meter is high at Pistone's, an establishment that dates back to 1974. Chef-owner Telemaco Bonaduce, who hails from from Italy's Abruzzo region, has been on board ever since he came to the U.S. in 1990 to help open another restaurant in Baltimore's Little Italy. He became the sole owner of Pistone's when its original owner, Joseph Pistone, died in 2008.
In keeping with tradition, Bonaduce continues to serve classics like fettuccine with milk-fed veal ragu; fluffy cannelloni filled with chicken and spinach; and mozzarella in carrozza—a fried Tuscan grilled cheese that alone is worth the sometimes tricky trip around Seven Corners.
But those dishes represent only a fraction of the sprawling menu's offerings. "A lot of people come in with groups. They all want different things. We have something for everyone," he says.
Over the years, Bonaduce has lightened the interior with windows (the original space had permanently closed shutters) and pendant lighting, and the outdoor patio was recently refreshed. But he's careful not to take it too far. "Customers love this place and often say 'Please don't change,' " he explains. "I don't want it to lose what it is."
---
La Côte D'Or Café
6876 Lee Highway, Arlington, 703-538-3033, www.lacotedorcafe.com
La Côte D'Or has been around for 23 years, and yet it's not Raymond Campet's first act. He and his wife, Lynne, ran the legendary Capitol Hill restaurant La Brasserie for two decades before they opened their little bistro on the Arlington/Falls Church line in 1992.
Today, the Campets still live in the Falls Church home where they raised their three children (all of whom worked at La Côte D'Or during their years at Marshall High School and James Madison University, but are now grown). And the restaurant continues to welcome customers who, once upon a time, were Brasserie regulars, still lured by the promise of fresh croissants at breakfast, cozy wine dinners and iconic French dishes like quiche Lorraine, escargots de Bourgogne and tarte tatin.
Retirement? Even though the Campets now have six grandchildren, Lynne says she can't keep her husband out of the kitchen long enough to even consider it.
---
Bob & Edith's Diner
2310 Columbia Pike, Arlington, 703-920-6103, www.bobandediths.com
Locals have called it "B&Es" ever since Bob and Edith Bolton purchased the tiny Columbia Pike diner in 1969 and renamed it after themselves. Their son, Greg, now owns the family business, which runs 24 hours a day and is nearly always bustling. Regulars come for the meatloaf, tuna melts and towering pies, as well as for breakfast choices like steak and eggs, grits and fresh home fries.
"French toast is a killer; we are never going to change it," says General Manager Alexander Guzman.
Small expansion projects have added a few more tables and counter spots over the years, but the space is still cramped and lines are common, especially on weekends. A sign asks customers to limit their table times to 30 minutes.
Though it isn't likely to ease the congestion in Arlington, the owners are looking to open a second location in Springfield (at press time it was slated to open in December 2014). The new digs will be a little bigger—22 tables, compared with the current 16—and will also be open 'round the clock.
---
McLean Family Restaurant
1321 Chain Bridge Road, McLean, 703-356-9883, www.themcleanfamilyrestaurant.com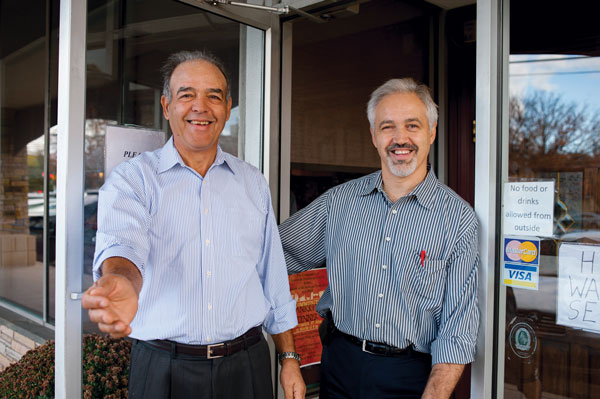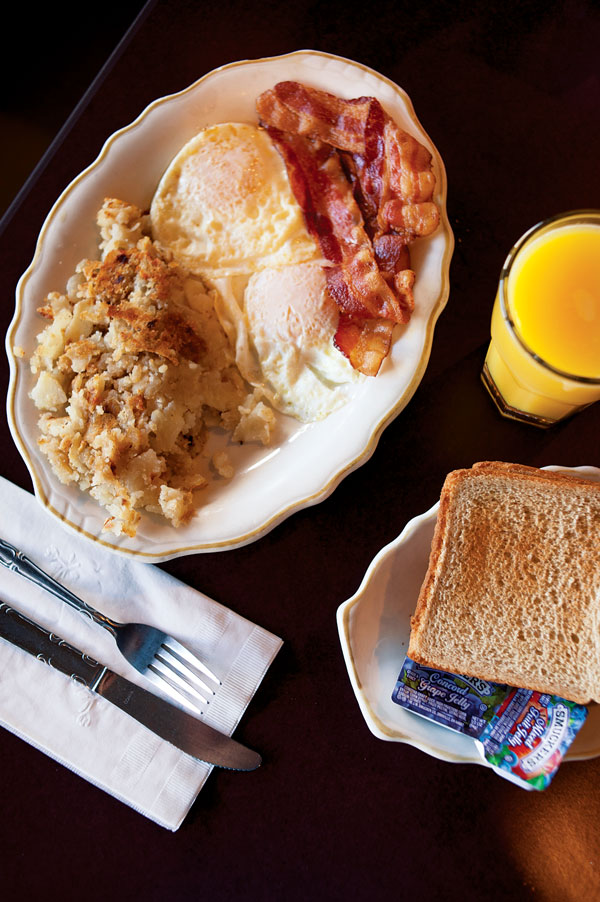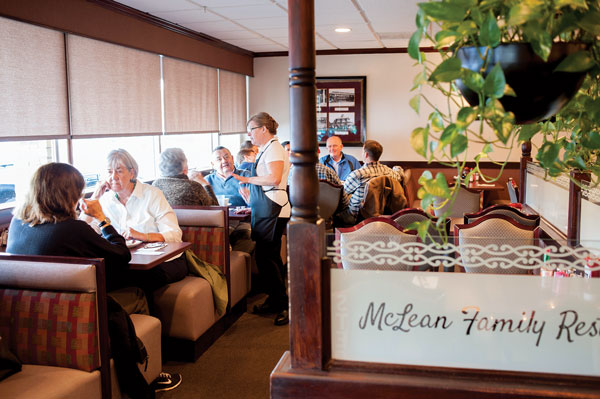 In 1969, three men, bound by marriage and blood, took over a McLean deli counter. When one of them—Sam Sampras, father of tennis legend Pete—moved to California in the early 1970s, his brother-in-law George Kapetanakis took over his share of the family business.
Today, Kapetanakis is the sole owner of McLean Family Restaurant, affectionately known by locals as MFR. He and his brother, Peter, the restaurant's general manager, routinely welcome a mix of customers from the "Agency" and the political arena, in addition to generations of local families.
Little has changed in 45 years. There are no plans to expand, and the brothers say that the arrival of Metro's Silver Line a few miles away hasn't had much of an impact on business. Although dishes like pizza and liverwurst cycled off the menu a while back, options like gyros and New York-style Reubens remain perennially popular, as do breakfast picks such as Greek omelets and stacks of blueberry pancakes.
Peter says the majority of the staff—from cooks to servers—have been around for more than a decade. At least two waitresses have logged more than 20 years apiece.  "I worked [here] as a teenager in the summers, and came back in 1990 just to help out, thinking it would be a little while," he says. "Twenty-five years later, I am still here."
---
Duangrat's
5878 Leesburg Pike, Falls Church, 703-820-5775; www.duangrats.com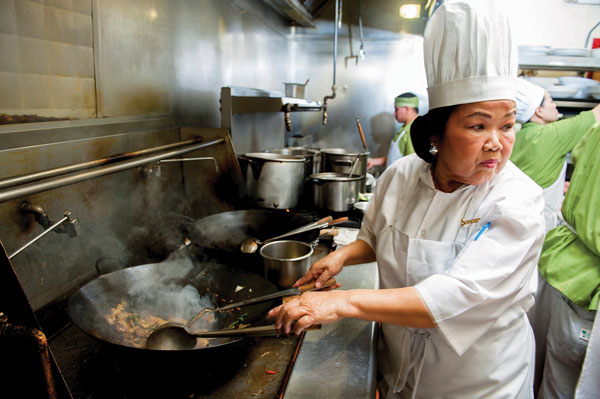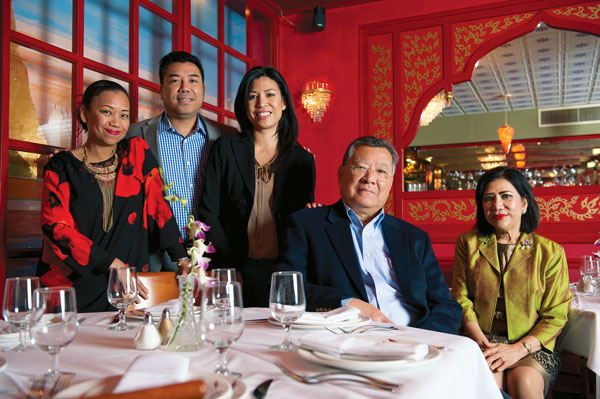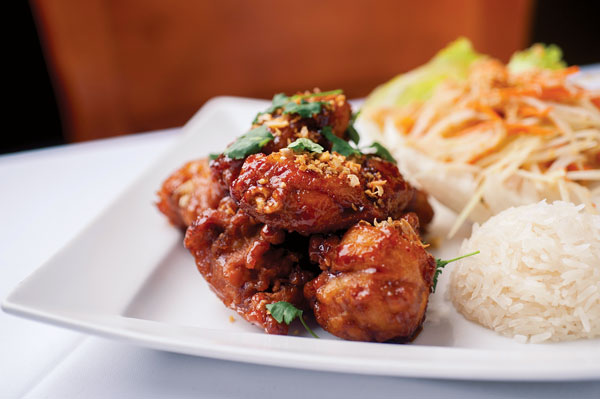 Duangrat's menu has changed a bit since Ed and Pookie Duangrat opened their vibrant Thai eatery in 1987. Today, the dishes are more authentically Thai.
"[In the beginning] we had to Westernize a lot," explains their son, Eddie who now serves as the general manager of the Bailey's Crossroads restaurant. "In Thailand, you'd be hard-pressed to find chicken satay. We started the dish with pork, but chicken just sold better. With the more recent rise of foodies, however, we've gone back and introduced more traditional dishes that people weren't ready for 25 years ago."
This evolution has delighted Executive Chef Aree Poonkruen, who has been in charge of the kitchen since day one. As Northern Virginia's  tastes have matured, the cuisine has actually grown closer to its roots. Now, plates featuring boar, quail, hand-cut noodles and fish cooked in banana leaves are on the menu at Duangrat's, as well as at its sister restaurant, Rabieng, which opened around the corner in 1996. In 2012, Duangrat's introduced a small-plates menu on weekends.
All of the Duangrats (Eddie, his parents and his sister) live in Falls Church, which makes it easy to check in daily. However, Eddie acknowledges that restaurant life is seldom 9-to-5.
"I've never taken my mother out for Mother's Day because she's always been at work," he says. "But she loves to be there. As hard as the job can be, it's our own business and it's always like being at home."
---
Nam-Viet
1127 North Hudson St., Arlington, 703-522-7110; www.namviet1.com
Clarendon has changed dramatically over the past 30 years, but Nam-Viet, a homey spot that sits serenely in the middle of it all, has not. Once an anchor of a mini-district known as "Little Saigon," the Vietnamese restaurant continues to attract a mix of longtime regulars, as well as young, well-traveled eaters. The menu has remained mostly untouched since the place opened in 1986.
Lyon Park resident Ngoc Anh Tran, known affectionately as "Mrs. Thoi" (in memory of her late husband and co-founder, Thoi Nguyen), is the kitchen's culinary mastermind, overseeing the flavors in bowls of pho, grilled meats and the menu's best known item (No. 51)—stir-fried noodles with mixed vegetables and tofu, sautéed with lemongrass and chilies.
Nguyen bought the building before he died—a move that has allowed the restaurant to remain in Clarendon and keep its prices low, even as redevelopment and real estate prices have soared around it.
Growing up, all four of the couple's kids bused and waited tables as part of the family business, and two of their sons remain involved today: Richard serves as the general manager; and John helps out with administrative duties.
Insider tip: If the neon sign that reads "Soft Shell Crabs" is illuminated, the restaurant has fresh crabs from the Chesapeake Bay. Watch for it to switch on come summer.
---
Kazan Restaurant
6813 Redmond Drive, McLean, 703-734-1960, www.kazanrestaurant.com
Turkish coffee is no longer prepared tableside at Kazan (owner Zeynel Uzun says diners no longer have time for the flair), but the fresh flowers and white tablecloths remain, as do specialty dishes like doner kabob and the classic eggplant casserole imam bayildi.
A former Royal Caribbean cruise line chef who attended culinary school in his native Turkey, Uzun settled in McLean 35 years ago because of its "sophisticated, educated community that knows about food." He estimates that 98 percent of his guests today are repeat customers. They're the ones who inspire him to rise before dawn and prowl Restaurant Depot (an Alexandria wholesaler) at 5 a.m. for fresh vegetables, diver scallops and Pennsylvania lamb.
"I could order online, but it's never the same as handpicked," says Uzun, who also receives daily shipments of white sea bass that come to Dulles on a direct flight from Istanbul.
Kazan opened in the McLean Shopping Center in 1980. Since then, Uzun has remodeled three times, adding a popular covered patio and multiple dining areas. "A restaurant is like a flower," he says. "You have to always watch it or it gets dry."
---
Whitlow's on Wilson
2854 Wilson Blvd., Arlington, 703-276-9693; www.whitlows.com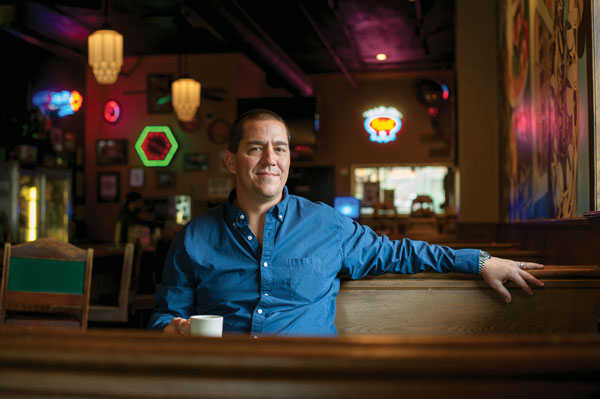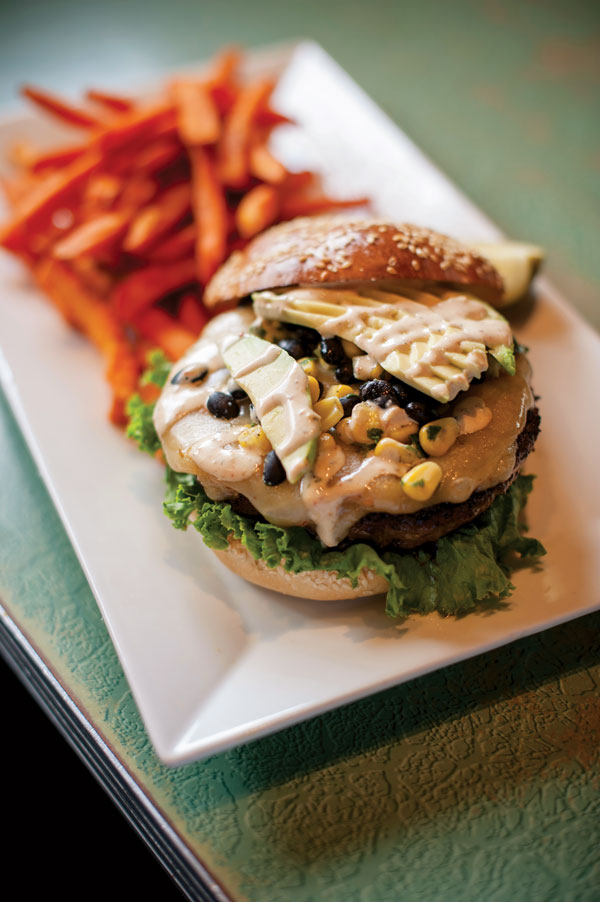 Whitlow's wasn't always an Arlington institution. It started in northwest D.C. in 1946, when David Whitlow opened his namesake restaurant on the corner of 11th and E Streets.
Greg Cahill bought the place in 1971 and moved it to Arlington in 1995, but he was careful to preserve and transport a few key elements during the move. The woodwork, glass and shelving behind the bar and the vintage white cookstove that now greets guests as they arrive are from the original location.
As Clarendon has grown, Whitlow's has remained a neighborhood constant, serving American comfort foods like burgers, wings, roast turkey dinner, and an all-you-can-eat brunch that often prompts lines outside on weekend mornings.
But it's also evolved with the times. In the fall of 2010, Cahill expanded, opening a massive rooftop space that has nearly doubled sales. "It was a game changer," says General Manager Manny Fliakas, who has worked for Whitlow's for 12 years.
Whereas local bands like Carbon Leaf and Virginia Coalition were previously the primary form of live entertainment, Whitlow's has more recently switched over to a mix of cover bands and DJs.
Thursday Mug Night—a tradition for two decades—also continues, albeit with a touch more moderation. In the beginning, Fliakas says, there was no size limit on what the bar staff would fill with beer. "You could bring a trophy, and we would fill it up for $1.50," he says. Today, the bar provides 16-oz. cups for purchase and refills.
---
Essy's Carriage House Restaurant
4030 Lee Highway, Arlington, 703-525-7899, www.essyscarriagehouse.com
Cherrydale residents Janet and Essy Saedi know three-quarters of the patrons who come through their doors. "We know what they drink, we know what they are going to order and we can suggest things we know they'll like," Janet says. "We are like the Arlington Cheers. It's where everybody knows your name."
Essy purchased the restaurant with a partner in 1975, and later bought him out. In 1980, he redecorated the space, adding fresh flowers and quiet music, along with new dishes, including house-butchered meats and wild salmon.
The clientele does skew older, and many regulars have celebrated their 90th birthdays over the kitchen's signature crab cakes, Janet says. But as more families with young children move into the neighborhood, a new generation is now discovering Essy's.
---
Peking Gourmet Inn
6029 Leesburg Pike, 703-671-8088; www.pekinggourmet.com
When Bob Tsui's grandfather Eddie arrived in the U.S. from Hong Kong in the late '60s, he told his wife, Yuk Yung, "I don't know what we're going to do, but we'll figure it out."  Restaurants were the solution. And, as it turned out, a hard habit to break.
Years later, Eddie tried to retire after running a Polynesian restaurant called South Pacific in the Parkington Shopping Center (now Ballston Common Mall). But it wasn't long before he was itching to open a new place. This time he wanted to focus on Northern Chinese cuisine, and he wanted a direct hand in everything, from farming specialty produce to crafting his own sauces.
Peking Gourmet Inn opened in 1975, fulfilling that wish. Today, it's in the hands of second- and third- generation family members. Bob joined his aunt Lily Tsui Lee and father, George, in the inn's ownership in 2011; his cousin Deborah Lee became part-owner in 2013. The family also owns and operates a hydroponic farm in Purcellville that grows spring onions and other vegetables exclusively for the restaurant.
Like those onions, Peking Gourmet Inn prefers to cultivate its own staff. Everyone on the management team started out as servers, and several chefs have worked in the kitchen for decades. "People ask about expanding and franchising, but we can't just hire a chef off the street," Bob explains. "Their experience in our kitchen is what makes everything come out right. Consistency is very important."
Every Chinese New Year, the kitchen debuts a few new dishes (last year's firecracker shrimp was a huge hit). But most customers come for traditional cuisine, including the restaurant's namesake duck. Peking Gourmet Inn cooks 65,000 birds every year, including 10,000 in December alone.
---
Mario's Pizza House
3322 Wilson Blvd., Arlington, 703-243-2381; 2847 Gallows Road, Falls Church, 703-205-0444, www.mariospizzahouse.com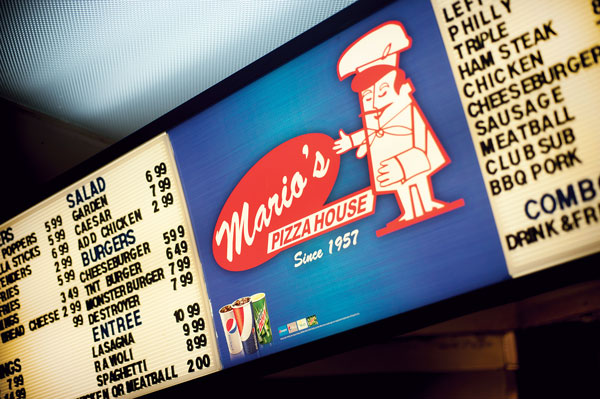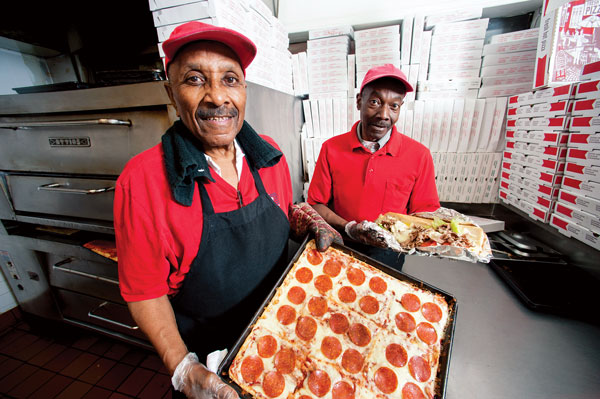 Don't let the name on the Mario's sign fool you. "This place is about Joe and Lefty," says Tony Hassan, a partial owner since 2008 who bought Mario's outright in 2013.
He's talking about Joe Williams and "Lefty" Lindsey, who have been working side-by-side at the Virginia Square eatery for nearly a half-century. Both have menu items named after them. And they seldom miss a day's work.
"It's the smiles on my customers' faces [that motivate me]," says Williams, a D.C. resident whose signature pizza is topped with barbeque pork and onions.
Lindsey, who commutes daily from Centreville, says it's worth the drive to see folks who grew up in the area now bringing in their kids and grandkids for a bite. His namesake steak-and-cheese (The Lefty Special) is laden with coleslaw, pickles and provolone.
Though the duo have cultivated a serious fan base over the years, Hassan, who also owns RedZone Grill in Fairfax and a second Mario's location in Falls Church, says that the growing competition in Clarendon and Ballston hasn't gone unheeded. He's considering adding seafood to the menu.
Jessica Strelitz still has—and uses—her original Whitlow's mug from 2000. Follow her @jstrelitz on Twitter.
More Oldie Goodies
JV's Restaurant (circa 1947), 6666 Arlington Blvd., Falls Church, www.jvsrestaurant.com. The restaurant-bar features nightly live music and a kitchen that serves meatloaf until 1 a.m.
Rocco's Italian (circa 1977), 1357 Chain Bridge Road, McLean, www.roccositalian.com. The Juliano family makes everything from family recipes—from the four-layer meat lasagna to the baked eggplant parmigiana.
Bentley's (circa 1982), 6654 Arlington Blvd., Falls Church, www.bentleysfallschurch.com. Breakfast is the draw here, from potato pancakes and Virginia ham to more than a dozen omelet options.
Faccia Luna (circa 1993), 2909 Wilson Blvd., Arlington, www.faccialuna.com. The Clarendon trattoria serves pizza, pasta and sandwiches, plus half-priced wine on Tuesdays.
Red Hot & Blue (circa 1988), 1600 Wilson Blvd., Arlington, www.redhotandblue.com. The original location of what is now a national franchise is a great stop for Memphis-style ribs, finished on the grill.
Mark's Duck House (circa 1985), 6184-A Arlington Blvd., Falls Church, www.marksduckhouse.com. In addition to the namesake fowl, Mark's serves Hong Kong-style dim sum daily.
Anthony's Restaurant (circa 1972), 3000 Annandale Road, Falls Church, www.anthonysrestaurantva.com. The Yianiarrakis family recently relocated from their original spot at 300 West Broad St. in Falls Church, but their New York-style pizza and Greek specialties haven't changed.
Frozen Dairy Bar & Boardwalk Pizza (circa 1950), 6641 Arlington Blvd., Falls Church, www.fdbpizza.com. Get your summer fix with Milwaukee-style frozen custard, pizza by the slice and funnel-cake fries. At press time, the restaurant was remodeling with plans to reopen in early 2015.