22 Dishes to Try at Taste of Arlington
The festival goes from noon-6 p.m. May 15.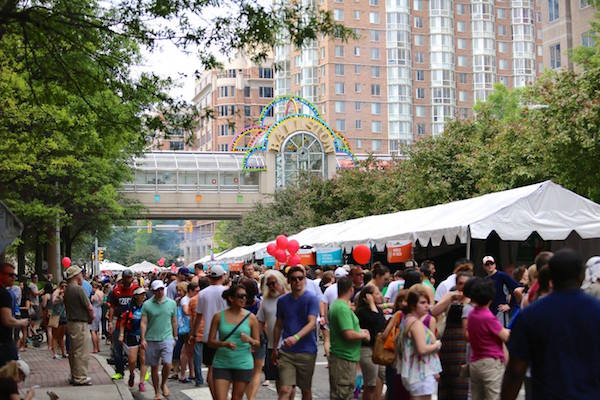 Taste of Arlington 2015. Photo via facebook.com/TasteArlington
Taste of Arlington returns to Ballston this weekend, bringing with it plenty of food, drink and yes, big crowds.
The 29th annual Taste is scheduled from noon-6 p.m. Sunday and will take place along Wilson Boulevard from North Stuart Street to North Quincy Street.
The event, which is free to enter, will feature more than 40 area restaurants. Packs of 10 tickets, each redeemable for food or drink, are available in advance for $35 or at the gate for $40. Tickets for Taste of Arlington's Bark Park or KidZone are an additional cost.
In addition to the long "Restaurant Row" area, the festival will also include live music and a beer-and-wine garden featuring Deschutes Brewing's mobile pub, complete with a 400-foot bar with multiple taps. The garden will also feature selections from Port City Brewing, DC Brau, Atlas Brew Works, New District Brewing Company and more.
But more than anything, we're heading to Taste of Arlington for the food. And this year's lineup doesn't disappoint. From apple-cider doughnuts to kangaroo skewers and Old Bay-spiked caramel corn, here are 22 can't-miss bites:
1. Brisket from Texas Jack's
The Lyon Park barbecue joint plans to serve up its signature beef brisket, along with coleslaw.
2. Old Bay Caramel Popcorn from Heavy Seas Alehouse
The popular Rosslyn bar and restaurant will serve Old Bay-spiked caramel corn, along with a brisket mac-n-cheese.
3. Tostadas de Tinga from La Tingeria
​La Tingeria food truck will feature a braised brisket tostada topped with lettuce, sour cream and queso fresco.
4. Mini Sausage Sub from Courthaus Social
Stop by the Courthaus Social booth for a hearty sausage sub made with cheese bratwurst, or a Reuben roll.
5. Soba Salad from Gaijin Ramen Shop
Vegetarians will appreciate this meat-free option: a soba noodle salad with lotus root, tofu, eggplant, nori and a yuzu dressing.
6. Duck Empanada from FDB Eatery
This Falls Church restaurant plans to serve duck empanadas with cilantro cream, plus a gluten-free braised short rib…and its signature frozen custard.
7. Kielbasa Bites from Sehkraft Brewing
​Fill up on bite-size sausages from the Clarendon brewery, which features an in-house butcher shop.
8. Pork Tacos from Pepita Cantina
Mike Isabella's Pepita will serve up pork tacos with apple puree, habanero mustard and an apple salad.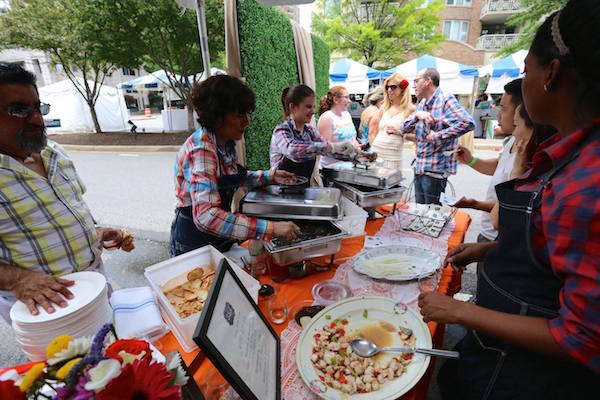 Taste of Arlington 2015. Photo via facebook.com/TasteArlington
9. Apple-Cider Doughnuts from Mac's Donuts
Opt for something sweet from Mac's Donuts food truck, where you'll find mini apple-cider doughnuts on a stick.
10. Lemon Custard from Northside Social
The Clarendon coffee shop and cafe will offer servings of lemon custard, topped with strawberries and chamomile-honey graham cracker.
11. Smoked Beef Brisket Sandwich from Liberty Tavern
Looking for a dish to fill you up? Try Liberty Tavern's brisket sandwich, served on a honey IPA roll with gouda, horseradish mayo, grilled onion and pickled jalapeno.
12. Ribs from Epic Smokehouse
Pentagon City's Epic Smokehouse will be on hand to serve its smoked and grilled pork babyback ribs.
13. Bison Burger Sliders from Circa
Go beyond basic burgers with a bison burger slider from Circa's Clarendon location.
14. Paella de Pollo from La Tasca
​The Clarendon tapas spot will serve up both a chicken and veggie version of its traditional Spanish paella, along with chicken or ground beef empanadas.
15. Beer and Lamb Meatballs from Kapnos
​The Kapnos tent will feature beer-and-lamb meatballs served with eggplant puree, mizithra cheese and tomato.
16. Beef Flautas from Fuego
Indulge in some authentic Mexican from Clarendon's Fuego Cocina y Tequileria, including beef flautas.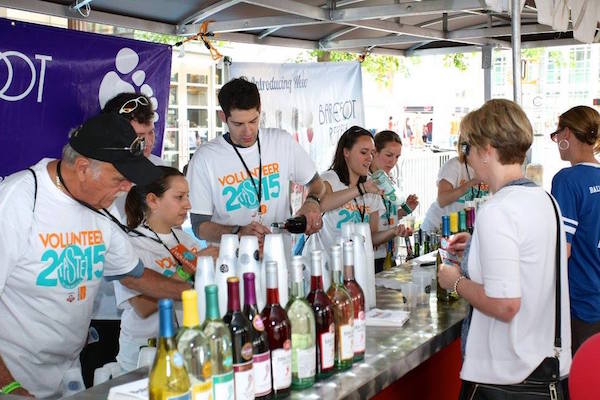 Taste of Arlington 2015. Photo via facebook.com/TasteArlington
17. Chocolate Fondue from The Melting Pot
The national fondue chain will be on hand with samples of its milk-chocolate fondue with marshmallow and strawberries.
18. Antipasti Trio from Pinzimini
​This Ballston restaurant is bringing multiple options for Taste goers, including butternut-squash deviled eggs, pork medallion confit and mussels.
19. Kangaroo Sliders from Oz
Arlington's only Australian restaurant, owned by Michael and Ashley Darby, will serve its signature kangaroo (yes, you read right) meat skewers.
20. Tri Tip from Wood Ranch BBQ
Indulge in beef tri tip from Springfield's Wood Ranch BBQ, along with garlic rolls, mashed potatoes and mac-n-cheese.
21. Jerk Chicken from Red Bone Caribbean Fusion
Kick up the heat with a serving of jerk chicken with rice and red beans from this Virginia-based food truck.
22. Jameson-Glazed Bread Pudding from Park Lane Tavern
Clarendon newcomer Park Lane tavern will serve its whiskey-glazed bread pudding, along with fish & chips and bangers & mash.