2941 Introduces Vegetarian Tasting Menu
Bertrand Chemel's 8-course veg menu in Falls Church presents another reason to forget the meat on Mondays.
"Meatless Monday" has this sort of reductionist ring to it, like you're missing out on something that's a weekday rite. Unless, that is, you're tucking into an eight-course meal that makes no mention of the meat and—by the time the buratta ravioli oozes open—convinces you it's not even missed.
This Monday, 2941 Restaurant in Falls Church jumps onto the vegetables-are-in bandwagon, launching a tasting menu that could turn even the most committed meat eaters into weeknight vegetarians.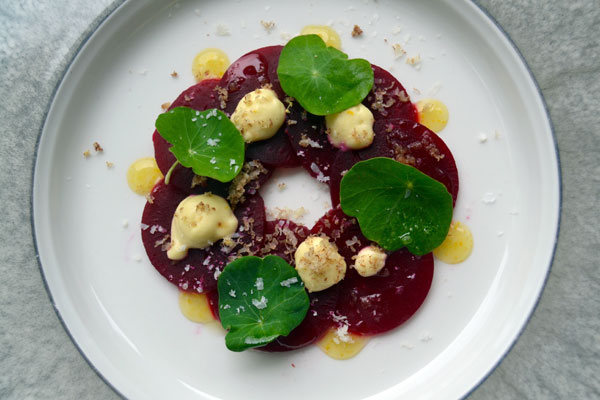 Beet carpaccio with meyer lemon sabayon, Parmesan and nasturtium leaves. Courtesy of 2941 Restaurant
Led by a bright beet carpaccio, the parade of vegetables (with a cameo of fruit for dessert) runs $70. Wine pairings are an additional $65 and feature sips as surprising as the dishes.
2941 chef Bertrand Chemel admits he was hesitant to resurrect the all-veg tasting menu concept (something he's done in the past). But an adoration of produce comes natural for the chef, who hails from France's Auvergne region and trained stateside under Daniel Boulud before helming the contemporary American restaurant in Falls Church.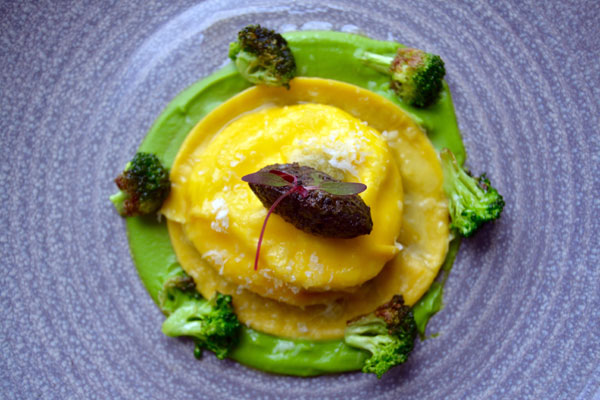 Burrata raviolo with black truffle, broccoli and Parmesan. Courtesy of 2941 Restaurant
Plus, he says, a growing number of diners have been daring him to "surprise me" with vegetable-centric courses or entire meals. Restaurants like Equinox in Washington, D.C., have helped pave the way with a vegan tasting menu that proves vegetables are worthy of center stage.
For those who aren't yet convinced, 2941 isn't requiring everyone at the table to forego the meat. Carnivores who need their fix can ask the kitchen to time other entrées to the pace of its several veg courses. The tasting menu is subject to change with the seasons, and will surely dig deeper into the root vegetable family as it's offered on Mondays through the end of the year.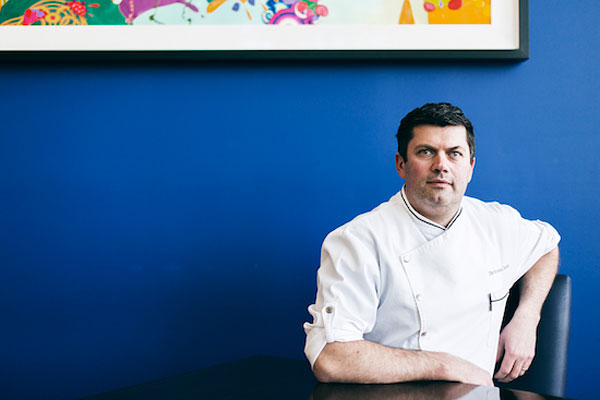 Chef Bertrand Chemel. Courtesy of 2941 Restaurant
During a recent preview of the menu and wine pairings, thinly sliced beets were paired with a Meyer lemon sabayon to open the palate. The menu then took a deep dive into fall's best flavors.
Chemel's butternut squash velouté convinced me that "apple cider compote" should be buried beneath every squash soup of the season.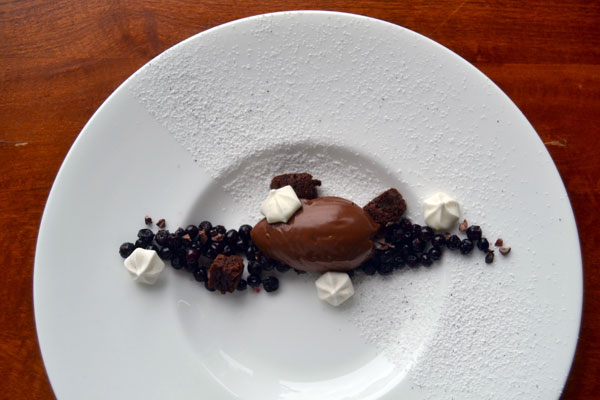 Guanaja chocolate crémeux with hucklerry compote and spiced meringue. Courtesy of 2941 Restaurant
Tucked inside a burratta raviolo—which apparently means one big ravioli—was a cheese-and-broccoli combination that harks back to the creamed soup days of childhood (if only they, too, had included black truffles).
In the "main course," just-soft vegetables spilled from a cellophane-like en papillote, which the French chef cut open tableside and served with couscous, broth, a preserved lemon and harissa and pesto sauces. This dish found a suitable companion in an effervescent and rose-colored Spanish wine so rustic that 2941 wine and beverage director Jonathan Schuyler said he found a leaf in one of the bottles.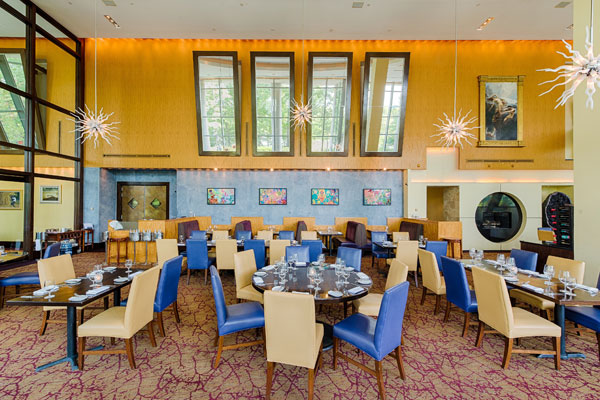 The dining room at 2941. Courtesy of 2941 Restaurant
From there, the menu skewed sweet while maintaining its sense of adventure. To find a suitable vehicle for a creamy cheese-and-fig coulis, Chemel converted the Ethiopian flatbread injera into a salty chip that I could eat by the bag.
The restaurant's Rammy-winning pastry chef, Caitlin Dysart, also offered some playful additions to the end of the meal, including a cube of French toast (called pain perdu) and a collection of chocolate creams and tiny meringues.
After eight courses and as many tastes of wine, it's not just the meat that's missing, but also the lethargy that might accompany a meat-centric version of the same. Yet another good reason to eat your vegetables.