7 Sandwiches to Order Now
Make your next picnic or lunch break memorable with one of these tasty carry-out specials.
Is there any meal quicker than a sandwich? We've combed the area to find some of the most creative combinations going between two slices of bread. If you want some fast and fierce flavor, here are seven delicious options that hit the spot and are sure to satisfy.
The Reuben at Celebrity Delly
7263-A Arlington Blvd., Falls Church; 703-573-9002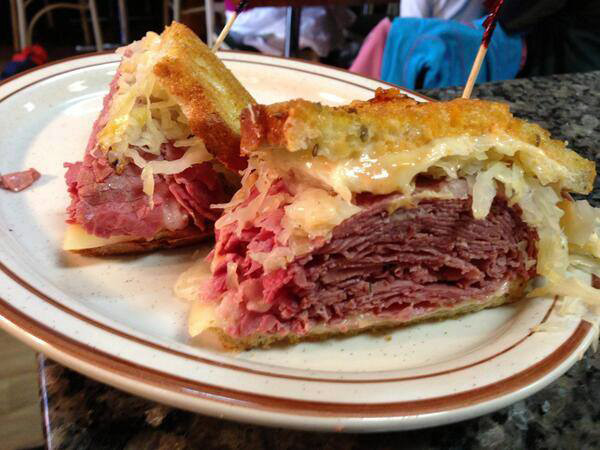 Sometimes only a classic will do, and Celebrity Delly has been doing this one ever since it opened its doors 40 years ago. "There is no question…our best-selling sandwich is our reuben," says general manager William Thompson. The hot, melty combination of corned beef, Swiss, provolone and sauerkraut with Russian dressing on grilled rye will steal the hearts of die-hard traditionalists. $11.99 or $14.98 for the platter.
The Cuban Club at Earl's Sandwiches
2605 Wilson Blvd., 703-248-0150 (between Clarendon and Courthouse) and 4215 North Fairfax Drive, 703-647-9191 (Ballston)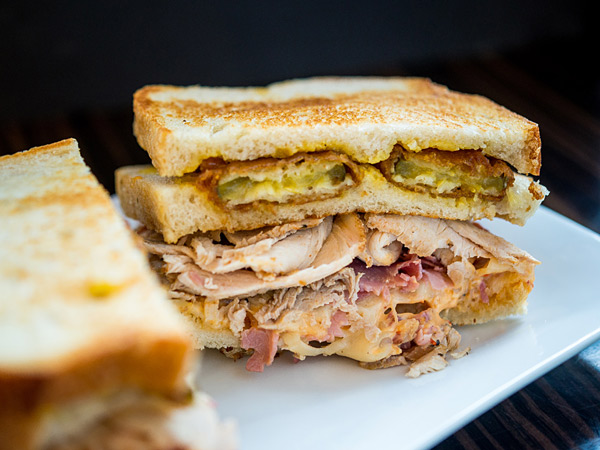 Try the Cuban Club, urges Earl's owner Stephen Dugan. "There's nothing else like it in the area that I've seen." For a twist, the sandwich shop adds prosciutto along with the usual sliced pork loin, swaps out the usual pickles for deep-fried sweet pickle chips, and tops it all off with chipotle mayo and honey mustard. $9.99
The Big Dog at Lost Dog Café
5876 Washington Blvd., 703-237-1552 (Westover), plus additional locations in Arlington, McLean and Merrifield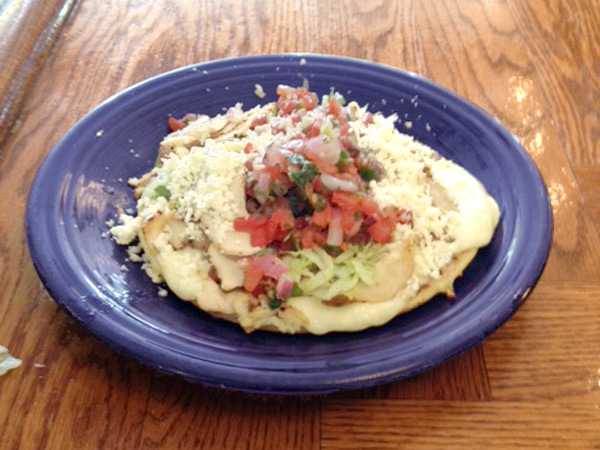 It makes sense that the Lost Dog's most popular sandwich is called the Big Dog, notes Ford Cumming, who manages the original Arlington shop in Westover. Hailing from a menu whose listings are filled with playful puppy puns (Lost Dog owners Russ Underwood and Pam McAlwee are also the founders of the local Lost Dog and Cat Rescue Foundation), this one features grilled chicken breast, melted mozzarella and feta cheeses, garlic mayo, lettuce and pico de gallo—all stuffed inside a warm pita pocket. $8.50
Banh Mi Bi at Nhu Lan Sandwich
6763 Wilson Blvd., Space #14, Falls Church; 703-532-9009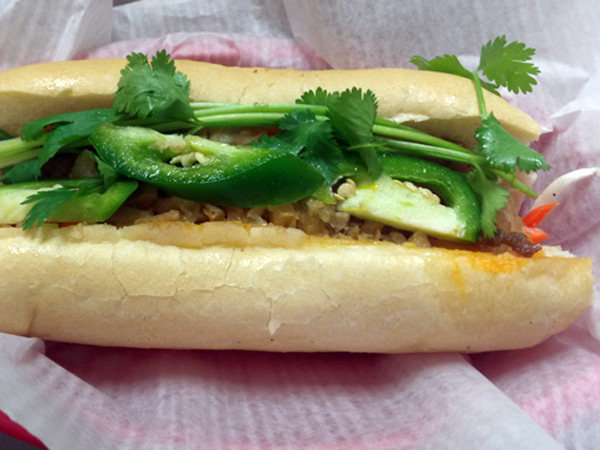 Tucked inside Eden Center near Seven Corners, this tiny sandwich stall is worth the hunt for its banh mi, which the late food writer Walter Nicholls once described as taking him straight back to Vietnam's Mekong Delta. Of the nine sandwich options, owner Ha Lu says her personal favorite is No. 5, otherwise known as the shredded pork, or Banh Mi Bi. "It smells very good," she says, holding up a dark powder of roasted rice, which goes into the tangy-sweet combination of moist ribbons of pork, crunchy cilantro and jalapeno peppers, all nestled into a crusty baguette roll. $4.
The State at Taylor Gourmet
4000 Wilson Blvd., 703.940.3690 (Ballston) plus additional locations in the Mosaic District and Reagan National Airport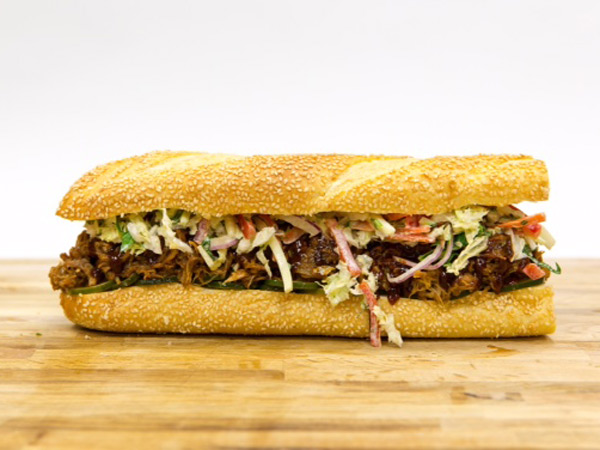 Taylor Gourmet's summer menu debuts on Monday, and Jeff Gronske at the Ballston shop already has his favorite. The State hoagie is made with braised and pulled pork, dipped in Taylor's own Lock & Key barbecue sauce, then heaped with house-made "quick pickles" and Napa cabbage slaw. $7.49-$10.99
The Tuna Sub at The Italian Store
3123 Lee Highway, 703-528-6266 (Lyon Village) and 5837 Washington Blvd., 571-341-1080 (Westover)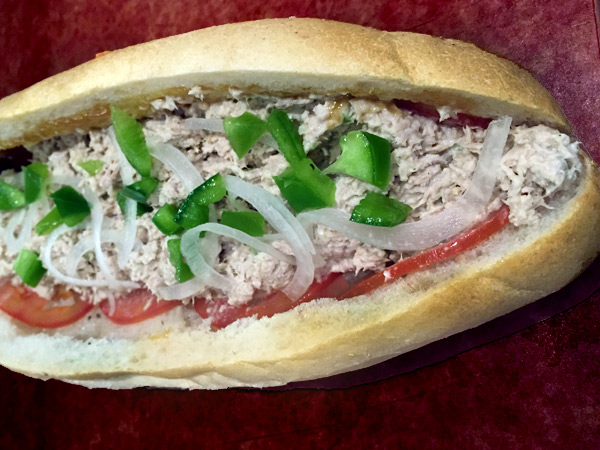 The Italian Store, which just opened its second location in Westover this spring, is famous for its Philadelphia-style subs—particularly those loaded with cold-cuts and named after cities in Italy. But Mike Tramonte, manager of the Westover shop, is partial to the tuna salad. "Our tuna that we make in-house is killer—and nobody knows about it," he says, explaining that the magic combination mixes tuna with onions, hot peppers and tomato, and then tops it off with spicy honey mustard. "I always recommend that to customers when they're looking for something different." $7.49.
The Black Bean Patty at Which Wich
4300 Wilson Blvd., 703-566-0058 (Ballston) plus a new location coming soon to Pentagon City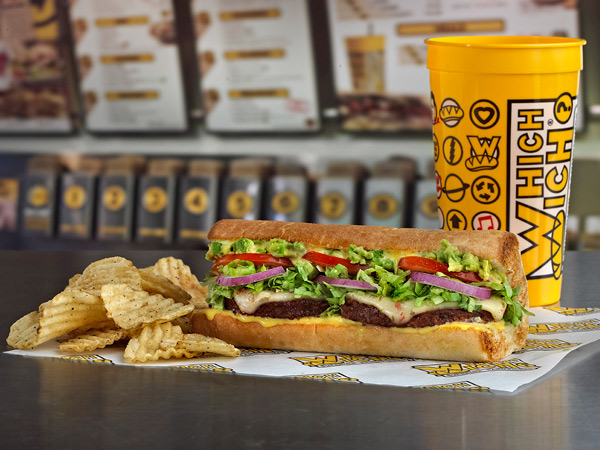 Sandwiches don't have to be meat-centric all the time. In fact, with the heat of summer in full force, it's nice to have a veggie option. Which Wich offers a black-bean patty made with corn, brown rice and chili peppers, which is then crowned with avocado, pepper-jack cheese and crisp veggies.