9 Desserts to Satisfy Any Chocolate Craving
Celebrate National Chocolate Month with these decadent delights in Arlington, Falls Church and McLean.
With Valentine's Day on the 14th and cold weather making us crave comfort calories, it's little wonder why February marks National Chocolate Month. And we're not complaining.
Want to get in on the celebration? The Arlington area has no shortage of indulgent chocolate desserts on restaurant and cafe menus, all ready to satisfy a sweet tooth through February and beyond. Here's a taste: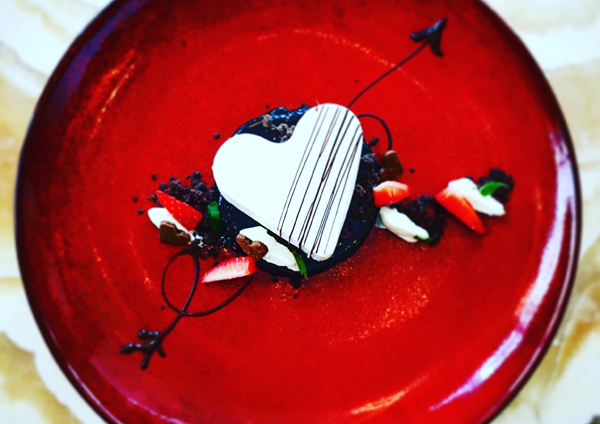 The 'Chocolate Heart for Two' at 2941 in Falls Church. Photo by Kyle Schmitz
Chocolate Heart for Two at 2941 Restaurant
2941 Fairview Park Dr., Falls Church; (703) 270-1500
For diners stopping by Valentine's weekend, be sure to check out pastry chef Caitlin Dysart's 'Chocolate Heart for Two' packed with chocolate chiffon, milk chocolate cremeux, mint bavarois and a raspberry sorbet. Can't make it for Valentine's Day? The regular dessert menu features plenty to celebrate for National Chocolate month, including a chocolate-pistachio cake.
Fried Oreo Sundae at Clare and Don's Beach Shack
130 N. Washington St., Falls Church; (703) 532-9283
Get all the deep-fried fun of fair food (no ferris wheel required) at Clare and Don's in Falls Church. Cap off a spread of chili-cheese fries and burgers with the ultimate in American indulgence: Oreo cookies, battered, deep-fried and topped with ice cream, chocolate sauce and whipped cream. Your diet can wait.
Chocolate Velvet Cake at J. Gilbert's Steakhouse
6930 Old Dominion Dr., McLean; (703) 893-1034
This Kansas City-based steakhouse chain satisfies big appetites with porterhouse steaks and lobster mac 'n' cheese. But chocolate lovers will want to save room for dessert, where the chocolate velvet cake is layered with chocolate mousse, topped with a chocolate ganache and served with a scoop of raspberry ice cream.
Bittersweet Chocolate at Toby's Homemade Ice Cream
5849-A Washington Blvd., Arlington; (703) 536-7000
Arlington residents flock to Toby's for homemade ice cream and coffee drinks. And there's no shortage of chocolate on the menu. Need help deciding? Try a scoop of the classic bittersweet chocolate, which packs a dark chocolate bite with just enough sweetness. If that doesn't fit your craving, there's always the chocolate-chip-cookie-dough, chocolate-brownie or Oreo-flavored ice creams. Or just go for a frozen hot chocolate.
Chocolate Macadamia Nut Waffle at Carlyle
4000 Campbell Ave., Arlington; (703) 931-0777
Carlyle's dessert menu gives a breakfast classic a serious upgrade with its dense, flourless chocolate macadamia nut waffle, served warm and topped with vanilla ice cream. You can burn off the calories afterward by walking around Shirlington's pedestrian-friendly shopping and dining district.
Salted Caramel Chocolate Chess Pie at Texas Jack's
2761 Washington Blvd., Arlington; (703) 875-0477
Polish of a thoroughly Southern meal with an equally Southern dessert. Chess pie—traditionally filled with a rich combination of eggs, butter, sugar and vanilla— is given an upgrade here with toothsome salted caramel and plenty of chocolate.
S'mores Parfait at The Liberty Tavern
3195 Wilson Blvd., Arlington; (703) 465-9360
The Liberty Tavern prides itself on a selection of contemporary American fare—think gourmet burgers, smoked wings and pickle-brined chicken—and the dessert selection is no exception. Those looking for a chocolate fix can opt for the new-to-the-menu s'mores parfait which layers chocolate pudding with toasted marshmallow and smoked homemade graham crackers. Also on the list is a warm chocolate brownie with salted pretzel crumble and caramel sauce.
Pan con Chocolate at Jaleo
​2250 Crystal Dr., Arlington; (703) 413-8181
The Crystal City location of Jose Andres' tapas restaurant is not short on sweets, including olive oil ice cream and Basque cake. For chocolate, though, it's the pan con chocolate, a chocolate flan with caramelized bread, olive oil and brioche ice cream. Pair it with another round of sangria.
Dark Chocolate Cheesecake at Green Pig Bistro
1025 N. Fillmore St., Arlington; (703) 888-1920
Carnivores know they can get their cravings for cuts like New York strip satiated, but chocolate fans can find something to love, too, at Green Pig Bistro. Both a dark chocolate cheesecake and warm chocolate cake with vanilla ice cream are available to be chased with a glass of red wine or the hickory-smoked old fashioned.