9 Places to Dine Outdoors
Looking for a restaurant with patio, terrace or sidewalk seating? Try one of these destinations in Arlington, Falls Church or McLean.
When it comes to improving the taste of food, proper seasoning is critical. But many would argue that landing a coveted outdoor table is a close second. Perhaps the experience of eating outside takes our brains somewhere primal, or maybe it triggers happy memories of childhood picnics and family vacations. Either way, there's no denying that a little sunshine on your shoulders can elevate a B+ meal to an A any day. And late summer/early fall is prime season to hit the patios.
Try going al fresco at one of these local establishments.
Clare and Don's Beach Shack
130 North Washington St., Falls Church; 703-532-9283; www.clareanddons.com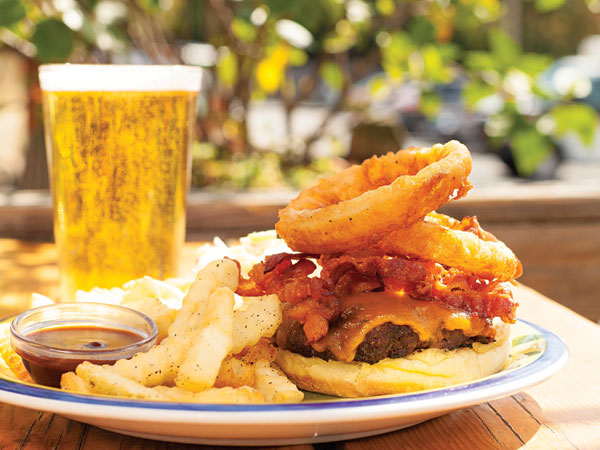 The Two Bits Burger at Clare and Don's Beach Shack. Photo by Tyler Darden.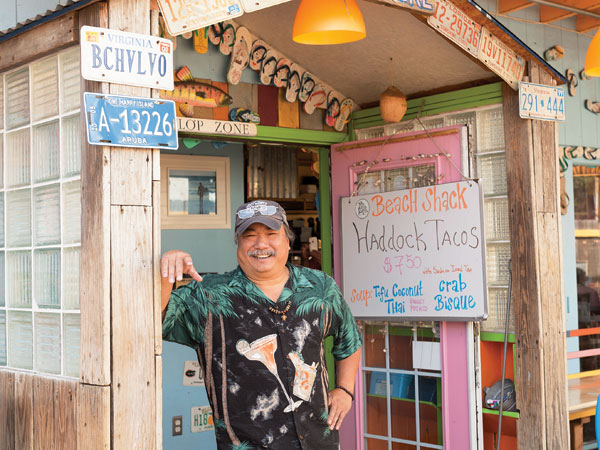 Photo by Tyler Darden.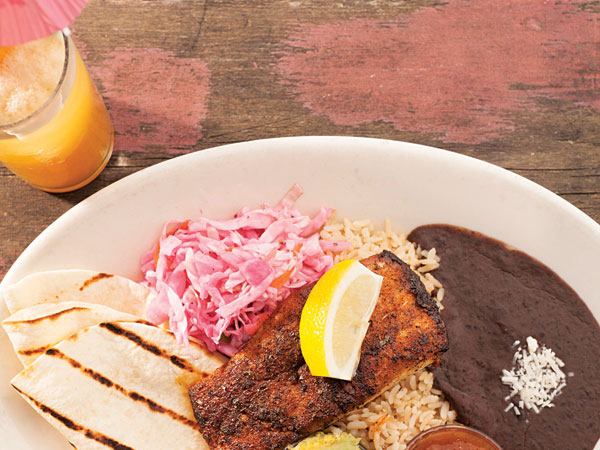 Clare and Don's bartender Brian "Hawaiian" Young (left); blackened fish tacos with marinated cabbage, brown rice, refried beans and guacamole. Photo by Tyler Darden.
Although you don't have to worry about circling seagulls eyeing your onion rings—given that there is no actual beach—Clare and Don's patio is the closest thing you'll find to a seaside getaway in suburbia. Co-owner Rebecca Tax says the fish tacos and crab cakes are go-to picks for those who want to feel like they're on vacation. And Tax would know: She hails from Florida, where eating outside is as common as sunburn.
That's not to say that the whole menu bends toward offerings from the Sunshine State. It provides something for everyone, including full belly clams for New Englanders; swamp rice for those born on the Bayou; and "beach-a-ritos" if you're lucky enough to know Baja when you see it.
In warm weather, the colorful patio is a popular spot for live music (Thursday through Saturday), cold beers and frozen margarita-and-sangria swirls, which resemble an adult version of soft-serve. Happy hour specials are offered at the outdoor bar weekdays from 3-6 p.m.
Circa
3010 Clarendon Blvd., Arlington, 703-522-3010; circaatclarendon.com
Some drinks beg to be sipped outside, and Circa's cucumber-melon sangria is one of them. The same goes for the blackberry margaritas, mules and mojitos—all of which are popular among those who enjoy people-watching from the Clarendon restaurant's two lively patios.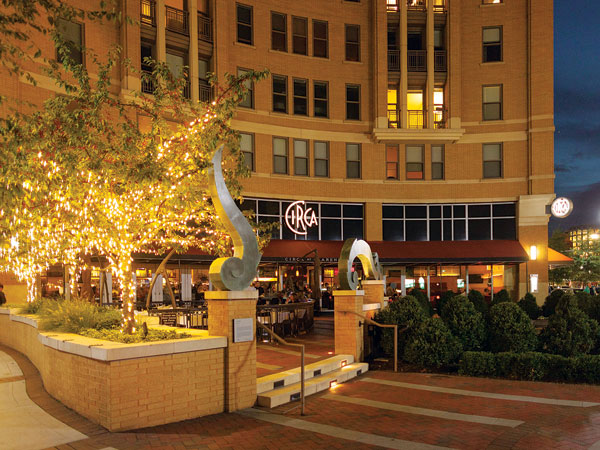 Photo by Tyler Darden.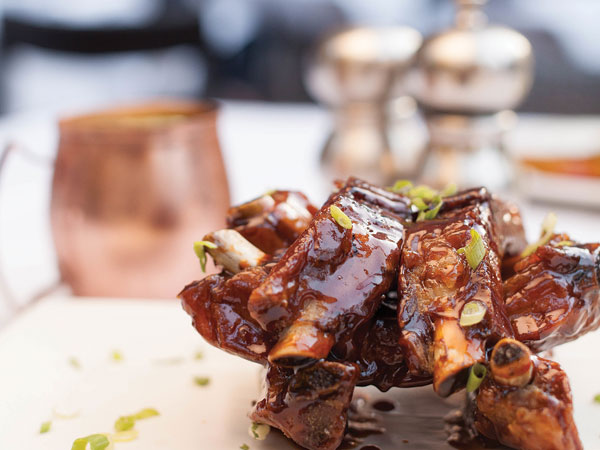 Circa's spiced pork ribs, braised in cinnamon, juniper berries, star anise and white cloves. Photo by Tyler Darden.
If you're hungry, the kitchen turns out all-American dishes such as chicken wings coated in an apricot-chili glaze and petite filet sliders. Another customer favorite, according to Director of Operations Vince Spinoso, is the bison-blue-cheese burger sourced from Virginia's own New Frontier Bison farm. Finish a meal by eating three scoops of Dolcezza gelato before they melt.
Circa is also open for lunch, so consider a midday escape from the office for Cobb lettuce wraps or crab cake sandwiches with co-workers.
Bistro Vivant Cuisine & Vins
1394 Chain Bridge Road, McLean; 703-356-1700; www.bistrovivant.com
It helps to do a little creative visualization at Bistro Vivant, given that the view from the patio is more strip-mall sprawl than Parisian sidewalk. But once the rosé starts flowing and the first few French-inspired dishes arrive, the parking lot vista is forgiven.
Owner Aykan Demiroglu says his restaurant's outdoor space is so popular, in fact, that many customers are willing to pull on parkas and sit out there in January. This is especially true for smokers and those who like to bring their four-legged foodies to dinner (a designated area serves both).
Like a good bistro, the place has its regulars. "Every day we have familiar faces. People have a day of the week they come; they have a table they sit at; and they request servers by name," Demiroglu says.
And their go-to dishes? Grilled octopus (which is made tender by poaching it first) and the hanger steak frites, which is served with an indulgent sauce dubbed "Vivant café de Paris butter." On Tuesdays, the steak frites is a house special that runs $14.95.
T.H.A.I. in Shirlington
4029 Campbell Ave., Arlington; 703-931-3203; www.thaiinshirlington.com
Anyone who has been to Thailand on a budget knows that you don't have to stay at a five-star hotel to experience Thai hospitality. Warmth and grace are extended to all, and that's exactly the kind of welcome you can expect at T.H.A.I. in Shirlington. The full bar includes a cocktail list that will remind you of an all-inclusive resort—fruit daiquiris, frozen piña coladas, mojitos and mai tais—all for $8 or less.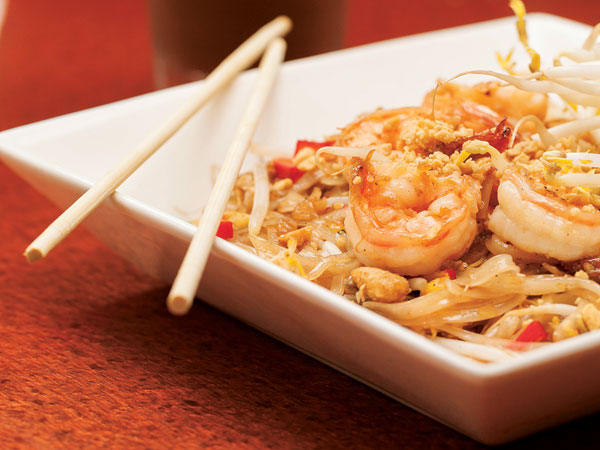 Pad Thai at T.H.A.I in Shirlington. Photo by Tyler Darden.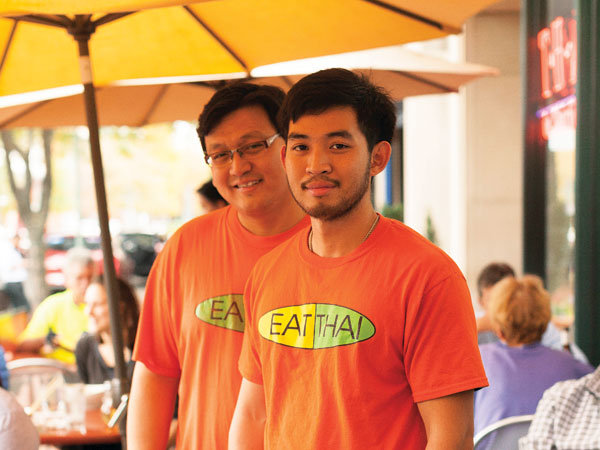 Photo by Tyler Darden.
Plus, the 55-seat, dog-friendly patio that spills onto Shirlington's central promenade is just the spot to order signature dishes such as drunken noodles, the fiery papaya pok pok salad and fusion plates like the sushi-style crispy salmon 'n' rice roll.
For dessert, Manager Nui Taupradistha recommends the house-made sorbet, calling the seasonal lychee variety "intense."
Happy hours bring discounted food-and-drink specials during the week, from 4:30 to 6:30 p.m., at the bar and on the patio.
FDB Eatery
6641 Arlington Blvd., Falls Church; 703-534-4200; www.fdbeatery.com
We all hold fast to memories of summers past: Skirting the windmill's evil arms during a round of putt-putt; buying a prankster whoopee cushion at the general store; licking a cone of frozen custard in the sun.
A trip to FDB Eatery, with its Milwaukee-style frozen custard, is sure to tap into that nostalgia wave. The family-owned establishment underwent a large-scale makeover in March (resulting in a handsome new dining room, a revamped menu and a front patio with umbrella-covered tables), but it still serves a rendition of the original custard recipe from the Frozen Dairy Bar that opened in the same strip mall parking lot in 1950.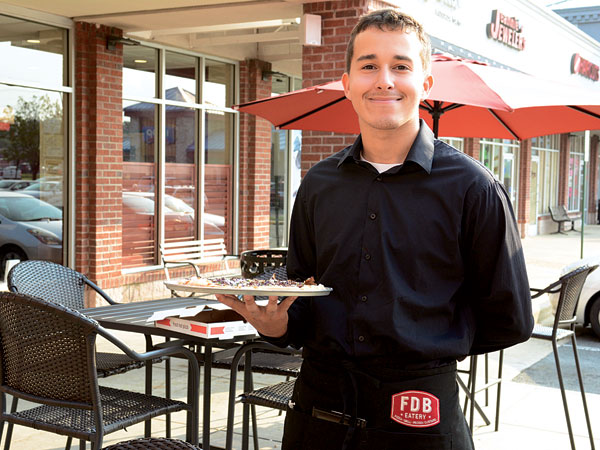 FDB Eatery. Photo by Laura Hayes.
"We kept the pizza and added burgers because those are your fun, summer outdoor things," says co-owner Kevin Eakin.
At the same time, the new menu offers more than boardwalk fare. In addition to New York-style pizza and the diet-busting bourbon burger, diners can chomp on small plates such as duck empanadas, arancini and fried oysters.
"What makes American food good is that we are a multicultural society, especially in this area, where we have tremendous Asian, Latin and Arab populations. Our menu reflects that," says Mike Natoli, executive chef and general manager of the Falls Church eatery.
Natoli, who cooks from scratch and strives to maintain just the right balance between past and present, says the new FDB already experienced its first test. "A couple who had their first date here in the 1950s came back for their 50th wedding anniversary," he says.
We're betting they left holding hands made sticky after sharing a banana split at one of the outdoor tables.
Argia's
124 North Washington St., Falls Church; 703-534-1033; www.argias.com
If the patio at Argia's doesn't inspire you to embrace la dolce vita, you're doing it all wrong. Pause to appreciate the charming surroundings—potted plants, hanging art and a faux Tuscan fountain—instead of fiddling with your smartphone.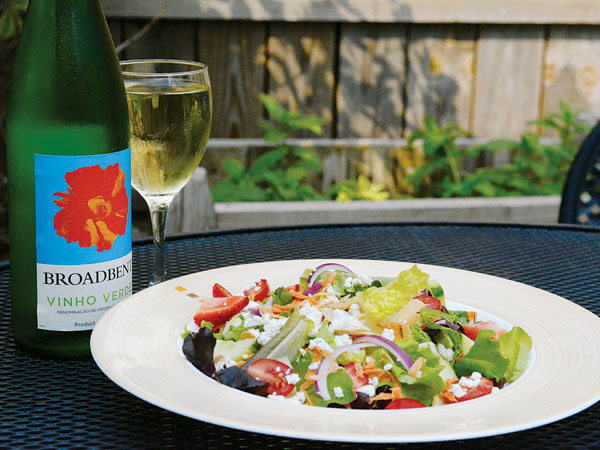 Argia's. Photo by Laura Hayes.
Chef Ryan Baldini tweaks his Northern Italian menu for warmer weather by topping fresh pastas (all of which are made in-house, save the penne) with lighter sauces. The pappardelle comes adorned with crawfish, diced jalapeños, grape tomatoes and lemon zest in a white-wine-butter sauce.
A memorable meal can also be assembled from the restaurant's bounty of antipasti plates, which include Caprese salad, steamed P.E.I. mussels, fried calamari and beef carpaccio. These and most other menu selections are available in both "solo" and "famiglia" sizes, so you can opt to share, or save all the fried risotto balls for yourself.
While it is tempting to visit Argia's on the weekend to take in a leisurely outdoor meal, there are compelling reasons to dine here during the week, too. Nightly specials include half-price bottles of wine on Mondays, and pizzas that only cost a sawbuck on Thursdays.
Don Tito
3165 Wilson Blvd., Arlington; 703-672-5392; www.dontitova.com
There's no worthier place to play hooky than a restaurant with a roof deck that starts slinging tacos and margaritas at 11 a.m.—especially when the weather is doing its best Southern California impression. And at Don Tito, which took over the former Eventide space in March, patrons have been known to do just that.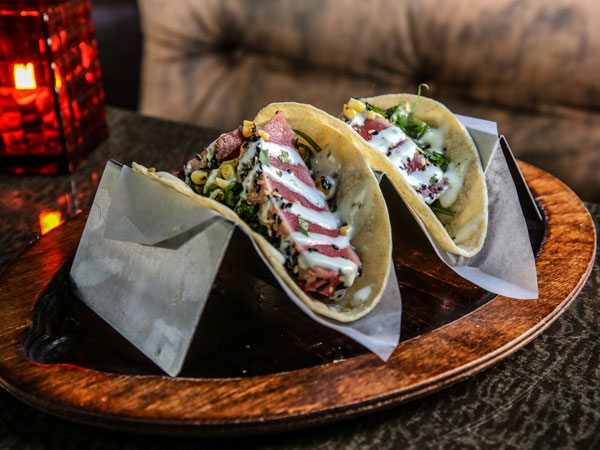 Courtesy photo
It didn't take long for the jalapeño margarita to emerge as the signature cocktail at the Clarendon hive. To make it, the bar team infuses tequila with hot peppers for a few weeks, guaranteeing that they'll leave behind their zip once they're strained out. Try one of those kickers alongside 13 different varieties of tacos, whose fillings range from beer-battered fish and carne asada to more inventive options, including fried avocado, Ancho short rib and surf and turf.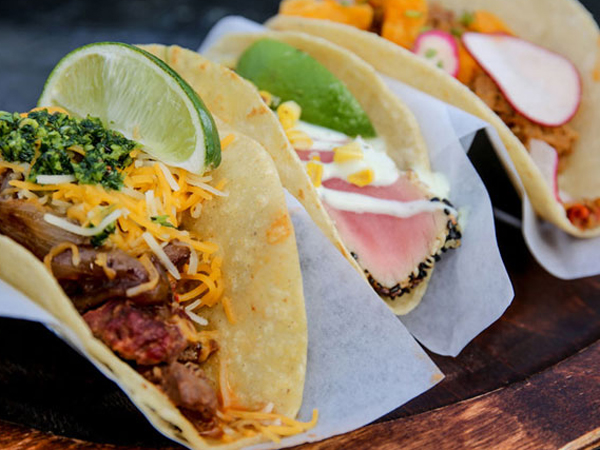 Courtesy photo
Those partial to small plates will also find options such as ceviche, grilled zucchini cakes, tamales and smoked-chicken egg rolls. Or, stop in for brunch, when hangover-absorbing dishes such as huevos rancheros and a pork carnitas Benedict can cure whatever ails you.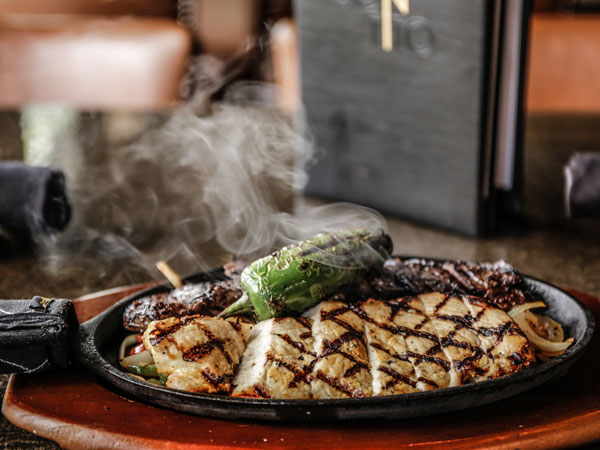 Courtesy photo
Best of all, the roof deck is always open, rain or shine. A retractable overhang can be deployed when the sun is aggressive or if a storm rolls in.
Yayla Bistro
2201 North Westmoreland St., Arlington; 703-533-5600; www.yaylabistro.com
When the heat sets in, lovers of Turkish cuisine retreat to the sunlit patio at Yayla, a newcomer to Arlington's East Falls Church neighborhood that borrows its name from the summer mountain resorts of Eastern Anatolia.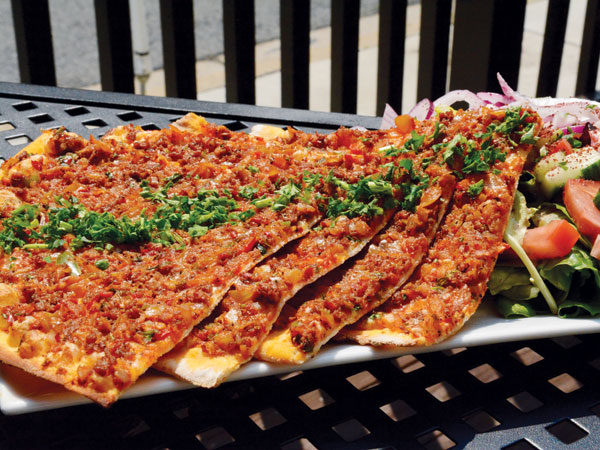 Yayla Bistro. Photo by Laura Hayes.
"A meal we'd have back home is the trio of dips with homemade bread," advises co-owner Azad Dersim, who hails from that region, "plus the cheese-and-olive plate with raki." (For the uninitiated, raki is a "love it or hate it" anise-flavored liquor that's served with water and ice to tame the burn.)
Of the seven spreads, the baba ghanoush is a good pick for its intensely smoky flavor. Alternately, start with a mezze option like dolma (stuffed grape leaves) or imam bayildi (roasted eggplant topped with sautéed veggies) before moving on to the restaurant's signature dish, lahmacun (ground lamb and beef flatbread). When it arrives, pile a slice high with salad, then fold it like a taco and enjoy.
The kitchen at Yayla is manned by Imam Gozubuyuk, along with his wife, Telli, and brother Abuzer. Pair their authentic eats with Turkish wine or beer; a mojito with sour cherry juice; or a fruity apricot cocktail called the Aegean Sea.
Fire Works Pizza
2350 Clarendon Blvd., Arlington; 703-527-8700; www.fireworkspizza.com/Arlington
Pizza and beer may have been your college sustenance, but the classic combo gets a sophisticated lift at Fire Works Pizza in Courthouse, where wood-fired pies are washed down with a selection of 33 rotating craft beers.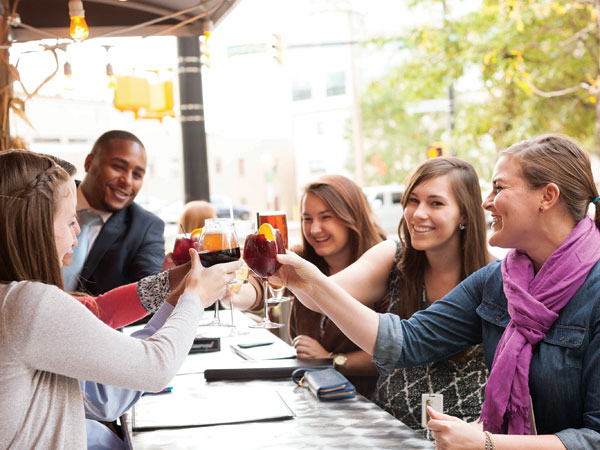 The patio at Fire Works Pizza. Photo by Tylder Darden.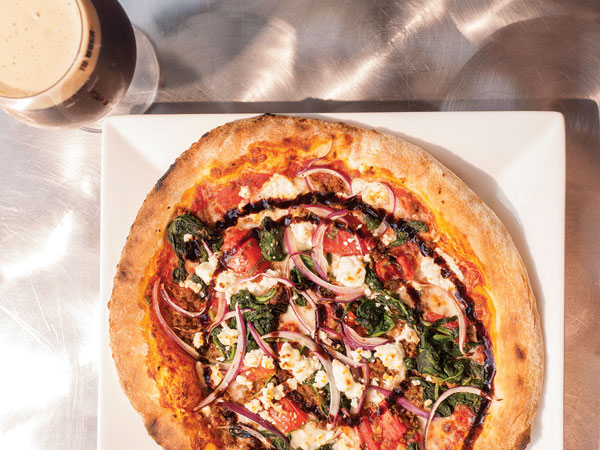 Black Sheep pizza, toppped with lamb sausage, roma tomatoes, red onion and balsamic glaze. Photo by Tylder Darden.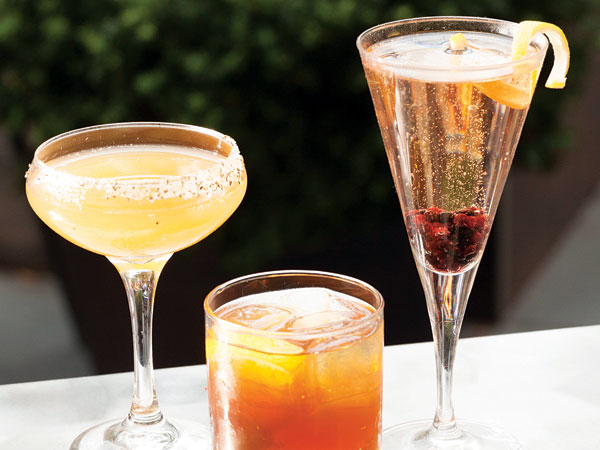 Fire Works craft cocktails
Mike Berry, a level two cicerone (think sommelier for beer), curates the impressive suds list, which also includes 100 bottled beers (99 would be cliché) and 15 cans.
Pizza-wise, the classic margherita and the Black Sheep bring the biggest smiles, according to Manager Rees Freiberg. The latter is bursting with flavor from tangy feta, Virginia lamb sausage, organic tomato sauce, spinach and balsamic glaze.
Fire Works' expansive outdoor patio is both family-friendly and first-date worthy, thanks to its twinkling lights and fire pit.
Other patio pleasers include two types of mussels (half-price on Mondays), and red and white sangria, which you can sip outside for $4 during happy hour, Monday-Thursday, 3 to 6:30 p.m.
And A Few More…
Shirlington Village
Copperwood Tavern
4021 Campbell Ave., Arlington; www.copperwoodtavern.com
Craft cocktails and farm-to-table American food with sidewalk tables.
Ballston
Grand Cru Wine Bar & Bistro
4401 Wilson Blvd., Arlington; www.grandcru-wine.com
Tapas and wine flights with outdoor seating in a courtyard.
Crystal City
Jaleo
2250-A Crystal Drive, Arlington; www.jaleo.com/crystal-city
Tapas from José Andrés and sangriain a boisterous atmosphere.
Falls Church City
La Caraqueña
300 West Broad St., Falls Church; lacaraquena.com
Family-recipe Latin comfort food, including 11 flavors of arepas, at the kitschy Stratford Motor Lodge.
Clarendon
Lyon Hall
3100 Washington Blvd., Arlington; lyonhallarlington.com
A French-Alsatian brasserie with dog-friendly outdoor seating and a kids' menu.
Falls Church City
Mad Fox Brewing Company
444 West Broad St., Falls Church; madfoxbrewing.com
Pizzas and burgers served alongside beer brewed on site.
Ballston
Pepita Cantina
4000 Wilson Blvd., Arlington; pepitabymic.com
Mexican eats by Mike Isabella and 54 signature cocktails on a 44-seat patio.
Falls Church City
Pizzeria Orso
400 South Maple Ave., Falls Church; www.pizzeriaorso.com
Creative pastas and pizzas from Chef Bertrand Chemel, tucked into a sunken courtyard.
Ballston
SER
1110 North Glebe Road, Arlington; www.ser-restaurant.com
Authentic Spanish cuisine, backed by interesting wines and sherry-laced cocktails.
Courthouse
Sushi Rock
1900 Clarendon Blvd., Arlington; www.sushirockva.com
Asian fusion and inventive sushi rolls on a patio with cushy lounge chairs.
Merrifield
TRIO Grill
8100 Lee Highway, Falls Church; www.triomerrifield.com
Steaks and seafood with a separate outdoor patio for cigar smokers.
Courthouse
Tupelo Honey Café
1616 North Troy St., Arlington; www.tupelohoneycafe.com
New Southern cooking, including late-night brunch (as well as brunch-time brunch) on weekends.
Ballston
Willow
4301 North Fairfax Drive, Arlington; www.willowva.com
Continental cuisine, craft cocktails and memorable desserts on an expansive patio.
Clarendon
Zaika
2800 Clarendon Blvd., Arlington; www.zaikadc.com
Modern Indian with a generous happy hour and elevated terrace seating.
Pentagon Row
Zen Bistro & Wine Bar
1301 South Joyce St., D9, Arlington; www.zen-bistro.com
Asian tapas and sushi overlooking the plaza.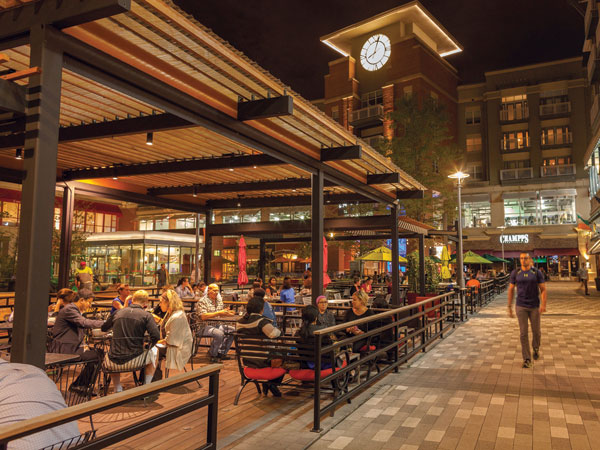 Zen Bistro. Photo by Tyler Darden.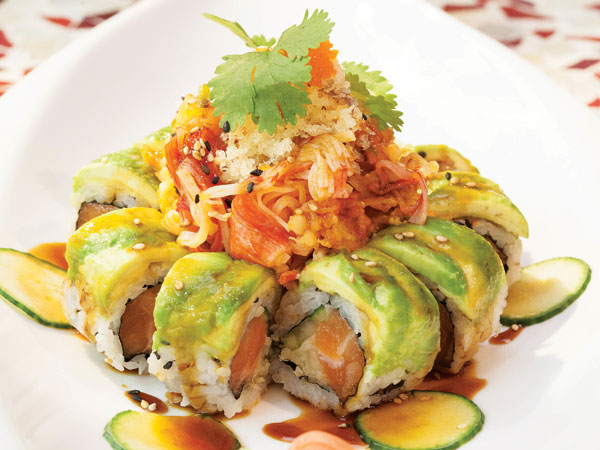 Zen Bistro. Photo by Tyler Darden.
Laura Hayes is a freelance food and drink writer based in Washington, D.C. She digs outdoor dining, but don't you dare put a tiny umbrella in her drink. Follow her adventures @BTMenu.