A Fair to Remember
Now in its 70th year, the Waterford Homes Tour & Crafts Exhibit stands out in a long list of terrific fall festivals.
A bugle warbles as a military cavalry unit canters past. The gentle sound of a mountain dulcimer rings in the distance. Not far away, a blacksmith clinks his hammer and anvil, and a weaver works swiftly at her loom. As I wait in line for jam and cookies at the Country Store, the scent of roasting nuts wafts in from outside.
It's a bright fall morning, and my husband, Eric, and I have road-tripped some 45 miles outside of Arlington with our two kids (ages 6 and 2) to Waterford, Va. Founded in 1733 as the settlement of Janney's Mill, the quaint village northwest of Leesburg is a national historic landmark town (one of only three towns with this designation in the United States), set against the backdrop of the rolling Virginia Piedmont. Indeed, this little hamlet of fewer than 2,000 residents still retains much of its old-time charm. Narrow, winding streets are lined with 18th- and 19th-century Colonial-style homes clad in brick and stone. Faded bunting hangs from windows. We're instantly transported to another time.
On this particular weekend there's even more to see as the town plays host to the annual Waterford Homes Tour & Crafts Exhibit. Now in its 70th year, the Waterford Fair—as it's more commonly known—is the oldest juried craft show in the state and a big annual draw for traditional folk artists and musicians. It's also steeped in history, featuring re-enacting units representing the Revolutionary and Civil Wars, tours of old homes, and more than 150 artisans demonstrating time-honored crafting techniques. Spread throughout the entire town, with most areas closed to cars, the fair attracts some 20,000 visitors each year.
For townsfolk, this is an all-hands event. Locals are heavily involved in the festival planning, says Walter Music, president of the Waterford Foundation, which sponsors the fair and whose mission is both historic preservation and public education. "We could not do it without the cooperation of the residents," he explains. "It takes over 200 volunteers to run this fair. A lot of residents even open up their homes for tours." (I assume those who don't want to participate choose that weekend to visit the in-laws.)
Despite the crowds, the sprawling festival offers plenty of leisurely detours and a host of kid-friendly activities.
We find a dizzying array of arts and crafts on display, spread out under tents, inside buildings and on front porches. The Red Barn area is thick with the scent of fresh-cut maple as master woodworker Larry Ballard uses hand tools to carve parts for Windsor chairs. At the Bond Street Barn, Marlow and Diana Gates of Friendswood Brooms show the children how to make "bitty brooms" to take home.
Visitors can also try their hand at making cheese, marbling paper and felting wool. We learn strange new words like "pargetry" (the ornamental plaster or stucco relief work often seen in old houses) and "Fraktur" (a Pennsylvania Dutch folk art that incorporates calligraphy). This is Americana in action, and not surprisingly, almost all of it is for sale.
We end up spending most of our time in and around the "Old School" (once a public schoolhouse, the venerable building is now used for concerts, book readings and private events), where artists have set up temporary studios, both inside and outside. One of them is Nancy Rosier, a Williamsburg-based painter who has exhibited at the fair for 15 years. Rosier specializes in "theorem" paintings, a Colonial technique in which oil paintings are crafted with the aid of hand-cut stencils, often on velvet. (And no, not like the fabled black-velvet Elvis; theorem paintings are usually done on cream-colored backgrounds.) The name "theorem" dates to an early-19th-century article that called the art form a "theoremetical system of painting," presumably because of the very ordered way in which the stencils are layered to create the effect. The results are uncommonly soft and delicate paintings—usually of fruit and flowers, which were symbols of gentility and grace in the Colonial era.
Rosier creates original designs, as well as reproductions of antique still lifes, although she has also expanded her offerings to include scenes of early-American life and nature subjects (a typical piece runs between $400 and $500). Like the other artisans who exhibit at Waterford, she's happy to demonstrate her technique to curious onlookers.
"We all love our crafts and we like to share our knowledge with others," she says. "As a former teacher, it's also very important to me that children especially see what's possible in the arts, and that some things worth doing take longer than 20 minutes."
Fair organizers say that prices for original crafts vary widely, from $3 for a Christmas ornament to more than $5,000 for a piece of handcrafted furniture. Throughout our visit, I find myself daydreaming about how various pieces would look in our living room, but with our kids in tow, we spend our money mostly on edible treats—pulled-pork sandwiches, funnel cakes and homemade cookies purchased from street stands with hand-painted signs.
"There are people who come here just to wander, and people who are absolutely focused on what they came here to buy," Music says.
We're wanderers. As we stroll, my musician husband and I are delighted to find bands and performers set up on various corners, the sounds of one set fading almost on cue as we come upon the next. Dulcimer, harp, fiddle and lute are the dominant instruments, paying homage to the town's musical past.
Near the Corner Store, we stop and listen to the Mill Run Dulcimer Band play "Keep on the Sunny Side," a song written at the end of the 19th century and made famous in the 20th by Virginia's legendary Carter family (including June Carter Cash). My son, a budding drummer, especially likes the rat-a-tat of the snare in the fife-and-drum corps that marches past. At some point, I hear a lone vocalist singing "Simple Gifts," the old Shaker tune. I am reminded that I used to hum it for my son when he was a baby.
Other musical acts aren't so placid. Bluegrass and folk-rock bands, a barbershop quartet and an organ grinder kick things up a notch, while Sunday brings the gospel with the Mt. Zion United Methodist Church Choir out of Leesburg, 10-year fair veterans.
We also hear the intermittent sounds of musket fire as re-enactors perform living-history demonstrations and talk with visitors in their encampments. It was here, in 1862, that a group of Union sympathizers formed the Independent Loudoun Rangers, the only cavalry unit formed in present-day Virginia that fought for the North during the Civil War, according to Music. In August 1862, the Loudoun Rangers engaged in a battle against Confederate raiders that centered on Waterford Baptist Church, which still stands on High Street. Eliza Walker, who lived in the town during the war, wrote to her husband that she could "see dimly in the grey dawn the shadowy forms of horses as they galloped by the gate. The children were all instantly awake."
Sitting together on a hay bale, my own children are "instantly awake" as the Loudoun Rangers—or, at least, the modern re-enacting version of them—swoop into view on their horses. Leading the group is Culpeper resident Dennis Harlow, a founding member and longtime captain of the unit, which boasts about 20 participants and travels to between 10 and 20 events each year. Dressed in striking blue uniforms with yellow trim and sporting Union kepis on their heads, they've come to the Waterford Fair for several years running now. Harlow says it's important that they honor the place where the Loudoun Rangers were formed.
"There's a family atmosphere to this festival," he adds, as my kids get up close and personal with a horse and pet its nose. "We like getting involved with the public."
History is further brought to life in the dozen or so houses that are open for tours, each with its own distinctive story. These include the Joseph Janney House, a two-story log structure built sometime before 1796 by a member of the family that first settled Waterford; the Asbury Johnson House, an 1886 Victorian whose facade features unusual red glass in the transom and sidelights; and the 18th-century Marshall Claggett House, a one-room log cabin in which Claggett, an African-American man, and his wife, Angelina, raised nine children.
I am especially drawn to the accurately named "Pink House," a three-story Colonial on Main Street. Originally opened in 1825 as a "house of entertainment" (not what you're thinking, but a tavern), it was later used as an apothecary, a hardware store and a physician's office. The stately home assumed its distinctive rosy hue in the 1950s and is now a bed-and-breakfast. I stage-whisper to Eric that it would be a good place to return to some other time, without the kids.
But not today. Heading back to the car, each of us digs into our own sleeve of spiced nuts, so no one has to share. We buckle into our seats and Eric moves to turn on the radio, but I don't let him. Not yet.
As Waterford recedes in the distance, I want only "Simple Gifts" to be playing in my mind.
Waterford Homes Tour & Crafts Exhibit
Oct. 4-6, 2013 | Website
Driving Directions to Waterford
From I-66 West, take the Dulles Airport/Route 267 Toll Road exit (12B) and follow the spur about two miles until you merge onto the toll road.
Continue on the toll road for about 15 miles until it becomes the Dulles Greenway for 12 more miles (you'll have to pay appropriate tolls). At the end of the Greenway, take the left exit (1A) toward Leesburg.
Stay on Route 7 West (the right lane becomes an exit to Route 15 south) for about 6 miles. Take the exit for Route 9. Stay right onto Route 9 at the end of the ramp.
Take the third right onto Clarkes Gap Road (Route 662). Follow Route 662 about 2.5 miles to Waterford.
Other Fall Festivals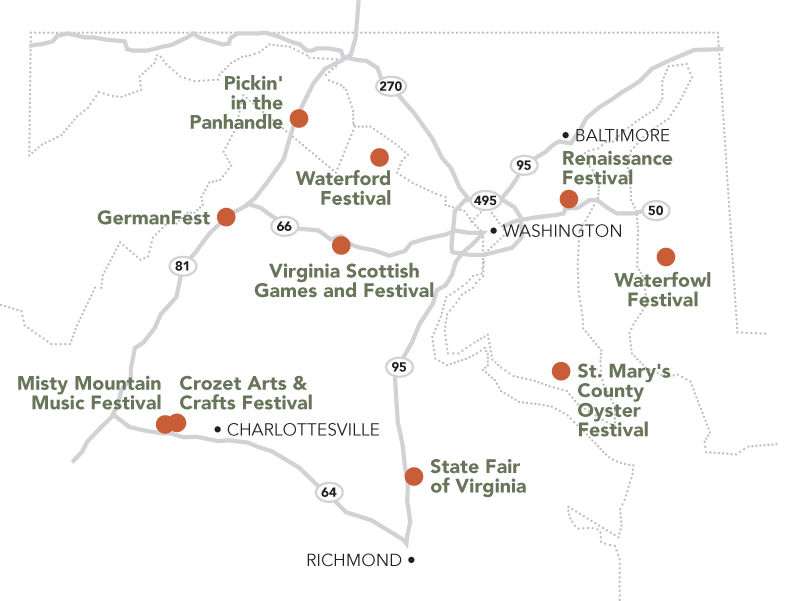 Maryland Renaissance Festival
Weekends, Aug. 24-Oct. 20
Crownsville, Md.
www.marylandrenaissancefestival.com
Enter ye into the olde Revel Grove, a fictional 16th-century English village and site of the renowned Maryland Renaissance Festival, the second-largest of its kind in the United States. Visit with kings and court jesters, dine on turkey legs and imbibe in the taverns, watch craftsmen and women work their wares, and thrill as armored jousters parry and clash. Costumes are not required to attend this event near Annapolis, but don't be surprised if you leave with a feather in your cap or a flower in your hair.
Virginia Scottish Games and Festival
Aug. 31-Sept. 1
Great Meadow, The Plains, Va.
www.vascottishgames.org
Bring your plaid and Celtic pride to this Labor Day festival, which features traditional games from the Scottish Highlands—including the famous caber toss, in which hefty men throw huge logs end over end. Bagpipes and drums will stir the soul, and adventurous foodies can sample traditional Scottish fare such as haggis (a savory "pudding" of onions, oatmeal and offal) and bridies (meat pies) alongside the requisite hot dogs and fries. Although technically still a summer festival, the beautiful Piedmont location often brings mild breezes and gives a taste of the season to come.
Pickin' in the Panhandle
Sept. 6-8
Shiley Acres, Inwood, W.Va.
www.panhandlepickin.com
Whether you already know the difference between Carolina and Memphis-style barbecue, or if you just want to learn, the West Virginia State BBQ and Bluegrass Festival is the place to be. Better known as Pickin' in the Panhandle, this gathering just outside Martinsburg W.Va., features music on three stages—including bluegrass, "newgrass," rockabilly and more—along with crafts, gifts and, of course, barbecue.
GermanFest
Sept. 14
Shenandoah Germanic Heritage
Museum, Toms Brook, Va.
www.germanfestva.org
No self-respecting German festival would lack a beer garden, and the Shenandoah Valley's GermanFest doesn't disappoint. In addition to partaking of the beer (and wine) garden, visitors can listen to live bands perform polkas, waltzes and other traditional music; stop by arts, crafts and history booths; and tour the Shenandoah Germanic Heritage Museum, an original homestead from the 1700s.
Misty Mountain Music Festival
Sept. 27-29
Misty Mountain Camp Resort,
Greenwood, Va.
www.mistymountainmusicfestival.com
If the Misty Mountain Music Festival is any indication, Blue Ridge music is alive and well. This third annual event, which invites festival-goers to camp out throughout the weekend, is a celebration of original Virginia music and traditions. Bluegrass, country, folk and more will keep you foot-stomping and hollering the whole time. Food and craft vendors are on hand as well.
State Fair of Virginia
Sept. 27-Oct. 6
The Meadow Event Park, Doswell, Va.
www.statefairva.org
Farm animals, blue-ribbon competitions, carnival rides, ample food, 5K and 10K races, and even a Miss State Fair beauty pageant will all be part of this year's Virginia State Fair. The lineup of musical acts includes the legendary Charlie Daniels Band.
Crozet Arts & Crafts Festival
Oct. 12-13
Claudius Crozet Park, Crozet, Va.
www.crozetfestival.com
In addition to showcasing fantastic local and regional artists and craftspeople, this festival near Charlottesville invites the public to try painting with guided instruction, so you can go home with someone else's painting or even one of your own. The fair includes a children's entertainment tent for the little ones and wine tastings from local wineries for the grown-ups.
St. Mary's County Oyster Festival
Oct. 19-20
St. Mary's County Fairgrounds, Leonardtown, Md.
www.usoysterfest.com
If shucking and slurping oysters floats your boat, this festival is for you. You can eat them raw, grilled, stewed, breaded, on the half-shell, and in many more ingenious concoctions (even in dessert). Enjoy live music and watch oyster masters compete to see who can shuck them best.
Waterfowl Festival
Nov. 8-10
Easton, Md.
www.waterfowlfestival.org
For more than 40 years, the Waterfowl Festival has celebrated the deeply held traditions of Maryland's Eastern Shore. Duck decoys, plein-air painting demonstrations, and sportsmen's goods and gear are all part of this festival, which is spread throughout several buildings and locales in Easton. A portion of the proceeds goes to Waterfowl Chesapeake, which supports conservation efforts throughout the Chesapeake Bay watershed.
Arlington-based freelance writer Kim O'Connell has a master's degree in historic preservation from Goucher College. She loves to go to festivals because they often include three of her favorite things—eating outside, live music and people in period costume.