Adventures at Arlington's Outdoor Lab
Neil Heinekamp, director of the 225-acre facility, encourages kids to expand their horizons and get their hands dirty.
Standing near a rocky stream, Neil Heinekamp bends over a tray full of freshwater critters that a small group of summer campers has just collected. He pokes a finger into the shallow water and does a quick accounting: a few crayfish, a crane fly larva, a salamander and some pebbles.
To the giggling delight of the children around him, he plucks out one squirming crayfish. "Let's see if this is a male or female," he says, turning the animal over in his hand and pointing to a set of appendages beneath the legs called swimmerets. They're longer and more developed in males than females, he explains. This one is a male.
A longtime birder, hiker and naturalist, Heinekamp serves as director of the Phoebe Hall Knipling Outdoor Lab, a 225-acre facility in the rolling piedmont of Fauquier County that provides outdoor education exclusively for Arlington Public Schools students. Owned by the nonprofit Arlington Outdoor Education Association (AOEA), the lab is named for a visionary teacher and science advocate who led the effort to purchase the land for the facility in the late 1960s.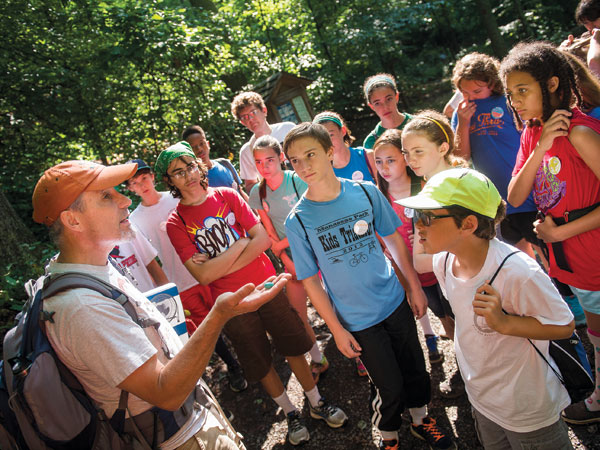 Heinekamp studies a robin's egg with students at Arlington's Outdoor Lab. Photo by Lisa Helfert.
Each year, third-, fifth- and seventh-graders—as well as some high school students—come to the lab for field trips (fifth-graders get to camp out overnight), learning about native animals and plants, simple machines such as levers and pulleys, scientific concepts such as electromagnetics and more. The lab also runs a series of sleepaway summer camps, during which students hunker down in tents, eat meals communally and immerse themselves in the wonders of the woods.
For Heinekamp, 57, forging a career at the Outdoor Lab seemed almost predestined. A former Boy Scout from Upstate New York, he earned an associate degree in forestry and worked for the U.S. Forest Service in Idaho before going back to school at Cornell University to earn a bachelor's of science in natural resources in 1991. During summer breaks, he led high school volunteer work crews for the Student Conservation Association. That's when he began to view himself as a teacher and leader.
"I wanted to find work that could be outdoors and good for the environment," he says from his home in Arlington's leafy Glencarlyn neighborhood, which he shares with his wife, author (and Arlington Magazine contributor) Sue Eisenfeld. By design, their house is about as intertwined with nature as you can get in Arlington, backing up to Glencarlyn Park and only steps from the W&OD and Four Mile Run trails.
Heinekamp joined the staff of the Outdoor Lab as a part-time "custodian" in 1992—"meaning I pretty much did anything that needed to be done," he says—before he was made director in 1995. Today, he leads a staff of three and a cadre of volunteers, and still pretty much does whatever needs doing, whether that means leading a student program or a hike, developing a curriculum, coordinating with teachers and administrators, or repairing a damaged trail.
His understanding of nature is both expansive and specific, from the vast equation of climate change to the haunting, high-pitched call of the cedar waxwing, one of his favorite local birds. (He can actually identify almost any native bird from its call, thanks to coursework at Cornell's renowned Ornithology Lab and decades as an avid birder.)
And yet his manner is conversational and easy. On a recent day at the lab, he sat with a circle of enthralled campers, watching an Eastern king snake in the process of masticating a dead mouse. With his hands, Heinekamp demonstrated how the snake works its jaw from one side to the other to get the mouse down its gullet.
Later, when a cardinal repeatedly flew near the glass door of the building, distracting some of the kids, he pivoted the discussion to talk about cardinals' habitats and the fact that it is the state bird of Virginia.
"My favorite times are when a group is really focused, they're really with me, and you can just see that you're getting through to them," he says.
As Arlington's student population has exploded in recent years, the Outdoor Lab has felt the capacity crunch. For Heinekamp, more students mean more fifth-grade overnights (which require on-site supervision), more maintenance and more administrative tasks, as well as more reliance on donations to enhance the lab's mission (above and beyond the annual budget for salaries and supplies allocated by Arlington Public Schools).
"The lab is such an asset…but with the exploding school population, the program is in jeopardy," says Anita Knipling Scott, the daughter of the lab's namesake benefactor and a member of the AOEA board of directors. "We have investigated acquiring more property in the vicinity of the lab, but of more immediate concern is getting more funding for adding staff and expanding on the facilities we presently own."
Scott says she appreciates Heinekamp's "quiet, yet dynamic demeanor, passion for learning and mutual respect for students, parents and staff," especially in the face of increasing challenges. This past spring, she was one of several people—including a cross-section of Arlington educators and former students—who nominated the naturalist as one of Arlington's 2015 Teachers of the Year.
Heinekamp accepted the recognition before an appreciative audience at an awards ceremony in May, but says he feels more at home out on the trail. When he isn't teaching students, he conducts his own scientific research at the lab, including a multi-year study of spotted salamanders that examines how climate and other factors have affected salamander populations over the last two decades.
He's drawn to "all the little live things," to borrow a phrase from author Wallace Stegner.
"When others are looking at the scenery," he says, "I'm looking for millipedes." And thousands of fascinated Arlington students, their eyes opened to a larger world, are looking along with him.
Kim O'Connell is an Arlington writer who enjoys hiking national parks, Civil War battlefields and along the Potomac closer to home.