Adventures in McLean's Funkiest Consignment Shop
At Betsy & Cornelia's, bargain hunters never know what they might find.
"MY PROBLEM IS that I love things," Betsy Flanagan says openly. She's sitting on a chair that's shaped like a giant pink high-heeled pump with her legs crossed, wearing an oversize, double-breasted, vintage navy blazer and faux-leather leggings, with icy-pink lipstick and white-blond pigtails spilling from the crown of her head.
We're chatting in a back corner of Betsy and Cornelia's (the latter name an homage to Flanagan's elderly mom, Cornelia, who now lives in Florida), the eclectic/eccentric consignment shop in McLean that's every bit a reflection of its owner.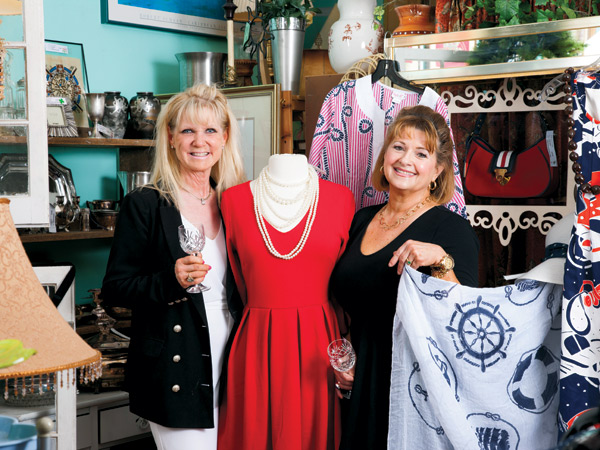 Store owner Betsy Flanagan (left) and manager Theresa Woodward. Photo by Stacy Zarin-Goldberg.
Flanagan majored in fashion merchandising at Marymount University and lived in Arlington most of her life before moving to McLean in 2011. She describes her store's aesthetic as "an eclectic, layered look," which means that pretty much anything is fair game.
Items displayed from floor to ceiling include a rack of Ferragamo shoes, cases of jewels (both real and costume, vintage and new), high-hung mirrors and artwork. There are decorative items of every ilk, from delicate Lladro figurines to giant, ribbon-festooned ducks and a life-size replica of a red fox. A hodgepodge of china, linens, pewter, silver and ceramics are sure to trigger memories of a favorite grandparent's house, while a brand-new lighted sign, outlined in exposed filament bulbs, beams "hello, gorgeous!" near the store's entrance.
This isn't just a merchandising strategy. Flanagan confides that her home is decorated with similar effusive joy. "Last week my daughter convinced me to take down the Christmas tree in my living room, which was all white with white lights and white ornaments," she says, with a nod to her daughter, Katie, who lives in Rosslyn.
Why keep a Christmas tree up until temperatures veer into shorts weather? She shrugs: "It just made me happy."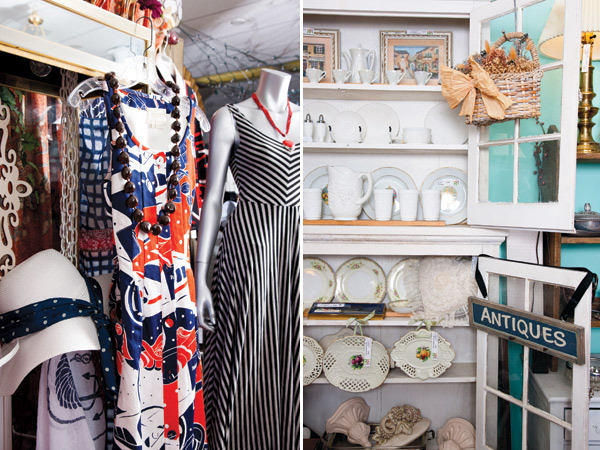 Left: Seasonal clothing includes both modern and vintage finds. Some items are purchased brand-new for the store. Right: Set a shabby-chic table with a milk-glass pitcher and tumblers ($48 for the set) and mix-and-match china.Photos by Stacy Zarin-Goldberg.
If you're the kind of shopper who likes to wander a retail space in anonymity, you're out of luck here. "I like to give everyone a tour of the store first so they know where to look," says the bubbly Theresa Woodward, who's been managing the shop since it opened in August 2010.
Today, as usual, Woodward's husband and dog have accompanied her to work. As is the case with all the staff, Woodward is a volunteer. In return for time spent behind the counter, she says, volunteers are able to take more ownership of the stock, often bringing in items to consign and contributing to the overall merchandising vibe.
But the real benefit of working here, it seems, is the camaraderie. "We're a support network for each other," Flanagan says. The staff are like family, often meeting for after-hours pizza parties in the store and taking turns hosting holiday gatherings.
"I love being around people, and I look forward to coming to work every day," Woodward explains. "None of us gets paid. We all do this for the love of Betsy and the love of the store."
The bulk of the space is devoted to clothing and accessories—mostly women's apparel, although there is a smattering of kids' clothes and a small corner dedicated to menswear. There are faux Chanel quilted bags and real Chanel tweed suits, Palm Beach-worthy printed cotton tunics (brand new) and a rack of closet cast-offs with the tags still attached.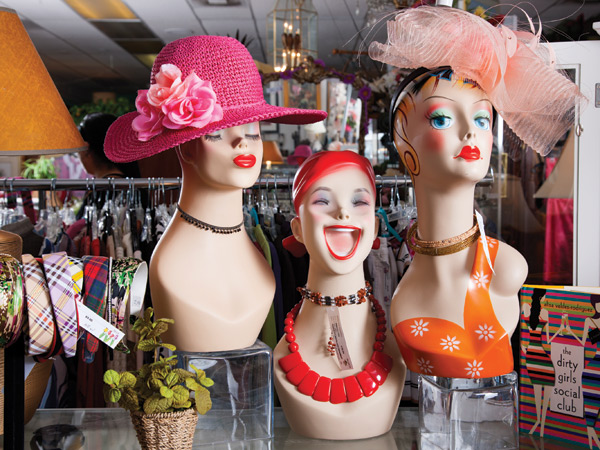 Mannequin heads (which Flanagan found on eBay) display jewelry and hats near the front of the store. Photo by Stacy Zarin-Goldberg.
"We always have a rack of St. John and Lilly Pulitzer," Flanagan says, noting that items with designer labels are the first to fly off the shelves. The good stuff—like a pair of classic black Manolo Blahnik pumps that I would have snapped up if they were my size—is kept in the glass cases up front.
Prices are determined based on comparable values on auction websites and market experience, and sales are generally split 50/50 with the consignor.
"Shoppers come here looking for a deal," says Flanagan, and at these prices, it's easy to take risks. "Maybe you've always wanted to try out a pair of red patent shoes but you're intimidated to invest in them.
If you find a pair here for $30, it's no big deal if it doesn't work out. Plus, you can always come back in and consign them again."
Think of it as the ultimate green shopping experience, where items are often given a second (or third) lease on life, rather than languishing in the back of someone's closet.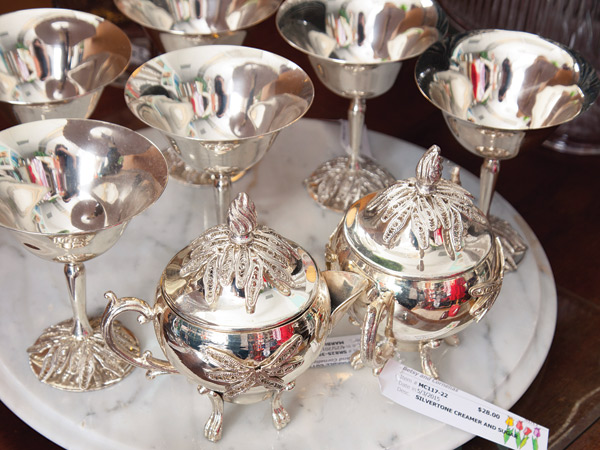 Vintage silverplate champagne saucers ($42 for a set of 6) and silverplate sugar and creamer ($18 each). Photo by Stacy Zarin-Goldberg.
"I loved this dress," Flanagan says, picking out a long-sleeved black tulle gown, "but after I wore it a few times, I brought it into the shop. Then a friend came in and saw it. She bought it, wore it a few times and brought it back in to consign."
There are also super bargains for those willing to invest the time, Woodward interjects, pointing to a section of clearance items—things that are out of season or haven't sold in more than 30 days. "It's kind of a dig, she says, "but people love that."
What can't you consign here? "Well, motorcycles," Flanagan says after a long pause. "Someone tried to give me their motorcycle, but I wouldn't take it."
And the craziest thing she's ever consigned? "We did take a 6-foot-tall carved wooden angel once—it sold right away," she says with a bittersweet smile. "If it hadn't, it would've gone home with me."
Adrienne Wichard-Edds is Arlington Magazine's style columnist. Send fashion and design ideas to adrienne.wichard-edds@arlingtonmagazine.com.