Great Spaces: A Staycation Spot
Arlington County Board Member John Vihstadt's landscaped backyard is one of his favorite places to be.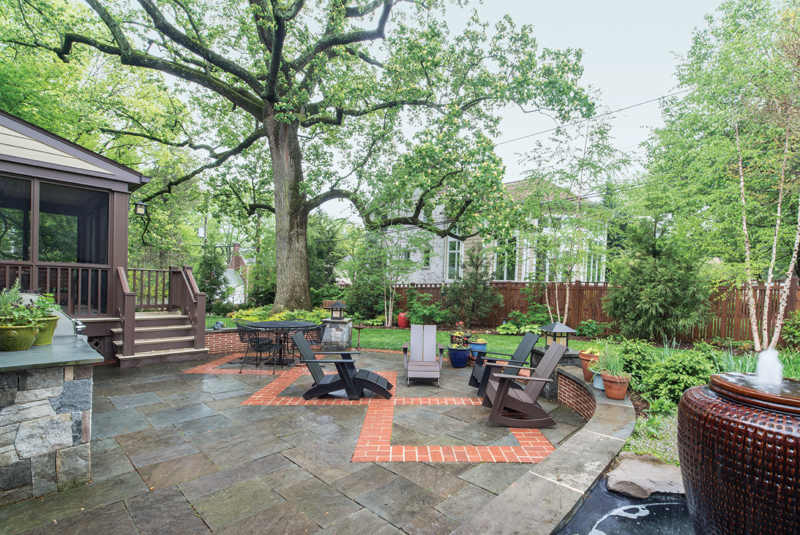 Photo by Michael K. Wilkinson
In 2007, John and Mary Vihstadt hired architect George DeFalco of Tradition Homes to transform their 1950s residence in Arlington's Tara-Leeway Heights neighborhood. Seven months later they had a beautifully renovated house, complete with a lovely screened porch overlooking the backyard.
The problem was, there wasn't much to look at beyond a smattering of shrubs and a chain-link fence. When their rear neighbor started building an addition in 2012, Mary realized she wanted a prettier view from her new kitchen windows, with something else to gaze upon besides another house.
So the Vihstadts called on landscape architect Mark White, owner of Arlington-based GardenWise, to bring their corner-lot landscaping in line with their renovations. Taking cues from the architecture, White designed a brick-and-stone patio (with built-in grill) and a perimeter fence to match the home's Tudor and Craftsman styling.
To soften the hardscape and create "as much year-round seasonal interest as possible," he introduced plantings of river birch and Japanese cedar trees, along with ferns, hostas and oak-leaf hydrangeas, organized around a huge existing tulip poplar.
The project was completed just before John announced his candidacy for the Arlington County Board in late 2013—at which point the patio and porch became "campaign central" for parties and events.
Today, the couple continues to entertain there regularly, Mary says. "When we have people over, our first inclination is to go outside."
For John, it's also a favorite spot to unwind. "We don't travel much," he says. "A staycation in our new backyard is the next best thing."
Project Credit: GardenWise  |  gardenwise.co