Arlington Nonprofit Preps Immigrants for Culinary Careers
Participants in La Cocina VA are thinking beyond what's for dinner.
The kitchen in the basement of Arlington's Mount Olivet United Methodist Church is humming as four culinary students work with an instructor to prepare and plate 60 dinners.
Tonight's special—turkey meatballs with egg noodles and a salad—will be distributed for free to low-income families in the area.
But the cooks in this case are also getting something out of the deal. They're enrolled in a free bilingual job training program run by La Cocina VA (lacocinava.org), an Arlington nonprofit that helps immigrants jump-start their culinary careers.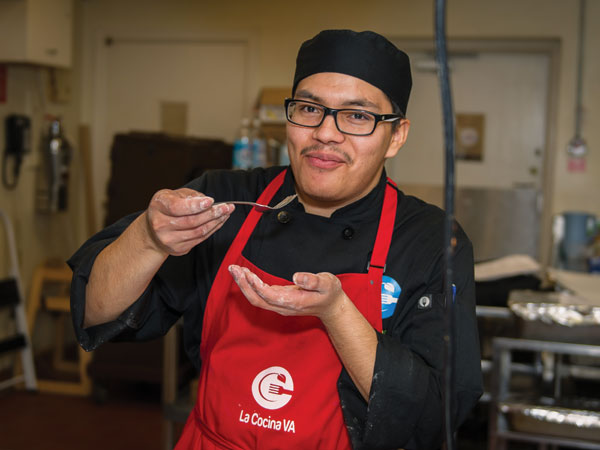 La Cocina VA graduate José Hernandez. Photo by James Coates.
"Twenty-four percent of Hispanic workers are in kitchens," explains CEO Patricia Funegra, who founded the program two years ago. "Most of them are in low-paying positions, due largely to a lack of access to training programs, industry certifications and the language barrier."
John Izcue, 58, who came to the U.S. from Peru four decades ago, is monitoring the tomato sauce. For years, he worked as a short-order cook for Chili's and IHOP, but was unable to climb the ladder because he couldn't afford to go to cooking school. La Cocina VA is changing that. "It's never too late," Izcue says as he stirs. "You can always try for something better."
Izcue and his classmates are nearly finished with the first step in the program—an intensive, 13-week class, during which participants learn basic cooking skills, improve their vocational English and earn their food-sanitation certifications. Next, they'll complete a weeklong internship at a local restaurant (in this case, La Sandía in Tysons Corner). Program diplomas for La Cocina VA are certified through an educational alliance with Northern Virginia Community College. The nonprofit also provides job placement assistance to its graduates.
Falls Church resident José Hernandez, 21, who hails from Ecuador, has big plans. "I'm going to become a chef," he says. "In five years, I hope to have my own restaurant. And I'll owe it all to this opportunity."
He's already well on his way. After graduating from the program this spring, Hernandez scored a job as a cook at Le Méridien hotel in Rosslyn.
-Nevin Martell