Bedrooms and Bungalows
Those charming older homes that give our neighborhoods so much character? Many of them came from mail-order catalogs.
Standing in front of her 19th-century home in Cherrydale, Kathy Holt Springston is putting me to the test. Directly across the street are two bungalows, side by side, with obvious similarities. "Now tell me," she says, with a twinkle in her eye, "which one is the Sears house?"
Springston, a local historian, is known to many as Arlington's resident expert on Sears catalog "kit houses," so I don't want to mess this up. I study the houses. Both are fairly modest in size, as most catalog homes were, with the wide porch and columns that are synonymous with the bungalow style. Both have gable roofs with ends that face the street. Both are painted in similar hues. And both look like they've been there a while. I notice, however, that the one on the left looks more solid and substantial, with little details—such as rafter tails and slightly tapered columns—that the other house lacks. "That one," I say, pointing left.
"You got it," Springston says.
Wait…Sears made houses? Indeed, it did. By the turn of the 20th century, Chicago-based Sears, Roebuck & Co. had already made a name for itself as a catalog retailer, allowing Americans to shop for everything from sewing machines to stoves with just the flip of a page. Selling entire houses by mail was a natural next step. Between 1908 and 1940, more than 100,000 Americans purchased Sears catalog homes, converting once-quiet farming communities into booming suburbs that grew up, as if overnight, along established rail lines.
Arlington was one of those places. In fact, one of the very first customers to buy a Sears house, after the company introduced its "Modern Homes Department" in 1908, was an Arlington (then Alexandria County) resident named George Newman. He purchased an eight-room concrete-block house for less than $800.
Over the next 32 years, Sears offered nearly 450 ready-to-assemble houses, in a range of recognizable styles, including bungalows, Cape Cods, American Foursquares, Tudor revivals, English cottages and Dutch Colonials. Models were given names like the Bedford, the Avalon and the Woodland—names that buyers could identify with because they sounded undeniably American. There was even a model known as the Arlington, which featured a wraparound porch and a cobblestone chimney.
Advertising comfort, tradition and permanence, Sears targeted upwardly mobile middle-class buyers who were increasingly buying instead of renting, and moving from the inner city to the suburbs. The homes were priced between $500 and $2,000 (well within reach of most workers at the time), and the materials were all billed as top quality.
Consider the 1926 Sears catalog copy, which made homeownership sound as if one's life depended on it:
"To get the full share of Good Health, Long Life and Happiness for yourself and kiddies…A HOME OF YOUR OWN is an absolute necessity."
Because the kits were delivered by rail, the largest concentration of Sears and other kit houses was in the Northeast and Midwest, where well-developed railroad systems emanated from every major city. The average Sears house was shipped in about 30,000 parts—from precut lumber and doors to hardware and paint—and fit into two or three boxcars. The kits were so well organized that once all the pieces were on hand some homes were reportedly built in a day. (The catalog, though, suggested an average build time of about 90 days, depending on the model.)
Back then, the conditions were just right for a catalog-home invasion. Despite the growing popularity of the automobile, the local train-and-trolley system was still a primary mode of transit in the years before World War II. The Washington & Old Dominion Railroad, which arrived in 1912, gave rise to commuter villages in Arlington and Falls Church, offering residents easy access to jobs and shopping in downtown Washington.
As a result, the local population soared. Between 1920 and 1940, Arlington County's populace more than tripled—from about 16,000 to more than 57,000—and housing demand spiked. Springston estimates that about 1,000 kit houses were built in Arlington alone, including models from Sears and competing companies such as Montgomery Ward; Aladdin Homes; and Rucker's Lumber, a local outfit based in Rosslyn.
"At a time of great growth, [the kit house] was a fast, easy and relatively secure and safe way of getting a sound, quality home built," says Eric Dobson, a volunteer with Preservation Arlington, a local advocacy group. "These homes, with their great level of architectural detail, are the basis of many of our older, established neighborhoods that are listed in the National Register of Historic Places."
One pictorial history, McLean (Arcadia Publishing, 2011), suggests that in the 1920s a developer named Frank Walter relied on Sears to provide about a third of the houses in a new development called Walter Heights—some of which can still be seen amid the newer mansions on Marion Avenue and Buchanan Street. Other catalog homes can be found along the old W&OD right-of-way in Arlington and Falls Church. The secretary of the W&OD Railroad reportedly built a Sears house that still stands near Marymount University.
For a while, the combination of public tastes, economic forces and building logistics all worked together perfectly. Kit homes were a hot commodity, plus they had a ripple effect. Their architectural features were widely emulated by conventional builders, inspiring countless copies that transformed entire neighborhoods.
Sears continued to market its catalog houses through the Great Depression, but by 1940, profits had tumbled and the Modern Homes Department was forced to close.
After World War II, the world changed, and Americans wanted more-modern houses—namely the ranch house, or rambler. By then, kit houses had fallen out of fashion. Ann Connaughton Felker distinctly remembers the shift in public tastes. In 1947, she moved with her family into a circa-1923 Aladdin Homes bungalow on North Irving Street in Lyon Park. (She not only grew up in the house but eventually raised her nine children in it before they moved into a larger home down the street in 1994.) Felker always loved the house, but her mother was none too happy about it.
"My mother moved reluctantly into this old-fashioned bungalow, all the while lusting for a nice, sleek rambler that was then being built in North Arlington," Felker recalls. "Kit homes were not always such a hot ticket back then."
But they are today. "Now even unremodeled [kit house] bungalows are the subject of bidding wars," she observes.
And yet, it's not uncommon for kit houses, like so many older, smaller homes, to fall victim to the bulldozer. This is partly why Arlington County Preservation Program Coordinator Cynthia Liccese-Torres recently began documenting their numbers in Arlington. So far, she has confirmed 59 Sears houses that have been demolished, including George Newman's 1908 house, which is long gone. She's also substantiated 118 Sears houses that still exist—most of which are located in Lyon Park, Aurora Highlands and Ashton Heights—as well as more than 80 other homes that are likely kit houses.
In lieu of tearing down and building new, some local homeowners have opted to renovate their vintage kit homes, adding onto them in a way that matches the original architecture.
Local contractor Erik Gutshall, owner of Clarendon Home Services, is one such resident. When he and his wife, Renee, bought their North Highland Street bungalow in Lyon Park in 1997, they didn't realize at first that it was a Sears home. Much of the interior had been gutted by a previous owner, who also made some exterior alterations. After researching the property, Liccese-Torres determined that it was most likely a Sears Marina model. The Gutshalls have since put a two-story addition on the house, while restoring some of the interior detailing.
"We kept all the original structure, the rooms are all still intact, and we've put back much of its original charm," says Gutshall, who has reintroduced details such as period-appropriate crown molding and plinth blocks. "These houses lend themselves well to being expanded as opposed to being destroyed."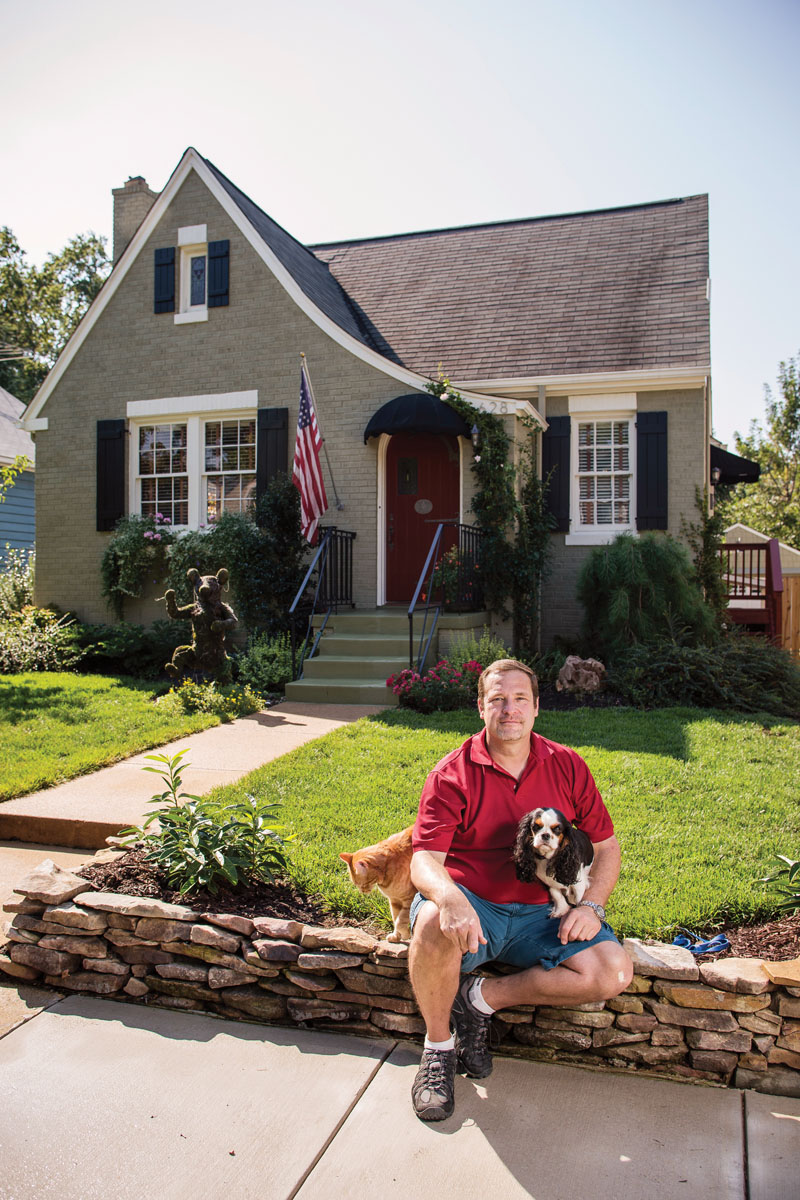 In Aurora Highlands, Patrick Johnson has spent the past two years fixing up a Sears home on South 24th Street—a 1931 Bellewood model with a distinctive curving gable on the front—that was in pretty bad shape when he and his partner, Russ, purchased it in 2011. He's restored the original wood windows; replaced the non-original kitchen floors with new 1930s-style octagonal tile; and given the space an overall facelift, while building a new deck on the back that is accessible from the kitchen and the master bedroom.
"These houses are just built so well," Johnson says, pounding his fist on a thick exposed wooden beam in his basement, for effect. "They're solid. Everything was cut just right."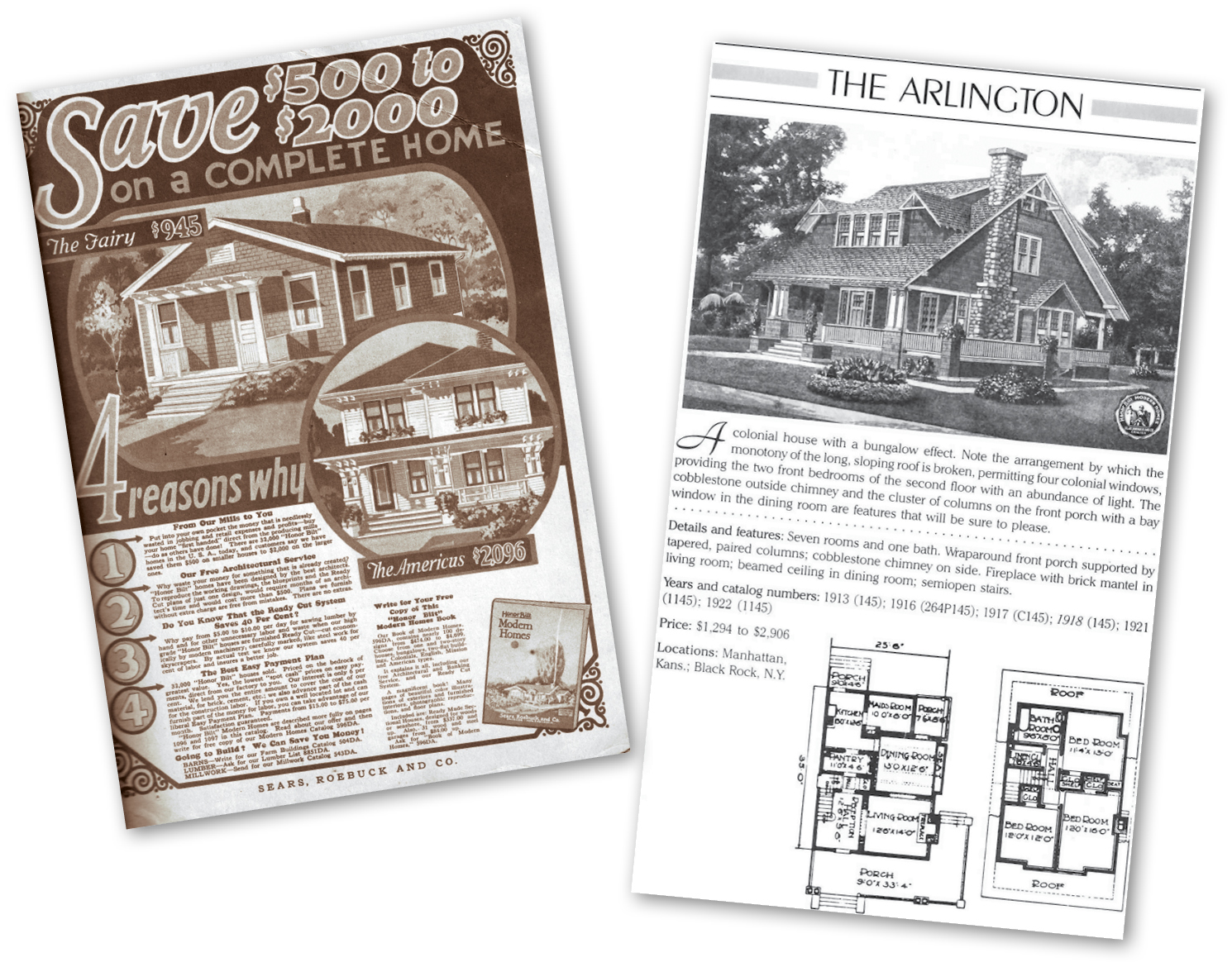 Ten years ago, I was researching the Fraber house—a century-old bungalow in Springston's neighborhood—for a historic preservation course I was taking. I tracked down a grandson of the original owners (the Frabers) who, in no uncertain terms, told me that he had grown up hearing that the house had been chosen out of a Sears catalog, although he couldn't recall the exact model. That was good enough for me. I consulted a catalog, found a style that seemed pretty close, and declared it a "classic Sears bungalow" in my paper.
Turns out, I was wrong—at least according to Liccese-Torres, who inspected the Fraber house earlier this year in preparing its nomination as a local historic site (which the county board subsequently approved). While many of the home's elements appear Sears-like, it contained none of the telltale signs of a Sears pedigree, such as original shipping labels, or the company's distinctive stamps on exposed lumber. Liccese-Torres subsequently learned from another family member that the house had been constructed by a builder who wasn't likely to have worked from a kit. "It's possible that the builder was inspired by a Sears design, but it's not a Sears house," she says, citing a phenomenon that was common in Arlington and elsewhere: Once a builder procured a kit house and had its plans, he could then replicate it, and change it, using his own materials. For every catalog home built in Arlington, there may have been just as many knock-offs, sporting similar gabled roofs, tapered porch columns and stone chimneys.
Correctly identifying Sears houses—and differentiating them from similar, conventionally built homes (also known as "stick-built" homes) or catalog houses from competing retailers—is clearly a tricky business. Still, many historians consider it a worthwhile exercise in understanding the nation's growth in the 20th century, particularly in rapidly urbanizing areas like Arlington.
"People could argue that [these homes] are too much the same or that they're not all architectural gems, but we're talking about cultural significance," Liccese-Torres contends. If Arlington House, the Custis family's grand estate at Arlington National Cemetery, represents the most rarefied end of the historical spectrum, catalog homes represent the vernacular—the common bonds between its everyday residents. Both are essential to the Arlington story.
"People weren't re-creating Arlington House, they were re-creating the Fraber house," she points out. "These houses represent things that mattered to whole generations of Americans."
Replica or Real Deal?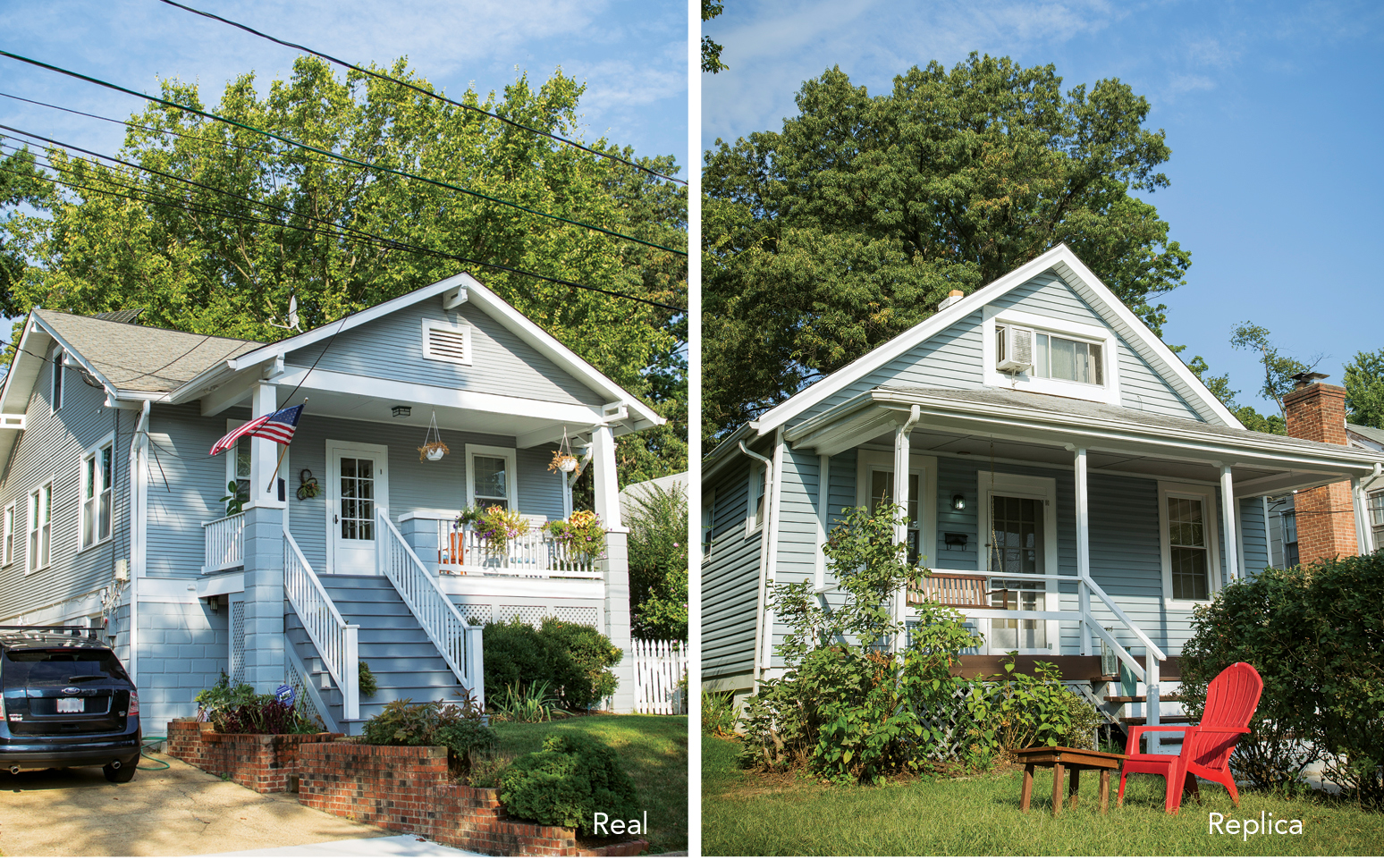 So, you've purchased a bungalow, or you're curious about the Colonial down the street. Could it be a Sears house?
Here's how to tell if it's authentic:
1. Go to the source. Old Sears catalogs (or reprints) can be found in the library or online, and several compendium books are available. Cynthia Liccese-Torres's master's thesis, "Discovering Mail-Order Dreams: How to Identify Sears, Roebuck & Company Catalog Houses," is also available in the Arlington Library's Center for Local History. Familiarize yourself with the general sizes, shapes and special features of Sears houses.
2. Do a visual survey. Examine the roofline, the porch, the placement of windows and doors, and details such as rafter tails or column widths. See if you can find an exact match, or even a close one, in a catalog. Just keep in mind that original buyers sometimes swapped out materials or flipped their floor plans, and recent years may have brought additions and alterations. If you can, take measurements to see if they exactly match what's advertised in the catalog.
3. Look for stamped exposed lumber on joists and beams in the basement or attic (the stamps were a letter and a number, and usually on the ends). Check original plumbing fixtures on tubs and sinks, which were sometimes stamped with an "R" or "SR," initials that are presumed to stand for "Roebuck" or "Sears Roebuck." An original shipping label (they were often affixed on wood trim such as doorjambs and baseboards) will make it an open-and-shut case.
4. Follow the paper trail. If a building permit exists, it will probably mention whether the house came from Sears or some other catalog retailer. Do a chain-of-title search at the courthouse to see whether the house's financing came through Sears or an independent lender. In her graduate research, Liccese-Torres identified three previously unrecognized trustees who brokered multiple Sears houses in Arlington: William C. Reed, David C. Wikoff and John M. Ogden. If you come across these names in a deed search, chances are the house came from Sears.
5. Verify the construction date using deeds or old maps. If the house was built before 1908 or well after 1940, it can't be a Sears home (although it could be a copy or a competitor; Aladdin Homes produced kit houses until the early 1980s).
Lustron: The Kit House's Modern Cousin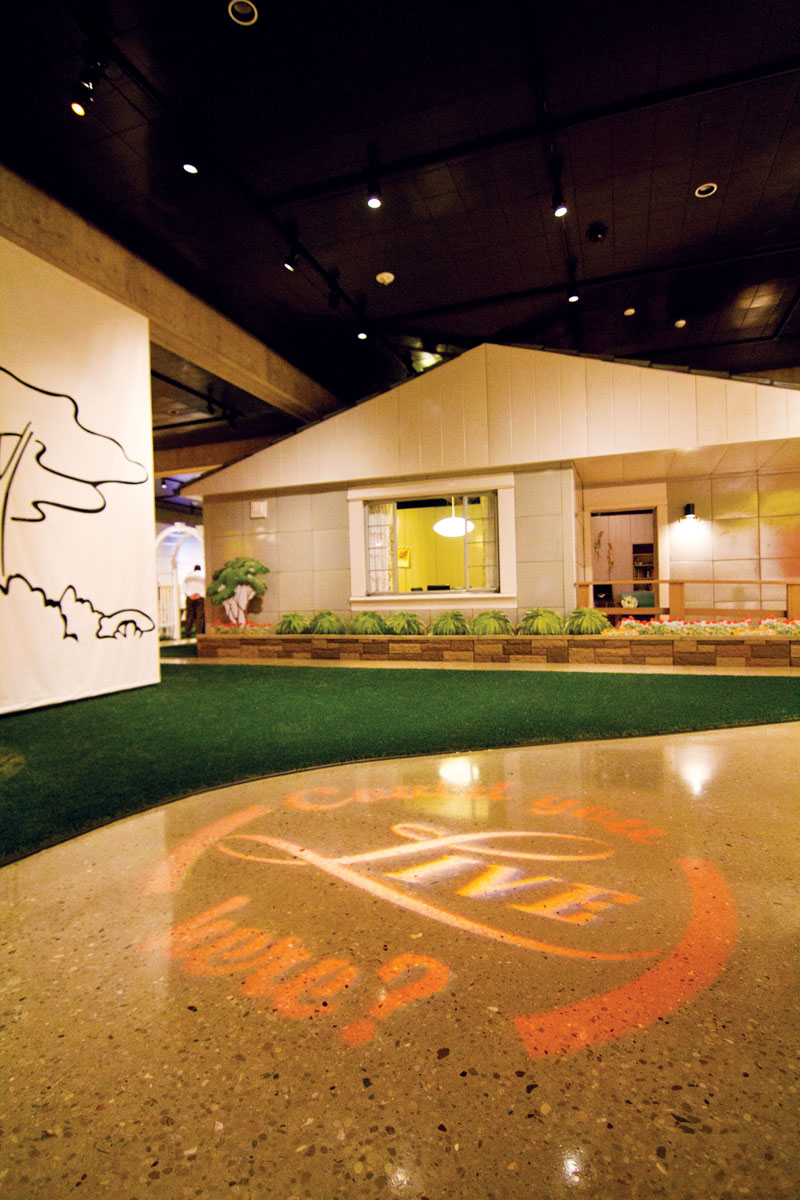 Since July, thousands of people have flocked to the Ohio Historical Society museum in Columbus to tour an unusual post-World War II house that once stood in Arlington. The object of their curiosity is a Lustron, a prefabricated, factory-built, all-steel house that caused a short-lived sensation, beginning in 1948. Like the kit houses before it, the Lustron appealed directly to upwardly mobile families who craved choice and ease in their home purchases. Advertisements called the Lustron "the house America has been waiting for" and "a new standard of living."
This particular Lustron house has been on a long, strange trip since 2006, when its former owner donated it to Arlington County for preservation. It was carefully disassembled and stored in pieces, then rebuilt inside the Museum of Modern Art in New York for a prefab-housing exhibit in 2008. After that, it was taken apart again and moved back into storage while county officials sought a way to reuse the house in Arlington.
Then the economy crashed, taking any preservation capital for the Lustron along with it. In 2011, the County Board agreed to donate the house to the Ohio Historical Society (which is fittingly located not far from Lustron Corp.'s former headquarters). Today, the rebuilt Lustron is the centerpiece of the society's popular exhibit called The 1950s: Building the American Dream. A plaque recognizes its Arlington provenance.
Clad in one of four exterior colors of lustrous porcelain enamel (a material also used for teapots, cookware and old gasoline signs), Lustrons were models of efficiency, with a one-story ranch design, open floor plan and built-in cabinetry. Each house contained some 3,000 metal parts, which were manufactured in a repurposed warplane plant in Columbus and shipped out with a detailed (but unfortunately named) "Erection Manual." The federal government even subsidized the houses under the guaranteed mortgage program for returning veterans. More than 20,000 orders poured in.
However, because of their challenging building materials and difficulty getting around building codes, only about 2,500 Lustrons were built nationwide. Eleven were constructed in Arlington between late 1948 and 1949, representing the second-largest collection of Lustrons in Virginia. (The largest was the community of 60 Lustrons that once stood at the Marine
Corps base at Quantico, all but two of which were torn down in recent years.) By 1950, the Lustron Corp. was belly-up.
Today, only four of the original 11 Lustrons in Arlington remain, and of those, only two retain their original square-tiled appearance (they're on South Frederick Street and South Seventh Street). None are known to exist in McLean or Falls Church.
Kim O'Connell writes frequently about history and architecture and lives in a 1942 Cape Cod (not a Sears) that was among the many built to house federal employees who worked at the Pentagon.