Beers and Wines For Every (Seriously Every) Occasion
McLean author and wine consultant Diane McMartin on what to pair with a Netflix binge, a camping trip, a bad breakup and more.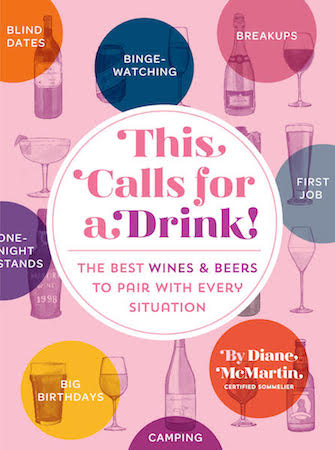 ​Diane McMartin wants you to walk into your local wine or beer shop — preferably Chain Bridge Wine Cellars, where she works, in McLean — and tell the proprietors about your day. Did you endure a nasty breakup? Get a promotion? Have to put your dog down?
She's got just the drink for you.
Out this month, McMartin's book, This Calls for a Drink! The Best Wines and Beers to Pair with Every Situation, can fill in the gaps when a bartender's recommendations and consolations are too far from the couch where you're moping or celebrating.
"You don't always have to worry about creating the perfect food-and-wine pairing," says McMartin, 32, a certified sommelier and wine consultant. "It's okay to just drink what you feel like."
The idea for the book arose after McMartin watched her roommate's breakup and subsequent search for a suitable wine pairing. It even includes an entire section on matching drinks with "Dating, Mating, Rejection and Heartbreak."
The hardback reads like a coffee table girls' guide to some of life's most predictable encounters — what to drink while camping, cramping or turning 40 — while challenging readers to reach for something other than Chardonnay. (Although a fruity, un-oaked version is completely called for when your family meets your significant other's family, the author says.)
McMartin's insights are approachable, witty (if a little profane) and instructive for readers who may be stuck in a whatever-is-on-sale rut. A "Basics" section at the beginning provides answers to many of the questions adult drinkers are too embarrassed to ask, like how to read complex wine labels and whether expensive stemware is a rip off. (Answer: pretty much, yeah.)
Here are a few of McMartin's favorite wine and beer suggestions from the book, which is available in stores now.
What to drink for your next Netflix binge…
1. Battlestar Galactica: Try a tart New Zealand Sauvignon Blanc such as Cloudy Bay.
2. La Femme Nikita: Look for a traditional Rioja, like R. Lopez de Heredia. The book includes a sidebar on getting to know this grape, including pronunciation: "ree-OH-ha."
3. Luther: Try a big, chewy Syrah, such as Arnot-Roberts North Coast Syrah.
What to drink while embarrassing yourself in the great outdoors…
1. Camping: A full-bodied red, such as the three liter bag-in-box, Vin Rouge.
2. After a scenic boat ride: Mimosas made with cheap sparkling wine that the menu calls "Champagne," but is actually Cava that wholesales for $4 a bottle. No matter. You're alive.
3. Tubing down a river: A gently refreshing brew like a German kölsch.
What to drink when you're a new parent and…
1. Having people over (because you can't leave your house): Make it worth your friends' while by having some nice Spanish rosé on hand, such as Clua's Rosado or Martinez Lacuesta.
2. Assembling baby furniture: Try a coffee-inflected stout beer, such as Founders Breakfast Stout or Keegan Ales' Joe Mama's Milk to keep you awake and mellow.
3. Sleep deprived: Go for a wine that pairs with chocolate, like a sweet fortified red from the south of France called Banyuls.