Big House on Campus
Its original owner was the personal physician to two U.S. presidents. Now the house is overrun with college students.
Perched atop an Arlington ridge, the Rixey Mansion enjoys quite the panorama. Once renovations to the historic structure are completed this summer, those views will be accessible to all of the faculty, staff and students of Marymount University, the Catholic university at the intersection of North Glebe Road and Old Dominion Drive that has grown from a two-year women's college enrolling 13 freshmen in 1950 to a coed university with 3,600 students from 63 countries today.
The "Main House," as it's now known, wasn't always intended for academic use. It was originally the estate home of Rear Admiral Presley Marion Rixey, who served as personal physician to two U.S. presidents. Rixey tended to President William McKinley through his fatal assassination encounter in 1901, and subsequently provided medical counsel to McKinley's successor, Theodore Roosevelt.
The doctor and Roosevelt became friends and often rode on horseback in rural Arlington on the land that would eventually become home to the stately manor, which was built from 1919 to 1920. (Rixey ordered its construction after the farmhouse he and his wife
lived in on the property, Netherfauld Farm, burned down.) Designed by architects Frank Upman and Percy C. Adams, the Georgian-style mansion was among the most impressive of its time, featuring a neoclassical façade, ornate crown molding and a dramatic central staircase made from North Carolina pine and quartered oak.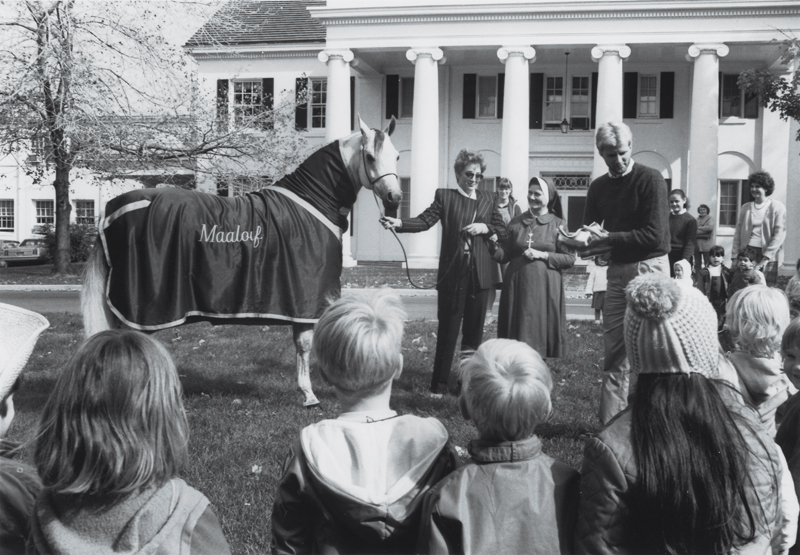 The property might have been even bigger, had Rixey not deeded about 75 acres of his farm in 1908 to a group of men who wanted to build a golf club. Well…make that 75 and change. Realizing they'd forgotten to earmark land for a swimming pool, one of the men challenged Rixey to a high-stakes golf match, with a second small parcel as the prize. Rixey lost and honored the bet, signing over the additional land. Today it's the property of the Washington Golf and Country Club.
After Rixey died in 1928, the estate went through a series of owners until it was purchased by the university's founders in 1948. Two years later, nuns from the Religious of the Sacred Heart of Mary (RSHM), along with the university's inaugural 13 freshmen students, moved into the Main House to live and study together.
With the most recent renovations, Rixey's original bedroom suite on the second floor has been removed to make way for a new president's office and an alumni relations and development office.
However, three RSHM nuns still live in the Main House and its adjacent areas. Among them is Sister Jacqueline Murphy, now in her late 70s, who has lived on the home's uppermost floor—a red triangular-shaped room near the roof—for more than 40 years.
Now the whole move on campus is that everything is open. [It's] a great way to continue the life of the university," Sister Jackie says. "These changes are part of a long history. Part of the calling of this campus is this beautiful house. It's inviting now, and when it's finished, it will be very inviting. [We] have lovely digs."
And a nice view of the golf course.