Caterers to the Rescue
No time to cook? Whether you're planning a party or a weeknight dinner, these local culinary pros can help.
Bootheel Catering
Kitchen at Trinity Presbyterian Church, 5533 16th St. North (rear entrance); 703-618-8003, www.bootheelcatering.com
Pitmaster David Newton comes from the southeastern tip of Missouri—the state's so-called "Boot Heel"—and he's brought that region's barbecue flavors and traditions up to Arlington. Regular customers often go for the smoked brisket, which is twice rubbed and "slow smoked until a dark bark sets up," or the grilled bacon-wrapped shrimp, which is basted in Newton's honey-chipotle barbecue sauce. Need to feed a crowd? Newton's specialty is a 250-pound whole hog "cooked on [its] back over natural lump charcoal and hardwoods, then finished with a sweet and slightly spicy barbecue glaze."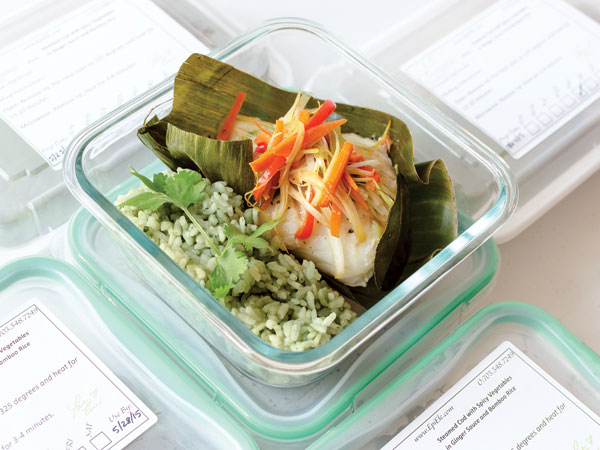 Epicurean Element's steamed cod with spicy vegetables, ginger sauce and bamboo rice. Courtesy photo.
Epicurean Element
4601 Fairfax Drive, Suite 1200, Arlington; 703-348-7249, www.epiele.com
In a recipe rut? Personal chef Ivelise "Eva" McLaurin is ready to make dinnertime more interesting. She can take a common dinner staple—salmon, for instance—and infuse it with sake and soy for an Asian flavor, or go French with a white wine sauce. For fall, she says her residential customers love the coq au vin, served alongside curry-spiced pumpkin soup. Having a party? She'll bring the restaurant experience to you, complete with a customized menu and all the china, silver and linens.
The Gourmet Basket
6829 Tennyson Drive, McLean; 703-848-2456, www.the-gourmet-basket.com
Take a culinary trip to the Middle East with The Gourmet Basket, which specializes in Lebanese food and other dishes from the region. For a satisfying fall meal, caterer Nabila Farah recommends rice hashwi with chicken (basmati rice cooked with ground beef and topped with chicken and nuts) or the moudardara (lentils and rice cooked in olive oil with caramelized onions). Though they're not on the menu, you can also order mini sandwiches with falafel, chicken or beef shawarma, topped with various sauces.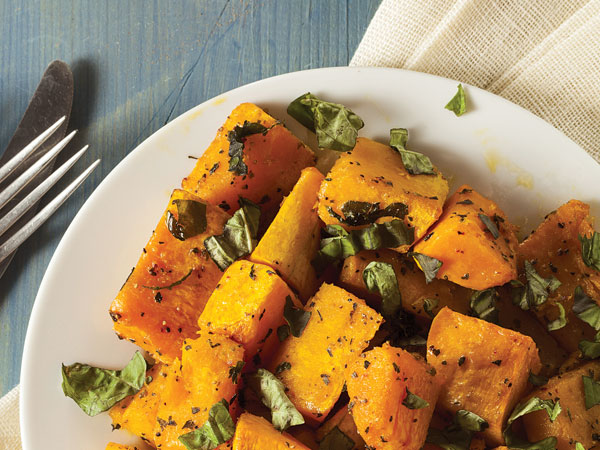 Heirloom Catering's roasted butternut squash. Courtesy photo.
Heirloom Catering
626 South Washington St., Falls Church; 703-534-0938, www.heirloomdc.com
Vicky Theodorou doesn't have much of a set menu. She customizes the culinary fare for each of her catered events based on what's in season at the farmers markets. For fall, she says, it's all about butternut squash. (One of her wedding clients recently ordered roasted-matcha and black-sesame butternut squash, topped with whipped basil goat cheese, herb oil, shiso, cilantro and pepitas.) She also makes homemade butternut-stuffed ravioli "in a comfy sage and brown-butter sauce."
Margaret's Soul Food & Catering Services
2534 South Shirlington Road, Arlington; 703-608-9226, www.margarets-catering.net/cafe.htm
Margaret Gardner calls everyone "Honey" and treats her customers like family with home-style favorites such as fried chicken, collards, mac 'n' cheese, pork chops and ribs. The most popular dish in her repertoire is the jerk chicken. And even though they aren't on the menu, ask for the equally delicious oxtails, which are roasted for three hours with onions and soy sauce.
Natoli's Catering
6641 Arlington Blvd., Falls Church; 703-534-5545, www.chefnatoli.com
When Mike Natoli isn't running his Italian-focused catering business, he's in the kitchen at FDB Eatery, the revamped, sit-down restaurant on Route 50, formerly known as Frozen Dairy Bar. The good news is that catering customers can tap into that connection. Organize an ice cream social and Natoli will bring FDB's famous frozen custard to your home, complete with all the toppings you can imagine, plus someone to serve it up to your guests.
Sinplicity Catering
6402 Arlington Blvd., Suite B150,Falls Church; 703-892-1400, sinplicitycatering.com
If you want to score huge points with the boss, order your corporate lunches through Sinplicity. It's spelled that way for a reason, owner Leland Atkinson says. "People order food from us to get to our desserts." Start with sandwiches such as shaved ham and Swiss on a pretzel baguette, or roast beef and cheddar on ciabatta; or try one of the mixed grills of beef, chicken and seafood. Then it's on to the good stuff. Topping the lengthy list of sweets is the all-time favorite Kadillac Krispie—peanut-butter Rice Krispies treats topped with peanut-butter fudge and chocolate ganache.
Taste by Katie
6017 Wilson Blvd., Arlington; 703-489-7141, tastebykatie.com
Do kids' sports and other extracurricular activities leave you pressed for time at the dinner hour? Try Katie Gilman's Dinner to Go. The menus rotate each week, although one of her most popular items is the chicken pot pie, which features roasted chicken breast, carrots, peas and onions in house-made gravy, topped with biscuits. In addition, Gilman's Happy Hour to Go packages offer a quick solution for informal gatherings, with snacks such as antipasto and soft pretzels with beer dip.