Christmas in Middleburg
Celebrate the season the old-fashioned way in this historic Virginia town.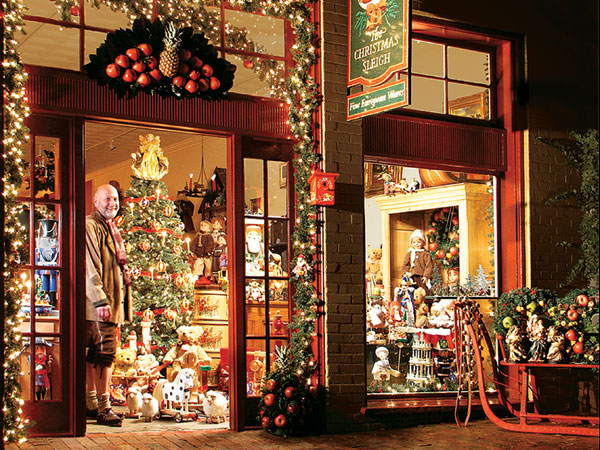 The Christmas Sleigh boutique on East Washington Street
It's a brisk Saturday in early December as more than 90 mounted equestrians parade down Washington Street amidst a sea of rosy-cheeked spectators. Twenty eager hounds flank the lead horse as the rhythmic clippety-clop of hooves is punctuated by the occasional neigh.
Neatly clad in tailored red and black hunting jackets, the riders could easily be taken straight out of the popular PBS series Downton Abbey. Except the setting isn't the English countryside, and the characters aren't paid actors.
Rather, they are members of the Middleburg Hunt, established in 1906, one of several local hunt clubs. And they're heading for the hills just outside of town, where they'll spend the day chasing foxes (which, for the record, will be left unharmed). It's just one of the time-honored rituals still observed and practiced in this charming town, once a Colonial stopover and now among Loudoun County's poshest ZIP codes.
Many of Middleburg's traditions date back centuries. The village was founded in 1787 by Revolutionary War Lt. Col. and Virginia House of Delegates member Leven Powell, who purchased the land that is now Middleburg for $2.50 an acre from Joseph Chinn, first cousin to President George Washington. Powell named it Middleburg because it rests at the halfway point between Alexandria and Winchester.
Over time, this outpost 43 miles west of Arlington—an area marked by rolling pastures, stone fences and stately fieldstone mansions—has steadily gained a reputation as the "nation's horse and hunt capital." It became a destination for fox hunting in the 1920s and 1930s when rich Northerners moved down from Long Island in search of new hunting grounds.
During his presidency, John F. Kennedy and Jacqueline Kennedy visited more than once to saddle up and participate in the fox hunts (the family owned an estate on nearby Rattlesnake Mountain in Fauquier County). Today, celebrity sightings, including of actors Robert Duvall (who owns a home in The Plains) and Tom Selleck, are not uncommon.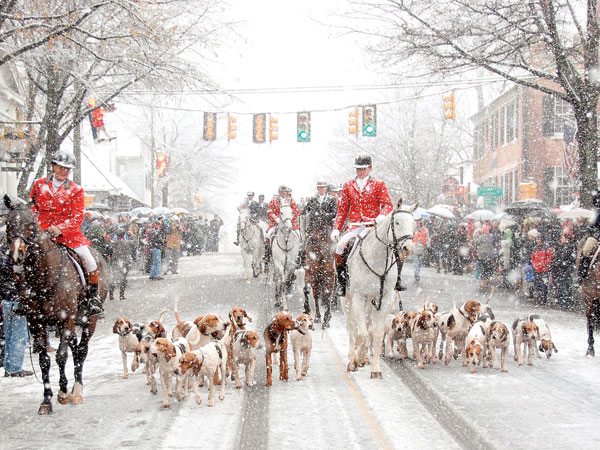 The Middleburg Hunt & Hounds Review. Photo by Middleburg Eccentric
That's a notable measure of star power for a town measuring only 384 acres with a population of roughly 750. But Hollywood legends aren't the only ones flocking to this quaint destination—particularly during the first weekend in December, when the main streets are lined with twinkling fir trees and the mood is festive. The annual "Christmas in Middleburg" celebration, a weekend-long extravaganza of yuletide events, attracts more than 10,000 visitors each year.
This 33-year-old tradition was originally started by local residents as a way to kick off the holiday season, says Punkin Lee, one of the four original organizers and owner of Journeymen Saddlers on West Federal Street. Over the years, she says, Christmas in Middleburg has also become a way for businesses to attract visitors, yet the festivities haven't lost their small-town feel. Here are some of the main attractions scheduled to take place this year from Dec. 4-6:
Christmas Tree Lighting (5 p.m. Dec. 4 in Pink Box Park). An old-fashioned ceremony featuring carolers, hot chocolate and cider. (The next day, Dec. 5, Pink Box Park becomes a launch point for hayrides through town from 11:30 a.m.-1:50 p.m.)
Breakfast with Santa and Silent Auction (8-10:30 a.m. Dec. 5, Middleburg Community Charter School, 101 N. Madison St.; 540-751-2490). Although the same local resident has been donning the red suit for about a dozen years, Santa's identity is a well-kept secret, according to Jim Herbert, Christmas in Middleburg's main organizer. Breakfast is $10 per adult; $5 per child 12 and under. A photo with Santa is $10 per print; $5 per emailed digital image. Local merchants donate items that are auctioned off to benefit the Middleburg Community Charter School.
The Middleburg Hunt & Hounds Review (11 a.m. Dec. 5, along Washington Street). Mounted equestrians meet behind the Red Fox Inn & Tavern to enjoy a "stirrup cup" (typically a swig of port) before parading through town and into the hills for an annual holiday fox chase. Park by 10 a.m. if you want to see the Hunt Review, Herbert recommends. Parking is available for $5 per vehicle, starting at 8 a.m. (cash only) at Mickie Gordon Memorial Park, 22670 Carters Farm Lane. Price includes parking, shuttle service (pets on leashes allowed) and a program guide.
The Middleburg Garden Club Christmas Greens Sale (10 a.m.-2 p.m. Dec 5, Emmanuel Episcopal Parish House, 105 E. Washington St.). Christmas greens and flowers will be on display and for sale.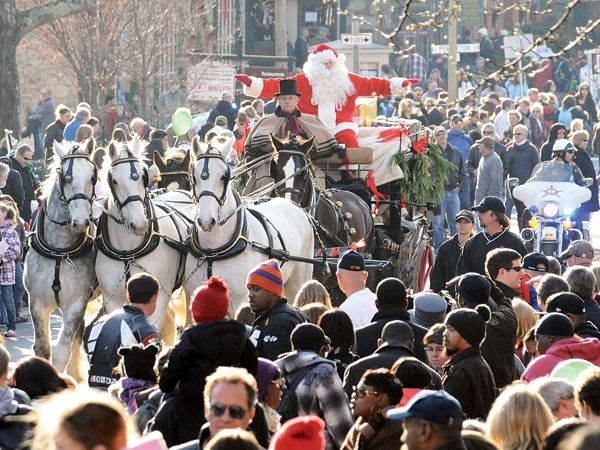 Photo by Jim Poston
Christmas Parade (2 p.m. Dec. 5 downtown). The stoplight at the corner of Madison and Washington streets is a coveted vantage point that offers sweeping views of the mile-and-half-long parade. Roughly 80 groups (including more than 700 animals) participate each year, bringing floats, polo teams, high school bands, acrobats, antique cars, fire trucks, bagpipers and various animal rescue organizations. The procession ends with Santa Claus in a horse-drawn carriage.
Premium Wines and Truffle Pairing at Greenhill Winery & Vineyards (noon-5 p.m. Dec. 5, Greenhill Winery, 23595 Winery Lane). Sample pairings of Abby Rose truffles (passion fruit, lemon-honey, cherry and prime dark) and wines by Greenhill Vineyards while listening to live music (2-5 p.m.) from Terbush & Hannah. Visit www.cellarpass.com/greenhill-vineyards-profile to make a reservation. Cost is $24 per person.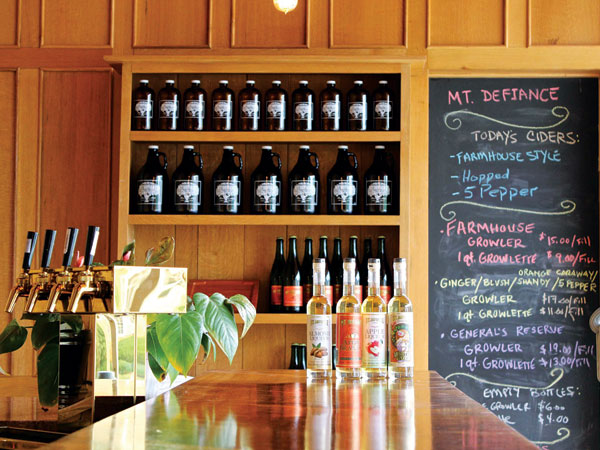 Mt. Defiance Cidery & Distillery
Spirits of Middleburg (3-6 p.m., Dec. 5) is a progressive tasting of wine, food, ciders and distilled spirits that stretches from one end of Washington Street to the other. Merchants and restaurants will offer tasting flights for a modest, pay-as-you-go fee. A featured stop is Mt. Defiance Cidery & Distillery, which is housed in a restored 1949 Sinclair gas station and run by Arlington native Marc Chrétien. The distillery offers locally made hard ciders and liqueurs, as well as absinthe served over handmade sugar cubes.
Annual Christmas Pageant (2 p.m. Dec. 6, Engelhard Gymnasium at Foxcroft School, 22407 Foxhound Lane). The free performance by Foxcroft students is based on the Gospel of Luke and the story of Christ's birth, featuring a live animal Nativity.
If You Go…
Don't miss these charming shops, restaurants and sights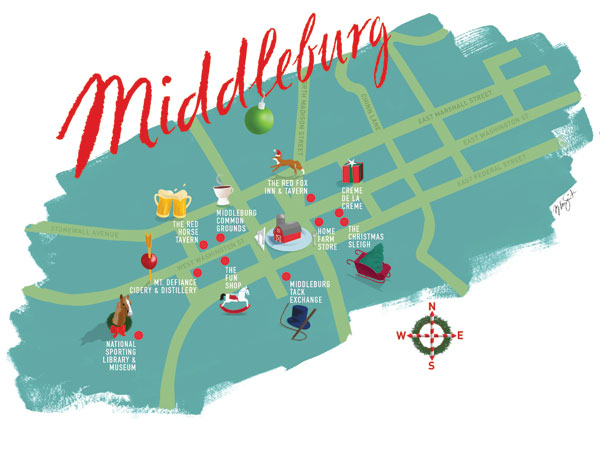 Map by Mary Ann Smith
Home Farm Store
Owned by Ayrshire Farm in Upperville, Virginia, the butcher shop and grocery store sells locally sourced organic produce, wine, cider, honey, jam, meats, cheese and homemade baked goods. 1 E. Washington St.; www.homefarmstore.com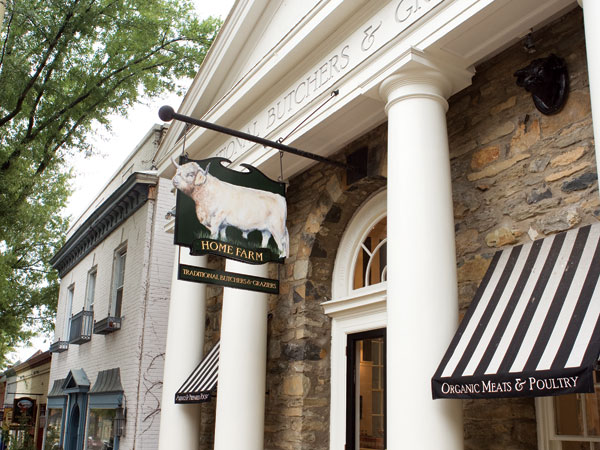 Home Farm Store
The Christmas Sleigh
This festive boutique carries European and handmade gifts, including cuckoo clocks, music boxes, beer steins, nutcrackers, marionettes, Advent calendars, Nativity figurines and chocolates. 5-A E. Washington St.; thechristmassleigh.com
Mt. Defiance Cidery & Distillery
Enjoy small-batch, handcrafted ciders and spirits in this distillery's beautiful tasting room. Tastings are held every half hour from 12:30-5:30 p.m. (1:30- 5:30 p.m. Sundays). 207 W. Washington St.; www.mtdefiance.com
The Red Fox Inn & Tavern
Established in 1728, the historic four-story building that houses the inn offers 15 rooms and suites. The tavern serves local favorites like crab cakes, Virginia peanut soup, seafood, steaks and duck. Also worth a peek: the second-floor art gallery, which showcases animal and sporting art. 2 E. Washington St.; www.redfox.com
The Red Horse Tavern
This restaurant and pub offers casual dining (burgers, sandwiches, fish and chips) on the far side of town. Open for lunch and dinner, 11 a.m. to 10 p.m. 118 W. Washington St. (no website)
Middleburg Common Grounds
The lunch menu at this popular coffee shop features cleverly named sandwiches, including the Trusty Hound, Sly Fox, Mosby and Chinns, made with ingredients from local farmers. Open 7 a.m.-6 p.m. 114 W. Washington St.; www.middleburgcommongrounds.com
National Sporting Library & Museum
Founded in 1954, the museum occupies a six-acre campus that includes a world-class research library and a fine-art museum with depictions of angling, steeple chasing, fox hunting, polo, wildlife and more. Explore the institution's general stacks, rare book holdings, archives and art collection. 102 The Plains Rd.; nationalsporting.org
Middleburg Tack Exchange
Specializing in new and used English hunting tack and apparel, it's one of the largest consignment tack shops in the Mid-Atlantic region. Browse a selection of frock coats, hunt jackets, hunt caps, top hats and derbies. You'll also find antique and modern sandwich cases, hunt flasks and crops, plus used saddles, boots and blankets. 103 W. Federal St.; www.middleburgtack.com
Crème de la Crème
Here you'll find unique French and Italian tableware, furniture, linens and gifts, including handcrafted Italian dishes from Vietri, table linens and kitchen towels from Le Jacquard Français, cutlery from Claude Dozorme and La Verrerie de Biot glassware. 23 E. Washington St.; www.shopcremedelacreme.com
The Fun Shop
With its iconic rocking-horse sign, the Fun Shop offers something for everyone, including barware, kitchenware, china, candles, figurines, bedding, greeting cards, toys, children's books, and a large selection of equine and fox-themed gifts and décor. 115 W. Washington St.; www.thefunshop.com
For more details on these and other seasonal events in Middleburg between Thanksgiving and New Year's, visit www.christmasinmiddleburg.org or follow the Twitter handle @XmasMiddleburg.
Arlington writer Lisa Rabasca Roepe's work has appeared in The Washington Post, Woman's Day, Men's Journal and DailyWorth.com.