Copperwood Tavern Welcomes New Chef
Why Justus Frank left D.C., and what he's got planned in Shirlington
It's been a full circle of sorts for Justus Frank, who's back in Arlington after taking over the kitchen at Copperwood Tavern on March 7.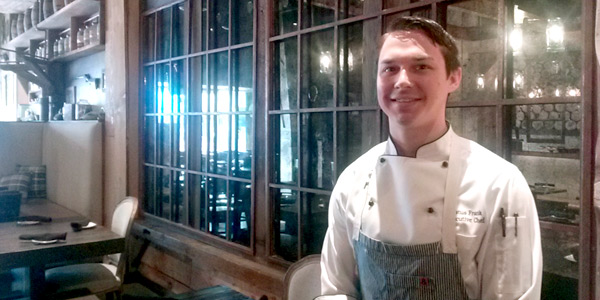 Chef Justus Frank
He first arrived in Clarendon in 2008 to help open the now-shuttered Eventide. That was just a year after he graduated from Johnson & Wales culinary school and worked short stints at Notti Bianche in the District, then Vermillion and the Majestic Café in Old Town Alexandria.
Since then, he says, his career went from culinary pinnacle to disappointment. But now things are looking up again.
Frank left Eventide in 2011 when he heard that acclaimed toque Fabio Trabocchi was coming to town to open Fiola in D.C.'s Penn Quarter. In short order, he rose from Trabocchi's chef de cuisine to executive chef.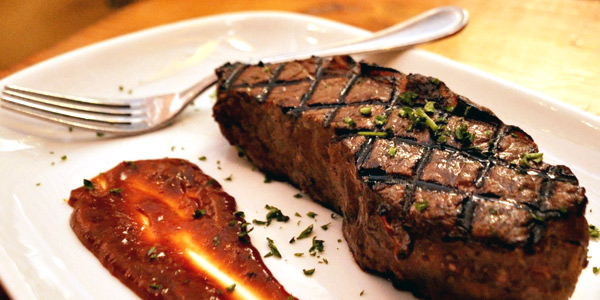 Bison Strip Steak. Photo via Facebook
"It was trial by fire," Frank recalls of his three years at Fiola, where he often served as many as 200 "covers" (customers) on a typical Saturday night. "You learn to deal with the good, the bad, and the ugly, but I walked out as a better chef."
His next post, at Alphonse and Nonna's Kitchen on U Street, where he was charged with running both a casual eatery and a fine dining restaurant with little to no crossover, fell squarely in the ugly category, he says. The grind of 17-hour days led him to the door just six months later.
"I'll be honest, it was abrupt," he says of his departure in February. "It was a bit too difficult to do two floors at the same time. I couldn't be two places at once."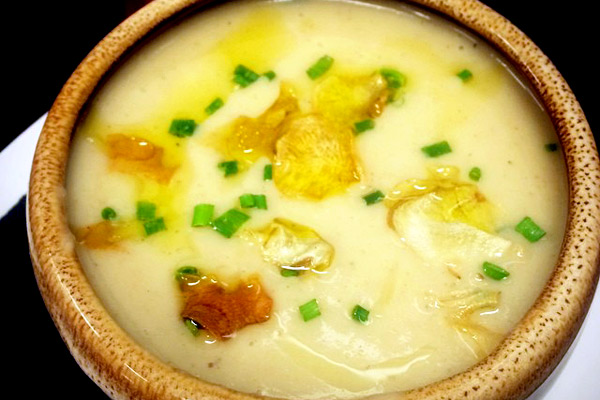 Sunchoke Soup. Photo via Facebook
Add to that the restaurant's social media duties which (ahem) fell on his plate. "Sometimes I couldn't get a tweet out before lunch," he says.
After a marathon job search ("I must have done 20 interviews," he says), Frank is now in Shirlington, which poses an easier commute from his home in Springfield, where he lives with his wife, Amanda.
Chef Allan Javery, who's now the corporate chef overseeing all of owner Reese Gardner's restaurants (including Orange Anchor in Georgetown on Union Social in NoMa), needed someone to focus on Copperwood's kitchen alone.
Diners can already see Frank's influence on the restaurant's spring menu, which debuted on March 24. He collaborated with Javery to include offerings such as sunchoke soup (made with puréed sunchokes, onions, garlic and mushrooms, with a splash of brandy, in vegetable stock); fried goat cheese with local Virginia ham; and a grilled Portobello with quinoa, wild rice pilaf and sunflower-seed pesto.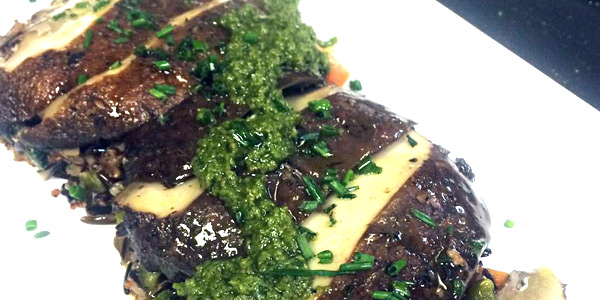 Portobello Mushroom with Sunflower-Seed Pesto. Photo via Facebook.
Frank sees his new post as a good fit, given his penchant for farm-to-table cooking and locally sourced ingredients. Copperwood is all about that, he says.
Case in point: Copperwood's bison strip loin comes from the New Frontier farm in Madison, Va. (the farm's owner Bill Salmon is someone Frank has worked with for several years at other restaurants) and its ground beef comes from Smith Meadows in Berryville, Va., which also sells at local farmers markets, including those in Courthouse, Falls Church and on Columbia Pike.
"We are the only restaurant group that gets [Smith Meadows] ground beef and short ribs," Frank says of the grass fed, free-range 80-percent-lean meats.
In an extension of these relationships, Frank plans to offer a series of farm-to-table dinners at Copperwood, with purveyors on hand to talk about the ingredients. The restaurant has already approached the Old Ox Brewery in Ashburn to do pairings for one such event.
"I hope we can do that more frequently," Frank says, "so people in Arlington can venture out on a Monday night and do something cool."