Crisis Intervention Team Awards Ceremony 2015
Honoring Arlington County CIT Officers, Deputies, and Dispatchers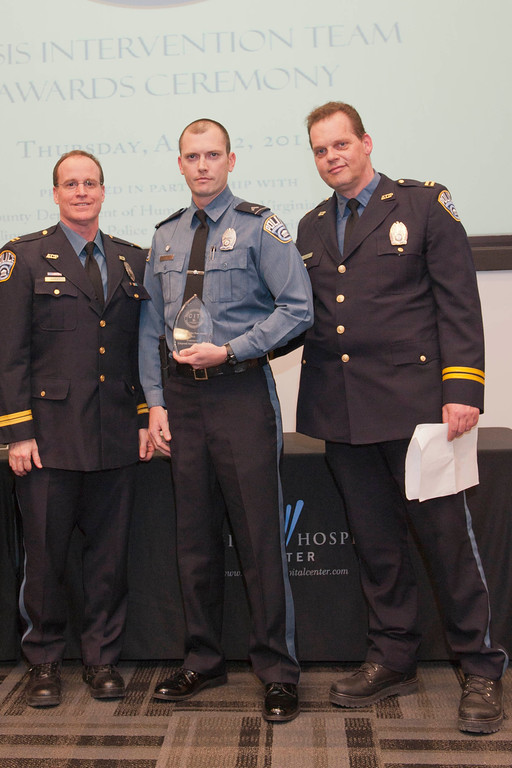 On Thursday, April 2, 2015 at 7:00 p.m. in the John T. Hazel Auditorium at the Virginia Hospital Center, personnel from the Arlington County Police Department, Sheriff's Office and the Office of Emergency Management, received Crisis Intervention Team (CIT) Awards for their outstanding work in serving individuals experiencing a mental health crisis.  The ceremony honored CIT Officers, Deputies and Dispatchers for their commitment to creating and sustaining more effective interactions with individuals with mental illness, their families and the community. The keynote speaker was The Honorable Judge Steven Leifman of the Miami-Dade 11th Judicial Court.
Virginia State Senator Adam Ebbin, Delegate Patrick Hope and Delegate Alfonso Lopez, Deputy Secretary of Public Safety Victoria Cochran, Deputy Secretary of Public Safety Tonya Vincent, Office of Emergency Management Director John J. Brown, Jr., Acting Deputy Police Chief Dave Dailey and Sheriff Beth Arthur attended the event to support the men and women who work tirelessly in the CIT program.
The Crisis Intervention Team (CIT) model, first developed in 1988 in Memphis, Tennessee, has been critical in developing and providing a safer first responder crisis approach to individuals with a variety of behavioral health challenges.  CIT team members undergo extensive training and are often called upon to provide crisis assistance through their skills and abilities to verbally communicate with individuals.
The award recipients at the ceremony were:  CIT Officer of the Year, Corporal Jonathan Stanley; CIT Intervention Officer of the Year, Sergeant Melinda Johnson from the Sheriff's Department; CIT Deputy Sheriff of the Year, Jason Barnett and CIT Dispatcher of the Year, Ms. Mindy Secrest, from the Office of Emergency Management who works in the 9-1-1 Emergency Communications Center.
Save