Edible Holiday Gifts
'Tis the season for indulging in fabulous food and decadent drinks.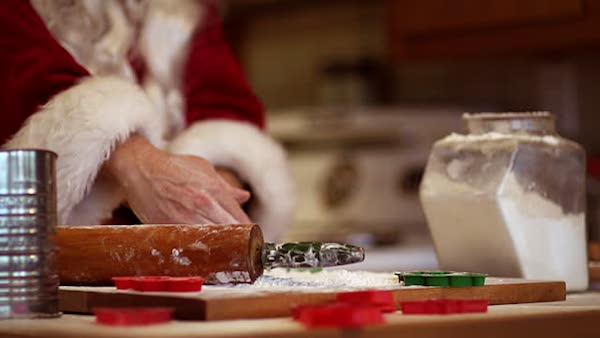 ​Add to everyone's enjoyment by plying family and friends — and perhaps yourself — with holiday goodies from around the area.
Beer
Mad Fox Brewing has resurrected its perennial Festivus Ale, a 5.6 percent ABV brew seasoned with cinnamon, ginger and nutmeg — producing a "spiced and warming" profile perfect for combating long winter nights. Staff at the flagship Falls Church location say they're sitting on 20 kegs of the stuff ("We should have Festivus Ale for a while," one brewery aide assures us). Take a buddy in for a cold one or shuttle it home in a freshly topped-off growler ($18.95 a pop).
Mad Fox Brewing Company: 444 W. Broad Street, Suite I, Falls Church; madfoxbrewing.com
Bread
Suffering from a fruitcake deficiency? Heidelberg has got you covered with traditional Dresdner stollen (yeast dough studded with rum-soaked raisins, dried fruit, chopped almonds and select spices) and an extra sugary, marzipan-filled version. The festive loaves are available for immediate pickup (no special orders required) in 1- or 2-pound sizes.
Heidelberg Pastry Shoppe: 2150 N. Culpeper St., Arlington; heidelbergbakery.com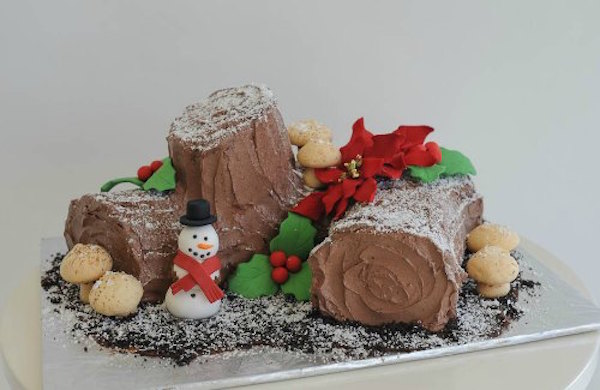 Fluffy Thoughts Cakes
Cakes
Plant yourself in front of a traditional buche de noel, a.k.a. the Yule log-shaped cake, with a little help from Fluffy Thoughts. The holiday sweet is composed of either chocolate or vanilla cake rolled with your choice of mousse filling (chocolate, white chocolate or raspberry). Thick, rich frosting dusted with sugar — for that all-important snowy effect — comes standard. Staff estimates a large cake ($60) can serve up to 60 guests, while the small one ($30) is good for around 30 dessert-seekers. Advance notice of 48 hours is required.
Fluffy Thoughts Cakes: 1320 Old Chain Bridge Road, McLean; fluffythoughts.com
Cider
Bend an elbow the Old Dominion way by joining the Virginia Cider of the Month Club. Monthly deliveries can be customized to feature three bottles to a dozen, and membership tiers extend from three months (three bottles, $42.95) to a full year (three bottles, $171.80) and beyond. Each shipment arrives with an informational packet about the featured cidery, while the club site provides an introduction to the world of cider-based cocktails (Oriental Peacock, anyone?).
Virginia Cider of the Month Club: vaciderclub.com
Cookies
Pastries by Randolph prides itself on its traditional European delights, with a baking repertoire that pays a nod to Hanukkah with cinnamon- and apricot-filled rugelach. Fill up on the flakiest, butteriest, most snacktastic part of the holiday for $18 a pound.
Pastries by Randolph: 4500 Lee Highway, Arlington; pastriesbyrandolph.com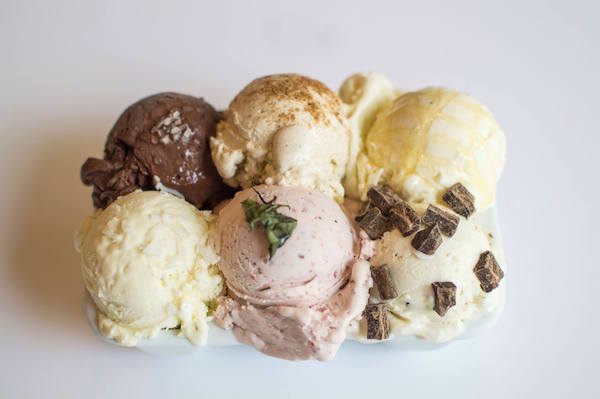 Nicecrean Factory
Dairy
Add some holiday cheer to any gathering by showing up with pints of Nicecream Factory's limited-time-only candy cane crunch (flavor of the month) and eggnog (which should last a few weeks). Other handmade, liquid nitrogen-cooled ice creams include dark chocolate sea salt, milk chocolate crunch and salted caramel.
Nicecream Factory: 2831 Clarendon Blvd., Arlington; nicecreamfactory.com
Fowl
Place something exotic on the holiday table by ordering goose, duck or pheasant from The Organic Butcher. Shop aides recommend calling at least one week in advance — the goose and pheasant are sourced from New York — and are happy to help with cooking recommendations. Step-by-step instructions for preparing duck confit, duck prosciutto and seared duck breasts with cherry port sauce are sprinkled through the website.
The Organic Butcher of McLean: 6712 Old Dominion Drive, McLean; theorganicbutcherofmclean.com
Spirits
Take a shot at wowing the cult whiskey fan in your life by entering the Virginia Department of Alcoholic Beverage Control's lottery to purchase Pappy Van Winkle products. A chance to buy a bottle of Old Rip Van Winkle 10-Year Old Bourbon is coming up on Thursday, Dec. 15.
Virginia ABC: abc.virginia.gov
Meat
Let's Meat on the Avenue really does handle every size of rib roast imaginable. "We just have to know how many bones you want," owner Brian Malone replies when pressed about the time-honored holiday centerpiece. But he's also got fresh beef tongue, ground kangaroo (!), beef short ribs, and osso bucco (requiring about 24 hours' notice).
Let's Meat on the Avenue: 2403 Mount Vernon Ave., Alexandria; letsmeatontheavenue.com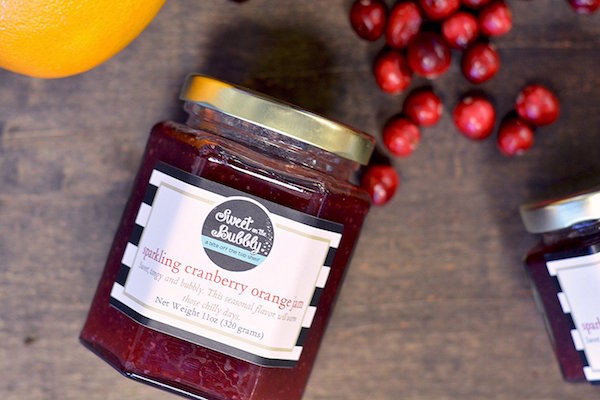 Sweet On The Bubbly
Spreads
Raise a glass (jar) to wine, whenever. Sweet On The Bubbly founder Kristen Tenery folds popular tipples into fruit-packed preserves (cranberry and orange paired with prosecco; Bosc pears crossed with pinot grigio). Although she recommends smearing the stuff on baked goods or spooning it over ice cream, fans have taken to glazing meats with the boozy spreads (Julia Child would be so proud). Too tipsy to hunt these down? Allow Amazon Fresh to deliver them right to your door.
Sweet On The Bubbly: sweetonthebubbly.com