Explore Colonial History in St. Mary's County, Maryland
What to see and do in Leonardtown, St. Mary's City and St. Clement's Island.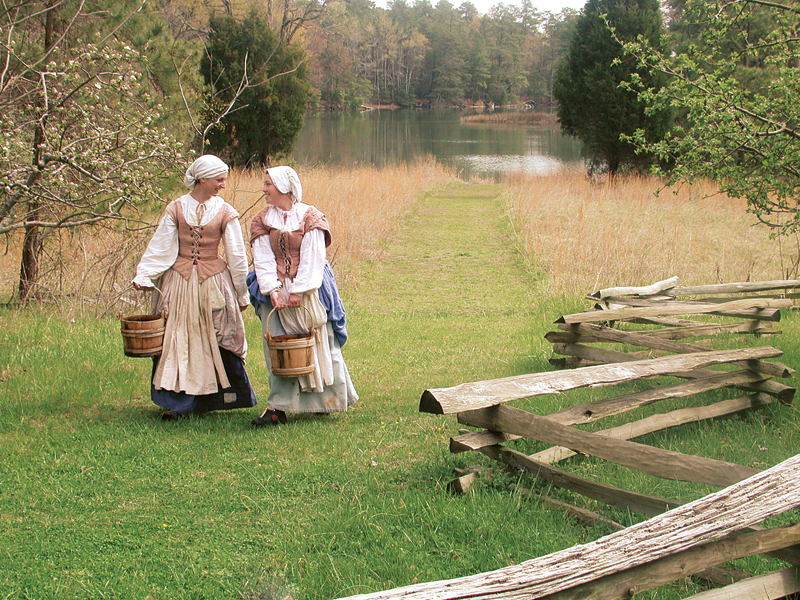 Colonial reenactors at Historic St. Mary's City
Growing up in and around New England, I was always well versed in the prominent role that region played in our nation's birth. I tripped on cobblestones along Boston's Freedom Trail, walked the USS Constitution's decks, and spent several school field trips learning about English explorer Henry Hudson, who in 1609 traveled up the river that now bears his name to an area that would later become Albany, New York.
I've since discovered there's also plenty of Colonial history to soak up in Maryland, my home state of the past 15 years. Curious to learn more, I recently picked up my friend Annemarie at BWI Airport (she's from Boston) and together we embarked on a journey through St. Mary's County.
Nestled between the Potomac and Patuxent rivers and extending into the Chesapeake Bay, the county is a peninsula with more than 500 miles of shoreline. And therein lies its prime charm: There's water everywhere—rivers glistening in the sun, creeks burbling and waves lapping shorelines while boats bob in bays. Here are some highlights from our trip.
Leonardtown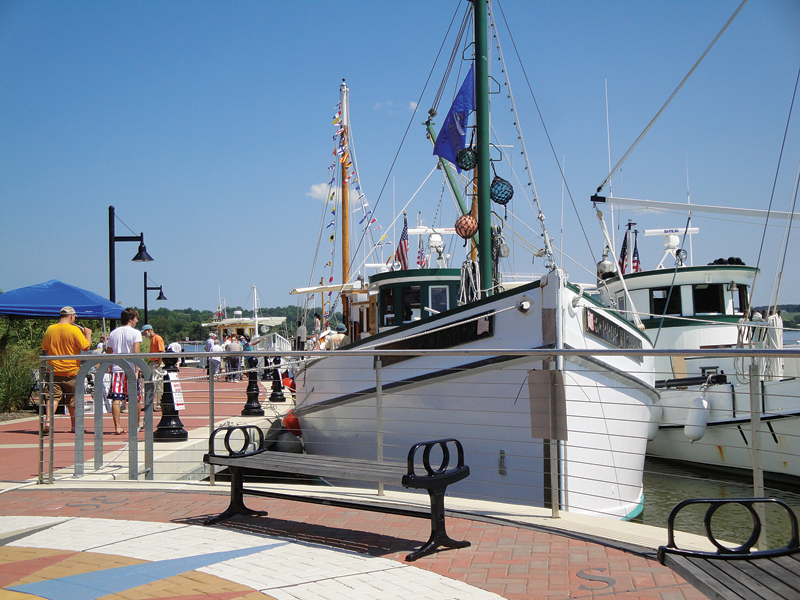 Leonardtown Wharf Public Park
A stop in Leonardtown, the county seat, finds restaurants, an 1800s jail (now the Old Jail Museum), an independent bookstore and art galleries in the area of Washington and Fenwick streets. On the first Friday of every month, galleries and shops stay open late to showcase local artists, and live entertainment emanates from street corners and the town square (for more information, visit www.leonardtownfirstfridays.com).
Meandering down the hill toward Breton Bay, we discover Leonardtown Wharf Public Park, where a circular observation deck features a beautiful 50-foot compass rose created with colorful brick pavers. A sign explains that the compass rose has appeared on charts and maps since the 1300s. The design's 32 points represent the directions of the wind. Eight of them are larger than the others, representing the major winds, and labeled with their respective Roman names (tramontana for north, ostro for south, and so on).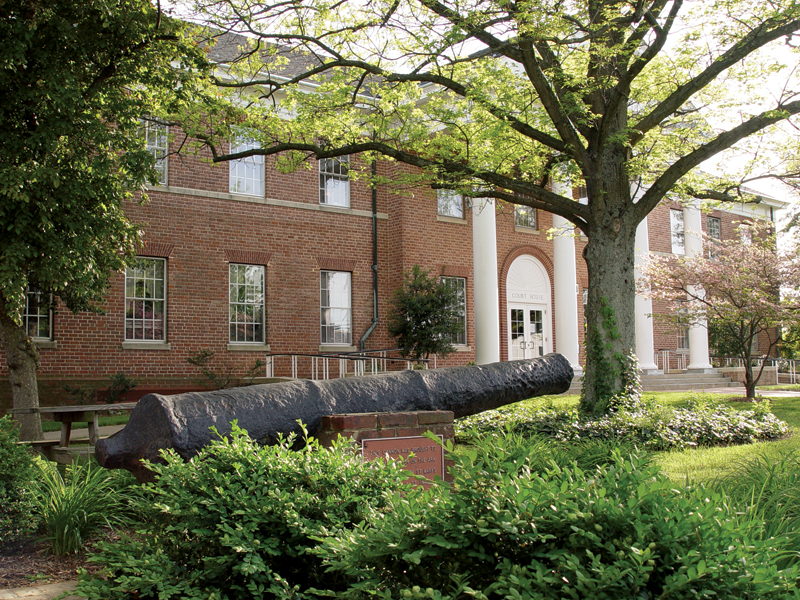 A cannon from the Ark (one of two ships that brought colonists to Maryland) at the Old Jail Museum in Leonardtown
Heading back up Washington Street, we grab an outdoor table at The Front Porch restaurant and order burgers and drinks—including a delicious sangria—as the sky turns pink.
Historic St. Mary's City
After an overnight on Solomons Island (which connects to St. Mary's County via a short bridge), we head to the visitor center for Historic St. Mary's City, a settlement dating back to 1634.
Former Washington Post executive editor Ben Bradlee, who owned a home in St. Mary's County and was a supporter of St. Mary's College of Maryland, narrates an introductory film. Several exhibits explain how Maryland's first capital (and the United States' fourth colony) came to be.
St. Mary's City was first envisioned by British Lord George Calvert, who in 1625 joined the Roman Catholic Church and was subsequently deemed unqualified for public service in England. Calvert established his own colony in Newfoundland, but after a severe winter there he began searching for warmer climes and lobbied King Charles I for a grant of land near Virginia. He was eager to create a colony that was more than simply favorable to Catholics; he had the novel idea to create a place founded on religious toleration.
George Calvert died before his dream came to fruition, but his son Leonard Calvert would lead 140 colonists (many of them Protestant) on two ships—the Ark and the Dove—from England's Isle of Wight to Maryland's shore. Their five-month journey across the Atlantic culminated in a landing at St. Clement's Island on March 25, 1634, the day now celebrated as Maryland Day.
Outside the visitor center, Historic St. Mary's City is a 70-acre outdoor history exhibit and archeological site on the banks of the St. Mary's River. We wander the path to the Woodland Indian Hamlet exhibit where we meet Sam, the site supervisor, standing near a deerskin that's being smoked on a tripod of thick sticks. He shows us inside a witchott—a typical home of the Yaocomaco tribe of American Indians—while sharing tales of Capt. Henry Fleet, a wealthy English adventurer who spent several years trading with native tribes. Fleet learned their language and was hired by Leonard Calvert as a guide.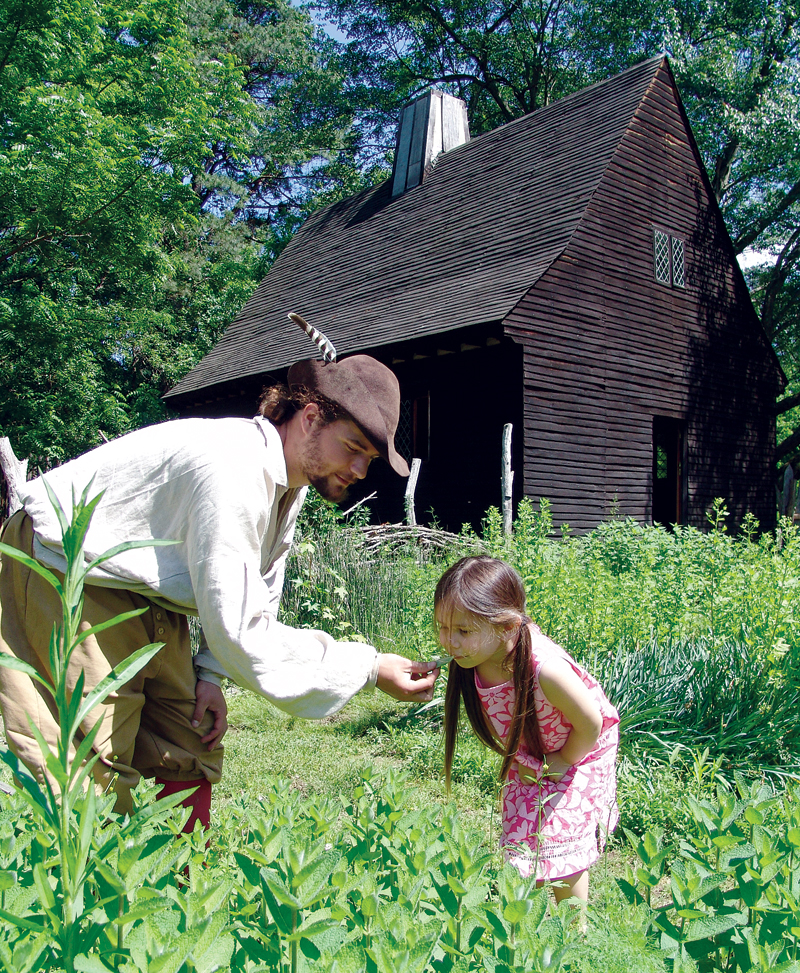 "[Calvert's cohort] didn't want the strife they'd heard was happening in the Virginia colony," Sam explains, noting Fleet's critical diplomatic role. (In the end, Fleet helped negotiate an exchange in which the Yaocomaco tribe gave land and part of a village to the colonists and showed them how to grow crops in exchange for protection.)
Our next stops are at the Print House—the first printer south of Boston—and Smith's Ordinary. In the 17th century, an "ordinary" was a combination restaurant, hotel and bar. We're told that back then, food was more expensive than lodging. An overnight stay at Smith's cost 4 pounds of tobacco, while a meal with a drink was 10 pounds.
Farther along, we pause at the Margaret Brent Gazebo that overlooks the St. Mary's River. The gazebo honors the executor of Leonard Calvert's estate and the first woman to petition for the right to vote in America (she was denied).
When we finally reach the dock, we find the polished wood hull of a re-created Dove gleaming in the late-morning sun. A barefoot sailor dressed in Colonial attire likens the 40-ton-capacity ship to a family sedan, explaining that the colonists used the Dove to explore and trade with other Colonies along the Atlantic seacoast for things like salt cod. The 400-ton-capacity Ark, on the other hand, was more akin to a moving van, he says, and a rental that had to be returned to England—which it was, by a group of mariners, in August 1634.
Asking whether the Dove replica is ever taken out for a sail, we're told that a crew sails it every October to St. Clement's Island for the Blessing of the Fleet ceremony. This annual event includes a reenactment of the first Catholic Mass celebrated in the Colonies on March 25, 1634.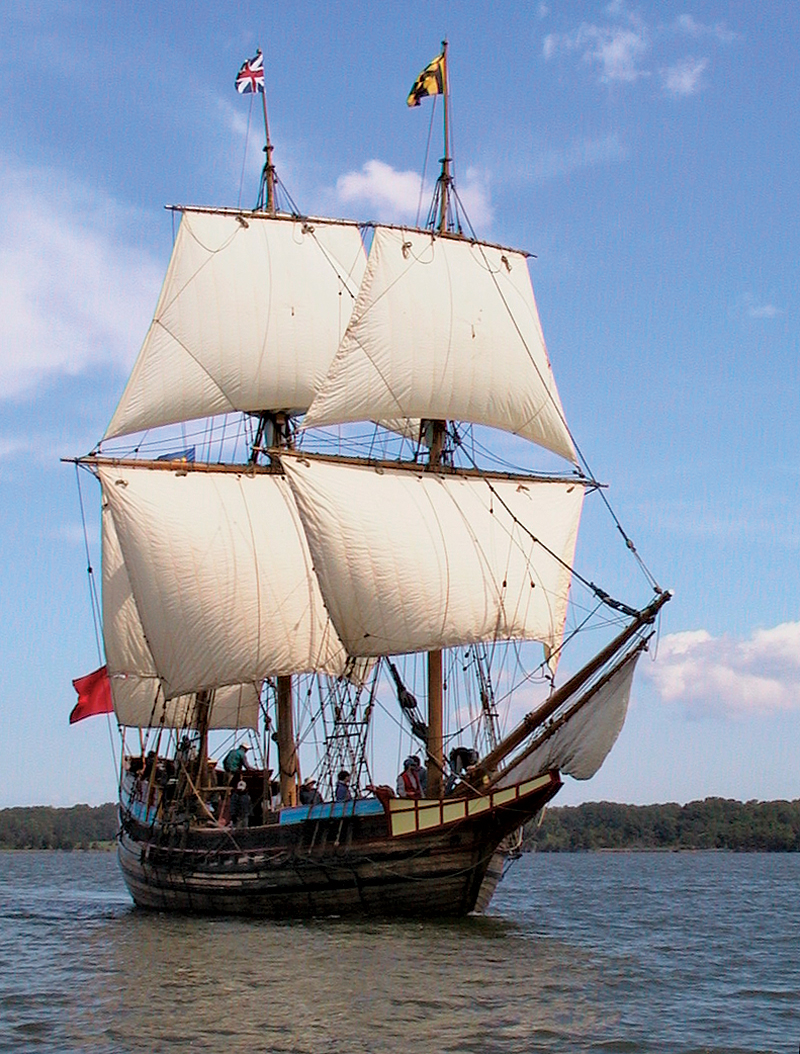 A replica of the Dove
St. Clement's Island Museum
Whereas Historic St. Mary's City tells the story of Maryland's colonization, the St. Clement's Island Museum (which is actually located just north of the island in Coltons Point) offers a look at the English political and religious climate that motivated the Calverts and others to cross the ocean in search of a new home.
"It all started with King Henry VIII," an exhibit called "The Genesis of Maryland" explains. A century before the first settlers landed on St. Clement's Island, Henry wanted an annulment from Catherine of Aragon, his Catholic wife for more than 20 years. "He wanted to marry a new and younger wife and produce a son; a legitimate male heir to the throne," the exhibit says.
The annulment was denied, but Henry still found a way to divorce his first wife—by establishing the Church of England and appointing himself as its head. From that point on, England was a less hospitable place for Catholics, thus precipitating Leonard Calvert's eventual journey across the Atlantic.
The museum is also home to a large mural depicting the colonists' arrival, along with displays on local watermen. After attempting to digest more than 400 years of history, we are happy to meet Capt. Bob on the museum's dock for a water taxi ride to St. Clement's Island. The taxi runs weekends from June through Sept. 28.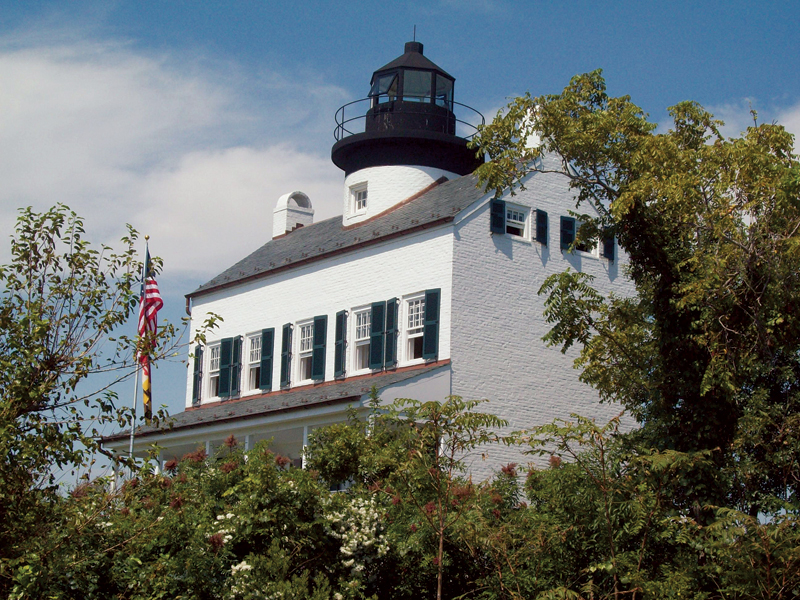 Blackistone Lighthouse
St. Clement's Island
Named after the Catholic patron saint of sailors and seas, St. Clement's Island spans 62 acres. Reading the display signs that dot the landscape, we learn that the original settlers of 1634 decided the island was a good location for a military lookout, but not suitable for a colony (hence they settled in the area that would become St. Mary's City). Other placards offer interesting details about the island's years as a summer resort from 1868 to 1919, and about its shrinking size—the result of erosion caused by tides and major storms.
At the reconstructed Blackistone Lighthouse, which was in service from 1851 to 1932, a guided tour offers a glimpse into the life of a lighthouse keeper. Carefully preserved logs contain mundane records of weather conditions and food purchases, but there are interesting tidbits, too, such as one report that reads: "S. 14. Buyes some things of Bayley Store on Board. Told of the sad accident to Jackson Cheseldine Blowing off his Fingers by his Gun."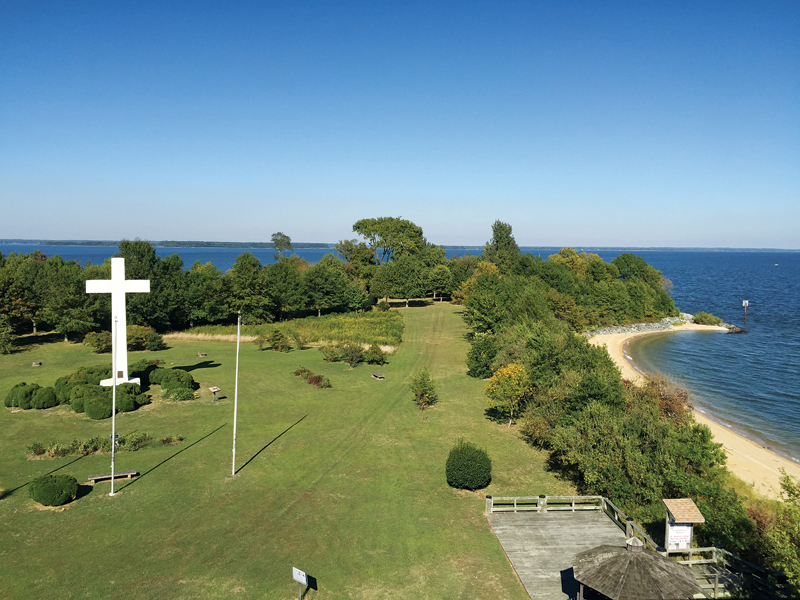 St. Clement's Island
Before leaving, we climb to the lighthouse's lookout, where a panoramic view across the island includes a 40-foot white cross that was constructed in honor of the first Catholic Mass in the 13 Colonies. It stands today as an emblem of religious tolerance.
Christine Koubek writes about travel, history and families. She teaches personal essay and travel writing at The Writer's Center in Bethesda. Find her at www.christinekoubek.com and on Twitter @CKstories.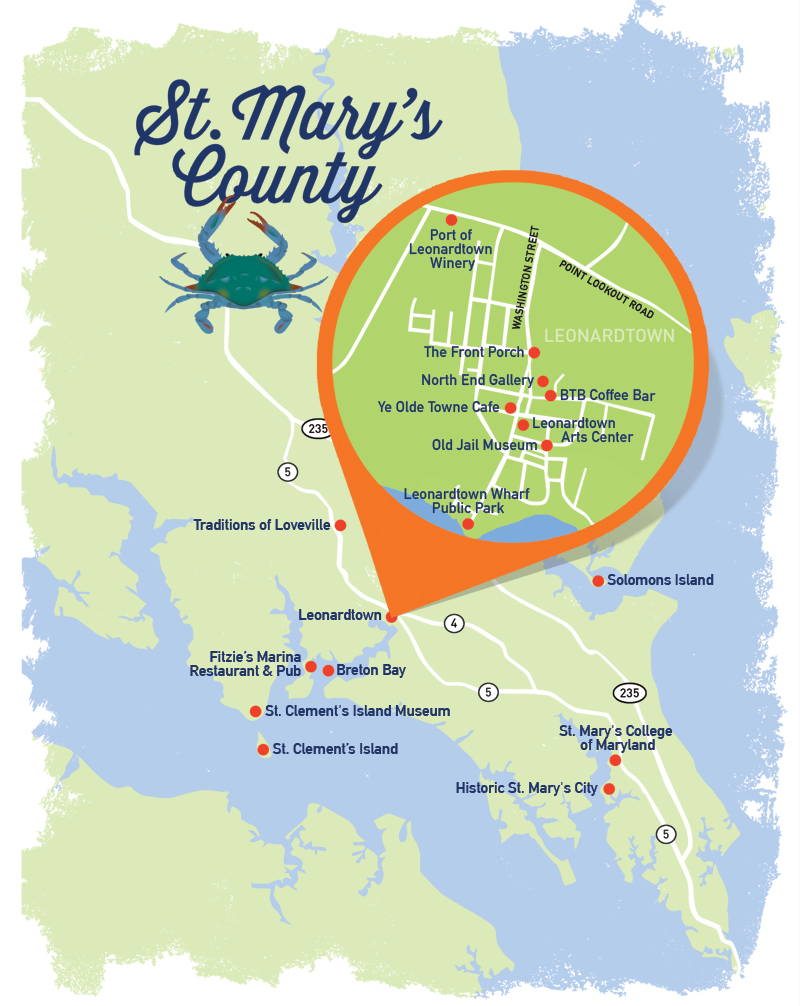 If You Go
Where to eat, drink and shop in St. Mary's County
The Front Porch
Housed in the circa 1850s Sterling House, this American restaurant features small and elegant dining rooms or casual porch dining. Beer-battered rockfish, Maryland-style lump crabmeat and fried green tomatoes with Boursin cheese are just a few of the offerings. 22770 Washington St., Leonardtown; www.thefrontporchmd.com
BTB Coffee Bar
This is not your average coffee shop. The building's front half is home to a small café that serves bagels, sandwiches and wraps. Coffee is available on the honor system: Help yourself and deposit $2 in a jar. The shop's rear-wall bookshelf is actually a door. Pick up the old-fashioned telephone receiver to the left of the bookcase, and the bookcase opens to reveal an intimate speakeasy-themed bar inspired by the days of Prohibition. 41658 Fenwick St., Leonardtown; www.btbcoffeebar.com
North End Gallery
The oldest art gallery in St. Mary's County, North End offers a diverse collection of original fine art, pottery, finished wood tables and boxes, hand-dyed silk scarves and jewelry (in beach glass, sterling, copper and stones) from more than 30 southern Maryland juried artists. The gallery's two front rooms and hallway feature the work of different artists and artisans each month. 41652 Fenwick St., Leonardtown; www.northendgallery.com
Ye Olde Towne Cafe
Locals love this casual, family-friendly eatery on Leonardtown's main square. The best bet here is breakfast, which is served all day and includes standards such as pancakes (both buttermilk and sweet potato), omelets and the "Ye Olde Town Cafe Special," which includes two eggs any style, hash browns or home fries, and a choice of ham, bacon, sausage or scrapple. 22685 Washington St., Leonardtown
Port of Leonardtown Winery
This is the tasting room and store for one of the few cooperative wineries in the country and home to award-winning wines from a dozen southern Maryland vineyards. In addition, its backyard is the kayak launch site for a 3-mile paddle route along wooded McIntosh Run, which spills into Breton Bay near Leonardtown Wharf Public Park. 23190 Newtowne Neck Road, Leonardtown; www.polwinery.com
Traditions of Loveville
This 30-year-old, family-owned store draws people from all over southern Maryland for its well-curated selection of furniture, art, rugs, throw pillows, jewelry and more. You can lose at least an hour wandering through the 4,000-square-foot house, where each small room is packed with unique and interesting finds—including lots of tasteful nautical prints and plenty of crab dishes and accessories. 28420 Point Lookout Road, Love­ville; www.traditionsofloveville.com
Fitzie's Marina Restaurant & Pub
Looking to have lunch or dinner with a water view? This no-frills restaurant overlooks Breton Bay and even has a small sandy beach out front with tables and tiki lamps. Fitzie's is known for its seafood, especially crab: The menu includes crab balls, cream of crab soup, crab dip and crab pizza. 21540 Joe Hazel Road, Leonardtown; www.fitzies.homestead.com