Get Away: Fall Escapes 2015
Autumn is a great time to visit these vivid Mid-Atlantic destinations.

Kayak for Color
Instead of hiking for mountaintop views of fall foliage, you can gaze up at trees turned blazing reds and yellows from the seat of a kayak. Potomac Paddlesports' Fall Colors on the Potomac offers naturalist-guided tours that launch from Pennyfield Lock in the C&O National Historical Park and head north about a mile before crossing over a beach and launching again in the Potomac River for views of eagles, herons, turtles and more of autumn's vibrant colors reflected on the water's surface. The four-hour trips are designed with beginners in mind: calm waters and pre-trip paddling instructions. Equipment is provided. Bring a thermos of coffee or cider, binoculars and a waterproof camera. Available six weekend dates from Oct. 17 to Nov. 1 at 9 a.m. or 2 p.m. The cost: $95 per person. For more information, visit www.potomacpaddlesports.com.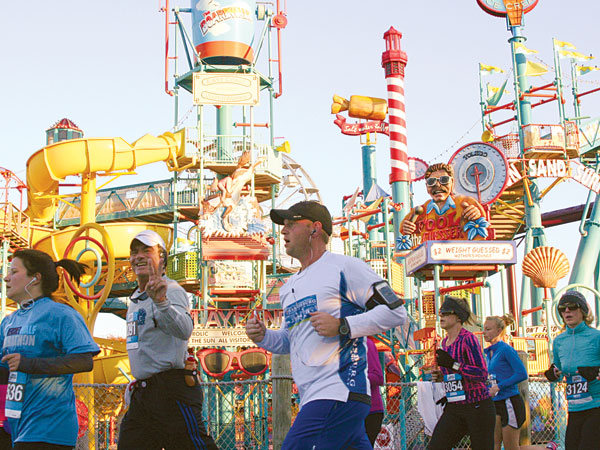 Run for Chocolate
The Mid-Atlantic region is home to many scenic autumn races, but only one allows for a run down Chocolate Avenue with its streetlights shaped like Hershey's Kisses. Runners (or walkers) in the 6th annual Hershey Half Marathon & Relay—scheduled for Sunday, Oct. 18—will also cruise past Hersheypark's coasters and rides and Milton S. Hershey's High Point Mansion. The route's highlight is the "Chocolate Aid" station, where past participants have sugared up on everything from Kit Kats to Twizzlers (you are burning calories, after all). Entrants age 14 and older can run the full race or form a relay team (with two people splitting the 13.1 miles). Participants receive two free tickets to Halloween-themed Hersheypark in the Dark, where kids can trick-or-treat and ride coasters at night. An added perk: complimentary, 15-minute post-race, finish-line chair massages by The Spa at the Hotel Hershey. Fun runs for kids aged 2 to 13 range in distance from 30 yards to 340 yards. Individual registration for the half marathon is $85, or $140 for a two-person relay team. For more info, visit www.chocolatetownchallenges.com/hershey-half-marathon.

Get Spooked
Named No. 1 on TripAdvisor's 2010 list of Top 10 Ghost Tours in the U.S., Ghost Tours of Harpers Ferry by "O' Be JoyFull" offers a journey through Harpers Ferry's Civil War era. The stories are based on Shirley Dougherty's 1977 book, A Ghostly Tour of Harpers Ferry, and include tales of a 14-year-old Confederate drummer boy who was taken prisoner by Union soldiers, and the hauntings of a freed slave. The roughly 100-minute walking tour is family and dog friendly. $14 per person; $10 for kids ages 8 to 12. For more information, visit www.harpersferryghost.20m.com or call 732-801-0381.

Bed and Beer
Seven miles from the Thornton Gap entrance to Shenandoah National Park, Hopkins Ordinary Bed & Breakfast offers three B's that keep guests returning: comfy beds, gourmet breakfasts and freshly brewed beer. Owners and hosts Sherri Fickel and Kevin Kraditor refurbished the 19th-century hotel, which they opened in 2005. In December 2014, they added a nano-brewery. Each of the five guest rooms includes a bathroom with a rainfall showerhead, a fireplace or woodstove, and direct access to a private porch. The inn also features communal wraparound porches with views of the Blue Ridge Mountains. A two-bedroom cottage with a kitchen sleeps five and is a good choice for those traveling with children or pets. Breakfast offerings include homemade muffins and breads (they make their own challah for French toast), fresh fruit, and egg dishes from frittatas to omelets. Salted oatmeal cookies are the perfect treat after a day of hiking. Guests receive a complimentary pint of craft beer in the cellar brewery Fridays through Sundays—or delivered to your porch any day. Rates range from $139 to $299 per night. 47 Main St., Sperryville, Virginia. For more information, visit www.hopkinsordinary.com or call 540-987-3383.