Great Spaces: A Study in Blue
How the cornerstone of an old house set the tone for a cool, new kitchen.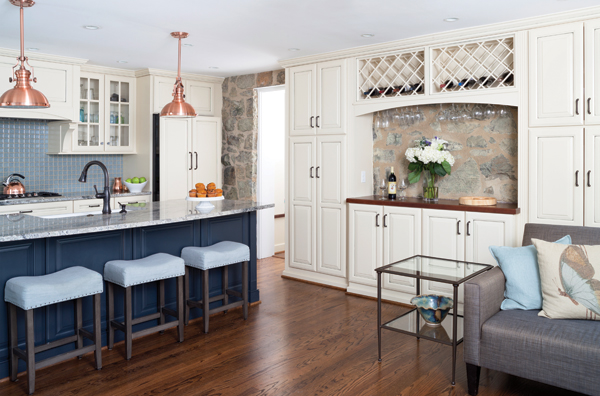 Lesley and Mario Riggione never minded the tiny kitchen in their 1940s-era stone house in Falls Church City. "Neither of us cooked. It wasn't a big deal," Lesley says.
At least it wasn't until Lesley was diagnosed with a gluten allergy in 2014.  Then things changed. "All of a sudden, you go from eating out a lot to cooking at home," she says. "Cooking became a big part of our life."
With this lifestyle adjustment, a closet-sized kitchen was not going to work. So the Riggiones called upon Michael Winn of Falls Church-based Winn Design + Build to reconfigure their home's first floor.
Rearranging the floor plan (including a family-room addition that a previous owner had built), Winn eliminated an existing breakfast area, built a bigger kitchen in its place, and repurposed the original kitchen space to include a powder room, mudroom and side entry.
The cornerstone of the new kitchen is an exposed stone wall that was formerly on the exterior of the house. Its blue tones inspired design choices such as the slate-blue-painted island cabinetry by Wellborn, a pale-blue crackled-glass backsplash from Mosaic Tile and an azure-veined Silverado granite countertop from Fairfax Marble & Granite. Copper pendant lights from Ferguson add warmth and polish.
"Fortunately, we had a client who wasn't afraid of color," Winn says. "It's nice when somebody goes against the flow and does something different."
The Riggiones now spend "every waking moment" in this communal area, says Lesley, who enjoys being able to make dinner while keeping an eye on their young kids, 9-month-old Vivian and 4-year-old Vincent. Her 17-year-old stepson, Brian, also visits frequently. "Mike did such a great job maximizing a small space to get the most out of it."
Project Credits: Winn Design + Build www.winndesign.com