Fashion Over 40
There's a fashion middle ground between 20-something and matronly. And Crystal Boutique in Arlington has it covered.
Crystal Boutique could be the most successful Arlington clothing store you've never been to—namely because it's in a place you just don't stumble upon easily. Now celebrating more than four decades in business, it is, quite literally, an underground find, located in a back corner of Crystal City's subterranean shops.
Owner Joel Cohen comes from a long line of apparel retailers. His dad owned the men's clothier Cohen's Quality Shop on King Street in Alexandria until 1968, when the business was sold and his parents moved into an apartment in Crystal Plaza, where his mother opened a women's clothing boutique inside a beauty salon called Vincent et Vincent.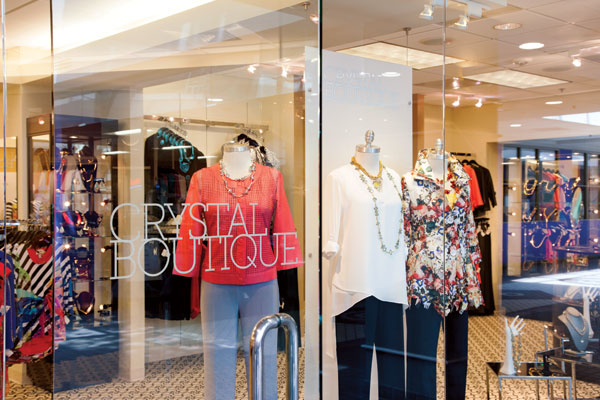 By 1977, Cohen's mother was ready to retire, so he moved back from Manhattan—where his retail career had included a stint with Bloomingdale's—and took charge of her small-but-thriving shop. Since then, it's undergone a name change (it became Crystal Boutique in 1981) and has expanded twice, occupying a roomy 3,500 square feet.
The store's hidden location doesn't seem to be an impediment to success. It's definitely got its regulars, and new fans seem to wander in every day. "I've worked in this building for years and this is the first time I've ever shopped here," a tall, slender woman—I would guess she's in her late 40s or early 50s—says as she hands over her credit card at the counter. She came in looking for a white blouse but leaves with three shirts and a pair of black pants.
"You're an excellent saleswoman," I overhear her telling the store's manager, Marilyn Schinasi, as she heads out.
Crystal Boutique definitely tailors its focus toward women of a certain age. "The fashion industry doesn't cater to anyone who's over 40 anymore," Cohen laments. "Our target customer is a woman age 40 and up who wants wardrobe elements that are edgy, not boring, but also high quality and well fitting. That's where we come in. We serve the population that the market isn't taking care of."
That includes ladies who feel trapped in a no-(wo)man's land between styles that looked great on them in their 20s and clothes that are too matronly for where they are now. "You don't want to dress like your mom, but you can't dress the way you did when you were in college," Cohen says. "We've got this gray area figured out."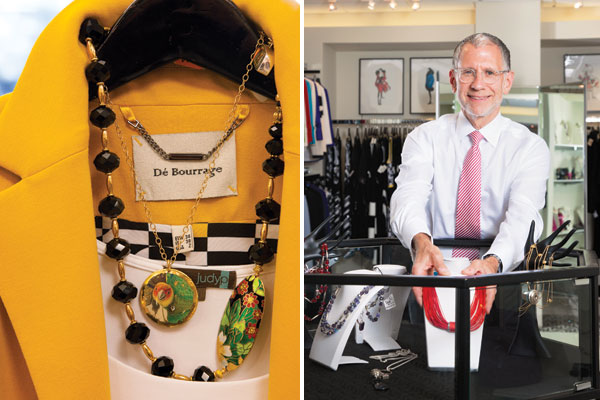 Left: This all-purpose jacket ($398) comes in a rainbow of bright colors. Necklaces $188-$350. Right: Owner Joel Cohen shows off necklaces ($350-$550) made exclusively for his store. Photos by Stacy Zarin-Goldberg.
To this end, one half of the store features color-coded racks of easy-care, travel-friendly casual separates—all neutral staples with shots of bright color and lots of black-and-white. The other half is stocked with suits and dresses, polished outerwear, artful accessories and sculptural jewelry (much of which is exclusive to the store). You'll find brands such as Lafayette 148, Joseph Ribkoff and Buchanan & Kang.
The boutique also hosts regular trunk shows for its more formal lines—Lourdes Chavez, for example, which custom makes each piece for the woman who buys it.
Shopping here does involve an investment of both time and money. Pants tend to run in the $175 range, and jackets hover around $300. Cohen's philosophy is that those who shop with purpose may end up buying fewer things over time, but will end up with items that they reach for more often and that they can assemble in different ways to create multiple outfits.
When I ask him to recap Arlington's fashion evolution over his four decades in business, he pauses. "Arlington has become very youth-centric," he says, choosing his words carefully. "The whole world's gone casual. Everyone's wearing leggings with a tunic—in the winter with boots and the summer with sandals—and it doesn't necessarily look great on everyone.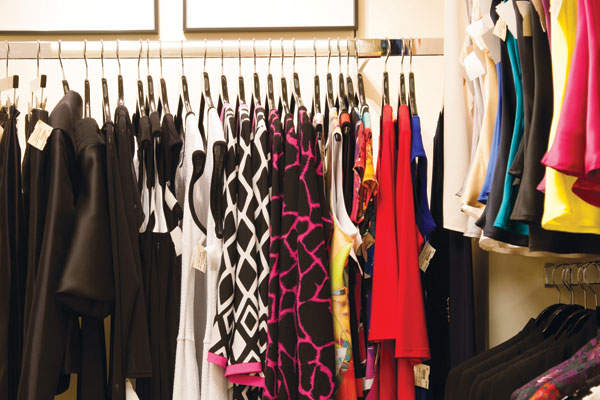 Easy-care dresses for all occasions ($198-$320). Photo by Stacy Zarin-Goldberg.
"Our store is really not that," he continues. "Our customers are the size that [they are], whether they're a 2 or a 12, and they have a certain demand for fit that they're not finding in other places. We are a strictly regular-fit store."
Translation: This is the place for pants that won't ride low on your hips and jackets with armholes that aren't impossibly narrow. "We know that women are tired of trying on clothes in what should be their size and finding that nothing fits," he says.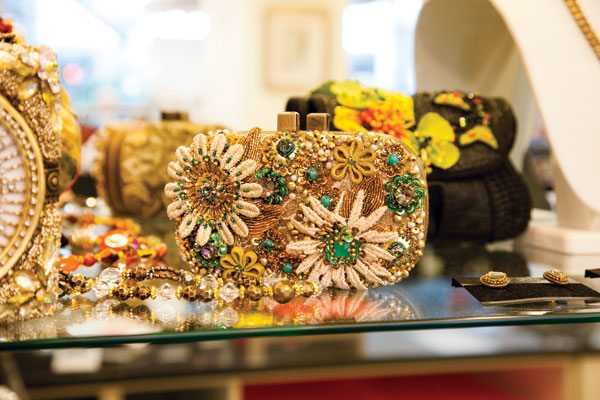 Beaded minaudiere clutch by Mary Frances ($288). Photo by Stacy Zarin-Goldberg.
Most pieces have little details that keep things interesting—like a sheer overlay on a dress, or a split-back tunic that still strategically covers everything.
I zero in on a Studio 54-worthy black jersey jumpsuit with a butterfly cape neckline, and a faux-leather-and-mesh lattice jacket that would kick up the style quotient of simple black pants and a white button-down.
This is the kind of place my cool aunt—who always wears funky jackets and artistic jewelry—would love.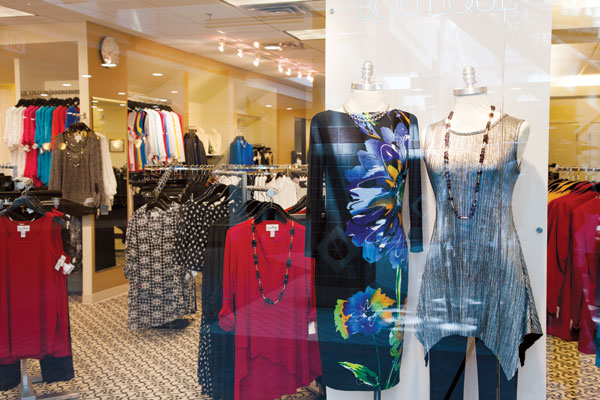 Window displays feature bold statement pieces. Photo by Stacy Zarin-Goldberg.
Soft-spoken, yet confident and tenacious, Cohen likes to speak in superlatives, absolutes and guarantees. He pulls out a tank with a handkerchief hemline, promising that it can stand on its own as a top, even if you need to take your jacket off.
He then points to a bright blue blazer with a checkerboard lining underneath its popped collar, noting that "no one who tries on that jacket leaves without buying it." (I don't, but I appreciate his enthusiasm.)
It's clear that he enjoys the sartorial puzzle of figuring out the women who walk through his doors. "It's a challenge and a reward," he says, "to help people find what they didn't even know they needed."
Adrienne Wichard-Edds is Arlington Magazine's style columnist. Send fashion and design tips to adrienne.wichard-edds@arlingtonmagazine.com