First Taste: Ambar in Clarendon
Eat your way through the Balkan Peninsula without leaving home.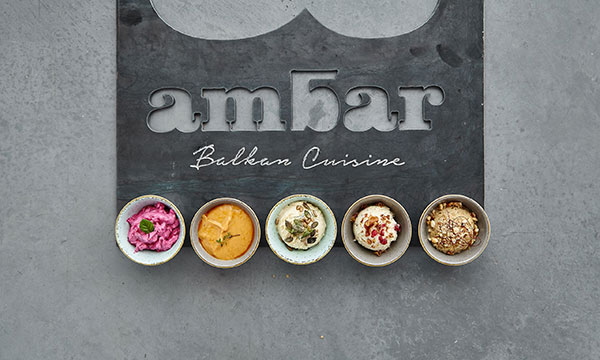 Photo by Marko Jankovic
For years, Ambar handily bridged the cultural chasm between America and the Balkan Peninsula from two locations—one on Capitol Hill and the other in Belgrade, Serbia. Its third restaurant, which opened two blocks from the Clarendon Metro earlier this month, serves dinner and brunch, with plans to kick off weekday breakfast and lunch down the line.
Housed in the former Boulevard Woodgrill spot at the corner of Wilson Boulevard and North Fillmore Street, the Arlington newcomer seats 130 in a spacious dining room outfitted with leather banquettes and black-and-white photos of the mother country. Come spring, the heated, covered patio will accommodate up to 50 more diners. A gorgeous, 16-seat bar, topped with Carrara marble, is accented with tile, brass, glass and antiqued mirrors with splashes of color that evoke green sea glass.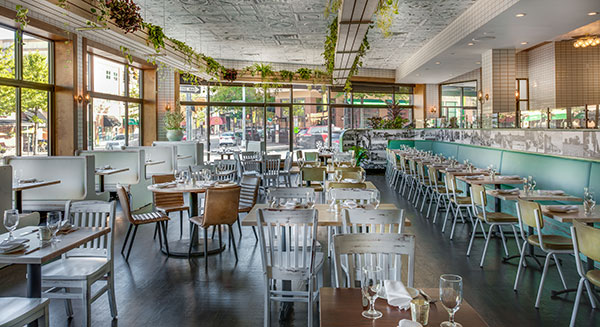 Photo by Goran Kosanovic
This bright, modern feel is a departure from the barn-inspired décor of Ambar's Capitol Hill location. (Ambar means "barn for food storage" in Serbian.) Owner Ivan Iricanin's wife, Nya Gill, says she designed the Arlington outpost to meld old and new aesthetic references to the Eastern European country. "Photography is a central feature of the Clarendon design, with large-format, vintage photography scattered throughout the space," Gill says.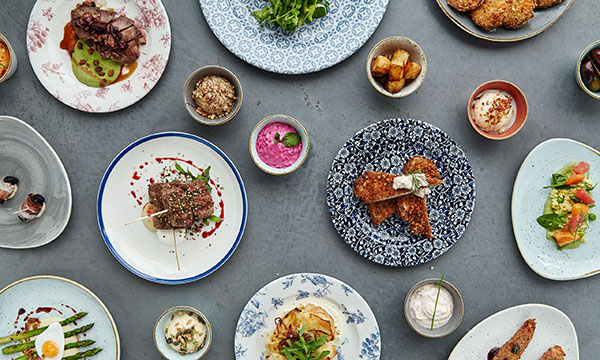 The Balkan Experience. Photo by Marko Jankovic
The Food
To prepare for Ambar's Clarendon debut, executive chef Chris Hawkins returned to the Balkan region, working with Serbian natives to craft a large and adventurous menu, only half of which repeats the restaurant's Capitol Hill offerings. In fact, there are so many options—including a large selection of vegetarian dishes—that it can feel a bit overwhelming.
If you're feeling like you want a little taste of everything, go for the all-you-can-eat Balkan Experience (we did), which costs $45 per person and must be ordered by the whole table. It's a great option for first-timers, in that you can order unlimited small plates without worrying about wasting money on a dish that isn't to your liking.
One of the must-try dishes is the stuffed cabbage ($9 if you order it á la carte). Our friendly Serbian server says it's a dish her mother makes, and she could eat it every day. I would have to agree. Listed on the menu under "slow cooked food," the flavorful cabbage pockets are perfectly seasoned and filled with mashed potatoes, pork belly and rice, and served with yogurt.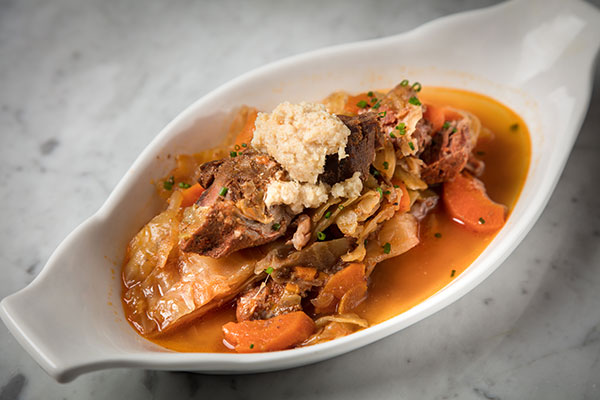 Lamb stew with cabbage. Photo by Goran Kosanovic
The Ambar fries ($6), a stack of potato batons perked up with red peppercorn, chives and a house blend of spices, were another favorite, although they could have used some kind of creamy dip to counterbalance the spicy heat in the seasoning. Also good: the cheese and spinach pie wrapped in crispy phyllo ($8), which is everything you'd want such a dish to be—creamy, crunchy and comforting, made even more enticing by the accompanying garlic yogurt.
The asparagus with crispy prosciutto, roasted squash and a fried quail egg ($8) wasn't as good as it's been at the Capitol Hill location (the egg was overcooked). But the grilled shrimp over a sweet corn purée ($10) turned up a perfectly cooked and seasoned version of the shellfish.
The eggplant-sesame spread ($7)—a dish created for Clarendon—proved fairly tasteless, and the accompanying dipping bread was dry and flavorless. The fried zucchini ($8) packed some welcome zest, thanks to plenty of oregano, but each bite was mostly breading, as the vegetable was cut too thin. (Though the sour cream-roasted-pepper dip it came with would have been an excellent choice for those Ambar fries.)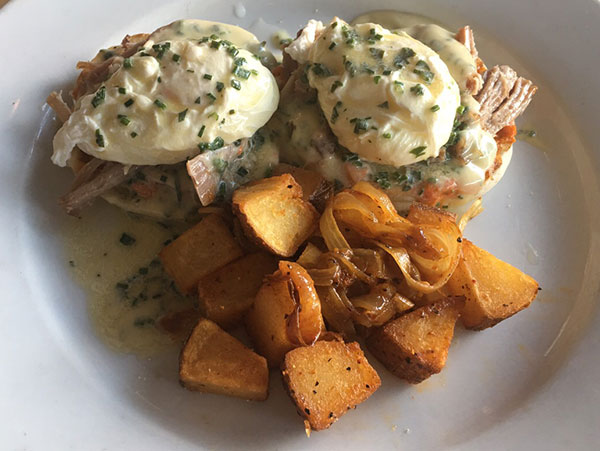 Pulled pork Benedict. Photo by Marko Jankovic.
The Balkan kabobs, which blend beef and veal with onion ($9), also strongly recommended by our server, were dry.
The ledena kocka ($9), a layering of custard, cream and chocolate, made for a pleasant and shareable dessert.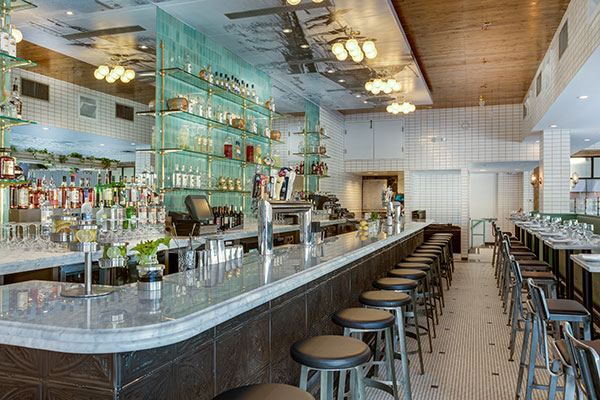 Photo by Goran Kosanovic
Bar Buzz
My next trip back will definitely start with another Belgrade Mule cocktail ($11), a crisp and not-too-sweet blend of plum rakia (a fruit brandy popular in Serbia), a berry-ginger purée, lime and ginger beer. Those who like a strong drink should go for the gin and tonic ($11), a globe wine glass filled with gin and a cucumber ribbon, served with a bottle of Fever Tree tonic on the side for a DIY cocktail.
Adventurous drinkers will want to explore the 45 or so wines from the Balkan region and the half dozen rakias (fruit brandies) on hand at the bar, including quince, apricot and pear. There are 10 beers on draft and 16 wines available by the glass. Happy hour runs from 4 p.m.-7 p.m. weekdays, when select beer, wines, cocktails and bites go for $4 each. Fridays and Saturdays after 11 pm, you'll find a DJ spinning techno, house and dance tunes.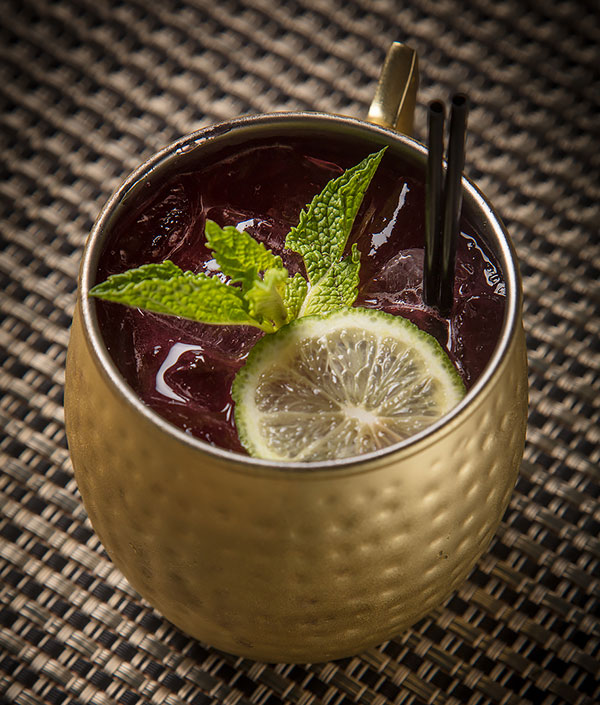 Belgrade mule. Photo by Goran Kosanovic
The Vibe
This super-cool space would be at home in any urban downtown area. Floor-to-ceiling windows provide enticing views, and a rectangular planter suspended from the dining room ceiling holds dozens of draping indoor plants. The crowd includes patrons of all ages, from couples to those hanging with friends, and there's an energy to the space. Perhaps it comes from the sense of adventure that's felt by those who are likely experiencing a new kind of cuisine.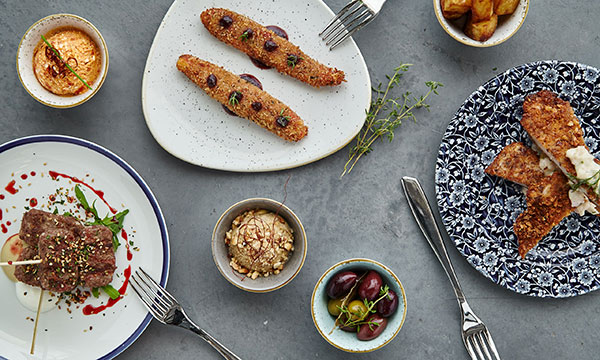 Lamb skewer, cheese-stuffed pepper and almond chicken. Photo by Marko Jankovic
Go, Wait or Skip?
Wait. This restaurant clearly has the potential to be a neighborhood go-to, but the management and kitchen are still working out a lot of kinks. Nobody answered the phone during business hours when we tried to make a reservation; we didn't get one of the dishes we ordered; food came out of the kitchen very, very slowly; and there was no toilet paper in the ladies' room. Give it a month or so.
Ambar Clarendon is open for dinner Sunday-Thursday from 4 p.m.-11 p.m. and Friday-Saturday from 4 p.m.-12 a.m. Brunch is served Saturday-Sunday from 9 a.m.-3:30 p.m. Weekday breakfast will we served from 9 a.m.-2 p.m., and weekday lunch will be served from 11 a.m.-2 p.m. 2901 Wilson Blvd., Arlington; 703-875-9663; www.ambarrestaurant.com