First Taste: Barley Mac
Comfort food, brown booze and a mega-renovation in Rossyln.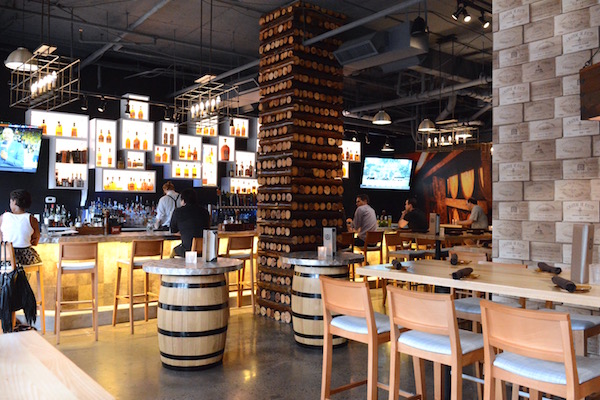 The bar at Rosslyn's Barley Mac. Photo by Laura Hayes
A few sips into our whiskey drinks at Rosslyn's Barley Mac, my companion and I began to mull over the possible meanings of the restaurant's name. Could it be a nickname for the chef's ruddy-faced uncle whose affinity for mac 'n' cheese gifted him a Chris Christie physique? Or maybe the owner grew up with twin pugs, Barley and Mac?
Our hypothesizing was all for naught because the restaurant—brought to you by the team behind Arlington's A-Town Bar & Grill and Don Tito—has a name that lacks any real significance.
"It doesn't mean that much, strange as it sounds," says co-owner Scott Parker. "We [came] up with words that we think sound like the concept feels."
Parker says he wants the dining room to feel "rustic modern," and it does, with asterisk-shaped Edison bulb chandeliers, columns lassoed by ropes and gold glinted wallpaper. The space, formerly Red Hot and Blue for more than 20 years, got the Extreme Makeover treatment via a $1.75 million renovation before it opened on May Day.
The Food
Chef Jeremy Magnanelli (who cooked at the Inn at Little Washington, Marcel's and Lincoln) leads a kitchen focused on American comfort food.
We didn't waste time trying his biggest seller, the coccoli. Described as "crispy dough," the indulgent orbs are doughnuts in disguise, glistening with truffle honey. They're served with ribbons of Stracchino cheese and prosciutto di Parma that cling together as if they slid out of deli packaging. The presentation is amateurish, but ping me if you care after wrapping a truffle doughnut hole in ham and savoring the sweet-salty combination.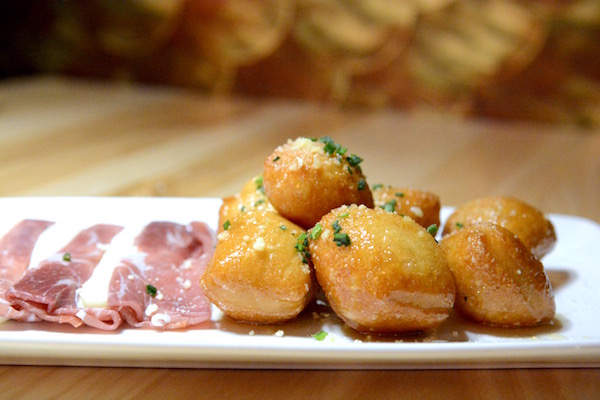 Coccoli — fried dough doused in truffle honey and served with Stracchino cheese and proscuitto — at Barley Mac. Photo by Laura Hayes
Other appetizers ($9-$14) are bar grub reincarnated as upscale cuisine, including Parmigiana-truffle potato skins, crab-and-lobster cakes and Wagyu meatballs. We sampled the grilled octopus, whose charred, tender tentacles have a springy texture, though their bed of par-boiled, cold potatoes (advertised on the menu as "crispy fingerlings")  and even colder roasted peppers demote the dish. The result falls flat.
Entrees ($14-$29) include pasta, pizza, sandwiches and composed plates. The grilled salmon, drizzled with spinach pesto atop a barley risotto, attracted my fork again and again. (If only the salmon had escaped the grill a little sooner.) Another standout is Barley Mac's take on steak frites. The bistro cut is robust in flavor and cooked to a textbook medium rare. Its supporting cast: fries so big I have a Honey, I Shrunk the Kids moment, along with three dipping sauces and an overdressed arugula salad.
Bar Buzz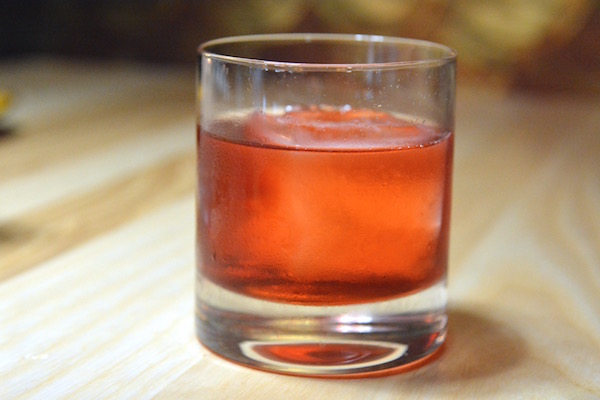 The Boulevardier at Barley Mac. Photo by Laura Hayes
Bourbon aficionados will find Barley Mac's brown liquor list a playground. I spotted old standbys like Basil Hayden's, plus some unicorns like Yamazaki 18 from Japan ($65 for a two-ounce pour). Whiskey also finds its way into Prohibition-era cocktails like a Boulevardier and Rob Roy from mixologist Mitch Johnson—both are on point. Those aching for less ABV can choose from 14 drafts (Port City Porter, Allagash White, Lagunitas IPA) or a glass of vino off the something-for-everyone wine list.
The Vibe
Though one of the newcomer's hottest assets is its deep bench of bourbons, Parker says Barley Mac is a restaurant first, bar second. Parents chasing after toddlers on a Sunday evening are also a hint.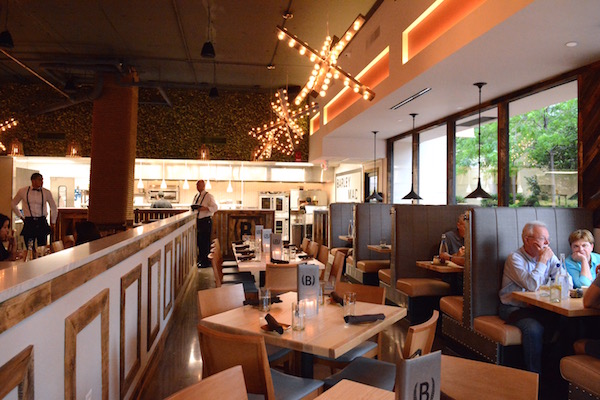 The interior of Barley Mac in Rosslyn. Photo by Laura Hayes
Parker describes a typical weekend night: "It has more of a tavern feel, but we don't pack in 20-somethings drinking Fireball like we do at our other restaurants."
The bar is cavernous and the dining room has plenty of booths, making both sections places for easy conversation. They plan to add a 125-seat patio soon.
Go, Wait, Skip
Go. There are a few kinks to work out—like the wimpy potatoes under the otherwise tasty octopus—but the drink program bests most in the area, and the food has some real high points, including a steak that could make Ray's nervous.
Barley Mac is open Monday-Friday (11 a.m.-2 a.m.); Saturday-Sunday (10:30 a.m.-2a.m. with brunch served from 10:30 a.m.-3 p.m.)
1600 Wilson Blvd, Arlington; 571-800-3070; barleymacva.com