First Taste: Cheesetique in Ballston
Third time's a charmer for this cheese-focused bistro.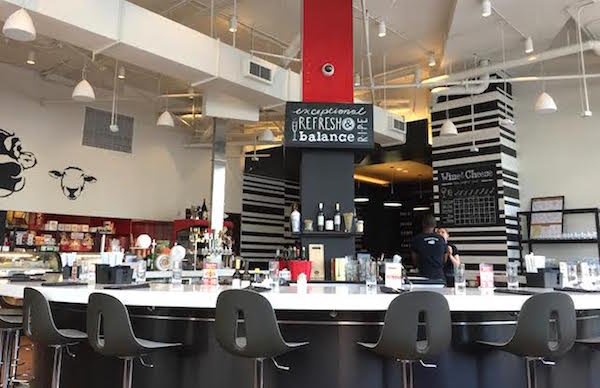 Cheesetique's new Ballston location. Photo by Rina Rapuano
It's tough to beat the allure of cheese and wine—especially when you showcase them together. So it's no wonder that Cheesetique, Jill Erber's ode to all things curd-related, has expanded into a third location since she opened the original in Del Ray in 2004. Her second location launched in Shirlington in 2011, and the new Ballston outpost carries forward many of the endearing qualities that have made this mini local chain so successful.
The red, white and black, ultra-modern space is largely a carryover from the previous tenant, Pizza Vinoteca, but it still looks fresh and bright since the pizzeria was only open six months or so. Erber closed off the open kitchen and carved out a retail section that includes a wall of wine, a refrigerated cheese case and shelves lined with picnic supplies and impulse purchases like crackers and chocolates.
"We were so fortunate to get such a beautiful space that didn't require a ton of changes," she says. "We were able to bring in decorative elements from other stores to make it feel Cheesetique-y while keeping with the modern space."
The Food
Die-hard cheese fans will find it difficult to choose among the six grilled cheeses served with rosemary chips or a side salad. Variations include the "grown-up" grilled cheese made with artisanal Cheddar, and the caprese grilled cheese, which is filled with housemade Mozzarella, basil, tomatoes and a basil mayo on ciabatta. (The choice was so hard that I went twice.)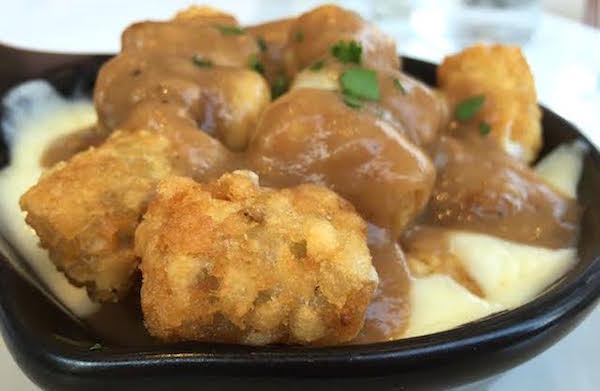 Tater tot poutine with Port City Porter gravy at Cheesetique Ballston. Photo by Rina Rapuano
My first visit was during a fairly relaxed weekday lunch. We ordered the tot poutine ($10), the lobster mac ($12) and the all-day breakfast ($12), a sandwich of aged Cheddar, bacon jam, avocado cream and a runny egg on brioche. The poutine was everything I had hoped it would be—rich and decadent, with crispy tater tots as the base, a layer of melty cheese curds and gravy-spiked with Port City porter.
The lobster mac features a delicate cream sauce and beautiful lobster chunks, but I didn't taste the advertised tarragon, and it seemed strange to sprinkle Old Bay on lobster. Erber says the kitchen has since decided to improve the dish (keeping the Old Bay) by adding a bread-crumb topping, a different sherry in the sauce and much more lobster.
"Because you can never have too much lobster," she says. "Every single bite you have should have a hunk of lobster in it." On that point, we definitely agree.
The all-day breakfast sandwich was good, but it seemed as if someone went overboard with the bacon jam. The sweetness of the jam overpowered the other elements, although it was still fairly satisfying with a slight kick of spice.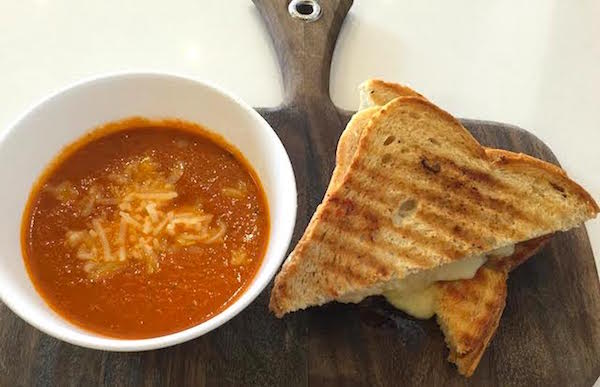 "Grown Up" grilled cheese with tomato soup at Cheesetique Ballston. Photo by Rina Rapuano
On my return trip I opted for the classic, signature dishes that have served as Cheesetique's bread and butter. The grown-up grilled cheese with tomato soup ($15 as a combo) hits all those nostalgia points. And the award-winning mac'n'Cheesetique ($11) will be extra appreciated by those who love a little truffle with their mac and cheese. It's easy to see why these sinful reinterpretations of childhood favorites have gone over well.
An arugula and pear salad ($12) wasn't quite as successful, due to the slightly musty taste of the arugula and an utter lack of flavor in the pears.
Each meal ends with a gratis ramekin of semi-sweet chocolate chips offered with the check, and diners receive a 10 percent discount on cheeses from the market counter.
Bar Buzz
Cheesetique's previous locations have offered only beer and wine, but Erber says the Ballston market-eatery will be a testing ground for cocktails. She's hoping to introduce the staff's unique, cheese-inspired concoctions — think martinis with blue cheese-stuffed olives or a Bloody Mary with fresh mozzarella garnish — within the next month or so.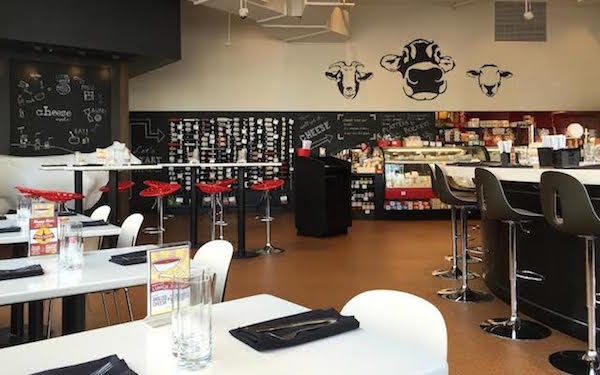 Cheestique Ballston's interior. Photo by Rina Rapuano
For now, a few local beers from Maryland, Virginia and Pennsylvania are served alongside those from Germany and California, and the wine menu features more than 40 varieties by the glass with about 100 to 150 labels total. And while there's no in-house sommelier, Erber says all her wine folks are sent to a 12-week training course to learn the ins and outs of what pairs well with the food.
The Vibe
Erber acknowledges that the Ballston space—housed in a new build-out that was intended for an urban pizzeria—is "super different" from her previous two. First of all, it's huge. There's a massive curved bar in the middle of the space, very high ceilings, walls painted with chalkboards touting cheese and wine suggestions, and striking black-and-white striped wallpaper throughout. The friendly, competent service, combined with the emphasis on cheese and wine, make it feel like a trendy European bistro. And the patio seating looks great for days that don't feel quite so swampy.
Go, Wait or Skip?
Go. With two other versions of this cheese-and-wine concept already experiencing success, the team has this fairly down pat. This is a great neighborhood spot that fills your belly with cheesy comfort and warmth. And the price is nice.
Cheesetique Ballston is open Monday-Friday from 11 a.m.-10 p.m. and Saturday-Sunday from 10 a.m.-3 p.m. 800 N. Glebe Road, Arlington; 703-566-9189; cheesetique.com