First Taste: Hula Girl
A sticky situation in Shirlington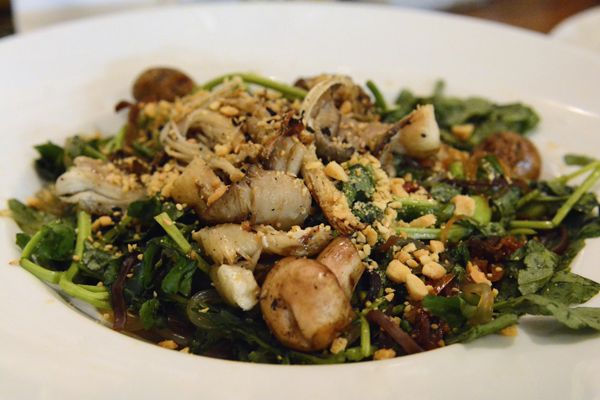 The woodear mushroom salad with sweet potato noodles and peanuts is worth seeking out at Hula Girl.
Hula Girl Bar & Grill may be nestled in the Village at Shirlington, but the newcomer feels straight from the Waikiki Beach Walk.
The surfboards, flip-flops and topical colors all make sense for the Hawaiian café.
But while some dishes and drinks capably conjure up memories from a Hawaiian honeymoon, the in-your-face service and penetrating sticky, sweet flavor profile don't always add up.
The Story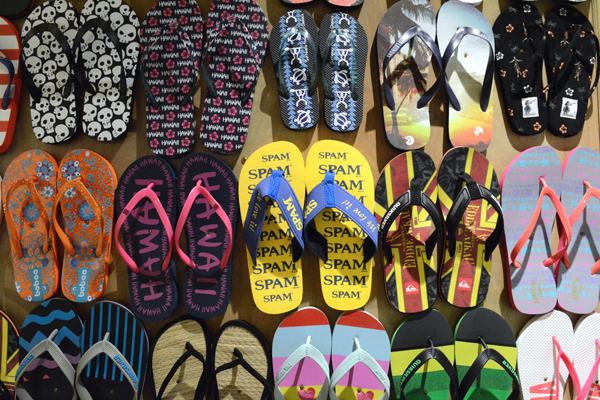 Flip-flop decor at Hula Girl.
Hula Girl joins Sweet Bites in McLean, District Taco in Arlington and others in the area that have graduated from food truck to brick and mortar restaurant. Hawaiian-born Mikala Brennan launched the Hula Girl truck in Washington, D.C. in 2011, when her teriyaki plate lunches even netted a few nods from the Travel Channel.
Now, as the proprietor of a 100-seat restaurant with bonus bar and patio seating, Brennan can bring diners an even bigger taste of home.
Literally. Brennan is flying in everything from three flavors of ALOHA Juice, coffee from Hawaii Coffee Co., several varieties of fish and a special soy sauce called Aloha Shoyu.
"It's kind of a secret—if you want it, you have to ask for it with a secret handshake, shaka fist bump, or by saying mahalo backwards," Brennan jokes about the soy sauce that's garnered a cult following.
The Food
The menu at Hula Girl mimics that of iconic Honolulu diners like Helena's Hawaiian Food or Rainbow Drive-in with its eclectic starters and satisfying plate lunches, only with doubled prices.
Sometimes this makes sense. There is no ahi tuna in the Chesapeake, so Hula Girl's ahi poke receives a mark-up. Raw cubes of ruby-red tuna are not gleaming from sesame oil or swimming in a savory broth as expected, but the starter is still a standout because of the quality of the fish. Other appetizers are similarly on the cusp of success.
Table snooping reveals the Waialua root-beer sticky ribs are the common denominator of appetizers. The pork ribs earn points for being tender, but are stained brown from bathing too long in a sickly-sweet marinade and could be warmer.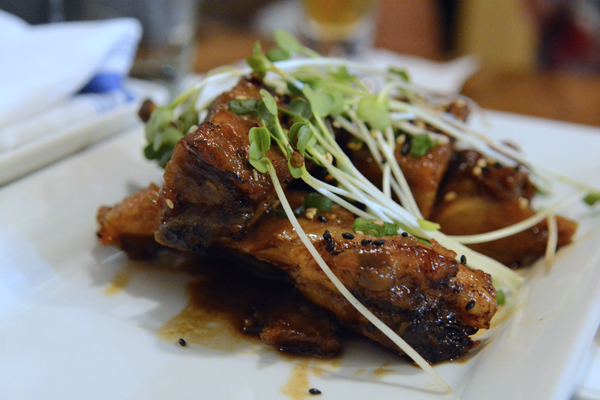 Waialua root beer sticky ribs are a popular starter.
Diners who aren't squeamish about Spam may consider kick-starting a meal with Spam musubi, a sushi-like mainstay of Hawaiian cuisine. Unfortunately, the restaurant banks on the novelty of the convenience store snack and stops short of elevating it.
Consider drifting away from the buzzed about pu-pus for better results. That's how the warm woodear mushroom salad was discovered—and it was the only dish whose leftovers earned a place in the passenger's seat.
"It's definitely a sleeper," Brennan says of the vegetarian dish that's inspired by Korean Jap Chae. The bowl of slightly sweet springy sweet potato noodles, smoky mushrooms, crunchy peanuts and fresh greens is a textural playground.
For the feature presentation, consider the comforting loco moco plate lunch. Not even the most corrective filter could make it Instagram-worthy, but it's what's underneath the eggs that count—a pair of beef patties so flavorful, nearby burger competitors should be shaking. The restaurant has its wood-burning grill to thank, as well as a dash of teriyaki sauce. Each patty is topped with an egg and mushroom-onion gravy, as per tradition. Only the sides could use help: Two scoops of cold rice and gloopy macaroni salad (though green salad is also an option). Offerings under "entrées" also benefit from the wood-burning grill (think grass-fed NY steak or Huli-Huli chicken), but have more enticing sides like Maui onion rings or "Kitchen Sink Fried Rice" with char sui and Spam.
Bar Buzz
Sip one of Hula Girl's 10 signature cocktails with closed eyes and you may forget you have a 9 a.m. conference call the next day. The Hula Girl Mai Tai is the signature drink, but it's not the only delight. The "Say Pineapple 5x Fast" is refreshing with pineapple-infused rum, roasted pineapple purée and sparkling pineapple wine. Just know your waiter might actually take you through the tongue twister, which feels both playful and pandering.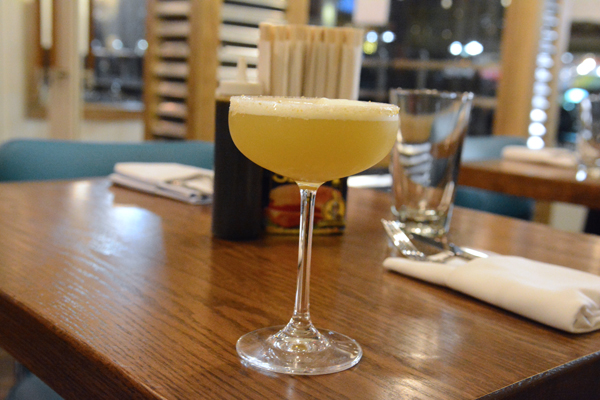 The "Say Pineapple 5x Fast" cocktail features pineapple-infused rum and sparkling pineapple wine.
Other cocktails try too hard. The "Never Below 75" with sesame-infused bourbon tastes more like sesame oil than the ahi poke, and is salty from the odd inclusion of honey-ponzu sauce.
Go with Hawaiian beer to avoid mixed results. Kona Brewing Co. drafts and Maui Brewing cans are featured. Or, explore the wacky wine list starring everything from a Maryland Albariño to a California red blend dubbed "Sexual Chocolate" or a dry sparkling pineapple wine from Maui.
The Vibe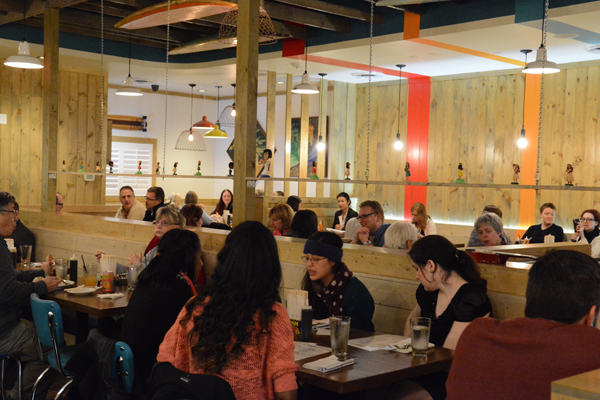 The dining room at Hula Girl in Shirlington
Service could benefit from a more laid back, aloha spirit. On a slow Tuesday at early bird hours, we were under constant pressure to make decisions because of overly attentive servers. Once, after a plea for one more minute, a two-server team stood tableside to listen in on our entrée deliberations. It was as uncomfortable as dental work.
Servers seem to be overcorrecting for complaints lobbed on Yelp about inattentiveness, but overbearing (and up-selling) isn't the answer, especially when diners are sipping tropical drinks and trying to check out of all things serious.
Go, Wait or Skip?
Wait. While the restaurant is a vibrant addition to the neighborhood and has a strong set of memorable dishes, service has yet to find its flow and some dishes need tweaking, especially when it comes to temperature and balancing the sweet with heat or tang. Come warmer weather, Hula Girl Bar & Grill will be downright addictive, but if spring is too long to wait, focus your meal on poke, the burger or kalua pork.
Hula Girl Bar & Grill (4044 Campbell Ave.) currently serves lunch (11am-5pm) and dinner (5pm-10pm Mon-Thurs; 5pm-11pm Fri-Sat) daily and will launch brunch come spring.