First Taste: La Côte D'Or Café
A new chef has yet to breathe life into dated French cooking.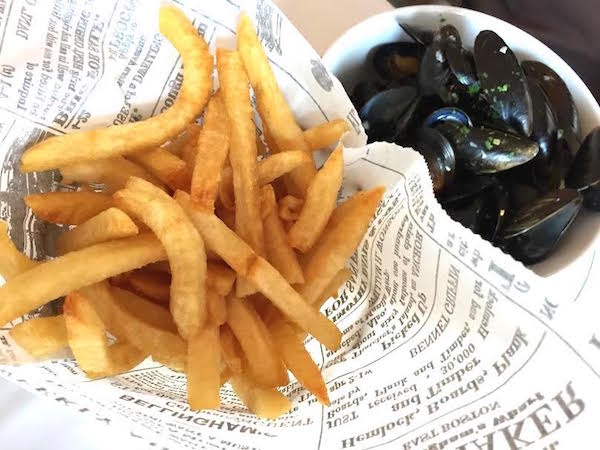 Moules frites at La Côte D'Or Café. Photo by Rina Rapuano
La Côte D'Or Café likely falls into two categories for most folks—the place you drive past regularly and have been meaning to check out forever, or a go-to spot for French classics such as steak frites and rich, cheesy onion soup. Those who count themselves among the former may not even realize that this cozy-looking spot along busy Lee Highway changed hands this May following the death of longtime owner Raymond Campet after 23 years in business.
New chef-owner Jacques Imperato touts a long résumé that includes ownership of Chalet de la Paix in Arlington as well as Mediterranee in Great Falls and Arlington. The Nice, France-trained chef also previously cooked at the celebrated Maison Blanche and Le Lavandou in the District. He purchased the well-known restaurant with the idea of bringing a modern perspective to Burgundian cuisine by swapping high-quality oils and farm-fresh ingredients for heavy, less healthy flavor boosters such as butter and cream.
The Food
A meal here kicks off on the right note with a gratis basket of a sliced baguette paired with pats of butter that arrive at the perfect spreading temperature—not too warm, not too cold. I appreciate that attention to detail, and the fact that the server let the kitchen know we were sharing the salad, which prompted them to split the portion between two plates without us asking.
It was a shame that a salad ($9.50) supposedly packed with apple, Belgian endive, butternut squash, artichokes (nonexistent) and green beans all coated with a fig reduction somehow lacked flavor. The salad also lacked je ne sais quoi … joy? It might seem ultra-picky to expect joy from a salad, but there was more to it than that. It was like the Dementors of salad—it actually removed joy. Better to start with the French onion soup ($7.95), which isn't remarkable but does channel a perfect rendition of the classic, right down to the brown crock in which it's served.
The good-quality steak bavette ($21.95) was cooked to medium rare as suggested but was tough to chew, plus the peppercorn sauce needed salt. A bright spot on the table were the fries—one of the few items during the meal that actually brought back memories of dining in France. A bowl of PEI mussels marinière ($18.95) was fine but not great. Like other dishes, the broth lacked seasoning and looked like dishwater, with my dining companion noting that they tasted like they'd been sitting around a while.
Baked crêpes ($15.95) filled with veggies and topped with cheese were unappealingly watery, and I had to wonder what asparagus was doing in the mix when Imperato's team touts his commitment to seasonal, fresh produce. The crème brûlée's fallen center, dry custard and soft top layer revealed that the dessert was likely made long before it was served, and a plate of chocolate mousse was tasty but dense—not the texture one hopes for when ordering a mousse. Regardless, it was a mound of chocolate (in other words, inherently tasty), and the raspberry sauce swirled around it on the plate was reason enough to order it.
Judging by my meal, Imperato's kitchen has not succeeded in breathing new life into French cooking. In fact, it's not even turning out particularly successful renditions of old-school French cooking.
Bar Buzz
Of the 13 wines by the glass ($7.95-$12.95), we opted for the Bordeaux Blanche and the Bordeaux blend red, neither of which was exciting, although I felt a strong preference for the drinkable red over the grape-juicy and sweet white. Imperato says he has increased the wine list from less than a dozen choices to more than 80, with an emphasis on Burgundy wines with a few from Virginia, Oregon and California thrown in. Of the wines by the glass, however, only one—an Italian Pinot Grigio—is sourced outside France. We will say this about the wines: Both glasses and half carafes ($22-$30) we saw headed to other tables were given a generous pour. Half a dozen beers such as Kronenbourg 1664 and Port City Essential are also available, including a non-alcoholic option.
The Vibe
Like the menu, the dining room could use some freshening up. But even though there are '90s touches throughout, such as the abstract banquette fabric and the dated light fixtures, it's pleasant enough thanks to crisp white tablecloths and eye-catching flower arrangements gracing each table. Servers wear black pants and vests with white button-downs, delivering items perched upon pretty vintage plates. Mirrors and paintings line the walls of the intimate main dining room, with a separate side room brightened by large windows all the way down the street side, each with salmon-colored wrought iron between the table and the window. The music piped into the dining room can best be described as French easy listening.
Go, Wait or Skip?
Skip. Although I hate to completely write off a local business trying to make it in a competitive dining landscape, I truly can't imagine ever wanting to return. If you're a regular here and love it, keep on keeping on. But those who have never been may want to save their pennies for something more satisfying.
La Cote d'Or is open Monday-Saturday from 11:30 a.m.-3 p.m. and 5 p.m.-10 p.m. and Sunday from 11 a.m.-3 p.m. and 5 p.m.-10 p.m. 6876 Lee Hwy., Arlington; 703-538-3033; www.lacotedorcafe.com