First Taste: Marble & Rye
Whiskey and wood-fired food from a fresh face in Arlington's Penrose Square.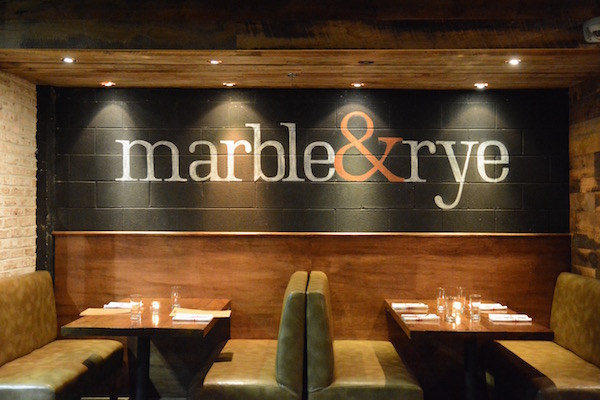 Marble & Rye is a handsome restaurant. Outfitted with dark and broody wood, sunken leather lounge chairs and a mural depicting rye barrels, the space looks like it was plucked from a distillery. But this is no boys' club. The Penrose Square restaurant and bar is under the direction of 27-year-old chef Kate Bennett, who skillfully pairs hearty — and vegetarian-friendly — fare with a whiskey list 120 options deep.
The Story
Marble & Rye supplanted RedRocks when it opened in November just a few blocks from Arlington Cinema & Drafthouse. While the pizza chainlet retains ownership, Bennett was handed the reins to create a new concept from scratch. Her experience as a personal chef in both New York and the D.C. area taught her to care for those with dietary restrictions. The result? A restaurant that offers a vegetarian and gluten-free Eden.
The Food
Those weary of increasingly hard-to-decipher menus can find respite in Marble & Rye's familiar script of appetizers, soups, salads, sides, pizza and entrées. Appetizers ignite an angel and devil debate. Healthy choices like edamame hummus and an avocado-studded ahi tuna poke say "pick me" — but so do cheat day-worthy bar snacks like crispy chicken lollipops and battered shrimp tempura. Fortunately, even the fried chicken isn't swimming in grease.
"They're par-cooked in broth first, so we don't have to fry them as long," Bennett explains.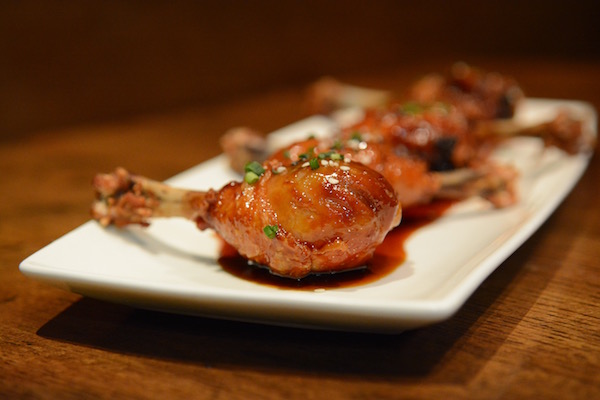 Crispy chicken lollipops at Marble & Rye. Photo by Laura Hayes
Neapolitan-style pizzas are the only lingering nod to the former tenant. A favorite is the "Pear & Bleu" which tastes like it belongs in wine country with Bosc pears, bleu cheese, caramelized onions and a honey drizzle. The white, pungent pie is one of eleven vegetarian dishes on the dinner menu.
Another is a composed entrée that gives vegetarians more than the usual hodgepodge of sides. Bennett forms savory, flavorful patties out of quinoa, mushrooms, gooey Parmesan and gluten-free breadcrumbs and serves them with yogurt-dill sauce (and sides).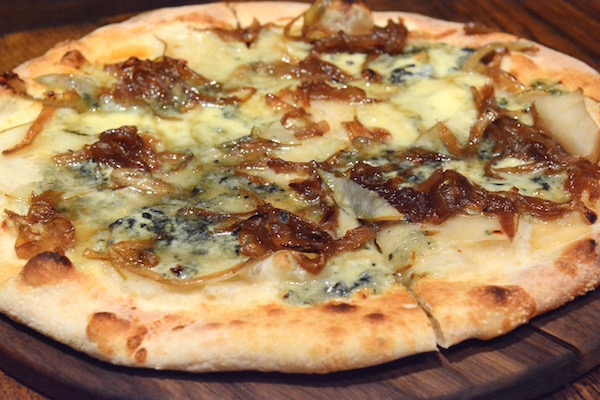 The Pear & Bleu pizza at Marble & Rye. Photo by Laura Hayes
Meat eaters won't miss out with burgers, a hangar steak and a filet mignon on offer. We sampled the bison burger with a bourbon glaze, topped with Swiss cheese, caramelized vegetables and red pepper aioli. Unfortunately, the fact that the lean meat is sourced locally (from Maryland) didn't keep the burger from drying out. Opt instead for the "Chef's Burger," made with Virginia's Seven Hills beef, for optimal juiciness.
Bar Buzz
Beer, wine and liquor all skew local—a jubilant reminder of Virginia's beverage prowess. The restaurant pours ten Virginia wines including a luscious rosé from Barboursville Vineyards; beers exclusively hailing from within a road trip's distance such as Caboose Brewing Company's Ghost Train Pale Ale and Devil's Backbone Cranberry Gose; and six local spirits.
Given the restaurant has rye in its name and aspirations of becoming a destination whiskey bar, it's odd that our otherwise enthusiastic and thorough server didn't drop a whiskey list with the other menus. Only those in the know would think to ask. And you should! The list of 120 whiskies (and counting), currently managed by Bennett, impresses. If drinking spirits neat isn't your bag, try a cocktail like the Marble & Rye Old Fashioned or a julep made with basil instead of mint.
The Vibe
A predominantly empty dining room, set to a soundtrack reminiscent of an orthodontist office, equated a sleepy scene on a Tuesday during prime dinner hours. Outdoors was different — all five al fresco tables were taken. Bennett says the dining room and bar fill up on the weekend. And she's planning to beef up the food and beverage menus with the new season, which may lead to a buzzier setting.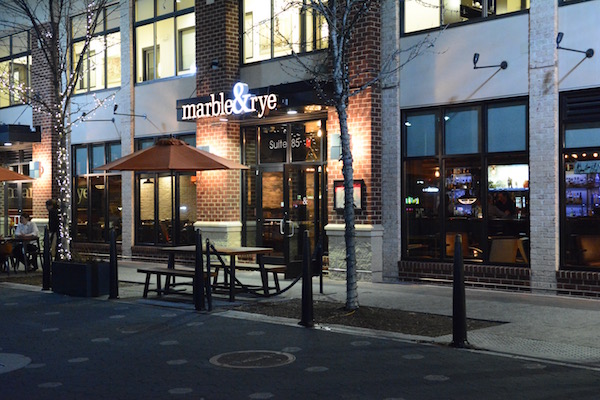 Al fresco seating at Marble & Rye goes quickly during warm weather. Photo by Laura Hayes
Go, Wait or Skip?
Go. While Marble & Rye is unlikely to become a destination restaurant, anyone would be envious of neighbors who have quick access to well-crafted dishes that top out at $28 for filet mignon, along with ample free parking, dog-friendly outdoor tables and local sips.
Marble & Rye serves dinner seven nights a week, weekday lunch Tuesday through Friday, and weekend brunch. Find it at 2501 Columbia Pike, Arlington; (703) 920-0706; www.marbleandryeva.com