First Taste: Palette 22
Tacos & takoyaki all under one artsy roof in Shirlington.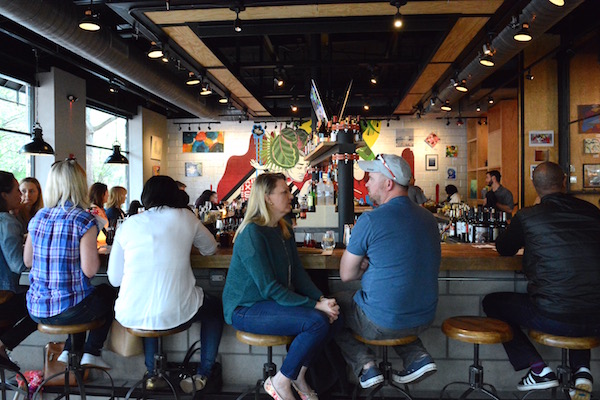 The bar at Shirlington's Palette 22. Photo by Laura Hayes
During a Monday dinner at Shirlington's new street-food restaurant, Palette 22, one local artist is painting in watercolor at the bar while another traces shapes in the dining room. They're part of an artist-in-residence program whereby the restaurant doubles as a studio and gallery.
The bright paintings that line the walls are for sale—prices are included next to each—although it's a soft sell. The cool factor of dining in an artsy atmosphere is almost lost because no one on staff mentions the art. Only the menu spouts a few lines about the work.
Perhaps that's because Art Director Cara Leepson, who curated the first batch of artists and artworks, is no longer with Palette 22. And she's not the only key employee to suffer a quick curtain call, leaving diners feeling like they're experiencing a false start.
The Story
Palette 22 is brought to you by Alexandria Restaurant Partners, the group behind several other Northern Virginia restaurants including Lena's Wood-Fired Pizza & Tap, Virtue Feed & Grain and—since December 2015—Old Town Alexandria's The Majestic.
The doors to the 6,000 square foot space opened on February 22, with corporate chef Graham Duncan and executive chef Antonio Burrell (formerly of Eventide and Occidental) on board, although Burrell, too, is no longer with the restaurant. Duncan continues to oversee the kitchen and hopes to promote from within by the end of June.
The Food
As is the case with most "tapas-style" restaurants, it's best to order in waves to avoid a mosh pit of plates. The dishes ($6-$11) are divided into categories like "bites," "street eats" and "brick oven," and draw inspiration internationally. Which is how we ended up trying Japanese takoyaki one minute and tacos the next.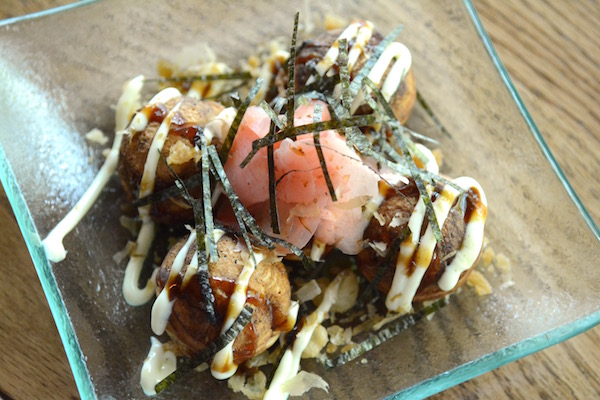 Japanese takoyaki at Palette 22. Photo by Laura Hayes
Perhaps I've had a little too much personal experience hitting takoyaki street stalls (I used to live in Japan) but that obsession taught me to recognize a good rendition of the plump, fluffy batter balls, which hide a jumbo octopus tentacle inside. The Shirlington version, upon dissection, seems to lack octopus all together. And the Bacon+Eggs flatbread faces a similar fate. While there's plenty of pork belly with un-rendered fat, my party's egg hunt on the oblong pizza is unsuccessful.
One bonus: the menu caters to vegetarians with 11 marked dishes, ranging from fried-eggplant flatbread and vegan ceviche to an original combination that drapes pan-fried watermelon over salty and satisfying Halloumi cheese.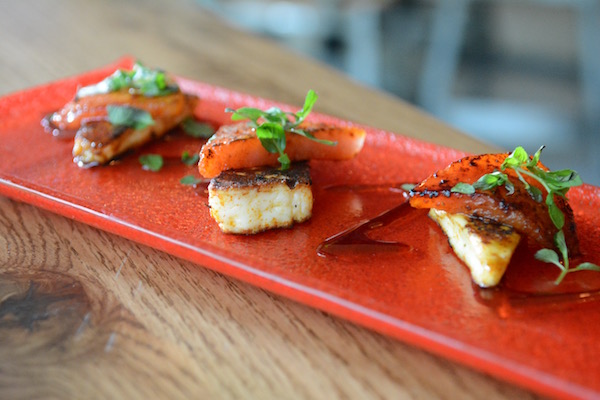 Palette 22 has several vegetarian options, including pan-fried watermelon on Halloumi cheese. Photo by Laura Hayes
Palette 22's concept is enticing. (Who doesn't love street food with art as a backdrop?) But its over-arching problem may be that the dishes are dialed down while today's diners have come to expect more authentic preparations. The Peking duck-and-moo shu pancakes, for example, arrive already assembled, and they could stand more tang from hoisin and more bite from raw scallions. Only the Tacos Vampiros with rib eye, Poblano rajas, avocado, chipotle salsa and Cotija cheese bring the advertised heat. Tacos are the way to play it.
Bar Buzz
Palette 22 pushes sangria harder than Madrid on a summer day, but the drink list also includes seven tropical cocktails, 50 wine choices and 24 predominantly mid-Atlantic beers, including Lickinghole Creek's 'Til Sunset and Devil's Backbone Gold Leaf Lager. I went on a pretend vacation with a Jamaican Daiquiri made with rum, coconut, hibiscus-allspice syrup and lime.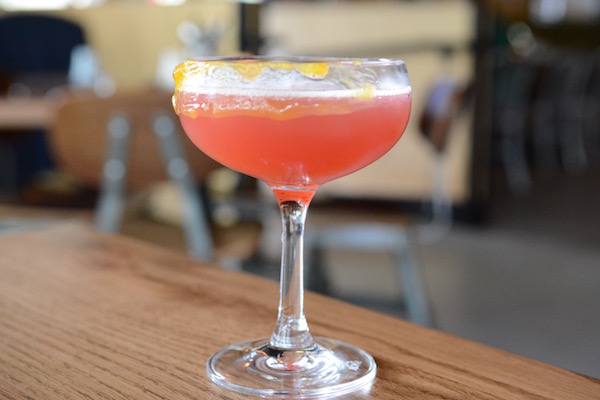 The Jamaican daiquiri at Palette 22 is made with rum, coconut, lime and hibiscus-allspice syrup. Photo by Laura Hayes
"We paint all of our cocktails with a brushstroke," our server says when he drops off the drink, which is smeared with a sticky mango-peach puree. Save for that unexpected fruity lip-gloss, the cocktail is beachy and satisfying.
The Vibe
The busy bar is the yin to the near-silent dining room's yang on a Monday evening. Despite ample windows, the 86-seat space, designed to look like an industrial art studio, manages to be dim and only a quarter full. You'll find better dining real estate at the bar or on the patio.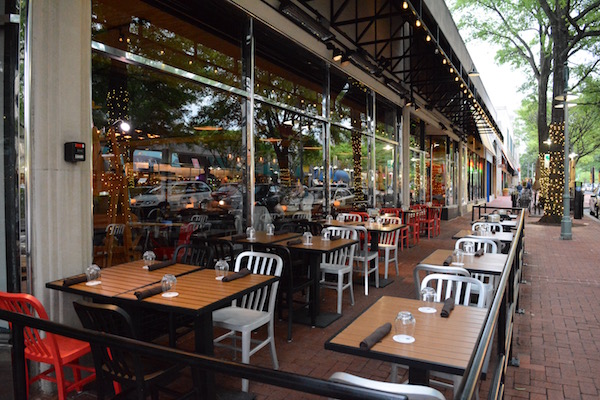 The sidewalk patio at Shirlington's Palette 22. Photo by Laura Hayes
Our server is warm enough once he hits his groove—but that's only after he introduces himself as the unfortunate inheritor of our table, declaring that "someone else was suppose to take care of you, but I guess it's me now."
Go, Wait or Skip
Wait. Significant turnover is impeding this cool dining concept from finding its footing. With luck, a few key hires—including staff who embrace the concept and additional leadership in the kitchen—will do the trick. If you want to visit, try all-day happy hour on Mondays.
Palette 22 serves weekday lunch (11:30 a.m.-3 p.m.), weekend brunch (10 a.m.-3 p.m.) and dinner nightly (Sun-Thurs 3 p.m.-1 a.m.; Fri-Sat (3 p.m.-2 a.m.). Find it at 4053 Campbell Ave., Arlington; 703-746-9007; www.palette22.com