First Taste: Park Lane Tavern
Clarendon tavern boasts big beverage list and bar bites.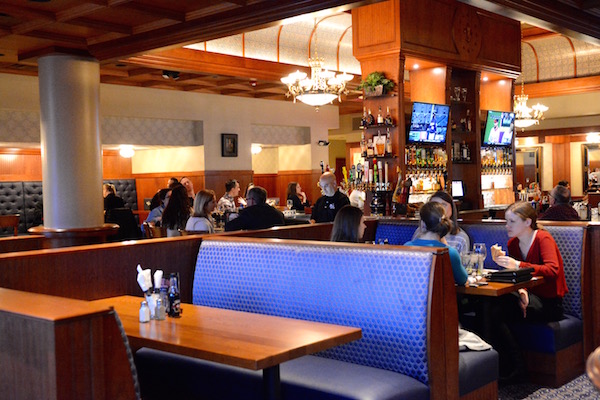 Park Lane Tavern in Clarendon. Photo by Laura Hayes
If you find yourself instinctively scraping your would-be golf shoes at the door of Park Lane Tavern, don't be surprised. The Clarendon newcomer closely resembles the clubhouse you'd plunk down in after a round of 18. More than anything, it's a comfortable place.
The menu is familiar, splitting the Atlantic with American burgers and wings and European pub staples like shepherd's pie. All of those options make a plea for a pint.
The Story
Park Lane Tavern opened below The Beacon Clarendon apartments in February, establishing a third outpost in a group that already includes locations in Fredericksburg and Hampton, Virginia. Co-owner Greg Knox says the concept was inspired by his business partner's golf trips to Europe, where he explored bars as often as fairways.
"We're inspired by the European pub and tavern culture over there; that's what we're trying to create," Knox says.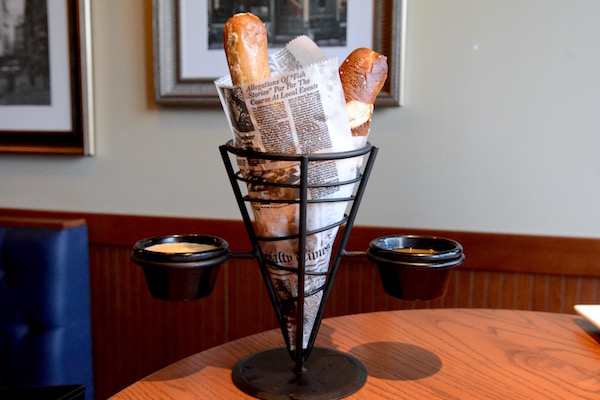 Bavarian pretzels at Park Lane Tavern. Photo by Laura Hayes
The Food
Start with an order of Bavarian pretzels while you peruse the menu. They arrive soft, warm and capable of soaking up work-week woes or a hangover. Make them last as you scan through the list of (mostly deep-fried) small plates, soups, salads, sandwiches, burgers, pizza and European pub food.
Tavern wings headline the small plates and come in five shellacs, including Makers Mark barbecue, Guinness glaze and Malibu Coconut sweet red chili. (Our server recommends the Guinness glaze, which is sticky-sweet and doesn't taste of stout.) All three promote big alcohol brands—a trend that carries over to the rest of the menu, where entrées include Knob Creek Bourbon cracked-pepper steak; Magners Cider corned beef with Harp Lager-braised cabbage; and Makers Mark Bourbon chicken.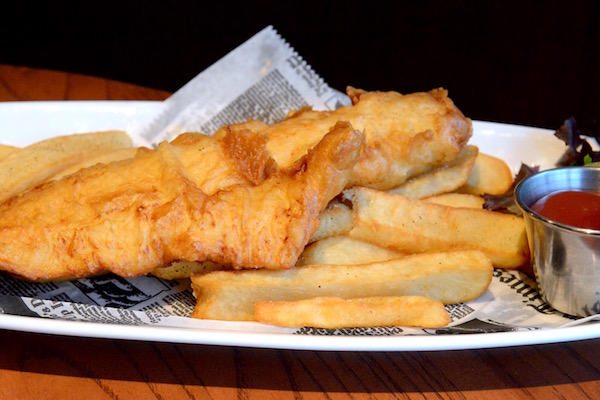 Boddington's Fish & Chips at Park Lane Tavern. Photo by Laura Hayes
Yet another example of booze branding is the Boddington's fish & chips, which finds haddock battered with the English ale. While the batter work was spot on, we needed tartar sauce to hide a slight funk to the fish.
A more successful main is the Pat LaFrieda jalapeño burger, named for the meat purveyor that supplies the smoky short-rib patty. The stack packs a fiery triple punch of fried jalapeños, sriracha mayo and ghost-pepper cheese. (Prepare to drain your water like a Naked & Afraid contestant.)
Knox says Park Lane Tavern is aiming for better-than-average bar food.
"I wouldn't say we're for foodies, but somebody that is a foodie could easily be satisfied because we take American and European comfort classics and with our culinary team ask, what would Emeril Lagasse do?"
Still, the entrées we sampled struggled to surpass the average mark. And it should be noted that Park Lane faces competition in the neighborhood. The menu offerings at O'Sullivans Irish Pub next door more closely conjure up a taste of the Emerald Isle, and nearby Northside Social slings some pretty satisfying sandwiches.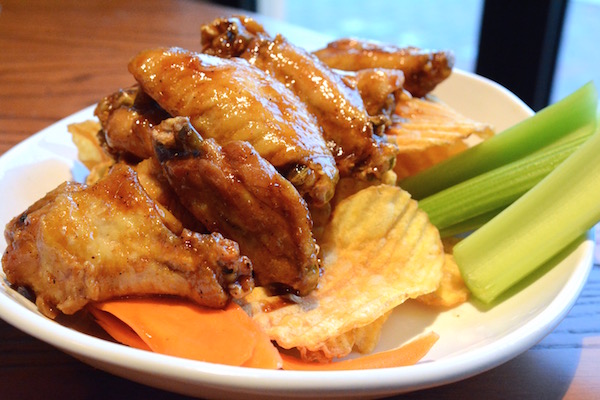 A small plates menu includes several different types of wings. Photo by Laura Hayes
Bar Buzz
Park Lane proffers a "beverage bible" complete with a one-pager on the chemistry of a perfect beer, and it has the pours to back it up. (Watch as bartenders grab specific glasses for each draft. Known as "brewer's glasses," they're what you would encounter if you visited a brewery.) The 28-draft selection includes three styles from Fuller's Brewery in the U.K., which Knox says are hard to find stateside. Wine, cocktails and 60 varieties of whiskey (offered by the 2 oz. pour) are also available.
The Vibe
Our server's charisma, backed by a cheery manager, certainly contributed to the restaurant's clubhouse atmosphere. We quickly felt as though we were being welcomed back, instead of being greeted for the first time. While a Tuesday evening revealed a half-full, 175-seat dining room, the 25-seat bar had a buzzier, post-work vibe. Sit there if you want to be part of the action, or grab a table for a quieter catch-up session. Outdoor seating launches this week. Overall, Park Lane feels more like a neighborhood gathering place than a rowdy sports bar, and a special menu for "tweens" suggests it's family-friendly.
Go, Wait or Skip?
Go for the generous weekday happy hour (3-7 p.m.) when you won't have to fight for seats and service is friendly. The beers and bar food will fill you up on the cheap—corned beef sliders and calamari clock in at $6 each and select drafts are $5. But, if you're looking for a meal that you'll still be talking about the next day, skip it.
Park Lane Tavern serves lunch Mon-Fri, dinner nightly and weekend brunch. Find it at 3227 Washington Blvd., Arlington; (703) 465-2337; www.parklanetavern.com