First Taste: Social Oyster Bar
Surprising, upscale seafood is waiting to be discovered in McLean.
Freshly shucked oysters arrive on a rock bed smoking with dry ice. A truffle pairing is offered alongside an eight-course tasting menu. Pork belly hides under teriyaki foam.
These are sexy touches I'd expect from a name-dropped chef or at least a restaurant with a line out the door.
But, surprise: This foodie tour de force is Social Oyster Bar, a 30-seat dining room on the same strip as Evo Bistro and Pasa Thai Cuisine in McLean. It opened without a peep in November, but it's time to pay attention.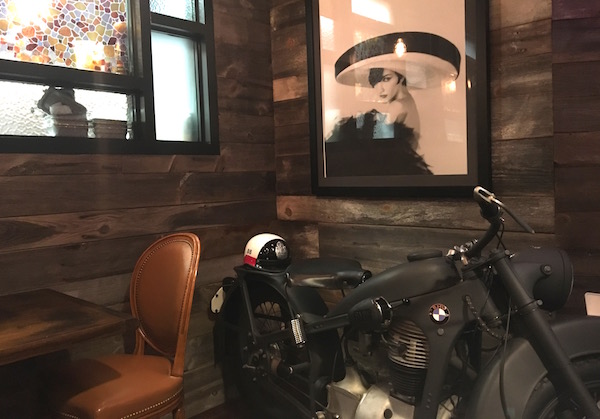 The interior at Social Oyster Bar includes a vintage motorcycle. Photo by Laura Hayes
The Story
The foams and other food tricks make sense when you learn that the two-chef team of Gift Thongpukdee and Jeff Barillo most recently cooked under molecular gastronomist R.J. Cooper at Washington, D.C.'s Rogue 24. Thongpukdee also worked at Cooper's short-lived Gypsy Soul in Merrifield. Having tried Cooper's cuisine at both restaurants, I can attest that the Social Oyster Bar chefs were good students of his creativity and finesse.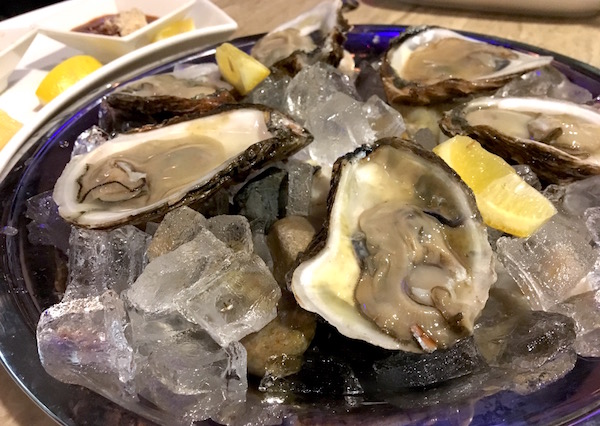 Blue Point Oysters at Social Oyster Bar. Photo by Laura Hayes
The Food
Bivalves have their place on the menu in both raw and fried iterations, and in a classed-up oyster stew, but Social Oyster Bar serves equal parts land and sea. We opted to go a la carte and jump-start our palates with a half-dozen oysters. The clean tasting Blue Points were memorable thanks to a tom yum mignonette (a nod to Thongpukdee's Thai heritage). Though the menu touts a rotating selection, it was a setback that a restaurant billed as an oyster bar only had one variety. Other beginnings ($9-$18) fan out from straightforward steak tartare to foie gras wearing Chardonnay foam. Don't miss the pork belly. Caramelized belly meat is accompanied by edamame, oyster mushrooms, chestnut purée and teriyaki foam.
For entrées ($23-$30), both the crispy-skin duck breast and the rockfish were without fault. Though the server did not ask for a preferred temperature, the waterfowl came out textbook medium-rare with confit potatoes, pear slices, butternut squash purée and a candied fennel relish so piquant I wanted to tuck it in my cheeks for later. The rockfish rested on top of celery root purée and a savory mix of mushrooms and Swiss chard. Other mains, priced from $23-$20 include scallops atop wild mushroom risotto, a rack of Australian lamb, and a version of steak frites.
Desserts didn't lack intrigue. Consider brioche bread budding with bay leaf ice cream.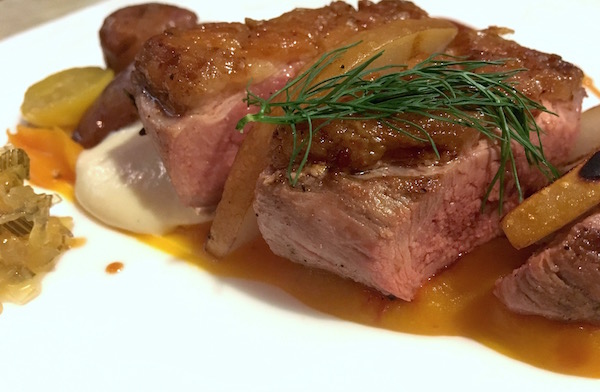 Duck with confit potatoes, pears and candied fennel relish. Photo by Laura Hayes
Bar Buzz
Classics like Manhattans and Last Words fill the cocktail list, bringing comfort in the familiar. Only the wine list could bulk up a bit. A menu stacked with delicacies and focused on oysters should offer some bona fide French bubbles, instead of Cava and Prosecco.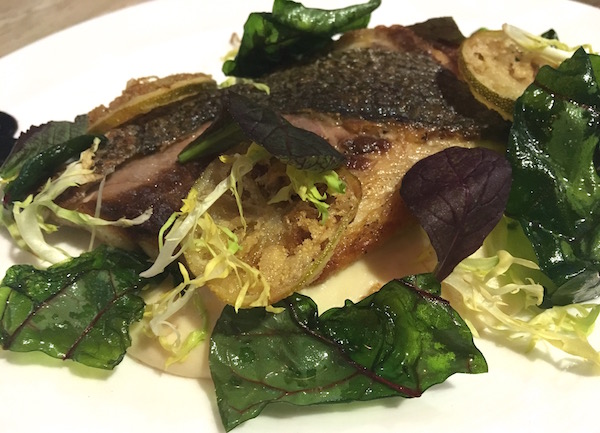 Rockfish with Swiss chard, celery root puree and fried limes. Photo by Laura Hayes
The Vibe
The small size of the restaurant dictates a cozy, neighborhood vibe—much like the shoebox restaurants dotting San Francisco. Some quirks, like a motorcycle, lend personality and a low decibel level spells date night. Only three seats are parked at the actual oyster bar, so expect to sit at a table, where you'll pick up on an all-hands-on deck feel. A server was describing and pouring wine one minute, shucking the next. The service was warm and prompt—only food knowledge could be improved upon. Radishes were falsely identified as radicchio, for example.
Go, Wait or Skip?
Go. This fortuitous addition to the McLean neighborhood is a small stunner from two chefs who are pulling out all the stops at a fair price point.
Social Oyster Bar (1307 Chain Bridge Road, McLean) serves dinner Tuesday-Thursday (4 p.m.-10 p.m.); Friday (4 p.m.-11p.m.); and Sunday (4 p.m.-10 p.m.). Reservations are available by phone, (703) 847 -1379.