First Taste: Taco Ssam in Falls Church
Korea meets Mexico at this fusion taqueria.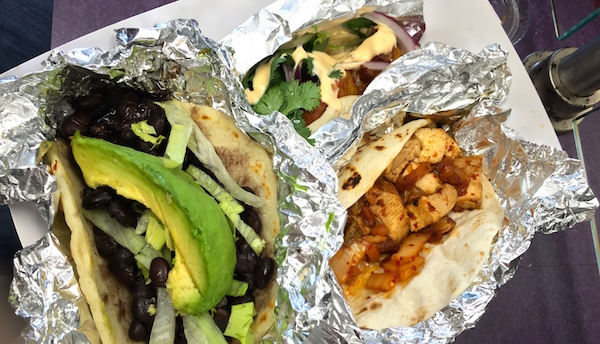 Veggie tacos at Taco Ssam in Falls Church. Photo by Rina Rapuano
The idea of tucking the savory, succulent meats of Korea into a Mexican tortilla isn't exactly new, but there's no denying it's a match made in heaven. And it's a match that apparently made sense to owner Alex Lee, who wanted to incorporate Korean flavors when he opened this fusion taqueria in a strip mall near Bailey's Crossroads at the end of June. After all, his heritage is Korean and his kitchen staff is mainly Hispanic, according to one worker.
Staff confirms that they sell more Mexican tacos than Korean versions, but some customers like to mix it up and order both. Employees also said that the staff makes fresh salsas, fry their own tortilla chips and marinate all the proteins, but don't make their own kimchi. Tortillas are a blend of housemade and store-bought, with hand-formed masa tortillas and purchased corn and flour tortillas serving as the three options.
The Food
The most exciting thing about the tacos here is evident before you even open the door thanks to a huge front window that allows you to spy someone griddling fresh masa tortillas. We ordered six types of tacos ($2.25-$3.50, including tax), an order of chilaquiles and a couple of bottles of water and sat down to wait. Soon, we were offered small paper boats of crunchy tortilla chips and a tiny tub of salsa, which tasted ultra-fresh and a bit smoky, if not very spicy.
Of the tacos, our first bite — a stack of golden-fried cod topped with slivers of red onion, sprigs of cilantro, cabbage slaw and a housemade tartar sauce that tastes more Mexican than New England (in a good way) — was our best bite. The fish was cooked perfectly, the toppings were seasoned well and the flavor combination allowed the warm, freshly made tortilla to shine. Our second favorite was a Korean-inspired taco filled with diced firm tofu marinated in chiles and sesame oil all griddled with kimchi.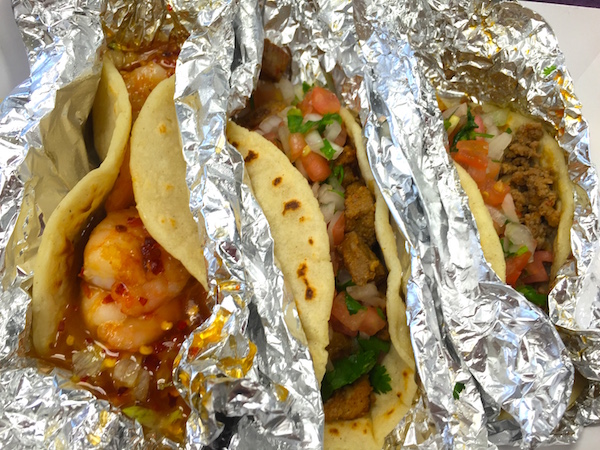 Spicy shrimp, al pastor and chorizo tacos at Taco Ssam in Falls Church. Photo by Rina Rapuano
Two tacos that fell into the "fair to middling" range were stuffed with al pastor and chorizo, each topped with diced onion, diced tomato and cilantro. (Diced onion and cilantro is traditional; diced tomato is generally not.) The chorizo lacked the piquancy I usually look for in the loose Mexican sausage, and the al pastor with its hint of pineapple was good but not the best I've had. Both tacos tasted like someone needed to turn up the flavor volume.
Less successful were the frijoles negro taco and the sweet and spicy shrimp. The former was merely bland, a large portion of seemingly unseasoned black beans cradled in a tortilla and topped with avocado, queso blanco, lettuce and tomato. Blandness was far from the case for the sweet and spicy shrimp taco, which is described on the menu as "dripping in our sweet and spicy sauce" — but it was more like swimming in the flavorful sauce. The soupy mess was best tackled with a fork, but fishing four shrimp out of a tortilla is far less satisfying than eating a whole taco with your hands.
Chilaquiles ($7.50) were fine but more like sparse nachos since they lacked the usual sauciness and loaded-up nature of the dish. We opted for the chicken asada, strips of marinated chicken that had a nice grilled flavor, to go along with the salsa verde and three cheeses — Mozzarella, cheddar Jack and queso fresco — that also come on the chips. All elements were good, we just wished for more of them.
Entrées ($8.25-$11.50) include Mexican tortas (sandwiches), fajitas and a gal-bee plate of Korean beef short ribs served with Mexican rice.
Bar Buzz
Taco Ssam doesn't serve alcohol, so you'll have to count on a sugar high from bottles of Jarritos, Fanta, Coke and Pepsi.
The Vibe
With only six bar stools, this place is great for take-out — but that's not to say those few seats aren't a hot commodity during a weekday lunch rush. The space is clean and cheerful, with splashes of red on the walls and a purple bar. Service exuded friendliness, with the folks behind the counter asking us every so often if we needed anything without making us feel rushed, and the food landed in front of us within about five minutes. For take-out orders, you can call it in ahead of time for pick-up.
Go, Wait or Skip?
Go — if you're in the neighborhood. It's not what I would call a must-try destination. But even though it's not perfect and everyone and their mother will have a passionate opinion about whether these tacos are "authentic," the bottom line is that eating your way through the menu to find your favorites isn't a substantial investment at around $2-$3 per taco. Plus, there was nothing I tasted that we wouldn't eat again, even if it didn't register as my favorite.
Taco Ssam is open Monday-Friday from 11 a.m.-9 p.m. and Saturday-Sunday from 11 a.m.-9 p.m. 6017 Leesburg Pike, Falls Church; 703-347-6969