First Taste: TenPenh Tysons
What's old is new again — and that's a good thing.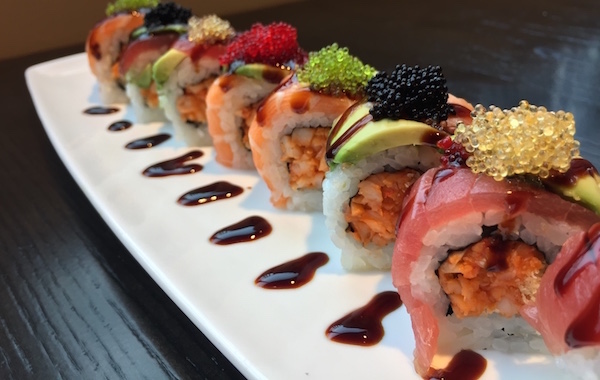 Bellagio roll at TenPenh Tysons. Photo by Rina Rapuano
Confession: I've probably been to every single Passion Food Hospitality group restaurant — with the exception of the original TenPenh, which anchored the corner of 10th Street and Pennsylvania Avenue NW in downtown Washington for 11 years. Opened in 2000, chef Jeff Tunks's upscale pan-Asian dishes wowed diners, and it was the end of an era when it closed down a little more than a decade later.
Thanks to its resurrection in Tysons Corner's Silverline Center, however, TenPenh no longer feels like the fish that got away. The new menu reaches farther than the original's emphasis on Thai, Chinese and Filipino cooking, expanding into the flavors of Japan with a sushi bar, plus Hong Kong, Korea and Vietnam. A few dishes from the original TenPenh have reappeared, including the shrimp red Thai curry and the Chinese-style smoked lobster.
The Food
The large menu of appetizers, steamed buns, noodles, rice bowls, sushi, veggies and more makes it very tough to choose — and you're going to want to go beyond lemongrass chicken and California rolls here. Start with a shareable appetizer of wonton chips piled into a Chinese takeout container and served alongside a sizzling pan of hot crab rangoon dip ($11) capped with a pool of sweet chile sauce. Despite the fact that we had six more dishes coming, I found it impossible to stop eating this creamy, crabby and completely addictive dip. Other fantastic appetizers include a plate of lamb potstickers ($11) that channel the Middle East with their bed of tzatziki, pine nuts and pomegranate seeds, and Nashville hot chicken Chinese bao buns ($9 for two) stuffed with spicy fried chicken, cabbage slaw and a pickle slice.
This location features a sushi bar with 20 seats. However, the sushi was a weak link among an otherwise strong roster of dishes. We ordered the gorgeous Bellagio roll ($14) filled with spicy shrimp, avocado and fried tempura flakes, then draped with tuna and salmon with a dollop of colorful roe on each slice. There was truly nothing wrong with the sushi; it just seemed bland compared with the punchy flavors of the other dishes we ordered. Perhaps if we just went for sushi, it would have been more enjoyable.
Rounding out our meal was an excellent "rice crispy" bowl ($15) — basically the restaurant's version of Korean bibimbap — that arrived with as much drama as a plate of fajitas. On the table, it snap, crackled and billowed steam while the hot stone vessel cooked the bottom of the rice to a perfect crispy crunch. Atop the rice was a color wheel of bulgogi beef brisket, carrots, sesame spinach, zucchini, kimchi and a soft-poached egg. A squeeze bottle of slightly spicy house-made gochujang sauce comes with a warning from the server for those who can't handle heat. Chinese green beans ($8) are a solid choice for some greenery on the table, and the Taiwanese shaved snow ($8) made with fresh strawberries, condensed milk and boba pearls made for a refreshing finish.
Bar Buzz
Naturally, trendy Asian tipples line the bar, including sakes, six Japanese whiskeys and cocktails such as the Matcha Mule, a blend of vodka, matcha (green tea powder) simple syrup and ginger beer. Wines favor the Pacific Rim, including California, Oregon, Australia and New Zealand, and more than a dozen brews are imported from the Far East. Asian spirits aficionados and curious drinkers can also sample Korean soju, Japanese shochu and Chinese baijiu. Happy hour takes place on weekdays from 4-7 p.m. when select beers, wines, sakes and cocktails go for $5 each.
The Vibe
For anyone familiar with the original version, this iteration is intended to be lighter and brighter — a more modern interpretation of the Asian aesthetic. Design elements skew contemporary and streamlined, and a raised patio is sure to lure office workers when the weather warms up in the spring. During lunch, the main dining room is full of folks from the surrounding buildings and a few shoppers from nearby Tysons II Galleria, and we're guessing the same crowd will return in the evenings for happy hour, chic cocktails and special-occasion dinners. And because the large restaurant is broken up into several distinct spaces, this place is a shoo-in for office parties.
Go, Wait or Skip?
Go. It's unusual for a restaurant to knock it out of the park so soon after opening, but this team of all-stars clearly knows what it's doing. (And if you do go, don't put the restaurant name into your GPS, since that takes you to a different place about 1.5 miles away from TenPenh. Use the building's address instead.)
TenPenh Tysons is open Monday-Thursday from 11:30 a.m.-2:30 p.m. and 5:30-10 p.m.; 5:30–11 p.m. Friday, Saturday from 5-11 p.m. and Sunday from 5-9 p.m. (Sunday hours won't be added till 2017.) 7900 Westpark Dr., McLean; 703-910-3096; www.tenpenhtysons.com.