From Ethnic Paradise to Upscale Casual
Legendary Washington Post food critic Phyllis Richman reflects on Arlington's food scene, then and now.
I couldn't have continued as The Washington Post restaurant critic for 23 years if it hadn't been for Arlington. An endless stretch of dinners at The Inn at Little Washington, Jean-Louis and Vidalia loses its enticement without interludes such as Vietnamese noodle soup topped with fatty brisket and flank steak, a squeeze-bottle of fish sauce and red chilies alongside. I needed something simple, robust and crunchy or slippery-smooth to relax my palate for the next challenge of rich artistry. And if I had to dress up more than a few nights a week, my suit would begin to feel like armor.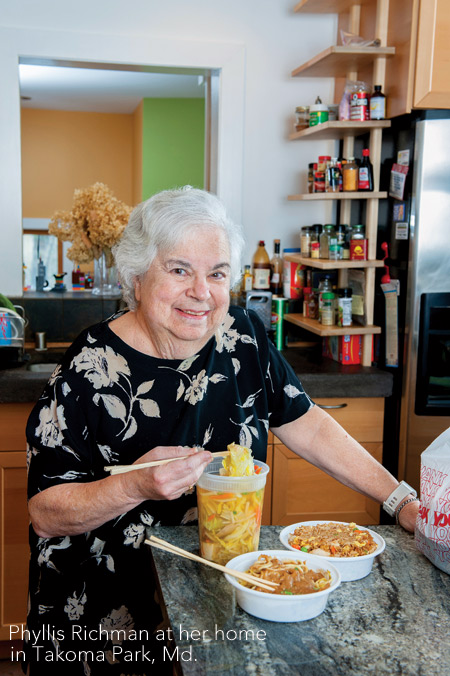 The reason Arlington became my nights-off destination was that it offered not just endless restaurants spanning dozens of ethnicities, but many good enough to draw the top chefs on their evenings off.
My obsession with Arlington had its roots in 1960 New York. Wandering around the Upper West Side, I stumbled upon a small, short-lived restaurant called Viet Nam. It was a revelation. Not only was it cheap (entrées $1 to $3), but its food was like nothing I'd tasted before. I couldn't wait to try the tom rim—caramelized shrimp with pork belly—again.
At the time, Viet Nam was the only restaurant from its country in New York; in the next decade a few opened in San Francisco. But in our area they were a long time coming. In the 1970s I found two Vietnamese restaurants in Washington, D.C., and one near Annapolis. They were the subject of my first Washington restaurant review (in the Washington Star).
Arlington was not yet known for its restaurants, much less its Vietnamese restaurants. The late '70s and early '80s changed that.
While locals struggled to pronounce pho, Arlington continued to see ever more places open to order it. Eventually I shared the abundance with The New Yorker magazine's Calvin Trillin, who came for an eating tour of Arlington's Vietnamese restaurants, spontaneously reenacting the evacuation of Saigon by striding down Wilson Boulevard shouting, "Save the chefs! Save the chefs!"
Over the years my favor shifted from Queen Bee to Pho 75 to Nam-Viet, then settled on the aptly named Eden Center in Falls Church. An entire shopping plaza filled with Vietnamese food! I fluttered among the Four Sisters restaurant (this was before it relocated to the Mosaic District), tiny cafés and tinier bakeries selling pink-tinted sponge cakes and heat-sealed cups of Day-Glo bubble tea. The Eden Center was truly a heavenly garden for me.
Arlington and Falls Church became well known for Vietnamese restaurants, and since success breeds success, a dozen more ethnicities followed. Thai restaurants were most prolific. At first, they tamed their seasonings, but gradually they learned that Americans could "take it," and they made food more the way they did at home. Crystal Thai was known for its seafood. I discovered the catfish at Thai Square when I learned to ask for the "secret" Thai-only menu, which required me to find a translator.
The county and its neighbors had always had good Chinese restaurants, but China Garden in Rosslyn was early to introduce dim sum carts. They were like a cafeteria that came to you.
A mysterious restaurant called the Food Factory seemed to want to fend off patrons, not just by its prosaic name, but with its back-alley location behind Fairfax Drive in Ballston. Its staff was so uncommunicative that we could never get it straight whether the succulent kebabs were Pakistani or Afghani. But word got around, and despite their best attempts, a full house was routine.
Hunting for hole-in-the-wall places became a competitive sport. Bolivian, Cuban and Turkish eateries joined the list. The common feature of these restaurants was the lack of pretension. They were inexpensive and casual. Tablecloths were rare, and to dress for dinner meant you had to put your shoes on.
There were eccentric one-of-a-kind places that we began to believe could only exist in Arlington. The Keyhole Inn, on Hudson Street, served chili, powerful chili that tasted as if it had not a grain of sugar, but was pure heat. I saw people order theirs "wet," which meant that the cook skimmed a ladle of grease from the top of the pot to add to their bowl.
I spent a heck of a New Year's Eve there one year, dancing off the accumulation of hot grease and cold beer.
Even more downscale-glam was the wedding breakfast I attended at Bob & Edith's Diner, where a second generation continues to keep the place open 24/7.
And then there was Quarterdeck, where on a sunny August afternoon at a bare outdoor table in what amounts to an alley—but on a high hill overlooking Georgetown and the Potomac River—you wait for red-hot steamed crabs to be dumped onto a sheet of butcher paper. No plates, no utensils, the flimsiest of paper napkins; this stripped-down feast was partly what made Arlington Arlington. And it still is today.
There were exceptions to the bare-and-casual rule. A year after I became the restaurant critic for The Washington Post, I wrote about The Company Inkwell, a Ballston restaurant that was Fancy and French. It could hardly have been more different from the homey ethnic places that typically characterized the county's dining, which led me to wonder: Why were there so few elegant and traditional restaurants? Blame it on the legislators.
In the early part of the 20th century, of course, the development of fine-dining restaurants was disrupted by Prohibition. Virginia was deprived longer than most states, because it reinstated wine and liquor by the bottle but didn't allow sales by the glass until 1968. Even then, you couldn't order sangria or a boilermaker because restaurants weren't allowed to serve wine or beer mixed with spirits for another 40 years (2008). Nor could they serve food that contained more than 5 percent alcohol. Goodbye, bananas Foster.
The Company Inkwell was one of the first Arlington restaurants that sold wine by the glass, not to mention a scotch on the rocks. It was also one of the first formal restaurants in the Washington area to hire women in its dining room. My idea was to probe the glamorous expense-account life from the inside.
I persuaded The Company Inkwell to let me join its dining room staff for a month's worth of weekends. As I expected, the job was hard work and great fun, right up to my last customers. They were a young couple and her parents, and the son-in-law was inclined to show off. He asked me about myself. I answered that I was new in town. He launched into a report on Washington's restaurants (concentrating, I observed, on those I had reviewed).
"How do you know about all of these restaurants?" I asked him.
"Dresden," he answered.
"What's that?" I asked, feigning wide-eyed naiveté.
"He was The Post's restaurant critic, but he's been replaced by a new critic—a woman."
"How is she?" I was ready for some praise.
"I can't exactly explain it, but we just don't like her. Our friends think she's awful. She doesn't know anything about food…"
He went on, as I took mental notes, making sure I had a specific enough description of him that he couldn't avoid recognizing himself in print when I wrote about him later.
But I'm not one to hold a grudge. After 37 years, I have pretty much forgiven him.
Today, I would have no trouble finding a dining room (or a kitchen, for that matter) staffed by women. Willow in Ballston is owned by two women chefs—Tracy O'Grady and Kate Jansen—and counts among the restaurants that have redefined Arlington's dining landscape. An early example of a restaurant expanding its vision, Willow now maintains an in-house bakery, retails a house-made line of gluten-free products and serves a casual "Nosh" menu at the bar (in addition to the elegant dining room menu). All of these spin-offs remain under one roof.
Others have expanded more literally, although today you're more likely to see multiple restaurants owned by a group of investors, as opposed to a single chef-owner or family business. Many groups are hybrids that fall somewhere between mom-and-pop and comfortably financed corporation.
I recently dined at Lyon Hall in Clarendon, whose "restaurant family" began with The Liberty Tavern, then expanded to Lyon Hall and the freestanding coffeehouse/bakery Northside Social. All three places are located near each other in historic buildings. They are all ambitious and energetic, packing their calendars with $1 oyster days, wine tastings and multi-course beer dinners. The staffs bake their own bread and cure their own charcuterie. Two-thirds of Lyon Hall's employees are named Matt.
Like Arlington's earlier restaurants, these places don't have tablecloths, and the service remains casual and informal. But the menus provide a few simple clues that times have changed. Brussels sprouts? Possibly. Charred Brussels sprouts with pancetta and pearl onion? Bingo!
Lyon Hall is emblematic of the new Arlington: It has left the ethnic hole-in-the-wall image behind, but has gone upscale without aiming for Fancy or French. Instead it promotes itself as artisanal, personal, artistic and settling for nothing less than the best. It's a fashion show in sneakers.
It certainly hits all the new trends. Look for beef, but in some new guise, say marrow bones, or mini hot dogs made from short ribs. For main courses, beef cheeks, hangar steak and something teamed with pork belly.
Dessert, that's easy: If your plate looks like a birthday party and the ice cream is a flavor you never dreamed of, you're in the right place. This one's called a brasserie, but the accent is pure American.
Phyllis C. Richman was The Washington Post's restaurant critic from 1976 to 2000. She lives in Takoma Park, Md.