Full House
The history behind The Knights of Columbus' "Council Home"
Set atop Arlington's Reserve Hill, the bluestone house with the stately white pillars has many names. The Knights of Columbus call it their Council Home or The Mansion. Longtime Arlington residents call it The Saegmuller House, after George Nicholas Saegmuller, who built it. To Saegmuller's descendants, it will always be known as The Big House.
George Saegmuller was born in 1847 in Neustadt, Germany, and grew up in Uttenreuth, north of Nuremberg. An engineer with nearly 40 patents for telescopes (both astronomical and terrestrial), lenses, range finders and surveying equipment, he married Maria Jane Vandenbergh in 1874 and purchased the farm from his father-in-law in what was then Alexandria County (renamed Arlington County in 1920). 
Until he retired, The Big House was the family's summer home. The rest of the year the Saegmullers lived in D.C., where Saegmuller worked at the U.S. Coast and Geodetic Survey and co-founded Fauth & Co., before going to Rochester, N.Y., to partner with Bausch & Lomb. 
Saegmuller served as an Alexandria County supervisor and board chairman, fighting for roads, schools, and a courthouse that was more convenient to horse-and-buggy-driving county residents. He put up his own money as a guarantee to get the county out of debt. "He was somebody who made a real difference," says John M. White, deputy grand knight with the Knights of Columbus, which bought the property in 1951.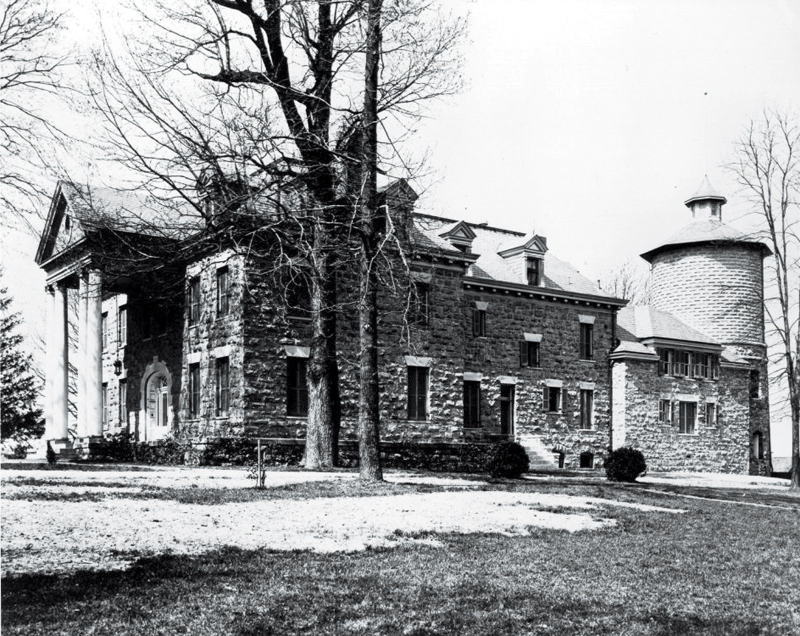 After a fire destroyed the original home, which predated the Civil War, Saegmuller built The Big House circa 1904, with stone quarried from the surrounding land. Designed by architect Albert Goenner with Saegmuller's input, the 3,718-square-foot residence had 21 rooms and 10 fireplaces. It was one of the first two homes in the region to have a private telephone line (the other being the home of Saegmuller's brother-in-law on North Glebe Road, a hillside away).
It was also believed to be Arlington's first house with running water. The adjacent water tower was modeled after a tower on Nuremberg's city wall, as depicted on a beer stein Saegmuller brought with him when he came to the U.S. in 1870.
"I still have the stein," says great-grandson Clif Ames, who climbed the tower as a child. He remembers The Big House as a family meeting place with huge Thanksgiving dinners and picnics in the yard.
It still is. The Knights of Columbus, a Catholic fraternal benefit society, offers pool memberships and rents the grounds for picnics and weddings. In the nearby hall, where a barn once stood, they cooked more than 200 Thanksgiving turkeys this year for families in need. "We like to keep our focus on the family," White says.