Future of H-B Woodlawn Graffiti Art Uncertain
Self-expression is a long-standing tradition in Arlington's most experimental secondary school. What will become of decades-worth of graffiti murals when the program relocates to a new building?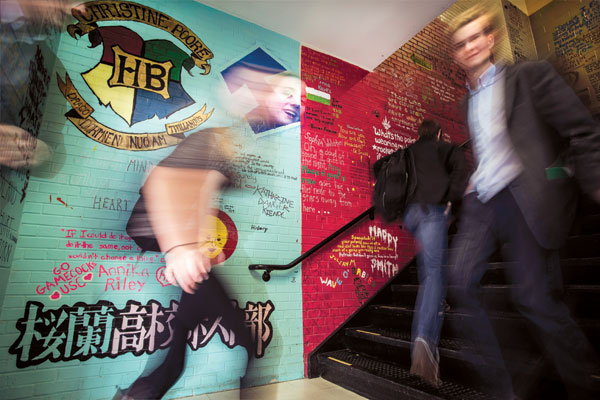 Photo by Erick Gibson
It all began in 1987 when a group of seniors scrawled their names on an empty wall at H-B Woodlawn. Little did they know they were launching what would become a cherished rite of passage at a school known for its alternative curriculum and student-driven culture.
Since then, every graduating class has left its mark with names and quotes, doodles and inside jokes. "It started as a way to create some artwork, like a class mural, but you can really see how it's evolved over the years," says Casey Robinson, who serves as assistant principal of the high school and is herself a 1995 H-B graduate.
The school's motto, Verbum sap sat ("A word to the wise is sufficient"), is evident in sentiments that have spilled over into hallways and stairwells, above lockers and throughout the cafeteria. Students are given a wide berth, but encouraged to use their best judgment, keeping in mind that their tributes will be read by entering sixth-graders (the program covers grades 6-12) and generations to come. In 28 years, only a handful of words have been censored.
The result is a living yearbook of sorts. There are quotes from Robert Frost and Shel Silverstein, the Beastie Boys and Bob Dylan, Mark Twain and Roald Dahl. A nod to the Wu-Tang Clan is tucked next to a passage from The Lorax. The lyrics to American Pie travel the length of one hallway and back again.
There are painstakingly executed works of art—arched palm trees, a sailing ship—and notes that confess students' deep affection for their alma mater. "I could walk through the school for hours," says senior Jake Newsome, "and still find things I've never seen before."
But the fate of these works is now uncertain in light of Arlington County's decision to move H-B from its current spot on Vacation Lane (the historic Stratford building) to a new location in Rosslyn by September 2019. Students, past and present, are now contemplating ways to preserve this piece of their history. Some have proposed photographing the walls to compile into a book or project on screens in the new space.
And then there's the matter of carrying the concept forward. "The walls are a huge deal," says seventh-grader Jasmina Tang, whose class will be the first to graduate in the new building in 2020.
Though the specifics are unclear, Robinson says the tradition will continue in some way, shape or form. Says one quote, etched in time by a 1995 graduate, "If you're not living on the edge, you're taking up too much room." The setting may change, but the philosophy will endure.