Get In Gear
Planning a hiking, camping or climbing trip? Make Casual Adventure your first stop.
In 1945, Oscar Stern moved from New York City to Arlington and opened the District Grocery Store on Washington Boulevard. For five years, his mom-and-pop market flourished.
But when Giant Food arrived across the street in 1950, Stern soon realized he would need to differentiate his business to survive. Little did he know that his family-run shop was being nudged toward its destiny. "With all the military folks around here, it made sense to convert to an Army/Navy supply store," explains his grandson Neil Stern. "So in 1955, we became the Surplus Center."
The Surplus Center spent the next few decades building its inventory of outdoor specialty clothing and gear. Then came the day when the makers of two of its most popular brands—Timberland and Rockport—decreed that they would no longer be carried by retailers with the word "surplus" in their name.
That's when the Sterns received their second nudge: They needed to devise a new name that reflected the evolved character of the store.
"We did some brainstorming and came up with the name Casual Adventure. Then we just kept moving in that direction," says Neil, who took over the daily operation of the store when his grandfather passed away in 1971.
Today, Neil and his son, Eric, run Casual Adventure together, along with a staff of avowed outdoor enthusiasts. The outfitter has become a favorite stop for nature lovers and intrepid travelers ranging from bird-watchers to hard-core climbers.
"This area is like the crossroads of the planet," Neil observes. "We get people from every part of the world coming through here on any given week."
That includes expert mountaineer Ed Viesturs, who visited the store not long ago as part of a book tour. (Viesturs is famed for climbing all 14 of the world's eight-thousanders—mountains that are taller than 8,000 meters, or 26,247 feet—without supplemental oxygen.)
On another occasion, first lady Laura Bush stopped in for a protective, packable Tilley hat to take on a family trip. Her Secret Service officers were reportedly so impressed with the store that they went back the next day to shop for themselves.
"We had a couple in their 70s come in to gear up for trips to both the Arctic and the Antarctic in one month," says Eric, who recently hiked the Maroon Bells in Colorado with his wife, Michelle. (Closer to home, they like to head out for day hikes with the kids at Scott's Run, Burke Lake and the Billy Goat Trail at Great Falls.)
"We have parents stop in to buy uniforms for their Scouts and then decide that they're going to finally take that camping trip they've been talking about," he says. "We specialize in adventure travel, but we've outfitted survivalists, day hikers, ultralight backpackers and leisure travelers. We can prepare you for any climate and situation."
Inside the 3,800-square-foot retail space, one finds a cozy maze of Patagonia jackets, North Face sleeping bags, Eureka! tents, Leatherman tools, Vasque boots and OluKai slip-ons. There are tactical items for law enforcement officials (uniforms, high-powered flashlights, ballistic nylon pouches, military-rated eyewear) and slick, glare-banishing sunglasses from Ray-Ban and Suncloud. I can't help eyeing a stash of keffiyehs (traditional desert scarves worn in the Middle East) and thinking that they would be both functional and fashionable on a cool evening in the mountains or at the beach.
At the front of the shop hangs a banner with a photo of Saeed Toossi, the first Iranian-American to solo ascend Mount Everest. It's a worldly place that in some ways seems cut from the pages of National Geographic, and yet it still feels like a family business.
"When someone walks in our door, it's like they're walking into our living room," Eric says. "We're interested in finding out what it is that you're doing, where you're going, how can we make your trip better or more efficient."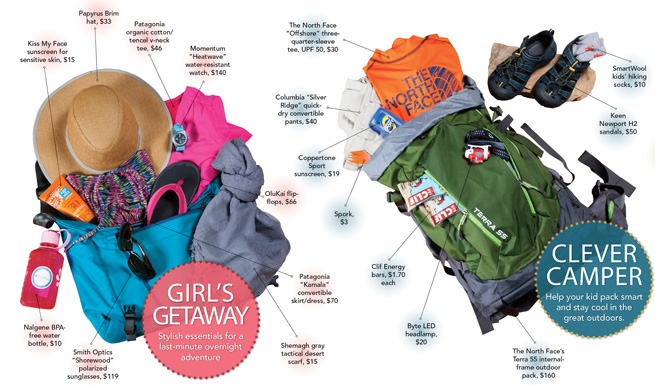 Adrienne Wichard-Edds is Arlington Magazine's shopping columnist.
Casual Adventure, 3451 Washington Blvd., Arlington, 703-527-0600, www.casualadventure.com