Gift Alert: White Peach Pottery
The Falls Church ceramic studio has some of the prettiest little pots and vases you'll ever see.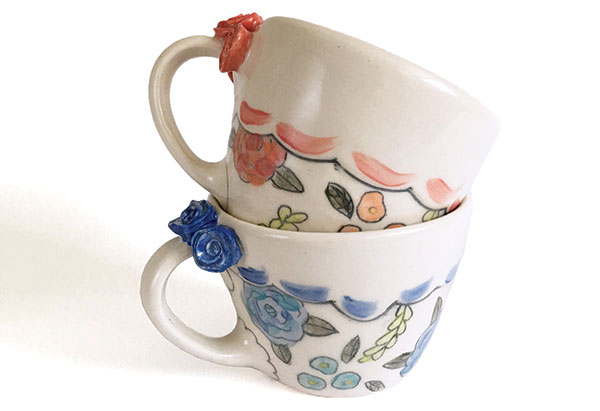 Photo by Cindy Kane
I first stumbled on Marianne Tolosa's delicate ceramics at Covet—her petite white-and-gold vases so pretty they didn't need flowers. It turns out Tolosa is the creative force behind White Peach Pottery, a local studio offering hand-hewn tableware, tiny decorative dishes, "creature" vases and whimsical gifts.
A native Arlingtonian, Tolosa moved to Falls Church two years ago, where she throws pottery in her home studio. She often hand-carves the details and doesn't use molds because "the imperfection is important to me," she says. "I want there to be variations from piece to piece."
Her painted mugs are a particularly artful expression of her past experiences as a barista at Northside Social and as a graphic designer. Each mug is one-of-a-kind and takes more than an hour to make. (That novelty is reflected in a price tag of $36 and up.) But for Tolosa, the process holds meaning. "I grind my coffee, steam my milk and drink out of a vessel I made with mud and fire," she says. "It's my ritual."
Find White Peach Pottery locally at Covet and at the new Rare Bird Coffee shop in Falls Church, or online at www.whitepeachpottery.com
Got a favorite local boutique, service or style tip? Contact style columnist Adrienne Wichard-Edds at adrienne.wichard-edds@arlingtonmagazine.com. Follow her at @WichardEdds.