Great Screen Plays
Enter the screened porch: a beloved architectural tradition and a flexible space that plays many roles.
We may not live far from the Mason-Dixon Line, but our area is still a card-carrying part of the American South, the birthplace of porch culture, where covered outdoor spaces have long offered welcome shade and served as a bridge between house and neighborhood. While some decry its decline as air conditioners and televisions beckon us indoors, the porch is still alive and well in these parts. In fact, many homeowners say it's one of the most frequently used spaces in the house, be it for morning coffee or sunset barbecuing. Three families invited us in to sit a spell in their favorite open-air rooms and take in the scenery.
Caribbean Oasis
When Meredith Anderson and Nick Freshman bought their 1951 Cape Cod in Arlington Ridge in 2008, it had already been in their family for almost 50 years. The home, which Anderson's grandparents bought in 1959, had been the setting for many family gatherings and held lots of memories, which the couple were eager to preserve.
Treading lightly on that history, they started by sprucing up the interiors—a fresh coat of paint, some new appliances—but left the structure of the house virtually untouched. But by spring 2011, after mosquitoes had foiled three years' worth of attempts to entertain outdoors, they decided to build a screened porch.
Bordered on three sides by quiet streets, their corner lot afforded plenty of backyard space to extend the home while leaving its large front and side yards intact. They hired Deckscapes of Virginia and designed a 22-by-14-foot enclosed porch that connects to an original flagstone breezeway between the kitchen and garage. Although it's attached to the house, the ethereal space in many ways feels a world away, thanks to high ceilings and a three-step elevation above ground level.
"I wanted it to feel like a Caribbean resort—billowing white curtains, a big modern, clean-lined couch," explains Anderson, a program director for Smith Center for Healing and the Arts, an integrative cancer support organization based in Washington, D.C. "My favorite thing is to sit on the porch in the morning with a cup of coffee and a book."
At the same time, the porch is designed to take a beating, with furnishings that were chosen for comfort and durability. Knowing there would be lots of small children streaming in and out (including friends and cousins of their daughter, Evie, 6) they opted for indoor/outdoor upholstery and rugs that could take a few spills. A red kegerator at one end of the space adds a splash of color and invites guests to refill their glasses during parties.
Today, neighborhood kids and a rapidly expanding fleet of nieces and nephews can run amok in the yard while still in full view of their parents. Freshman, a prolific home cook who's spent plenty of time in professional kitchens in the past 15 years (including Spider Kelly's and Eventide, both of which he co-owns), is often found manning the grill on the patio that flanks one of the porch's three open sides.
And it's not just a summer space. This past November, when the family played host to 30 people for a collaborative Thanksgiving feast, industrial-grade heat lamps made it comfortable to spend several hours on the porch before dinner.
Anderson smiles at this memory, symbolic of the generous hospitality that has always been so much a part of this home: "My grandparents invested in their family and friends, hosting hundreds of gatherings over the years," she says. "Nick and I hope that we can continue that tradition."
Where They Shopped
English Garden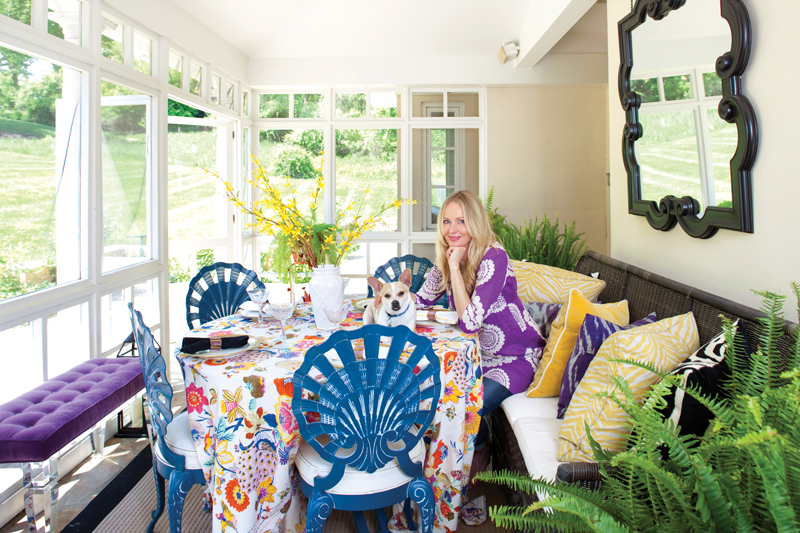 Jill Sorensen isn't afraid of color. The stunning Swedish-born model-turned-interior-designer is renowned for her fearlessness when it comes to bold patterns and bright hues. And perhaps nowhere is her Technicolor confidence showcased as whimsically as on her own porch, where she changes up the décor frequently to fit the mood of whatever type of event she is hosting.
The 12-by-22-foot screened-in porch on her Mediterranean-style stucco house (which sits on six acres in McLean) was a big part of the appeal when she bought the house eight years ago.
"I envisioned a Tony Duquette-style orangerie—enormous dining table, lots of lush greenery," says the designer, who launched her creative firm, Marmalade Interiors, in 2010.
Executing that vision on a smaller scale, she outfitted the space with vintage bright blue metal shell chairs and a matching round dining table that she picked up at the Old Lucketts Store in Leesburg. A black-bordered indoor/outdoor rug defines the dining area, while lush ferns perch atop a pair of red-spray-painted, iron plant stands. (The ferns, she explains, are reminiscent of the grand English country homes she so often references as her decorating muse.)
Graphic-patterned pillows in cheerful colors fan out across a wicker couch that is positioned to look out on the yard. Some of the pillows are from Sorensen's own LiveLikeYou line of textiles (the others are from Fabricut.com), and all have removable covers for easy washing. During wet weather and pollen season, everything that's not wipeable or waterproof gets moved inside.
From spring through fall, the porch serves as a casual dining spot for Sorensen and her son, Luke, 12, as well as her fiancé, Dan Saunders. But given the chance to host a party, the designer also seizes the opportunity to create a little drama.
"When I'm entertaining, I put candles everywhere—in candelabras, on the floor," she says. "I also like to take indoor pieces [such as pillows, tables and carpets] and bring them out, because it looks so striking to have indoor furnishings outside for parties."
One indoor-style accessory that's become a permanent fixture on the porch is a large, black-framed mirror, which Sorensen has suspended from the ceiling (thereby circumventing the challenge of mounting it to the exterior stucco wall). The mirror reflects the view of the property's rolling hills, further bringing the outdoors in. "No matter where you sit when you're out there," she explains, "you can enjoy the view."
Where She Shopped
Urban Cottage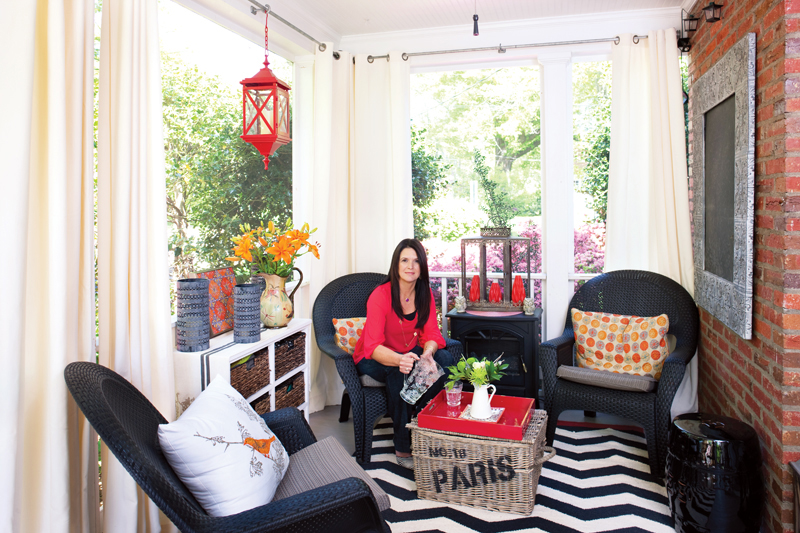 Tucked away in Arlington's Waycroft-Woodlawn neighborhood, Helena Peck has turned her family's 1939 white clapboard Cape Cod into a secret retreat of comfort and chic. Owner of the local design firm InDesign and a mom of three, Peck specializes in smart, affordable design. And she has a knack for working with small spaces, including those in her own home.
Her favorite room is the 15-by-9.5-foot side porch that came with the house when she and her husband, Paul, bought it in 1998. In the 15 years since, she says, only a few small improvements have been necessary. Wood trim around the base of the pillars was replaced, and in 2012, a weatherproof Trex floor was installed for about $3,500—"so that we'll never have to do it again," explains Peck. (The rest of the porch structure is wood, which they repaint white about every five years.) To cushion bare feet, graphic rugs cover most of the floor and help separate the dining area from the lounge seating.
Open on three sides but sheltered by large, glossy holly bushes and bubble-gum-pink azaleas that have grown to the height of an NBA player, the porch offers plenty of privacy in an otherwise close-knit neighborhood. Full-length indoor-outdoor curtains visually soften the space and help to keep it warm. In colder months, an electric fireplace cranks out a good deal of heat, and during the Pecks' annual holiday party in December, a rented commercial-grade heater makes it comfortable for the porch to be used as a bar.
In warmer weather, the space doubles as an alternative workspace for Peck and homework spot for her three girls: Megan, 10; Ellie, 11; and Emma, 13.
"We also have spontaneous happy hours out here all the time," she says, "and this is our primary dining space from April through October."
On a pragmatic note, the porch also solves the problem of having three soccer-playing daughters and no mudroom in the house. A small shelf unit with storage baskets provides hideaway space for cleats and other gear.
Where the porch narrows at one end, a large pressed-tin-framed mirror on the exposed-brick wall reflects the outdoors and gives the illusion of more space. Multiple light sources—a string of small lanterns, a votive chandelier, a pair of red vintage lanterns with remote-control pillar candles—provide illumination options for all moods. But nothing in the design mix is too precious or too expensive, Peck stresses.
"I'd rather invest in a few things that will last," she says, "but I don't believe that you have to spend a lot of money to have great style."
Where She Shopped
Adrienne Wichard-Edds is a writer in Arlington whose own porch is presently being overhauled.