Grill It Like Guas
Want to barbecue like a pro? Local chef David Guas' new cookbook shows how it's done.
Just in time for grilling season, Bayou Bakery's David Guas is releasing his second cookbook next week. And this one focuses exclusively on cooking with fire.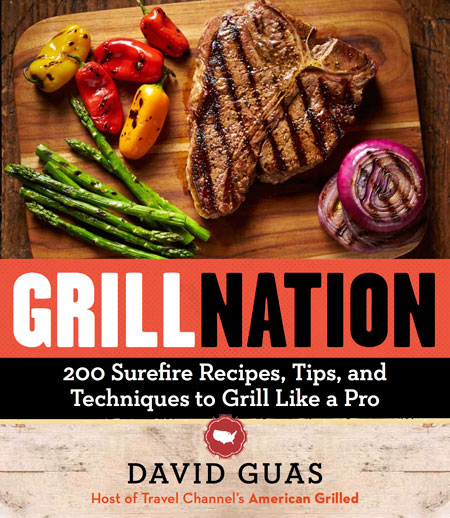 Grill Nation: 200 Surefire Recipes, Tips and Techniques to Grill Like a Pro [Oxmoor House, $24.95] is a natural extension of the celebrity chef's popular American Grilled show on the Travel Channel, but his recipes are also rooted in family lore from his New Orleans childhood. We caught up with Guas to talk about some of those stories—and how he grills with his own family in McLean.
How did you get introduced to grilling?
I've got very fond memories of my father being outside on the grill. He had one grill that he still has to this day. I didn't realize how cool that was until much later.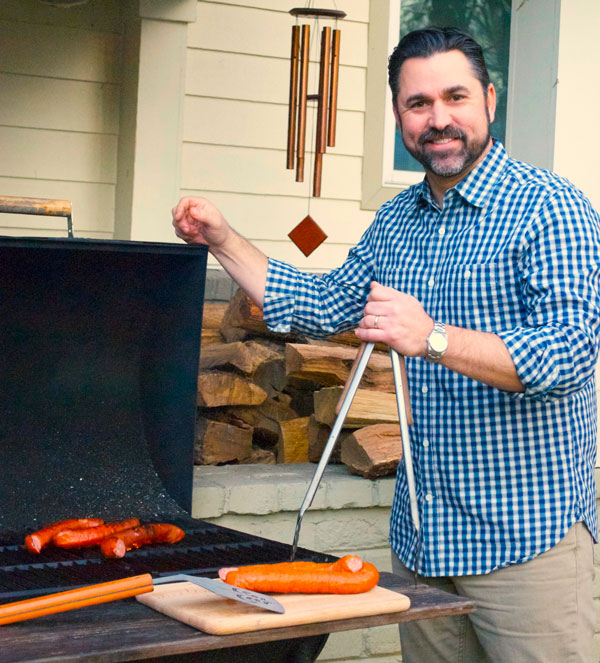 Did you and your dad spend a lot of time grilling together?
Dad was a veterinarian, and he worked six days a week. [The grill] is where I got to spend time with him on the weekends. He mastered the art of being able to grill with one hand, while the other hand was occupied by a cold beer or a cigar.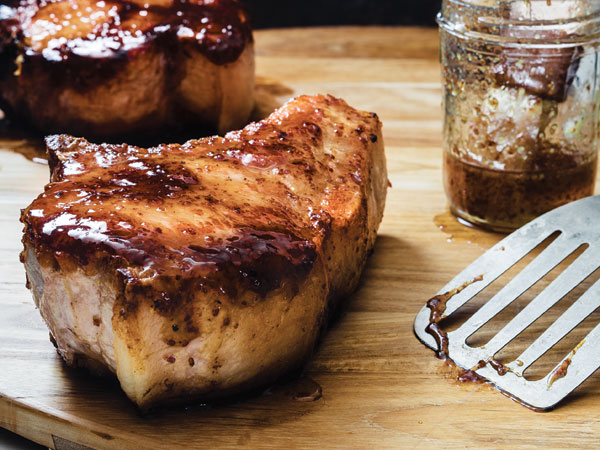 Honey and Whole Grain Mustard Grilled Pork Chops. Photo by Johnny Autry.
Did he have a favorite recipe or method that he passed down to you?
My dad was really big on sauce, but he never wrote anything down. He would put a squirt of mustard, a squirt of ketchup, a squirt of Worcestershire. Sometimes, he would dice some onions and add a little extra garlic or some molasses. So that was his method—a couple of squirts, a couple of dollops, and then he would taste it to see where he was. [Out of all his grilled dishes], his barbecued chicken was probably the most flavorful.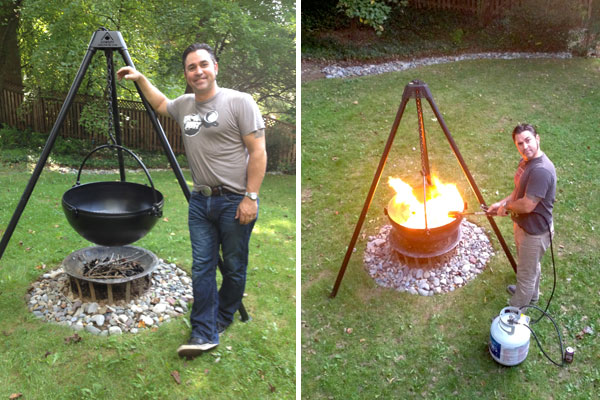 What's the grill situation in your own back yard?
I have a cavity smoker—it's just a barrel cut in half, it's not even a brand—and then I have my Cowboy Cauldron, which is made in Salt Lake City. Mike Bertelsen, the owner, has become a friend.
What's a Cowboy Cauldron?
It is a wonderful grill, and it has a dual purpose, because it's also a fire pit that you can sit around with your family and friends. It becomes the centerpiece of your yard. It's an image from the covered wagon days. The cast-iron cauldron hangs from chains. You can either have a fire going, or attach a hinged grill between the handles. You have a massive service area—I could be cooking a sauce on one side while I'm grilling my protein on the other. You can access it from any angle. It's by far the most intriguing, unique place for a fire source.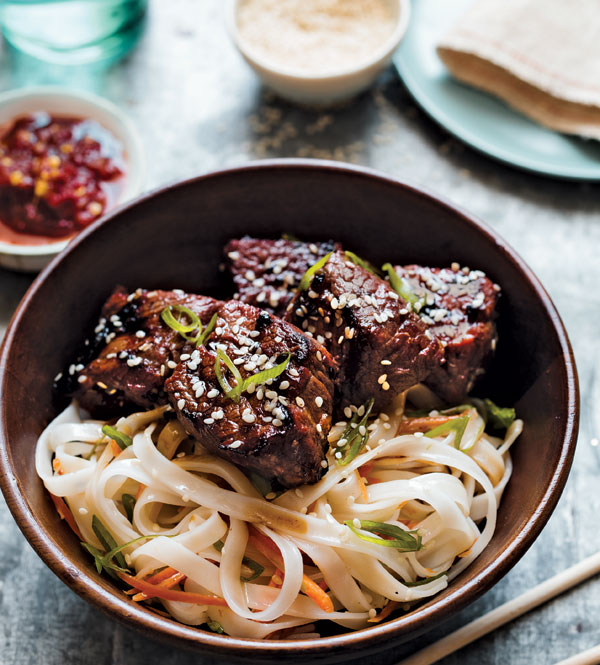 Asian grilled tri-tip over chilled soba noodles. Photo by Johnny Autry.
How do you use each grill with recipes from the book?
The smoker is best for thicker, longer-cooking meats, such as the honey and whole-grain mustard grilled pork chops. The cauldron's good for thinner cuts that cook quickly. I use it for the grilled bologna sandwich on Texas Toast with yellow mustard slaw, and the Asian grilled tri-tip that's served over chilled soba noodles.
If this new cookbook is as good as the chef's first one (DamGoodSweet, a James Beard finalist) it's sure to make for good reference this summer as we wield our tongs in one hand, cold beer in the other.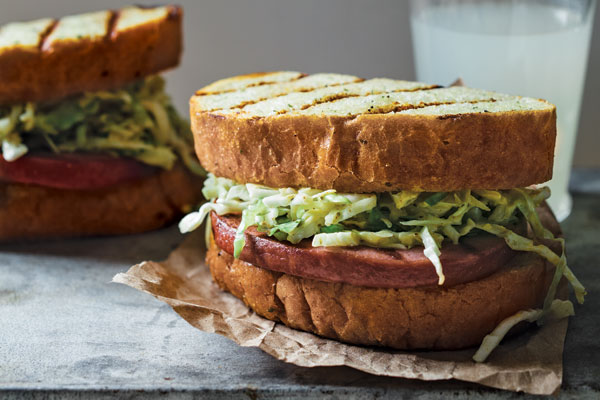 Grilled smoked bologna with yellow mustard slaw. Photo by Johnny Autry.