Hendricks Barber Shop: Where Guys Get Cleaned Up
The gentlemen's salon in Clarendon offers cuts, trims and hot-lather shaves.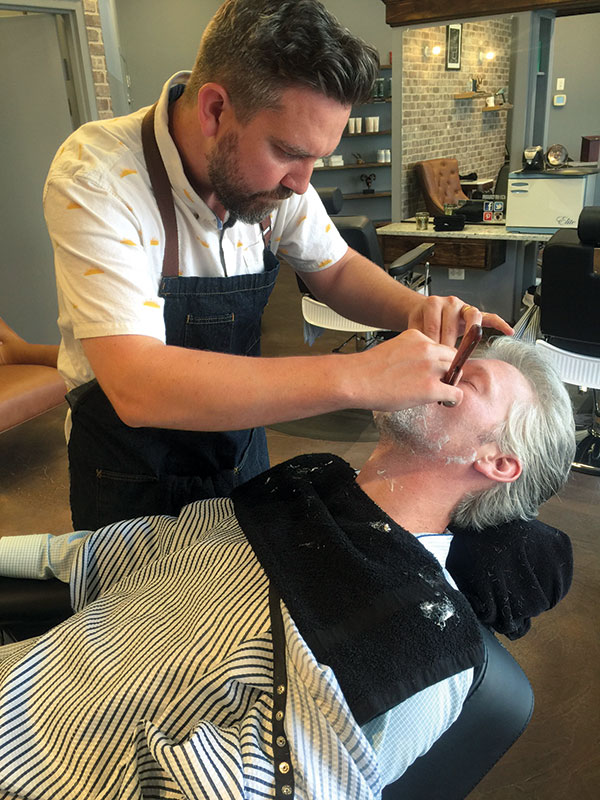 Arlington's many dudes in brown flip-flops now have a respectable place to get cleaned up. Hendricks Gentlemen's Barber Shop, which opened this fall, is a guys-only space for hot lather shaves, beard trims and "old-school gentlemen's haircuts" in Clarendon.
Brought to you by the team at Smitten (winner of Arlington Magazine's readers poll for best men's haircut), Hendricks is the answer to clients' requests at the salon for straight-razor shaves and traditional barbershop services in an upscale environment. The shop inhabits Smitten's original Washington Boulevard location (the most recent tenant, Primp, has moved in with Smitten on Pershing Drive) and embraces a refined man-cave aesthetic: navy and tan leather, copper fixtures, ESPN on screens overhead. It even features a barbershop chair from the barbershop that owner Melanie St. Clair's great-great-grandfather once operated in Baltimore.
Prices start at around $30 for a cut, $30 for a beard trim and $40 for a hot lather shave with a straight razor.
Got a favorite local boutique, service or style tip?
Contact style columnist Adrienne Wichard-Edds at adrienne.wichard-edds@arlingtonmagazine.com.
Follow her at @WichardEdds.