How I Became a Ball Girl for the Washington Nationals
Arlington's Katie Sterling has one of the best seats at Nats Park. But she's had to work for it.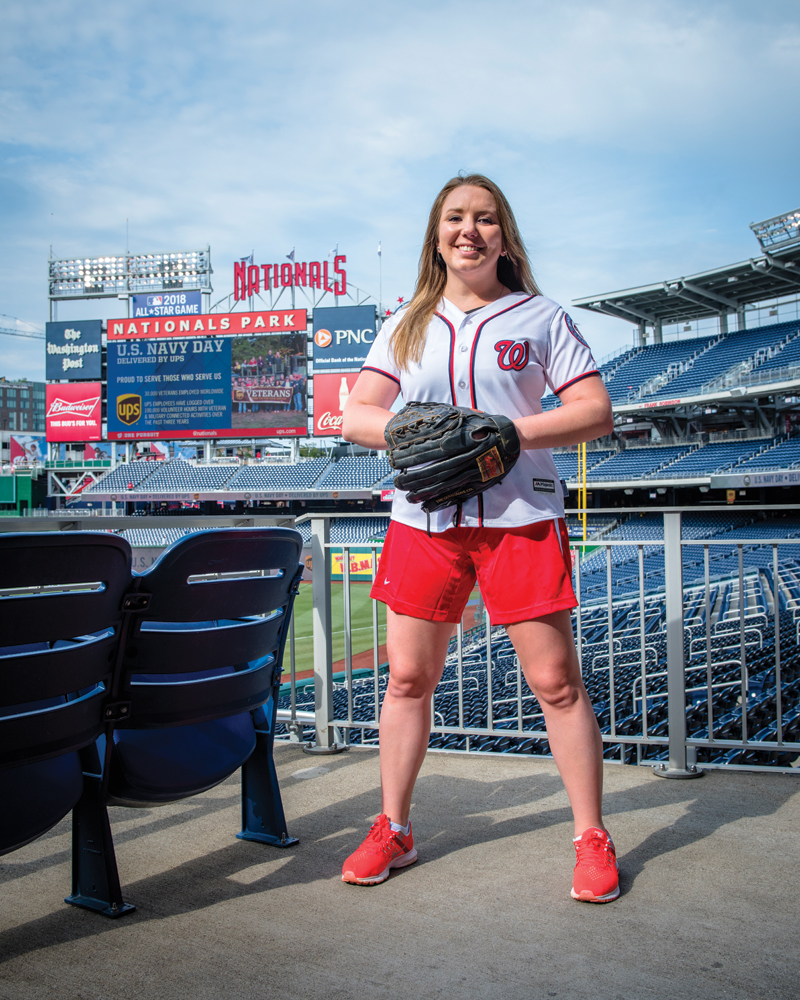 Name: Katie Sterling
Age: 25
Position: Ball girl for the Washington Nationals
Day Job: Customer service and administration for Deloitte in Rosslyn
Born and Raised: In Arlington's Dominion Hills neighborhood
Field notes: I started playing softball when I was 5. I played outfield and second base at Yorktown High School, then went to the University of Mary Washington and played second base for one year until I tore my labrum, the cartilage that supports rotation in your shoulder. The healing process after surgery took longer than I expected and I decided to retire from college ball. I now play in recreational leagues.
Big break: In 2013, I found an online job posting from the Nats for ball girls. I filled out an application, attached a cover letter and sent in my résumé. It was just like applying for a regular job, except that I also sent in a video to show that I knew what I was doing. More than 30 girls tried out and 14 were selected. At tryouts, we took a quiz on baseball trivia and Nationals trivia (I studied up) and went out on the field to take ground balls. Then there was a panel interview with members of the entertainment and human resources departments. It was nerve-racking but fun.
Spring training: I try out every year (this is my fourth season). To get ready, my dad and I go to Greenbrier Park and he hits me ground balls or pop-ups. We do this a few times before tryouts to make sure I have my skills up.
Love, not money: No one is going to get rich as a ball girl, but that's not why I do it. I love the Nats and the fans. There are some perks (tickets, T-shirts), but the biggest one is simply being a part of it all. There are 81 home games total. I usually work three or four home games a month.
Game prep: I get to Nats Park one hour before the first pitch and get in uniform. Our jerseys match what the players are wearing (red, white or blue). There are two ball girls on the field—one on the right field line and another on the left field line. You take your chair out, open it up and make sure you have your helmet. Setting up is one of my favorite parts because I get to interact with the fans. I still get butterflies every time I go to work.
Foul play: During the game I have to stay focused and pay attention to every pitch. A player can hit inside foul territory at any time—at which point it's my job to field it. I generally try to give the ball away to a child, especially one who is super excited to be at the game. It's a great feeling to see the smile that lights up on his or her face.
Big screen moment: Last year, Dan Uggla was up to bat. He hit a ripper superhard down the left field line and it was a one-hopper. I went out for it and I was happy when I felt the ball in my glove. It was replayed on TV and talked about by commentators. Very exciting!
Fun facts: My favorite food to eat at the ballpark is Italian sausage with peppers, onions and mustard. My favorite giveaway was the Jayson Werth gnome. (He sits on my bookcase, but sometimes I take him with me on trips so he can enjoy a vacation, too.) One little-known fact about Nats Park is that it is the first major professional stadium to become certified LEED-Silver by the U.S. Green Building Council. It's a green facility.
So you want to be a ball girl? My best advice is to work on your skills. Make sure you can field a ground ball, and remember that the mindset is opposite from when you are playing. If you see a ball hit to the outfield, you are obviously not running out to get it. You're only covering foul territory. Those are the moments you wait for.
Laura Fox is a freelance writer in Arlington.