How to Brine a Turkey
Try this recipe for a moist and flavorful bird.
Want to dazzle your dinner guests on Thanksgiving? Give your turkey a good 48-hour soak in a bath of herbs and spices before you fire up the oven. Eddie V's Tysons Corner executive chef Ray Comiskey shares his recipe.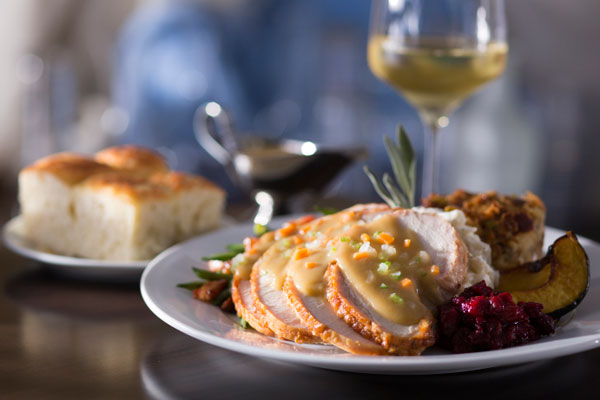 The Brine
Ingredients:
½ gallon hot water
4 oz. granulated sugar
½ oz. kosher salt
½ gallon ice water
1 orange
1 Granny Smith apple
3 bay leaves
¼ cup black peppercorns
¼ oz. thyme sprigs
1 turkey (approximately 18 lbs.)
Preparation:
1. In a large sauce pan bring 1 gallon of water to a boil.
2. Add the sugar and salt.
3. Once sugar and salt are fully dissolved, add the ice water to cool.
4. Split the orange in half and juice it into the brine. Then throw in the rinds.
5. Quarter the apple and add it to the brine with the bay leaves, peppercorns and thyme.
6. Carefully place the turkey in the brine, breast-side down, and allow to sit for 48 hours in the refrigerator.
Herbed Basting Butter
Ingredients:
1 lb. butter
1 Tbsp. minced shallot
1 Tbsp. white soy sauce (you can substitute dark soy sauce if needed)
½ oz. white wine
½ Tbsp. freshly squeezed lemon juice
½ Tbsp. chopped fresh tarragon
½ Tbsp. sliced chives
½ Tbsp. chopped parsley
Preparation:
1. Place the butter in a clean stainless steel mixing bowl and allow it to come to room temperature.
2. While the butter is tempering, combine the shallot, soy sauce, white wine and lemon juice in a small saucepan.
3. Place the saucepan over low heat and reduce for five minutes.
4. Remove the reduction from the heat and allow it to come to room temperature.
5. When the butter is soft, add the reduction and the remaining ingredients to the mixing bowl and combine.
6. Cover and refrigerate.
On Turkey Day, allow the herb butter to return to room temperature. Remove the bird from the brine and pat dry. Slather generously with herb butter and roast until done, using remaining herb butter for periodic basting.