How to Celebrate Mardi Gras 2016 in Arlington
Details on the Clarendon-Courthouse Mardi Gras Parade, restaurant specials and more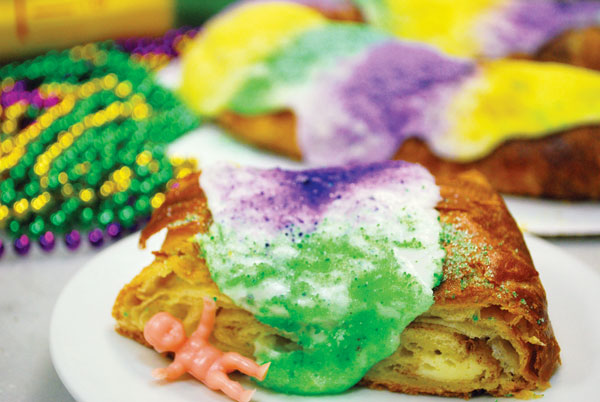 Craving King Cake? Look no further than Arlington's Bayou Bakery.
Arlington likes to do Mardi Gras right and 2016 is shaping up to be no exception.
The only caveat? Weather. For the past two years, the annual Clarendon-Courthouse Mardi Gras Parade has been delayed due to mother nature. With rain (and maybe snow) in the forecast for Feb. 9, parade-goers will want to keep an eye on the Clarendon Alliance's Facebook page for updates.
With fingers crossed for good weather, here's what you need to know to celebrate Fat Tuesday on Feb. 9 in Arlington:
The Parade
The centerpiece of Arlington's celebration is the 17th annual Clarendon-Courthouse Mardi Gras Parade. The event is touted as the largest Mardi Gras celebration in the D.C. area as is a "family friendly" event.
The parade is scheduled to kick off at 7 p.m. and will travel along Wilson Boulevard between Barton and Irving Streets.
The Ball
This year will also feature an official Mardi Gras Ball at Clarendon Ballroom, complete with food, drinks and live music. Bands include the Yamomanem Jazz Band and the 8 Ohms Band. Tickets are $20 in advance and $25 at the door with proceeds benefiting the Clarendon Alliance and St. Charles Borromeo Catholic Church. Costumes encouraged. Party goes from 7-11 p.m.
Drinks and Dining
The Mardi Gras Parade route puts revelers in proximity to many local bars where they can toast to Fat Tuesday with an Abita beer or Hurricane cocktail. Not sure where to stop? Try Whitlow's on Wilson, Northside Social or Mad Rose Tavern for a quick beer or glass of wine.
Earl's Sandwiches
2605 Wilson Blvd., Arlington; (703) 248-0150
4215 N. Fairfax Dr., (703) 647-9191
Can't make it out on Tuesday? Earl's is celebrating Mardi Gras throughout February with special sandwiches including an oyster po' boy, a fried catfish po' boy and a Manhattan Mardi Gras sandwich.
Sehkraft Brewing
925 Garfield St., Arlington; (703) 841-5889
Stop by before or after the parade for NOLA-inspired specials including red beans and rice, po' boys and jambalaya. After the parade, stop by for live music from zydeco band Little Red and the Renegades.
Bayou Bakery
1515 N. Courthouse Rd., Arlington; (703) 243-2410
This haven for all things New Orleans may have moved its Mardi Gras bash to its Capitol Hill location, but you can still bet on plenty of fanfare at its Arlington location. Expect plenty of decorations, beads, king cake, food discounts and a NOLA Happy Hour from 6-8 p.m. on Fat Tuesday.
Courthaus Social
2300 Clarendon Blvd., Arlington; (703) 243-4900
Celebrate post-parade at the bar's Fat Tuesday Beerfest with beads, local craft brews, music from DJ Gnetixx and Louisiana brews from Abita Brewery.
Hot N Juicy Crawfish
116 W Broad St., Falls Church; (703) 992-8700
This Falls Church location of this seafood chain celebrates its first Mardi Gras party with a 6 p.m. crawfish eating contest complete with a $200 grand prize. The event will also include shrimp and beer specials all day, along with activities and prizes for the kids.