In The Fun Zone
Three families transform their basements into action-packed play spaces.
Baby, it's cold outside, but Super Bowl fever will soon be upon us. 'Tis the season to stay in, grab a beverage, cozy up with SportsCenter and fill in the squares for your office pool.
While holing up in the basement to watch the big game remains a time-honored tradition, the modern rec room is a far cry from the man caves of old, with their beat-up couches, neon beer signs and ratty wood paneling. Today you're more likely to find flat-screens and full wet bars in sleek subterranean spaces that are designed to accommodate sports and a whole lot more—whether the main attraction is an NFL play-off game, a Pixar movie, a kids' slumber party, a book club, poker night or the Oscars.
We asked three local families to show off their favorite places to hang out at home, be it Super Bowl Sunday or any other day.
Heart of Texas
Near Texas A&M University, a bar called the Dixie Chicken claims to serve more beer per square foot than any other watering hole in the country. It's also memorable for its copper bar top—a detail that A&M alumnus Jeff McClure recalled years later when he was envisioning the bar he wanted to create in the basement of his 8,000-square-foot Colonial Revival home in Country Club Manor. He and his wife, Mindi, imagined a home entertainment area that evoked Jeff's Texas roots but without feeling schlocky or over-the-top. At the same time, they wanted a comfortable and relaxed space they could share with friends and their two daughters, Catherine, 9, and Ginger, 5.
"We wanted it to look distinctive but not too museum-y," says Jeff, a self-described "reformed lawyer," who is now an owner and managing principal, along with Mindi, of the Bear Companies, an Arlington-based investment banking firm.
"We wanted to put our feet up on the furniture," Mindi adds.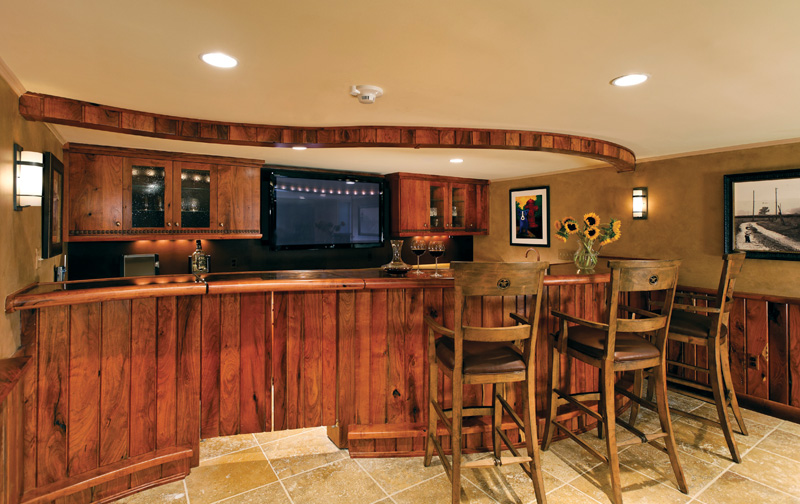 The McClures turned to Falls Church-based Foxcraft Design Group to create a space where they could do just that. Their remodeled basement now features a bar and lounge area, a home gym, a wine cellar, private quarters for a live-in nanny and a media room with three big-screen TVs for simulcast viewing. Jeff's Southwestern tastes are evident in playful elements such as the rustic mesquite-wood bar, cabinets and wainscoting, as well as a pocket door clad in cowhide.
Football is a popular pastime in this household of die-hard Texas Aggies fans, so on game days, it's not unusual to find a big party on the lower level, complete with a pot of chili and some "large piece of barbecued meat," Jeff says.
This is when the functionality of the redesign becomes most apparent, says Foxcraft project manager Dan Dalrymple. "The spaces work equally well when just a couple of friends gather or when there are 50 to 100 people in the home for an event."
Project Team:
Chandler Fox and Dan Dalrymple, Foxcraft Design Group, Falls Church
Skip Sroka, Sroka Design, Bethesda
Jerry DeSantis, DeSantis Designs, Purcellville
Family Film Fest
Steve DeFalco grins as he pulls out a keg and sets it on the bar in the basement of his Arlington home. But this isn't your typical frat party in the making. Among his many interests—which include skiing and rooting for the New England Patriots—he brews his own beer. Lately he's turned out a couple of pale ales and has been experimenting with a German winter dark ale.
A more significant point of pride, though, is the house itself, which he designed with his brother, George, an architect. Together, they own and operate Tradition Homes, Tradition Renovations and Tradition Realty, the McLean-based trio of interrelated companies they founded in 2006. (They were recently voted "Best Builder" in our "Best of Arlington" reader poll.) "We design our own houses, and we build quality houses," Steve says. "We believe in the motto 'Do what you say, and say what you do.' "
For Steve and his wife, Jenny, a human resources consultant, that meant respecting the scale and character of their Lee Heights neighborhood when they designed and built their 5,300-square-foot dream home in 2010. They now share the shingle-style residence with their two kids, Mia, 3, and Hank, 1.
Steve stresses that the lower level (he prefers not to use the word "basement" with its dark, dank connotations) was never an afterthought. Designed for maximum use, its layout includes a guest bedroom, a full bathroom, a billiards room and bar, a gym, and a two-tiered home theater room wired for movies, television and streaming video on a 108-inch screen. Eight leather chairs feature drink trays and reclining seats.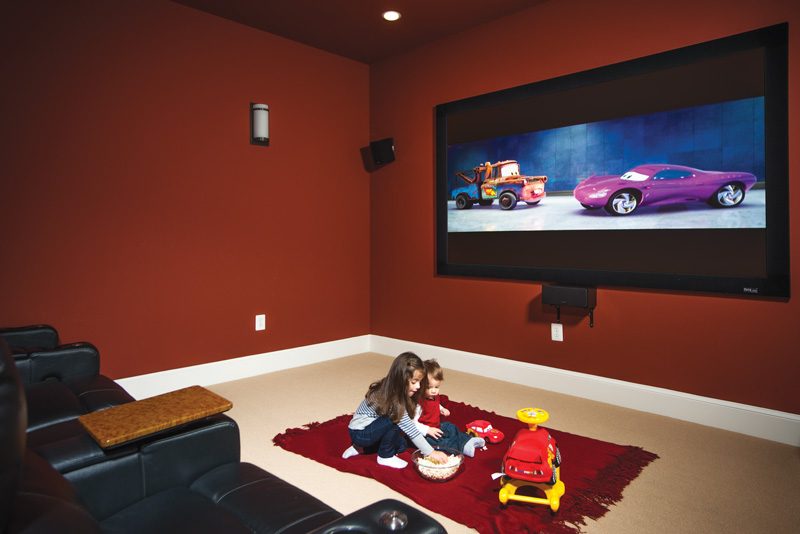 "The kids use this room more than anyone," Steve says, popping in Disney's Cinderella. "But we watch our movies here too," he adds, alluding to recent showings of The Hunger Games and Snow White and the Huntsman—fairy tales for the older set.
Next on the agenda? Super Bowl XLVII. At press time, Steve remained optimistic that his beloved Pats would go for a third straight run at the title. But no matter who's in it this year, he'll be watching the game from home, with plenty of friends and family to fill those seats.
Project Team:
Steve and George DeFalco, Tradition Homes, McLean
Raising the Bar
Phong and Carrie Le's Falls Church basement was once so long, narrow and featureless that they nicknamed it the "bowling alley." Although their 5,500-square-foot house near the West Falls Church Metro was new when they bought it in 2008, the downstairs was awkward and underused. The Les moved in knowing they wanted to renovate it.
Then Hurricane Irene hit in August 2011 and their sump pump failed, flooding the entire lower level. The couple saw this setback as the opportunity they'd been waiting for. "I always wanted a bar down there," says Phong, who works in finance for a local telecommunications company. "But we didn't want the typical man cave. We wanted something hip and modern, but also family-friendly."
The Les hired Arlington-based Whittington Design Studio and Bethesda-based Dovetail Construction to reconfigure the square footage and downplay the bowling-alley effect. A TV area at one end is now delineated by a tray ceiling, while the opposite end holds a play area with a Ping-Pong table for their three kids: 7-year-old Owen, 6-year-old Maia, and 1½-year-old Nora.
Meanwhile, Mom and Dad have their own play space. Taking cues from high-end hotels like the W, the couple opted for a sleek, minimalist bar with industrial pendant lamps, lime-green barstools and a striking glass mosaic tile backsplash by Architectural Ceramics in Falls Church. The bar is outfitted with its own flat-screen TV to alleviate fights over the remote—meaning Phong can watch sports while the youngsters play Wii games or cartoon flicks on the bigger TV nearby.
Carrie, who recently left a nonprofit job to stay home with the kids, uses the bar to host meetings of her wine club (the most recent of which included a tasting of Argentinian varietals). To accommodate that interest, designer Melanie Whittington tucked an ingenious built-in wine cellar—it holds about 150 bottles—into the found space across from the bar and under the stairway.
Project Team:
Melanie Whittington, Whittington Design Studio, Arlington
Bryan Whittington, Dovetail Construction Management, Bethesda
Kim O'Connell lives and works from her home in Aurora Highlands. Her office is not in the basement.