Restaurants That Innovate
Looking for a side order of creativity the next time you dine out? Find out what's cooking at these local eateries.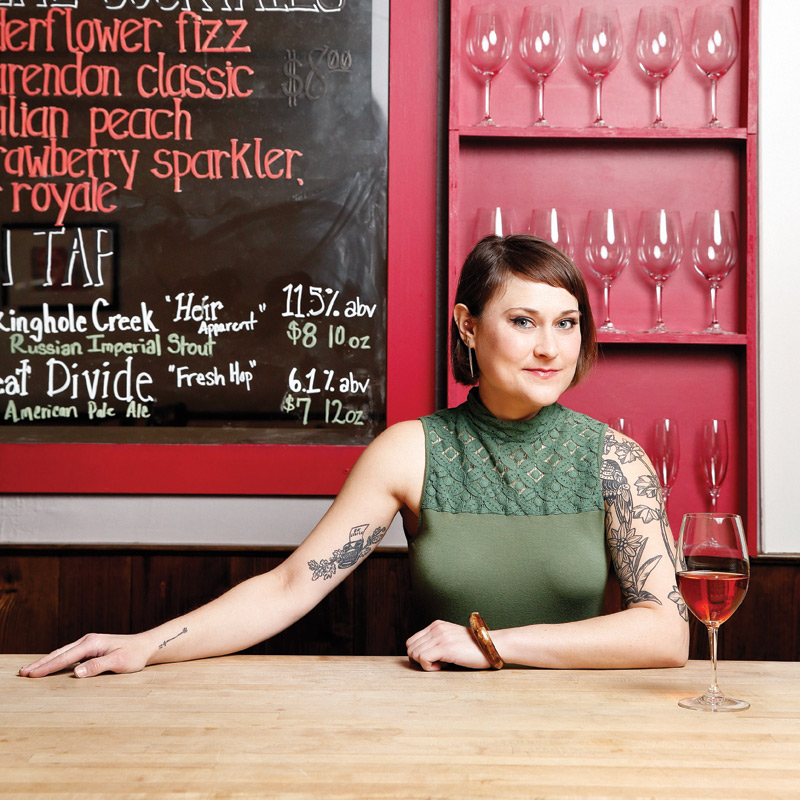 Wine director Sonja Eberly ensures the vino list includes a few surprises at Northside Social. Photo by Jonathan Timmes; makeup by Jjana Valentiner
Split Personality
Is it a coffee shop or a wine bar? With one foot on the gas and one foot on the brake, Northside Social is both. By day, this homespun café revs customers' engines with coffee, light fare and desserts by celebrated pastry chef Bridie McCulla. As dusk falls, the wine starts flowing to take the edge off.
Call it the new model in neighborhood hang-outery (as evidenced by the fact that Starbucks is now copying the caffeine-and-booze format). The dual identity helps the bottom line (the place is open from 6 a.m. to 10 p.m. most weekdays, and until midnight on Fridays and Saturdays). And there is no table service, so customers can linger as long as they wish at the communal tables and bar seating.  "The [upstairs] Wine Bar is a bit of a hidden gem in Clarendon, particularly with its cozy, New York loft feel," says wine director Sonja Eberly, whose wine list includes offbeat selections from places like Greece and Austria. "I've always had a penchant for exposing guests to the wider world of wines and regions, not just the tried-and-true stuff."
Stop in the first and third Saturday of every month from 5 to 7:30 p.m. and you'll find six tastes offered for $6. Like what you're drinking? You can take a bottle home (Northside Social has its retail license). Plus, watch for a similar concept from the Northside team in the fall of 2016, coming to the historic Blue and Gray building at the corner of Park and Maple in Falls Church City.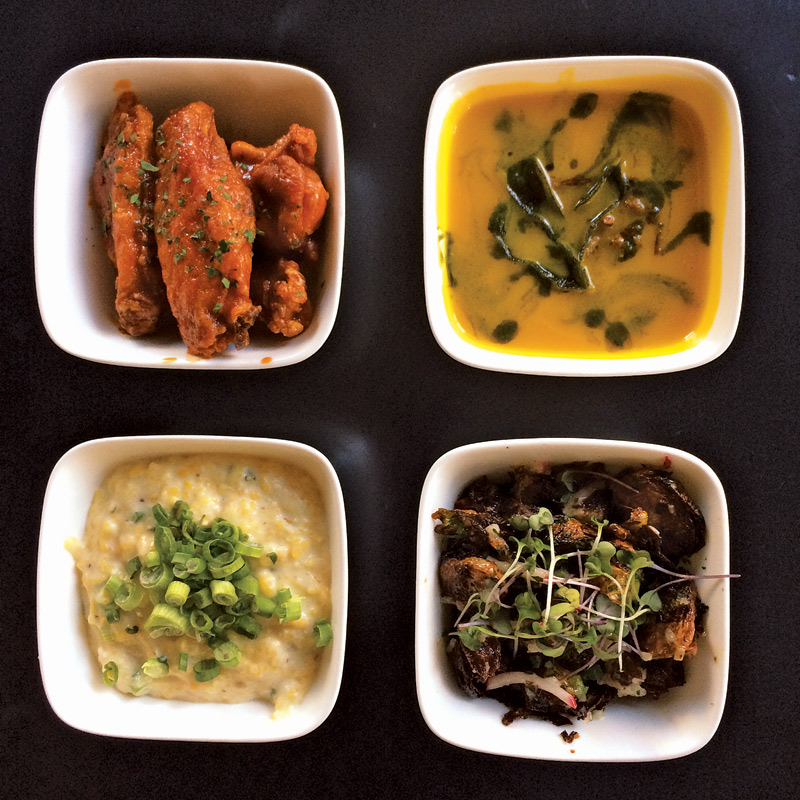 Multiple courses for kids at Water & Wall
Beyond Chicken Nuggets
Chef Tim Ma doesn't make a lot of mistakes in the kitchen, but inviting 20 3-year-olds into Water & Wall to feast on chicken liver pâté qualifies as one of his most epic blunders. "My daughter's entire class came in, and I served them fancy food," says the French Culinary Institute-trained chef. "None of the kids ate it, so I had to cook 20 orders of chicken fingers."
It was a teachable moment, to be sure, but the chef wasn't ready to concede defeat. In December, his Virginia Square restaurant introduced the Fancy Pants Kids Menu, a $15 dining experience that starts with a seasonal soup or salad, progresses to a main dish (such as crème fraîche wings or pork sliders) and finishes with cookies or ice cream for dessert. "Typically parents will order a three-course meal and just feed kids off their plates," observes Ma, a father of three. But it doesn't have to be that way. "Mommy and Daddy are getting three plates each; I should get three plates of food I think is fun."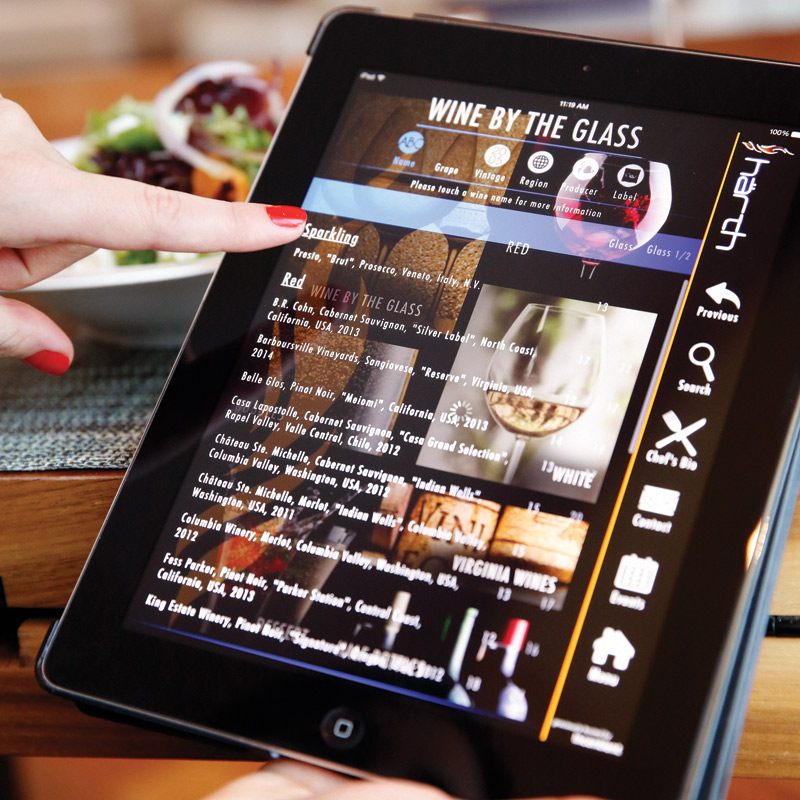 Looking for a good wine pairing? At Härth, let technology be your guide. Photo by Jonathan Timmes
An App for That
Diners have long relied on sommeliers to spout off facts about viticulture, but Härth is switching things up by handing guests an iPad instead. Keeping pace with its position in Virginia's technology corridor (it's housed inside the Hilton McLean Tysons Corner), the restaurant utilizes the Smart Cellar platform to display its wine list, cigar menu, cocktails and desserts.
For wine options, a swipe of the finger reveals the label, tasting notes from the winemaker, suggested food pairings and more. "You're not just learning about Silver Oak, you're learning about that vintage of Silver Oak," says Adam Green, Härth's food and beverage director.
The app is user-friendly and has boosted business, he says, noting that the restaurant has seen a 10 percent increase in alcohol sales across the board since it made the switch.
The iPads aren't the only tech toys making a statement at Härth. The front entrance is marked by a next-generation 3-D television that doesn't require special glasses (one of only 150 or so in the country, Green says). Turn your attention to the screen to see a cocktail being made or happy-hour specials leaping out at you.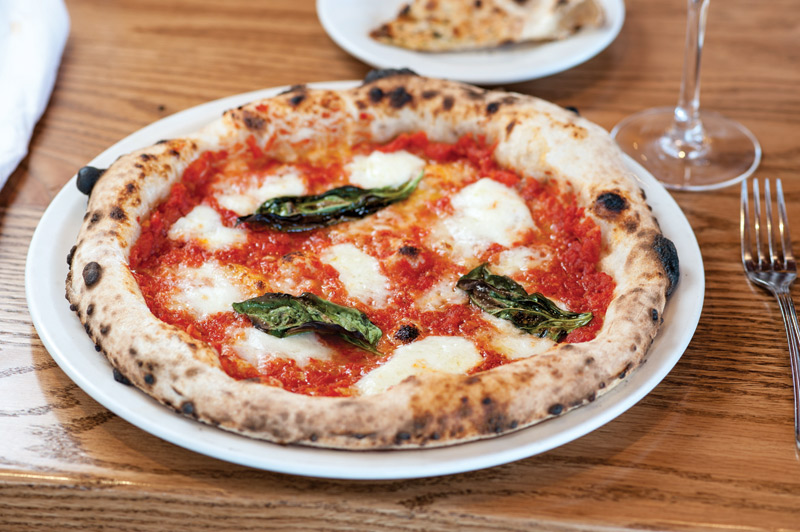 Neapolitan pies at Pizzeria Orso (above); French-born (and now Italian-trained) chef Bertrand Chemel (right). Photo by Jody Fellows
A Certified Success
When Bertrand Chemel (the force behind 2941 Restaurant) took over the kitchen operations at sister restaurant Pizzeria Orso in Falls Church City, he knew he was stepping outside of his comfort zone. "I never made pizza, so I wanted to make sure I learned the steps correctly," says the French-born chef. "Since we're doing Neapolitan pizza, I decided to make a statement by trying to get certified."
He's referring to the Vera Pizza Napoletana (VPN) certification—a designation granted by the Italian government and its nonprofit arm in Los Angeles to pizzerias that meet "the strict requirements that respect the tradition of the art of Neapolitan pizza making."
Chemel took several classes before sending in his application with the requisite photos and videos—which he had to redo once before getting the final stamp of approval in the fall of 2015. Pizzeria Orso is now one of only three pizzerias in Northern Virginia (along with Pupatella in Arlington and Ciao Osteria in Centreville) to boast the VPN certification.
A chef who doesn't cut corners on quality, Chemel sees the exercise as well worth the effort. "Now Italian natives or first- or second-generation Italians who have traveled to Italy [try our pizza and] say, 'We literally feel like we're in Naples.' " Mangia!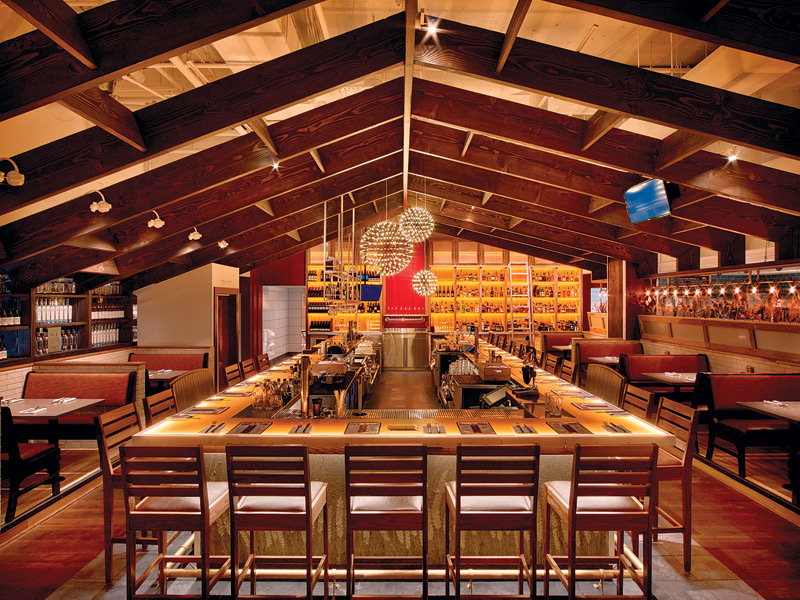 The bar at Founding Farmers (above); Original art at Founding Farmers (right). GrizForm architects/photos by Eric Laignel
Homey by Design
If the interiors of Founding Farmers feel oddly reminiscent of a Loudoun County farmhouse, that's no accident.
"When you come through the doors, the tiles and extra heating should make it feel like the mudroom," says Dan Simons, who partnered with fellow hospitality veteran Michael Vucurevich to bring the latest iteration of the farm-to-table eatery to Tysons Corner. Like an old meandering property in the Virginia countryside, the architectural space is meant to impart a sense of discovery. "The rest of the house hasn't revealed itself yet," Simons says.
Venturing deeper into the space, one finds a barn-style bar with exposed rafters, a "sun tea room," a carpeted main dining room (designed to feel like a living room) and "bedroom booths" that mimic the shape of four-poster beds with flowing drapery.
Commissioned art also provides a personal touch. "It's one more thing that I don't think a chain restaurant could ever or would ever do," says Simons. Each piece tells a unique story. For example, resin paintings by North Carolina artist Faryn Davis incorporate quirky found objects—like a tractor key from one of the 40,000 family farmers  (members of the North Dakota Farmers Union) who have part ownership in the restaurant.
Sibling Harmony
It took celebrity chef Mike Isabella just one year to transform the corner of Wilson Boulevard and Quincy Street in Ballston into a food mecca. The address (4000 Wilson) is now home to the trifecta that is Kapnos Taverna, Pepita and Yona. "They are so different, I think they feed off of each other," says the restaurateur/chef of his Greek, Mexican and Asian-inspired hot spots. "It's like living on a city block where you can walk down the street and have a lot of options. People in that area don't have to go far, whether they want a watering hole, food to go or to sit down for something to eat."
Rather than cannibalizing each other, the restaurants have proven complementary. Diners often stop by Pepita to sip one of its 54 cocktails before or after a meal at a sister establishment. Furthermore, efforts to cross-pollinate (and cross-promote) the menus have birthed some cool dishes—like the uni waffle at Yona, which enjoys a smear of Kapnos Taverna's taramasalata, a spread made with carp roe, caviar and cauliflower.
Meanwhile, Isabella has already set his sights on the next frontier. If you think his stamp on Ballston is big, just wait until the forthcoming Isabella Eatery opens in Tysons Galleria in 2017. The 41,000-square-foot food-hall style emporium will incorporate 10 different dining concepts, including fast-casual versions of Kapnos, Yona and Pepita along with a retro creamery, a coffee shop, a raw bar and a cocktail bar.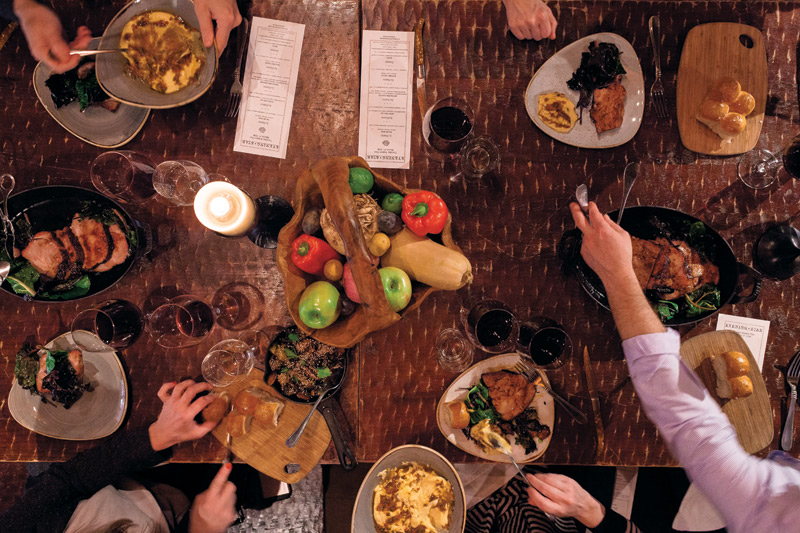 Evening Star Cafe's Tuesday Supper Club. Photo by Tyler Darden.
Backstage Pass
Chefs and sommeliers are forever testing and tweaking new recipes and beverage pairings in search of perfection. At Evening Star Café and its adjoining Planet Wine shop in Del Ray (both are owned by Neighborhood Restaurant Group), customers can become willing participants in that process. Pass by the wine shop on a Tuesday evening and you may spot a rosy-faced group of 12 diners clinking glasses and cutting into a leg of lamb. These Supper Club dinners are available by reservation (a five-course meal is $65 per person, with wine pairings available for an additional $35 per person) on the first Tuesday of every month.
The aforementioned leg of lamb, which was recently served with Swiss chard from Evening Star's rooftop garden and duck-fat-fried sweet potatoes, isn't on the restaurant's menu. Rather, it was a dish that executive chef Keith Cabot created as a special Supper Club offering, adjusting its flavor profiles to match envelope-pushing wine pairings orchestrated by sommelier Ben Kuna.
The program has proven to be a win-win for both the culinary team and the adventurous foodies who partake, insofar as Cabot and Kuna use the dinners to experiment and connect with community members. "Only about 40 percent of the dishes are off the regular menu," Cabot says. Otherwise, diners are in for a surprise.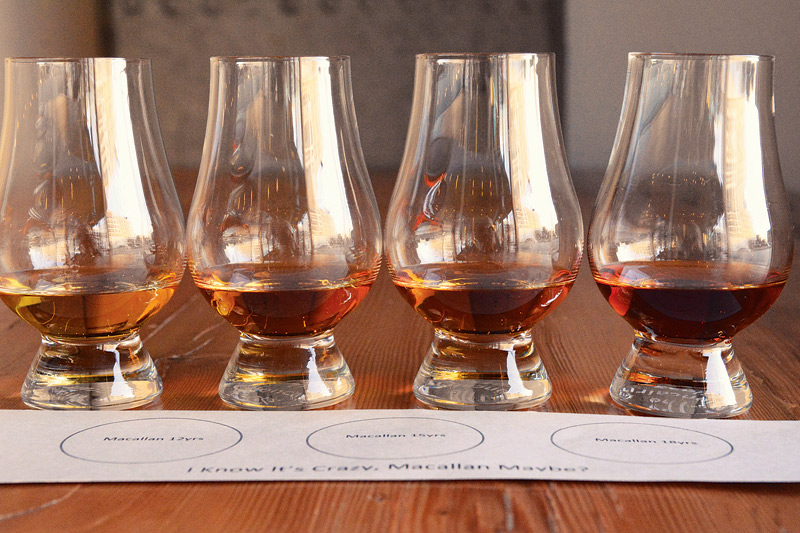 A whiskey flight at Brine. Photo by Laura Hayes.
Cocktail Science
When your menu features some of the best seafood this side of the Chesapeake Bay, you don't have to hit a home run in the beverage department. Brine does anyway. In doing so, the Mosaic District eatery finds itself at the vanguard of a trend whereby restaurants are investing more in their bar programs.
Take whiskey. "We didn't set out to have the largest whiskey selection in all of Northern Virginia, but we may, at 183 varieties," says executive chef John Critchley. The cocktail menu, jump-started by former Brine mixologist Jo-Jo Valenzuela, includes accolade-earning creations like the Passion and Warfare, which finds Silver Tequila, passion fruit, lime and Laphroaig Quarter Cask Scotch in an ancho-salt painted glass.
To keep the momentum going, Critchley has taken his culinary craft outside the kitchen, teaching Brine's barkeeps how to clarify juices (much like a consommé) and introduce spices in their concoctions.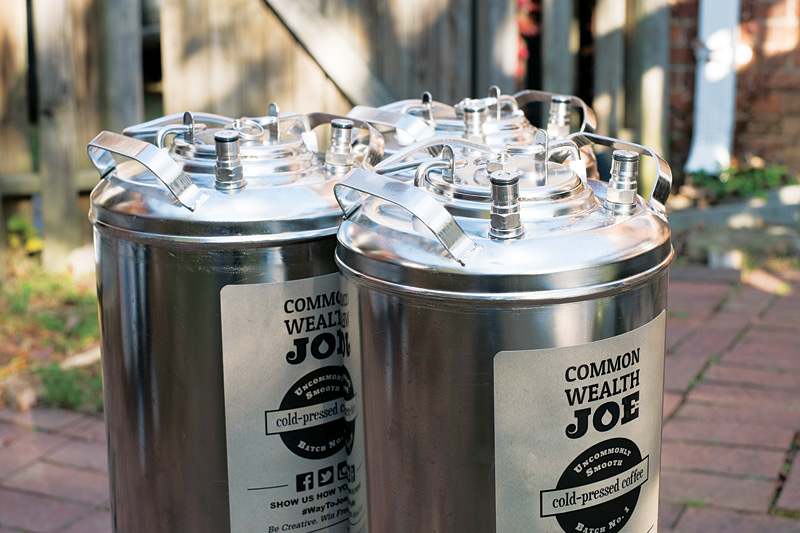 Commonwealth Joe's nitro cold brew, available in keg form
Buzz Words
When the original owners of Java Shack in Courthouse handed the keys over to Commonwealth Joe Coffee Roasters in 2015, the new crew—most of them 2009 University of Virginia graduates—knew they had big mugs to fill. The neighborhood coffee shop had been a fixture for 20 years, and regulars liked it that way.
Happily, the new guard has managed to maintain the Shack vibe while bringing the business model up to competitive speed. Commonwealth Joe serves single-origin coffees that are sustainably sourced, including nitro cold brew, an iced coffee infused with nitrogen gas that comes from a tap and has the appearance of a stout beer. (The product has proven so popular that Commonwealth Joe now delivers it by the keg to area office buildings.) To demystify its menu, the roaster has also introduced #WaytoJoe!—a primer that helps customers identify their ideal cup by flavor profile. Coffees are grouped into categories such as sweet, earthy and "roasty," with descriptions such as "dark chocolate molasses" or "cocoa red fruit."
"We're trying to create a taxonomy for coffee similar to what's been done in wine and beer," says CEO Robert Peck. Come summer, watch for a second Commonwealth Joe location in Pentagon City, complete with a pour-over bar, a cupping room and nitro cold brew coffee on tap.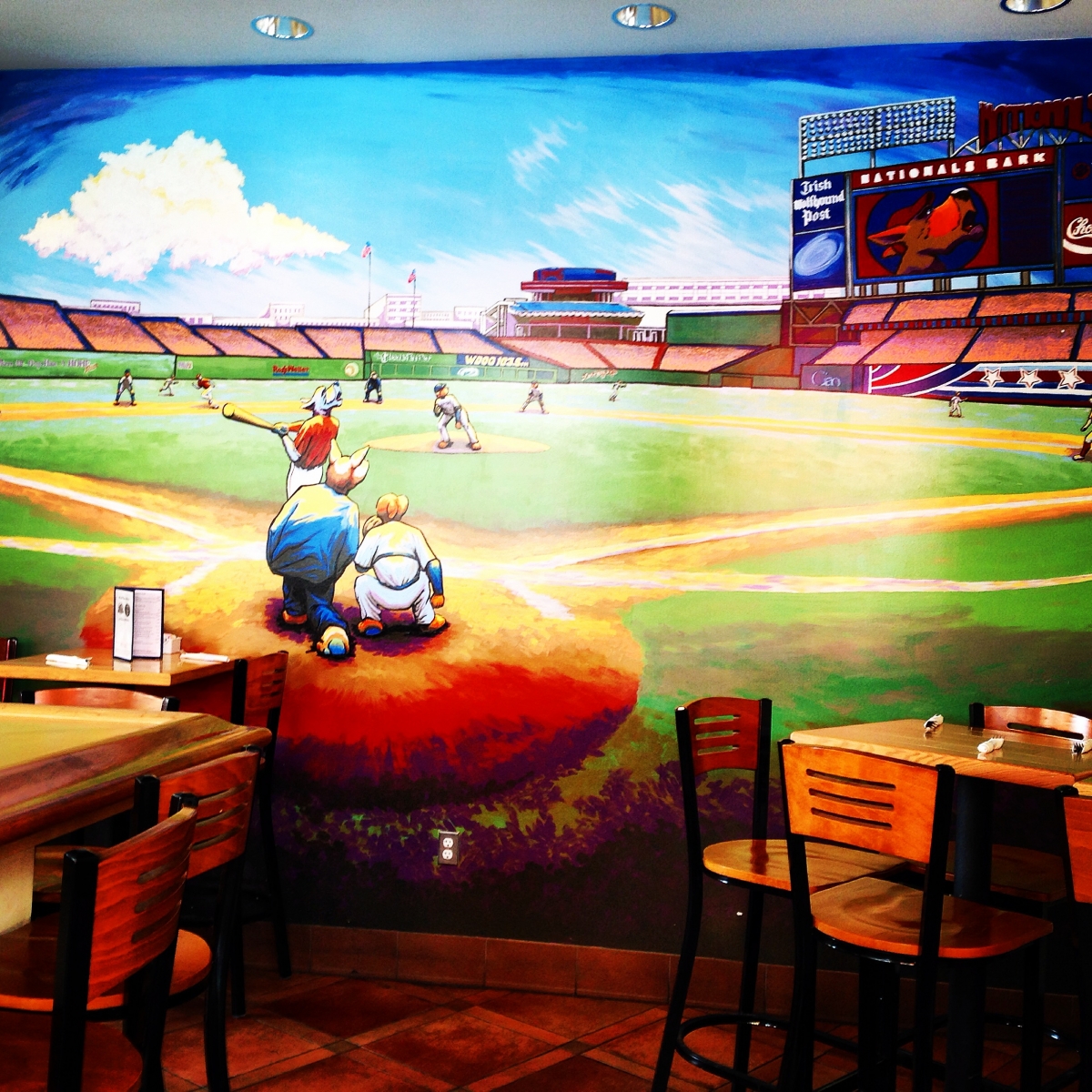 Lost Dog Café in Merrifield
To the Rescue
Lots of restaurants participate in charity fundraisers, but few have their missions intertwined with a specific cause. Lost Dog Café, which opened its first location in Westover in 1985, is the exception.
Over the past three decades, the business (which now includes six restaurants in Arlington, McLean, Merrifield and Alexandria) has helped rescue 25,000 dogs and cats.
"When we discovered over 3 million dogs and cats were euthanized nationwide every year because they did not have homes, we implemented a business plan to make a difference," says Pam McAlwee, who co-founded the pizza and sandwich franchise with Ross Underwood. Last year,  Lost Dog Café Corporation (the parent company) donated 10 percent of its gross revenues to find permanent homes for rescued animals. McAlwee anticipates a similar allocation in 2016.
Early on, she and Underwood brokered pet adoptions directly through the café or in partnership with other rescue groups. In 2001, they founded the Lost Dog & Cat Rescue Foundation. "If there was one thing we were good at, it was doing a lot with a little," McAlwee says. Dogs waiting for homes now stay at the Lost Dog Ranch—a 61-acre property in Fauquier County operated by the Foundation.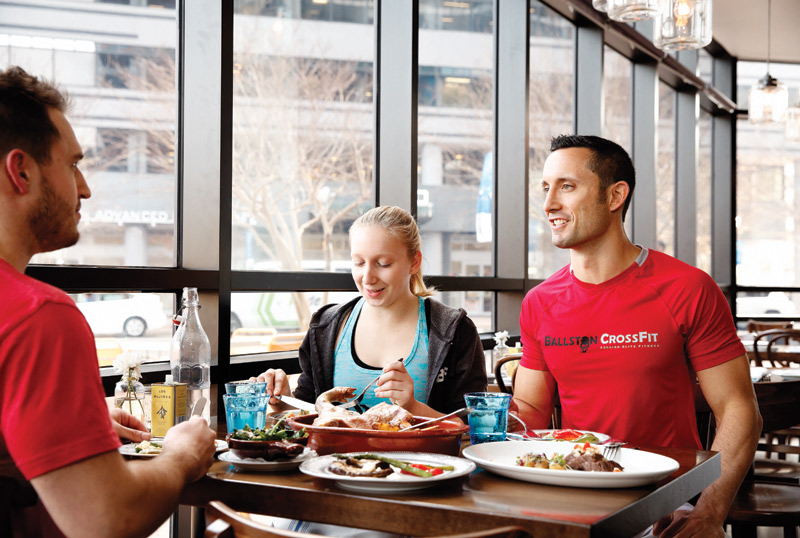 Paleo-friendly dining at SER. Photo by Jonathan Timmes
Cochinillo and Crunches
Restaurant fare and fitness regimens are often at odds, but not at SER Restaurant and its neighbor, Ballston CrossFit. Understanding that many CrossFit athletes adhere to the paleo diet (which consists chiefly of lean meats, fish and vegetables with no dairy, grains or processed foods), the Spanish tavern has made an effort to highlight dishes that fit the bill—including raw bar selections, a simply prepared catch of the day with seasonal vegetables, market salads and steak tartare.
This particular menu emphasis came about after gym owner Tucker Jones and SER's general manager, Merv Laihow, put their heads together to strategize about how the restaurant could satisfy athletes' cravings for post-workout meals and happy hours without breaking their diets.
"We cater to vegetarians, pescatarians, people who are gluten-free—it's easy, no problem," says Laihow. One notable example? SER's chef, Josu Zubikarai, uses olive oil instead of butter.
Real Retro
When Greg Cahill moved Whitlow's from D.C. to Clarendon in 1995, he didn't want the establishment to lose sight of its roots, which date back to 1946. So he resurrected a few choice pieces of history and incorporated them into the interior design at Whitlow's on Wilson. The restaurant that would quickly become an Arlington favorite features a bar top made of a bowling lane from Baltimore, a booth from St. Patrick's Catholic Church (which is located near the bar's original corner in the District) and other materials from the former watering hole itself.
"It was done out of necessity, but also because we wanted to be different," Cahill says. "A lot came from our place at 11th and E Street—we stored it and brought it back to life."
Over the years, Whitlow's has welcomed more artifacts into its fold, including chairs from the original Alexandria County Courthouse (circa 1898), which was torn down to make way for a new Arlington County Courthouse in 1960.
The idea, Cahill says, was to scrap modernity and pretentiousness in favor of comfort. Plus, there's a certain cachet in things vintage. "A lot of people come in and think we've been here for a thousand years."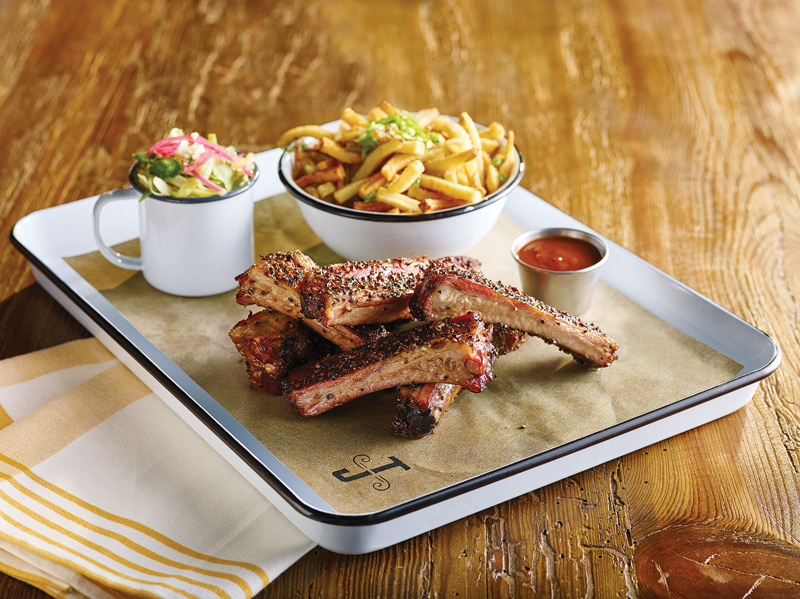 Reusable napkins and trays reduce waste at Texas Jack's
Leaning Green
A typical barbecue joint finds trash bins overflowing with sticky paper plates, napkins and glass bottles. Not at Texas Jack's, Arlington's newest 'cue, where waste reduction is a priority.
For starters, all eight of the restaurant's wine selections come from kegs, not bottles. According to the supplier, Free Flow Wines, one 19.5-liter keg eliminates the 26 empty wine bottles, corks, labels and cardboard boxes that would otherwise go into a landfill or recycling facility.
Texas Jack's has further reduced its carbon footprint by investing in reusable plates and napkins, LED lighting, energy-efficient refrigeration and dining furniture made from locally reclaimed wood.
"I'm really proud," says partner Steve Roberts. "I always drive into the parking lot and see how little waste we have. It's a great feeling."
He's not fibbing—Texas Jack's dumpster measures four yards long, compared with the standard length of eight to 10 yards.
Laura Hayes is a food, drink and travel writer whose work has appeared in Thrillist, Washington City Paper, Food Network, The Washington Post and Washington Post Express. Follow her @BTMenu.