The Malaria Project
Arlington author Karen Masterson uncovers the true story behind America's covert WWII mission to find a cure for the disease.
"A DECADE AGO, I knew as much about malaria as I did about professional football—that is to say, almost nothing."
So begins The Malaria Project, Arlington writer Karen Masterson's debut book that is part history lesson, part memoir and part far-flung adventure story. Think Raiders of the Lost Ark, except that instead of bullwhips and snakes, Masterson's heroes use dipsticks and fight mosquitoes. (The Nazis, however, are the common enemy in both narratives.)
During World War II, malaria was crippling our troops in the Pacific and ruining their will to fight. In 1943 alone, more than a quarter of a million U.S. sailors, Marines and soldiers contracted the disease, which is transmitted by mosquitoes and characterized by blazing fevers, bone-rattling chills and piercing headaches.
An antidote was needed and fast. "The War Department and White House had launched a Manhattan Project-style program to find a cure for malaria," Masterson writes, "born out of wartime necessity and run by a small army of well-intentioned scientists, many of whom knew precious little about the tricky parasites they studied."
To better understand the disease, the scientists experimented on mental patients and convicts—subjects who had been purposely infected by pressing jars of malarial mosquitoes against their bare bellies.
It is this band of scientists that forms the backbone—and thrilling "will-they-or-won't-they-save-the-day" tension—of Masterson's book, which came out in early October. "I really liked these guys," says Masterson, though she grappled with the ethics of the work they were doing.
Masterson is no stranger to the lab. While researching her book, she spent two months at the U.S. Centers for Disease Control and Prevention (CDC) in Atlanta, cutting the heads off female malaria-carrying mosquitoes (male mosquitoes don't bite) and observing the parasites' egg sacks forming in their guts.
She also ventured to the mud huts of Tanzania, where she logged another month meeting with entomologists and vaccine experts, and traveling with researchers to rural villages to check on anti-malaria supplies and track bed net distribution.
Those settings are a far cry from her cheerfully chaotic home office in Arlington's Golf Club Manor neighborhood, where floor-to-ceiling bookshelves are crammed with folders of archival photos, and books with titles such as Life Blood and To Cast Out Disease. One whole case is devoted to the 10,000 files she copied from the National Archives. Random sheets of paper stick out of manila folders, looking slightly damp and dog-eared. "It's organized," she swears. "You can't tell, but it's organized."
Flanking either side of her desk are two smaller, yellow desks, belonging to her twin 6-year-old daughters, Sidney and Evie, who sat and colored pictures while Masterson worked through successive rough drafts over two years. Her husband, Tom Wang, a director at Fannie Mae, smiles out from photos perched on the windowsill.
Hailing from Worcester, Mass., and a graduate of the University of Tampa, Masterson, now 50, began her career studying what some might call parasites of a different sort—as a political reporter for the Houston Chronicle. "I'm more forgiving of the politicians," she laughs, recognizing the parallels in subject matter.
The malaria bug bit her, metaphorically, in 2004 while she was on a teaching fellowship at Johns Hopkins (she currently teaches writing in the university's public health program in Baltimore). Back then, she was working at the National Archives in College Park, Md., researching two-time Nobel Prize winner (in chemistry and peace activism) Linus Pauling and the blood plasma replacement studies he did during the Second World War.
That's where she stumbled upon a letter—misfiled in a box bearing the letter "P"—to the surgeon general in Massachusetts, from a doctor named George Carden. In the letter, Carden discussed a clandestine project wherein researchers had been giving malaria to syphilitics and schizophrenics held at Boston's Psychopathic Hospital. They then tested new drugs against the resulting infections.
Galvanized by this discovery, Masterson soon found dozens of similar boxes, each containing letters and reports detailing the war's secret antimalarial program. "I knew I was onto something," she says.
She obtained a Knight Foundation public health journalism fellowship that funded her work in the Malaria Branch of the CDC. It was there that she dissected those infected mosquitoes, and it was there that one escaped from a tube and flew directly over her head. "Was I afraid I'd get malaria?" she asks reflectively. "Of course I was."
Fortunately, she managed to kill the errant bug. Had she been bitten, she would have joined a pantheon of notable malaria victims throughout history, including King Tut, Lord Byron, John F. Kennedy, Mother Teresa and the actor Michael Caine—not to mention untold anonymous others. "Still, it remains among the top killers of African children—at a rate of two per minute," Masterson writes in her book.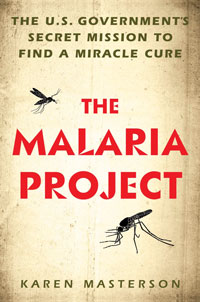 The Malaria Project introduces readers to an equally lively cast of characters, ranging from Dr. Seuss (known then as Theodor S. Geisel, who helped to create malaria awareness campaigns for soldiers, complete with a cartoon mosquito) to Gen. George S. Patton (who, upon meeting a young private with malaria, slapped him in the face, dragged him out of his tent and kicked him with his cavalry boot for being a "yellow-bellied bastard").
But the true stars of the narrative are Lowell Coggeshall and Alf Alving, two unassuming scientists who ultimately spent more than a decade working on a cure (the drug chloroquine). Coggeshall's work in the field was literal—as a grad student he went mosquito hunting in the swamps of Georgia—while much of Alving's research was conducted inside the criminal justice system.
Through their obituaries, Masterson was able to locate and interview surviving family members. These included Alving's son Carl, now 75 and a senior HIV vaccine scientist in the U.S. Military HIV research program at Walter Reed, with whom she toured Chicago's Stateville Penitentiary—the place where his father had given malaria to inmates (all of whom volunteered in hopes of early parole) and then used them in drug experiments.
The senior Alving's most notorious patient was Nathan Leopold, the convicted murderer who, with his partner Richard Loeb, kidnapped and killed Loeb's cousin to see if they could commit the perfect crime.
"The prison volunteers became central to finding the cure," explains Carl Alving, who was just 6 when his father brought him to work at the prison. "I always felt nervous," he says, remembering visits to Warden Joseph Ragen's personal residence. "He would announce, 'That guy who brought you here on the elevator? He's a murderer.' Or, 'The guy who just shaved me? Murderer.' As a little boy, these are lasting impressions."
Like their subjects, not all of the scientists who were entrusted with the government's top-secret malaria project were sympathetic characters. Some—such as one doctor who notably referred to his patients as "material"—exemplified how often the ethics of wartime can slip into murky territory.
"If this story was told as sensationalism, it would distort the whole thing," Carl Alving says, confiding that he'd initially worried about how his father might be portrayed in the book. "It became more and more clear to me that [Masterson] was doing a serious, historical narrative. It was a story that needed to be told."
The Malaria Project may have ended in 1946, but Masterson is still carrying a torch of sorts.
"When I go out in the backyard, I douse myself in Deet," she says. "I'm dogmatic about it."
Cathy Alter has written for The Washington Post, Washingtonian and The New York Times. She lives in Georgetown.