Kids' Table: Brunch at The Liberty Tavern
The whole family can indulge at this over-the-top breakfast spread in Clarendon.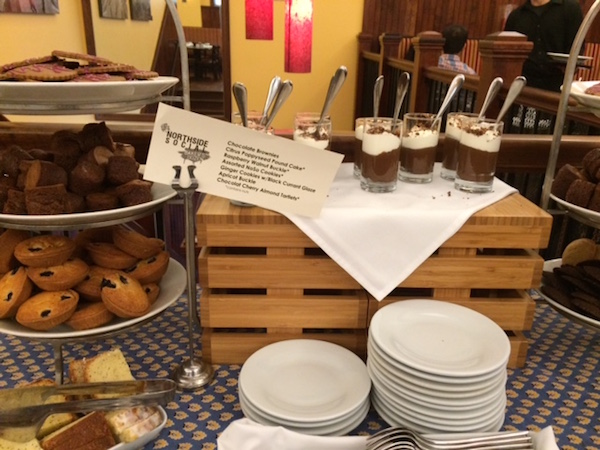 The dessert table at Liberty Tavern's weekend brunch
Don't wait to book a table for Saturday or Sunday brunch at The Liberty Tavern. The restaurant, located at the corner of Wilson and Washington Boulevards in Clarendon, has been a go-to stop for families since it opened nearly a decade ago. Weekend mornings find the place jammed, from the sidewalk patio to the second-floor dining room. And these crowds know a good brunch.
Though the weekend a-la-carte menu entices with dishes like sirloin and eggs with smoked-paprika hollandaise and breakfast pizza loaded with sausage, bacon and fried eggs, the best deal—especially for picky eaters—is the buffet, located in the upstairs dining room.
Dishes are spread out over several tables next to the kitchen, with offerings ranging from Greek yogurt parfaits and French toast with warm banana-and-pecan maple syrup to jalapeño-and-cheddar biscuits with red-eye gravy and standout cheesy grits.
Included in the bounty is a dessert table heavy with cookies, pound cake, buckles and chocolate goodies. The sight of this spread at the top of the stairs will get kids to finish their scrambled eggs and applewood-smoked bacon (though my preschooler needed no prodding).
The best part may well be the price: It's a bargain at $8.50 for kids ages 5 to 12, and diners under 5 eat for free. For adults, the all-you-can-eat brunch bill is $22 per person.
Parents can enjoy familiar brunch cocktails, like a veggie-laden Bloody Mary, or a "Man-mosa" (supersized in a pint glass with fresh orange juice).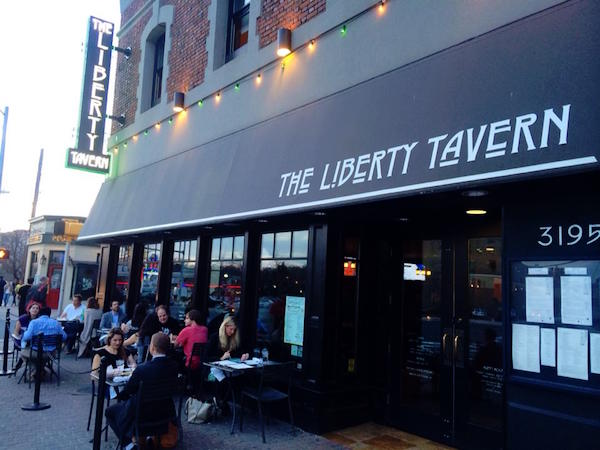 The Liberty Tavern in Clarendon features sidewalk seating, along with two dining areas.
For the best family seating, request a table near the action in the upstairs dining room. There is more space, it's a little quieter during midday hours—though brunch begins at 9 a.m. for those who want an earlier start—and there's more room for strollers and high chairs. Bench seating along one wall is ideal for bigger kids who need to "rest" during a meal and (quietly) play on a device or color.
The only downside to second-floor dining is that you have to go downstairs to get to the bathrooms, which are small but do offer changing tables in both men's and women's lavatories.
Small families or those with baby gear who don't want to struggle with the stairs should consider patio dining. The sidewalk seating area is narrow, but offers plenty of street-side live theater and fresh air.
The Liberty Tavern At-A-Glance
Parking: Street parking available, though sometimes hard to secure. The restaurant is situated between Clarendon and Virginia Square Metro stations.
Wait Time: Weekend brunch is very popular. Reservations are suggested, but it's normally not a problem to get a table before 11 a.m.
Seating: Upstairs dining area—where the buffet is set up—has benches and tables along one wall and freestanding tables in half of the room during brunch. Downstairs features high-top tables and lounge seating, as well as a noisy bar and a narrow outside patio space.
Restrooms: Changing tables available in both men's and women's restrooms.
Bites: The brunch menu has some rotating dishes, but you'll always find house-smoked salmon with capers and chopped onion, French toast with banana-and-pecan maple syrup, jalapeño-and-cheddar biscuits with gravy, pizzas and a carving station. The dessert table is a star—especially the cookies and fruit buckles. A dedicated kid's menu with small pizzas and healthy sides, including seasonal vegetables and fresh fruit, is also available.
Location: 3195 Wilson Blvd., Arlington; 703-465-9360, thelibertytavern.com
About Jessica
Jessica Strelitz has worked in all kinds of restaurants—from tiny Maine delis to white-tablecloth fine dining—and has covered food for nearly a decade while living in Arlington and Falls Church. As a mother of two who also works full time in the digital media space, she tries to takes a break from her home kitchen once a week. She's seen and heard a lot—from generous, supportive and understanding staff and patrons, to contorted faces and snide remarks from fellow diners, owners, chefs and yes, even writers (both in person and online). And while she doesn't think you should bring kids absolutely everywhere, she does feel that with proper awareness and planning, you can bring them to most restaurants.